The American Claimant
by Mark Twain
1892
NOTICE: THIS WORK MAY BE PROTECTED BY COPYRIGHT
YOU ARE REQUIRED TO READ

THE COPYRIGHT NOTICE AT THIS LINK

BEFORE YOU READ THE FOLLOWING WORK, THAT IS AVAILABLE SOLELY FOR PRIVATE STUDY, SCHOLARSHIP OR RESEARCH PURSUANT TO 17 U.S.C. SECTION 107 AND 108. IN THE EVENT THAT THE LIBRARY DETERMINES THAT UNLAWFUL COPYING OF THIS WORK HAS OCCURRED, THE LIBRARY HAS THE RIGHT TO BLOCK THE I.P. ADDRESS AT WHICH THE UNLAWFUL COPYING APPEARED TO HAVE OCCURRED. THANK YOU FOR RESPECTING THE RIGHTS OF COPYRIGHT OWNERS.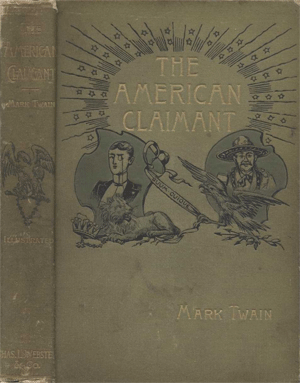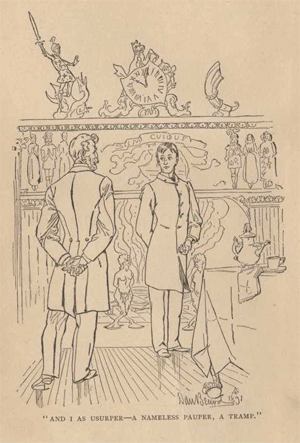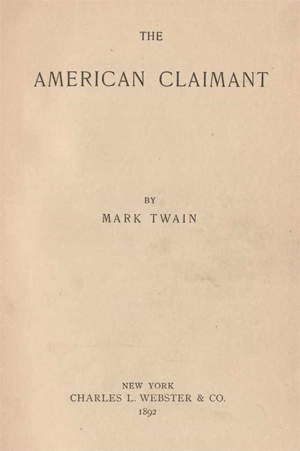 TABLE OF CONTENTS:
• EXPLANATORY
• THE WEATHER IN THIS BOOK
• CHAPTER I. The Earl of Rossmore vs. the American Claimant—Viscount Berkeley proposes to change places with the Claimant— The Claimant's letter—Lord Berkeley decides to visit America
• CHAPTER II. Colonel Mulberry Sellers and his art gallery—He receives a visit from Washington Hawkins—Talking over old times —Washington informs the colonel that he is the congressional delegate from Cherokee Strip.
• CHAPTER III. Mrs. Sellers pronounces the colonel "the same old scheming, generous, good-hearted, moonshiny, hopeful, no-account failure he always was"—He takes in Dan'l and Jinny— The colonel originates "Pigs in the Clover"—He offers one of his art treasures to propitiate Suggs—One-armed Pete; the bank thief
• CHAPTER IV. A Yankee makes an offer for "Pigs in the Clover"—By the death of a relative Sellers becomes the rightful Earl of Rossmore and consequently the American Clairnant— Gwendolen is sent for from school—The remains of the late Claimant and brother to be shipped to England— Hawkins and Sellers nail the hatchments on "Rossmore Towers"
• CHAPTER V. Gwendolen's letter—Her arrival at home—Hawkins is introduced, to his great pleasure—Communication from the bank thief— Hawkins and Sellers have to wait ten days longer before getting the reward—Viscount Berkeley and the late Claimant's remains start simultaneously from England and America
• CHAPTER VI. Arrival of the remains of late Claimant and brother in England —The usurping earl officiates as chief mourner, and they are laid with their kindred in Cholmondeley church—Sally Sellers a gifted costume-designer—Another communication from the bank thief—Locating him in the New Gadsby— The colonel's glimpse of one—armed Pete in the elevator— Arrival of Viscount Berkeley at the same hotel
• CHAPTER VII. Viscount Berkeley jots down his "impressions" to date with a quill pen—The destruction of the New Gadsby by fire— Berkeley loses his bearings and escapes with his journaled "impressions" only—Discovery and hasty donning of one-armed Pete's abandoned wardrobe—Glowing and affecting account in the morning papers of the heroic death of the heir of Rossmore—He will take a new name and start out "incog"
• CHAPTER VIII. The colonel's grief at the loss of both Berkeley and one-armed Pete—Materialization—Breaking the news to the family— The colonel starts to identify and secure a body (or ashes) to send to the bereaved father
• CHAPTER IX. The usual actress and her diamonds in the hotel fire—The colonel secures three baskets of ashes—Mrs. Sellers forbids their lying in state—Generous hatchments—The ashes to be sent only when the earl sends for them
• CHAPTER X. Lord Berkeley deposits the $500 found in his appropriated clothes—Attends "Mechanics' Debating Club"—Berkeley (alias Tracy) is glad he came to this country
• CHAPTER XI. No work for Tracy—Cheaper lodgings secured—Sleeping on the roof—"My daughter Hattie"—Tracy receives further "impressions" from Hattie (otherwise "Puss")—Mr. Barrow appears—And offers to help Tracy find work
• CHAPTER XII. A boarding—house dinner—"No money, no dinner" for Mr. Brady—"How did you come to mount that hat?"—A glimpse of (the supposed) one-armed Pete—Extract from Tracy's diary
• CHAPTER XIII. Tracy and trades-unions—Unpopularity with fellow-boarders —Which changes to popularity on his punishing Allen— The cablegram
• CHAPTER XIV. "Mechanics' Debating Club" again—Tracy is comforted by Barrow's remarks—"Fool or no fool, he would grab it" —"Earldom! oh, yes, take it if it offers"
• CHAPTER XV. "You forgot to pay your board"—"I've been robbed "—Mr. Allen among the missing, likewise other things—The cablegram: "Thanks"—Despair of Tracy—"You've got to amuse your mind"
• CHAPTER XVI. The collaborative art collection—The artists—"The cannon's our trademark"—Tracy's mind is amused
• CHAPTER XVII. No further cablegram—"If those ghastly artists want a confederate, I'm their man"—Tracy taken into partnership—Disappointments of materialization — The phonograph adapted to marine service —Utilization of wasted sewer gas
• CHAPTER XVIII. The colonel's project to set Russia free—"I am going to buy Siberia"—The materializee turns up—Being an artist he is invited to restore the colonel's collection—Which he forthwith begins
• CHAPTER XIX. The perplexities and nobilities of materialization—The materializee eats a couple of apples—Horror of Hawkins and Sellers—It must be a mistake"
• CHAPTER XX. Tracy's perplexities with regard to the Claimant's sanity— The Claimant interviews him—Sally Sellers meets Tracy —A violent case of love at first sight—Pinks
• CHAPTER XXI. Empty painting; empty millinerizing—Tracy's work satisfactory— Sellers's new picture of Lord Berkeley—"He is a wobbler"— The unsuccessful dinner—parties—"They flung their arms about each other's necks"
• CHAPTER XXII. "The materializing has got to stop where it is"—Sally Sellers repudiates "Lady Gwendolen"—The late Lord Berkeley Sally's hero— "The shady devil [Doubt] had knifed her"
• CHAPTER XXIII. Tracy writes to his father—The rival houses to be united by his marriage to Sally Sellers—The earl decides to "step over and take a hand"—"The course of true love," etc., as usual—"You an earl's son! show me the signs"
• CHAPTER XXIV. Time drags heavily for all concerned—Success of "Pigs in the Clover"—Sellers is "fixed" for his temperance lecture— Colonel and Mrs. Sellers start for Europe—Interview of Hawkins and Sally—Tracy an impostor
• CHAPTER XXV. Telegram: "She's going to marry the materializee"—Interview between Tracy and Sally—Arrival of the usurping earl— "You can have him if you'll take him"—A quiet wedding at the Towers—Sellers does not join the party to England— Preparing to furnish climates to order
• APPENDIX. The weather in this book
LIST OF ILLUSTRATIONS.
• "He was constructing what seemed to be some kind of frail mechanical toy."
• "It must try your patience pretty sharply sometimes."
• One-armed Pete
• "Father, I am going to shake hands with Major Hawkins."
• "Must he go down in his spectral night dress?"
• "Clah to goodness it's de fust time I've sot eyes on 'em."
• Parker, assistant editor of the Democrat
• "How do you do?"
• "Both were so paralyzed with joy."
• "It had already happened."
• "His thoughts had been far away from these things."
• "Fool or no fool, he would grab it."
• "No. 5 started a laugh."
• Capt. Saltmarsh and brother of the brush
• Wasted sewer gas
• "Eastward with that great light transfiguring their faces."
• It was a violent case of mutual love at first sight
• "Time dragged heavily for both, now."
• "Oh, my God, she's kissing it!"
• "The shady devil had knifed her."
• "You an earl's son! Show me the signs."
• "My father!"
• "Finally there was a quiet wedding at the Towers."