"GOOF" COSTS 65 YEARS TO INFINITY OF CANCER RESEARCH.
Excerpt From: "A Conspiracy of Cells: One Woman's Immortal Legacy and the Medical Scandal It Caused"
by Michael Gold
© 1986 Michael Gold
NOTICE: THIS WORK MAY BE PROTECTED BY COPYRIGHT
YOU ARE REQUIRED TO READ

THE COPYRIGHT NOTICE AT THIS LINK

BEFORE YOU READ THE FOLLOWING WORK, THAT IS AVAILABLE SOLELY FOR PRIVATE STUDY, SCHOLARSHIP OR RESEARCH PURSUANT TO 17 U.S.C. SECTION 107 AND 108. IN THE EVENT THAT THE LIBRARY DETERMINES THAT UNLAWFUL COPYING OF THIS WORK HAS OCCURRED, THE LIBRARY HAS THE RIGHT TO BLOCK THE I.P. ADDRESS AT WHICH THE UNLAWFUL COPYING APPEARED TO HAVE OCCURRED. THANK YOU FOR RESPECTING THE RIGHTS OF COPYRIGHT OWNERS.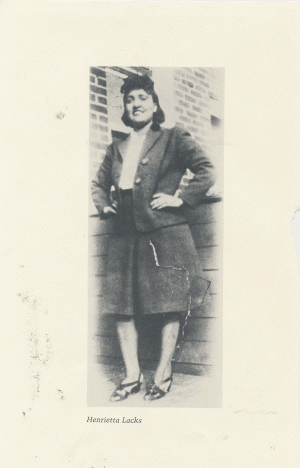 Henrietta Lacks
1: Special Delivery
Jim Duff was carrying an odd little suitcase as he stepped out of the helicopter. It was a box of molded styrofoam, like a small ice chest you might take to a softball game to keep a six-pack cool. Except that this chest was made of thicker, more serious looking stuff.
Walter Nelson-Rees knew what was inside. It was the reason he had come out to the Berkeley heliport to meet Duff. The two men shook hands, and Nelson-Rees noticed that Duff was a bit edgy.
"We'd better go get a drink," said Duff.
When they had driven the few blocks to Oakland and found a bar, Duff gingerly placed the box onto the floor beneath their table and started his pitch. "Walter," he said in a quiet, earnest tone, "these cells are ... different. And you're going to have to handle them ... differently."
Of course the cells are different, thought Nelson- Rees. When had a bureaucrat from the National Cancer Institute ever flown from Washington, D.C., to California to personally deliver a chest full of dry ice and malignant tumor cells? There had been plenty of shipments over the years-hundreds, in fact-but air freight had always sufficed. The National Cancer Institute trusted the airlines, and when the airlines got the packages to Oakland, it trusted Nelson-Rees to handle the rest.
Tall, with a sharp nose and thin lips, Walter Anthony Nelson-Rees had a slightly aristocratic look about him and a manner that suggested he was sure of everything he did. He operated one of the best cell banks in the country, if not the best, and seemed quite aware of that. The officials of the National Cancer Institute knew it too. In fact, Nelson-Rees's cell bank existed largely to serve researchers working under the aegis of the institute. They were the bigshots, some of the best scientific minds in the country, and they needed the best weapons they could get to fight "The War."
"The War on Cancer," as the newspapers called it. The year was 1973. Richard Nixon wanted to be remembered as the president who brought cancer to its knees, and the National Cancer Institute, lavishly endowed, was his war department.
Yes, the institute wanted only the best for its boys, the choicest cuts of cancerous tissues from which they might extract the secrets of the disease, its cause and its cure. Nelson-Rees was the supply man. Cells from any organ taken from patients of any age, any race, either sex -- you name it, he had it. When a researcher managed to get a new kind of cell growing in a culture dish, a cell that looked as though it could be useful for cancer experiments, chances are the institute would have a sample sent to Nelson-Rees.
He was as fastidious as The Odd Couple's Felix Unger, which was the perfect recommendation for someone in charge of nurturing sometimes delicate cultures, keeping their identities straight, and protecting them from ... well, from anything unexpected. Nelson-Rees complained regularly to maintenance workers at his lab about their inability to get the air pristine, free of dust and microorganisms. And few of those who saw it will ever forget the scene following Nelson-Rees's discovery that a technician had used a hallway in the "clean section" of the cell bank to fold up his parachute after hours. "His spore-infested parachute!" wailed Nelson-Rees.
That's why he was one of the trusted keepers of the cells. He was a perfectionist.
Yet here was Duff, straight from a transcontinental flight with his cancerous carryon luggage, going on about how special these latest cells were and how careful Nelson- Rees was to be. "You're not to do anything with these, Walter, unless you get a prior okay from us. Just thaw them out, grow up a few separate populations, and store them away." Jim Duff was the man who watched over Nelson-Rees's lab for the institute. He was a natural bureaucrat with a bureaucrat's instinct to cover his rear flank. But he was also a friend to Nelson-Rees, who therefore nodded politely as he sipped his vodka and tonic.
"This is very important, Walter. There's more to it than just science." Duff paused to let the message sink in.
Inside the styrofoam case, within sealed plastic flasks, floating in a red nutrient bath at room temperature, some of the cells were growing and multiplying as the two men spoke. In a separate refrigerated compartment, duplicates of the active cells sat motionless in tiny glass bottles, suspended in a frozen state. There were six distinct cultures in all, a six-pack of human tumor cells, six new weapons for "The War."
And Duff was right; they were different. For one thing, they had come from the Soviet Union.
Richard Nixon not only dreamed of curing cancer, he also hoped to take the chill off America's relationship with the Russians. Toward both ends he negotiated an agreement with Leonid Brezhnev in May of 1972 that called for the two nations to cooperate in biomedical research. Soviet scientists were keenly interested in "The War," particularly any recent progress that their American counterparts, who were thought to be at least several years ahead, were willing to share. So in November the first delegation of American cancer researchers traveled to Moscow to present their Russian colleagues with, among other things, a set of thirty viruses. There were rat viruses and hamster viruses and wooly monkey viruses and gibbon ape viruses, all of which had been found to induce cancer in these animals.
By studying viruses that caused cancer in animals, researchers hoped to find out something about analogous viruses that might cause human cancer. In fact in the early 1970s, almost everyone who counted at the National Cancer Institute seemed certain that in only a few years someone on their payroll would find the virus responsible for cancer in human beings. So far, though, all they had turned up were viruses that produced cancer in animal cells. Even those few isolated from human cells turned out to be animal viruses that had somehow found their way into human tissue but were incapable of triggering cancer there.
Undaunted, the institute pushed ahead, spending $60 million a year in the search for the human tumor virus. Competition was stiff, to say the least. For to find the virus that causes human cancer would open the way to a vaccine, a shot, like the miracle vaccination that had been immunizing people against the plague of polio for the last few decades. Cancer would be on its way to extinction, and a Nobel Prize would be the least an appreciative world could do for the scientist who made it possible. The high-pressure race had already led to several premature claims of victory in the United States. One of the most recent "winners" of the Human Cancer Virus Sweepstakes even received official congratulations from Richard Nixon after the good news was leaked to the press. Some months later the alleged agent was determined to be another animal virus -- this one a mouse virus -- and the race was on again.
In any case, the National Cancer Institute figured it wouldn't hurt to give the Russians a few of these animal viruses. The collection was all done up in handsome gold lettering and presented with much pomp. It was such a hit among the Russian scientists that they felt they had to give the Americans something special in return. What was special about the cultures of human cancer cells delivered by the Russians a few weeks later was that all six had viruses growing within them, viruses that the Soviets suspected were the causes of the malignancies.
Well, as they say in diplomatic circles, it was quite something. Richard Nixon's scientific delegates were unanimously skeptical that the Russians, with their primitive equipment and lax laboratory techniques, could have come up with even one cell line that contained a genuine human cancer virus, much less six of them. No, it was too much to believe. And yet there they were, six cultures of cancer cells taken from six different patients, each culture carrying some kind of virus. Quite something. "My God, suppose they somehow stumbled onto it?" the Americans asked each other. It was simply too potentially valuable to ignore. Besides, even the purest of cynics on the American team knew there was more at stake here. These were Russians, this was detente, there were political ramifications. The Americans smiled and thanked the Russians. They packed the cells into their suitcases and brought them back home.
A couple of weeks later, Walter Nelson-Rees received a letter from the institute saying that samples of some virus-laden Russian cells, received in connection with the biomedical exchange program, would soon be delivered to his cell bank. Only four other American scientists had been given samples of the cells, and only they were authorized to experiment with them, the letter explained. As for Nelson-Rees, he was to keep some of the cells growing and to freeze the others as a safeguard against loss. The letter concluded: "No one is to be provided with these materials, or with any data acquired using these cultures, unless specific authorization has been obtained .... Dr. James Duff expects to visit you on January 10, 1973. He will hand carry the cultures to insure safe delivery."
Nelson-Rees thought it improbable that the viruses in these cells would prove to be human cancer agents. He was, however, pleased with himself and his lab. Once again the bigshots had come to his tidy cloakroom to check their fanciest hats.
***
When they had drained their drinks, Duff picked up the Styrofoam case and followed Nelson-Rees to the car. It was about nine o'clock in the evening. They drove through Oakland's harbor district to the Naval Biosciences compound. It was here, through a confusing web of agreements between government agencies and the School of Public Health of the University of California at Berkeley, that Nelson-Rees operated his cell bank. Before they entered the clean section where the cell culture work was done, where floors as well as counter tops gleamed like mirrors, Nelson-Rees asked Duff to remove his jacket and don a white lab coat. Then he handed him a pair of white nylon booties to keep the street dust on Duff's shoes from dirtying the floors.
Nelson-Rees recorded the arrival of the cultures in a big black logbook. He put the plastic flasks in a tall aluminum cabinet that looked like an oversized refrigerator but in fact was the incubator, where cells in culture grew in a tropical environment of 98.6 degrees Fahrenheit. The tiny glass bottles went into a cylindrical freezer of stainless steel -- about four feet in diameter and five feet tall -- that was filled with liquid nitrogen at 300 degrees below zero. Nelson-Rees slammed the lid shut, forcing a cloud of cold, white vapor into the room, and turned to Duff.
"Okay?"
"Okay."
Walter Nelson-Rees's obsessions went far beyond nylon booties. "In order to run a successful cell bank that stores thousands of different tissue cultures, that grows up and sends out as many as a dozen samples a day to researchers all over the country -- to do that," Nelson-Rees often explained, "one needs to know what one is working with. One has to know which cell is which." Identification, the art and science of being able to recognize the subtle differences between cells, was his stock-in-trade. All of which is to say that he could no more leave six unidentified cell cultures in his deep freeze and incubator than Felix Unger could sneeze into his hands.
A few weeks after Jim Duff told him not to do anything with the Russian cells, Nelson-Rees disobeyed orders. He sent samples of each culture to Ward Peterson, a colleague at the Child Research Center in Detroit, who specialized in performing certain biochemical tests. This was always the first step in his routine check of anything that came into the bank. While waiting for Peterson's results, Nelson-Rees examined the cells' chromosomes, the rodlike structures inside each cell's nucleus that carryall its genetic information. After several days of gazing through a microscope at scores of slides, he had convinced himself that indeed, these cells carried human chromosomes; they were human cells. If someone had said to him at that point, "Well of course the chromosomes are human. The Russians said they were all human cells," Nelson-Rees would have nodded and replied, "Mmm, of course. But one must be sure about these things."
The cells were from human patients, all right, but he had noticed something odd. Among its many chromosomes, every human cell usually has two that determine an individual's sex. The sex chromosomes come in two varieties, one shaped roughly like the letter X, the other like a Y. If a person's cells have two X chromosomes apiece, that person is a female. If they carry one X and one Y, the person is a male. What Nelson -Rees noticed was that there were no Y chromosomes among any of the Russian cells. How strange if by chance all six cultures happened to come from women. Of course, it was well known to tissue culture experts that cells growing for a long time in a laboratory environment could simply lose chromosomes now and then. Indeed, the Y seemed particularly vulnerable to getting lost in the shuffle of division. Possibly there were some males among the original Soviet cultures whose Y chromosomes had been lost along the way; that would explain things.
Still, it bothered him.
Peterson's results began coming in about a month later. He had been analyzing the cells' enzymes, catalysts that speed up chemical reactions within the body. While some enzymes are standard equipment for human beings -- nearly everyone, for instance, has the enzyme galactose-I-phosphate uridyl transferase that helps break down a sugar found in milk -- certain ones appear only in small segments of the human population. These enzymes, once observed and catalogued, can be used along with other characteristics to tell cells apart.
In the first Russian cell line he tested, Peterson found an enzyme called G6PD type A, a variant of a standard enzyme that helps to metabolize glucose, another basic sugar. The form of G6PD in most people moves relatively slowly through an "electrophoretic gel," a kind of Jell-O smear hooked up to a battery or transformer. Electrophoresis indirectly measures a chemical's electric charge by testing how fast a certain voltage can drag it through this gel. The point is that in addition to the common, slow-moving form of G6PD, there is another variety that moves faster, presumably because it has a stronger charge. It was known from studies of many cells that this variant, called type A, occurs almost exclusively in black people. And even among blacks it appears in just one out of three people. Peterson's discovery of this uncommon enzyme in one of the Russian cells was not in itself unusual; there are blacks in the Soviet Union. What was unusual was his finding it in the second cell line as well, and, as the months went on, in the third, fourth, fifth, and sixth.
"It is somewhat unexpected that all six cultures would lack the male Y chromosome," Nelson-Rees said to himself. "It is even more unlikely that all six cell cultures would by chance be from blacks. And the odds that all would also just happen to have the rare form of the G6PD enzyme are .... Well, it's almost impossible."
He decided to notify the bureaucrats in Washington.
Jim Duff, long-distance, was upset, though not as much as might have been forecast based on his original commandment on the special handling required for these cultures. Perhaps he knew Nelson-Rees well enough to expect his friend would scrutinize them and send them to Detroit despite the warnings. Or maybe the news left him stunned. In any case, he told Nelson-Rees the observations were unusual, but they pointed to no firm conclusion. No doubt it occurred to Duff that, if true, the findings might eventually prove to be embarrassing. He was inclined not to accept them, at least not until Nelson-Rees had checked and double-checked. "There's too much at stake here, Walter," said Duff. "Don't rock the boat. Don't rock the boat until you're absolutely, 100 percent sure."
The next call went to the man at the institute who had direct responsibility for the care of the Russian cells. He was a superior of Duff's, superior not only in rank but also in his ability to worry about matters of protocol, to evaluate every development in terms of how it might offend someone, anyone, or -- who knows? -- maybe even endanger his job.
"What do you mean you sent the cells out for testing?"
"I sent them out for the purpose of identifying them," said Walter Nelson-Rees.
"Those cells were not to go anywhere. What has this fellow in Detroit been doing with them?"
"Nothing, just analyzing them. You needn't worry." But the bureaucrat was worried, and one of his more intriguing worries was that the institute might get nailed for violating federal quarantine procedures. It was awkward enough that Nixon's delegation had smuggled the Russian cultures into the United States in the first place. Being bathed partly in bovine serum, the cells were a potential source of hoof-and-mouth disease, a scourge then rampant in the Soviet Union. Authorities with the U.S. Department of Agriculture had become quite agitated when they heard about the cells' unofficial entrance into the country. They had calmed down slightly when the cancer officials permitted inspections of the few labs authorized to work on the cultures. But now, if news leaked out that Nelson-Rees had been shipping the stuff wherever he pleased ....
"Doctor Nelson-Rees, you were told specifically not to distribute those cells. How could you have sent them to Detroit?"
"I've just told you. I sent them to Detroit to be identified."
By the time the conversation had circled back around itself a few times, it was clear to Nelson-Rees that the bureaucrat was not interested in hearing about his findings. He then called Wade Parks, an institute virologist and one of the privileged researchers allowed to examine samples of the Russian cells. Parks said he had tentatively identified the virus from one of the cell lines. Unfortunately, it appeared to be a monkey virus -- another confounded animal virus. This one, Parks said, had never been known to do anything related to cancer or to be anywhere interesting. Not only that, preliminary checks of the other cell cultures suggested they might all be carrying the same worthless virus. The implication was that the Russian cells were duds. The elusive human tumor virus, it appeared, remained elusive.
But Nelson-Rees was more interested in the cells themselves than the viruses they held. What with his own findings and now this from Parks, there was something obviously strange about these cell lines. All lacked the Y chromosome, all carried the rare enzyme, and now all contained the same virus. The theory taking shape in his mind was both obvious and preposterous; he had to try it out on someone. "Has it ever occurred to anyone that these might be all the same cells?" he asked the virologist.
He would not have been surprised to hear Parks dismiss the idea. After all, how could they be the same cells? Each culture had come from a different research institute in the Soviet Union. Each was seeded by a bit of tissue taken from different patients with different kinds of cancer. How could they now be identical? And what kind of cell would they all be? Parks, however, said none of this. Instead he said that the same thought had occurred to him.
Nelson-Rees couldn't say -- not precisely, anyway -- how all the cell lines had become one. Nor could he say what kinds of cells were in the six cultures originally. But he was almost sure of what was growing in them now. He even knew the name of the woman to whom the cells, all of them, belonged. But he needed proof.
As it happened he and an assistant had just learned a technique that could help him get the proof. It was a method of applying purple stain to a cell's chromosomes. The chromosomes absorbed the color in selected areas and ended up looking like barber poles. Instead of neat stripes of red and white, though, they had bands of purple running across them at irregular intervals. The banding patterns were unique to each chromosome, like fingerprints, which made cells eminently more identifiable. If a researcher knew the banded fingerprints for various cell lines, he could use them to identify an unknown cell with far more certainty than by merely determining the lack of a Y chromosome, for example, or the presence of a rare enzyme.
Nelson-Rees and his assistant spent several months preparing the Russian cells, staining the chromosomes, photographing the fingerprints, and checking them against the fingerprints of their prime suspect. When they were through, the conclusion was inescapable. Maybe the bureaucrats didn't want to hear it, but they got another phone call. It was bad news, reinforcing Parks's impression that the cells were probably worthless to the quest for the human tumor virus. But it went beyond that.
These were not distinct cultures of cancer cells from six different patients in the Soviet Union. They were all the cells of an American who in her entire life had probably not been more than a few miles from her home in Baltimore, Maryland.
A housewife with four children, this woman had been stricken with cancer at the age of thirty. She died in 1951, more than twenty years before a group of smiling Russians proudly presented a group of smiling Americans with six of their most promising cell cultures.
Her name was Henrietta Lacks.