10 Excellent Reasons for National Health Care
Edited by Mary E. O'Brien, M.D. and Martha Livingston, Ph.D.
Foreword by Representative John Conyers Jr.
Compilation © 2008 by The New Press
Individual essays © 2008 by each author
NOTICE: THIS WORK MAY BE PROTECTED BY COPYRIGHT
YOU ARE REQUIRED TO READ

THE COPYRIGHT NOTICE AT THIS LINK

BEFORE YOU READ THE FOLLOWING WORK, THAT IS AVAILABLE SOLELY FOR PRIVATE STUDY, SCHOLARSHIP OR RESEARCH PURSUANT TO 17 U.S.C. SECTION 107 AND 108. IN THE EVENT THAT THE LIBRARY DETERMINES THAT UNLAWFUL COPYING OF THIS WORK HAS OCCURRED, THE LIBRARY HAS THE RIGHT TO BLOCK THE I.P. ADDRESS AT WHICH THE UNLAWFUL COPYING APPEARED TO HAVE OCCURRED. THANK YOU FOR RESPECTING THE RIGHTS OF COPYRIGHT OWNERS.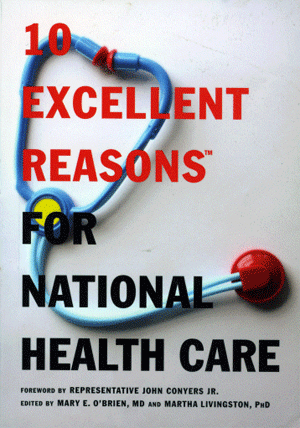 "Of all the forms of inequality, injustice in health care is the most shocking and inhumane."

-- Martin Luther King Jr.
Table of Contents:
Praise for 20 Excellent Reasons for National Health Care
Foreword by Representative John Conyers, Jr.
Introduction by Mary E. O'Brien and Martha Livingston
1. It's Good for Our Health, by Martha Livingston
2. It Costs Less and Saves Money (Unlike All of the Alternatives), by Leonard Rodberg
3. It Will Assure High-Quality Health Care For All Americans, Rich or Poor, by Mary E. O'Brien
4. It's the Best Choice -- Morally and Economically, by Marie Gottschalk
5. It May Be a Matter of Life or Death, by Nathan Wilkes
6. It will Let Doctors and Nurses Focus on Patients, Not Paperwork, by Rose Ann De Moro and Claudia M. Fegan
7. It Will Reduce Health Care Disparities, by Olveen Carrasquillo and Jaime Torres
8. It Will Eliminate Medical Debt, by Cindy Zeldin and Mark Rukavina
9. It Will Be Good for Labor and for Business, by Leo W. Gerard
10. It's What Most Americans Want -- and We Can Make it Happen, by Joanne Landy and Oliver Fein
Afterword, by James Winkler
Notes
Resources
About the Contributors
Acknowledgments
The Universal Declaration of Human Rights, adopted by the United Nations in 1948, declares, in part, "Everyone has the right to a standard of living adequate for the health and well-being of himself and his (sic) family, including food, clothing, housing and medical care and necessary social services, and the right to security in the event of unemployment, sickness, disability, widowhood, old age or other lack of livelihood in circumstances beyond his control."

***

Halfway solutions won't work, particularly those that put more taxpayer money into helping people buy more private health insurance. Private health insurance is not only extremely costly, it will also result in more and more under-insurance and will actually move us away from achieving quality universal coverage. In order to maintain profits and control their costs, private insurers will jack up deductibles and co-pays and cut benefits. Private insurers will do all they can to recruit the healthy and avoid the sick, who are burdened with pre-existing conditions.

That's the fallacy of the "level the playing field" argument put forward by politicians and pundits who propose that we offer Medicare to everyone and let it compete with private health insurance. The competition will not be fair, because private insurers will figure out how to attract the well by offering perks like free health-club memberships and by advertising aggressively among healthier groups, and how to skip over the less healthy by undermarketing to high-risk populations, even if they are legally required to insure all applicants. This will inevitably leave a disproportionate number of the sick to Medicare, which will in turn raise Medicare premiums, which will make it less attractive to healthy people than private insurance.

Many reformers advocate regulating private insurance to prevent these abuses, but the record of government regulation in this country is poor. The private industry being regulated uses its clout to constrain and distort government intervention. Moreover, no one has proposed comprehensive regulations to curb the worst features of the insurance industry, its built-in desire to avoid paying claims. Most regulation being proposed primarily involves selling insurance, not actually paying for health care.

We already have a clear example of how private health insurance avoids regulation when it coexists with public health insurance when we compare traditional Medicare to Medicare Advantage in which private insurance companies provide coverage. These private plans receive 12 to 18 percent more funding than traditional Medicare and yet have been fraught with major problems. "Tens of thousands of Medicare recipients have been victims of deceptive sales tactics and had claims improperly denied by private insurers according to a review of 91 audit reports conducted by the New York Times." [12] The companies reviewed included three of the largest participants in the Medicare market, United Health, Humana, and Wellpoint. The problems, described in the audit reports, include "the improper termination of coverage for people with H.I.V. and AIDS, huge backlogs of claims and complaints, and a failure to answer telephone calls from consumers, doctors and drugstores.... The audits document widespread violations of patients' rights and consumer protection standards. Some violations could directly affect the health of patients -- for example, by delaying access to urgently needed medications."

The danger of halfway solutions is not only that they won't work but also that their failure can discredit the whole effort on behalf of universal coverage. The public will blame the advocates for universal coverage for the lack of improvement in affordability and coverage. Moreover, the halfway measures that have been proposed add legitimacy and resources to the private insurance companies, who will use those assets to fight single payer every step of the way.

***

Dr. Martin Luther King Jr. warned, "A nation that continues year after year to spend more money on military defense than on programs of social uplift is approaching spiritual doom."

-- 10 Excellent Reasons for National Health Care, Edited by Mary E. O'Brien, M.D. and Martha Livingston, Ph.D.