CERTIFICATE OF MEMBERSHIP SIGNED BY H.P. BLAVATSKY (FACSIMILE OF 1888 ORIGINAL)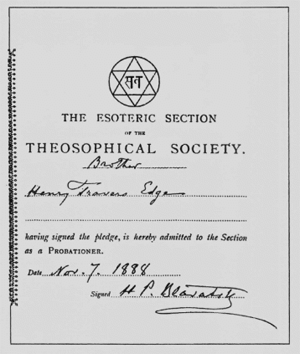 THE ESOTERIC SECTION OF THE THEOSOPHICAL SOCIETY.
Brother Henry Travers Edge having signed the pledge, is hereby admitted to the Section as a PROBATIONER.
Date: Nov. 7, 1888.
Signed H.P. Blavatsky
***
H.P. BLAVATSKY ON THE ESOTERIC SECTION
"...the Esoteric Section does not 'conflict' with your previous Chelaship, but it does 'embrace' and expands it. That is to say, as my dear and beloved friend, Brother and Son, W.Q. Judge, will be chartered to represent me in the U.S.A., he will receive instructions from me, and you (of the Aryan Lodge) from him..."
H.P. Blavatsky
Letter dated Nov. 11, 1888
***
H.P. BLAVATSKY ON THE ESOTERIC SECTION
"The Esoteric Section is to be a School for earnest Theosophists who would learn more (than they can from published works) of the true Esoteric tenets.... There is no room for despotism or ruling in it; no money to pay or make; no glory for me, but a series of misconceptions, slanders, suspicions, and ingratitude in almost an immediate future: but if out of the .... Theosophists who have already pledged themselves I can place on the right and true path half a dozen or so, I will die happy. Many are called, few are chosen. Unless they comply with the lines you speak of, traced originally by the Masters, they cannot succeed. I can only show the way to those whose eyes are open to the truth, whose souls are full of altruism, charity, and love for the whole creation, and who think of themselves last. The blind....will never profit by these teachings. They would make the 'strait gate' a large public thoroughfare leading not to the Kingdom of Heaven, now and hereafter, to the Buddha-Christos in the Sanctuary of our innermost souls, but to their own idols with feet of clay....The Esoteric Section is not of the earth, earthy; it does not interfere with the exoteric administration of Lodges; takes no stock in external Theosophy; has no officers or staff; needs no halls or meeting rooms...Finally, it requires neither subscription fees nor money, for 'as I have not so received it, I shall not so impart it', and that I would rather starve in the gutter than take one penny for my teaching the sacred truths....Here I am with perhaps a few years or a few months only (Master knoweth) to remain on earth in this loathsome, old, ruined body; and I am ready to answer the call of any good Theosophist who works for Theosophy on the lines traced by the Masters, and as ready as the Rosicrucian pelican to feed with my heart's blood the chosen 'Seven'. He who would have his inheritance before I die...let him ask first. What I have, or rather what I am permitted to give, I will give."
H.P. Blavatsky
Letter dated Dec. 1, 1888
***
H.P. BLAVATSKY ON THE ESOTERIC SECTION
"I have your letter of Dec. 3 inquiring about the Esoteric Sec. T.S. My old friend Mr. W.Q. Judge has been here with me....As you are a friend of his I can explain to you briefly. I leave to him as my sold U.S. representative to go into matters more fully with you & all others in the Section or out of it.
"The 'obedience to the Head of the Sec.' is solely obedience to my direction as to the method of study. None of these probationary students are put under 'orders' requiring blind obedience, but are required to exercise the intellect, judgment & discretion. Hence I should never ask you to do that which will conflict with your duties as a man or citizen. I reserve all my 'orders' to be carried out implicitly for certain chelas who are in a position not only to desire to carry them out but also whose circumstances permit it; & those chelas are those who have been initiated in a way as yet unknown to you. They reached it after long years of struggle.
"As this degree is probationary it is to prove & try & select out of the mass of Theosophists those who really have at heart the true desire to go forward & to benefit the race. Time enough to issue orders for blind execution when I have those chelas who can execute them.
"Yet this degree is very serious, in this, that it begins at the foundation & is a necessary step in theosophic development. All will receive as they deserve...
"One question: if you were ill & called a physician, w'd you not obey his orders? If you learnt a language w'd you not follow the directions of your professor; & if a soldier in the army those of your superior? Of course one who joins must have confidence in me otherwise better he should never join at all."
H.P. Blavatsky
Letter dated Dec. 13, 1888