Chapter 4: Hara as Secular Power
From the beginning to the end of his life man is filled with anxiety about his standing in the world. He wants to maintain and to prove himself and therefore, strives for stability and security. He must be able both to make his way and to defend himself. If he has lost the connection with the Greater Life within himself or not yet regained it, he has to rely upon the faculties which he possesses in his I in order to master life. The man who has Hara builds not merely on the strength of his I, for he has already experienced two things: first, that the powers centred on and guided by his I as well as his personal self-feeling have their actual source elsewhere; secondly, that wherever he has entrenched himself within the narrow circle of his I, he becomes in fact weak and insecure. The influx of a deeper strength is blocked. One who has Hara, although using all the faculties of the I has learned when and how to withdraw his ego and to base himself on a different foundation from which his real strength, as well as his I strength, flows.
The man who has Hara at his disposal stands upright. He is not likely to lose his balance, either literally or figuratively, and if something happens which does upset him, or if circumstances temporarily force him to over-reach himself, he soon swings back into his vital centre.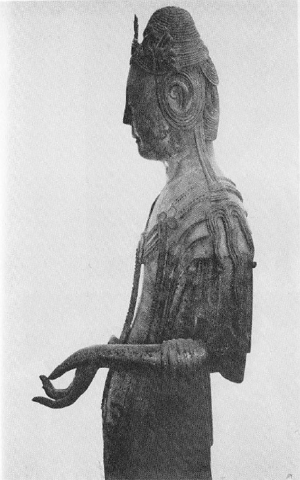 1. Horyuji-Kura, Boddhisattvis, from K. With, Buddhistische Plastik in Japan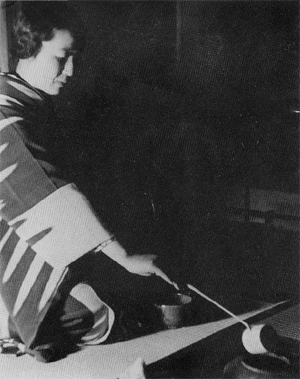 2. Japanese tea ceremony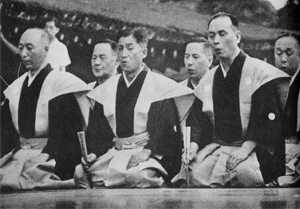 The Kabuki Choir: from Werner Bischof, Japan, Manesse-Verlag, Conzett & Huber, Zurich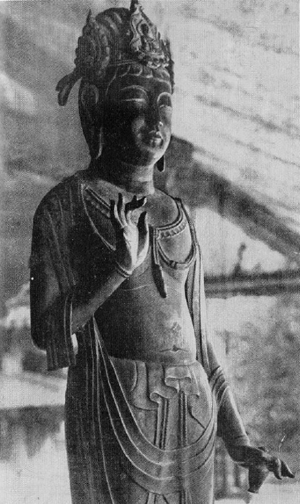 3. Horyuji-Kondo, Yumechigai-Kwannon from K. With, Buddhistische Plastik in Japan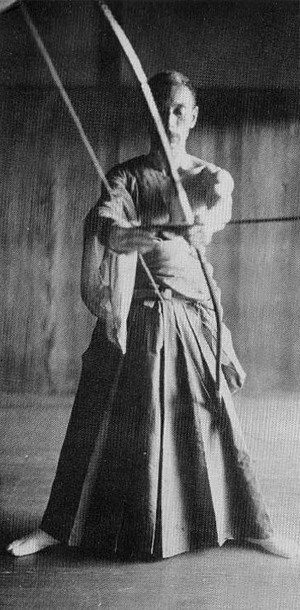 4. Master Kenran Umeji

Master Ekyo Hayashi's painting of Kwannon -- the Goddess of Mercy (in the possession of the author)

5. Mary Magdalene, from the Holy Sepulchre. Augustiner Museum, Freiburg

The Synagogue. From Der Bamberger Dom und seine Bildwerke, by Walter Hege and Wilhelm Pinder, Deutscher Kunstverlag, Berlin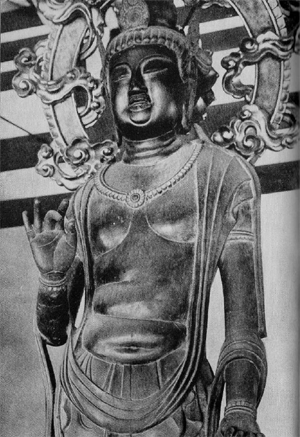 6. Yakushiji-Kodo, Nikko Bosatsu from K. With, Buddhistische Plastik in Japan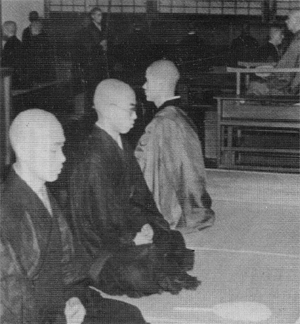 Young Zen monks in meditation. The Master sits in the chair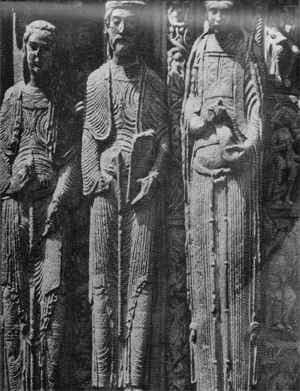 The Forebears of Christ, Chartres Cathedral. Photo: TEL Editeurs, Paris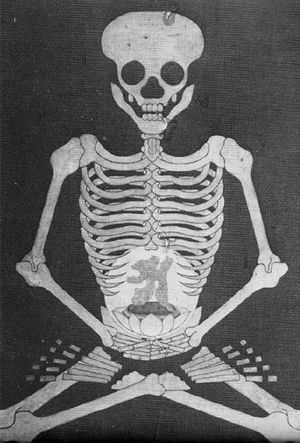 Kakamona Meditations A-ji-Kan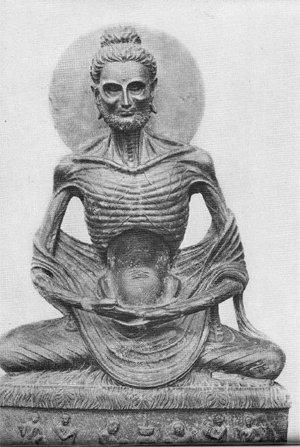 The Repentant Buddha, at Gandhara, N.W. India. Lahore Museum, Pakistan
One who has mastered the practice of Hara is also less easily tired. By re-establishing the connection with his vital centre he always has access to reliable springs of new strength. He does not consume himself and he never spends himself completely. The more he learns to anchor himself in Hara the more he can shake off the disturbances of body and mind caused by the yoke of the I and clear the way for the powers regenerating him from the depths.
There is no sick person whose recovery is not blocked by inner cramp or tension. And no recovery that could not be hastened by loosening of tension. To exactly the extent that such tensions are connected with the fears of a troubled ego or the defiance of an obstinate one, they are released when a man has learned to drop his I and to surrender to that deeper strength which Hara surely opens to him. Hara thus means the capacity for physical renewal and 'stepping up'. It is always astonishing to see how much a person who has Hara can renew, increase and conserve his energy. One example can serve for many: Kenran Uneji, the archery master, bade his pupils test his arm muscles at the moment when his bow was drawn to its fullest extent -- a bow which nobody but himself was able to draw. His muscles were completely relaxed. He laughed and said, 'Only beginners use muscle power -- I draw simply with the spirit,' and he meant by that the power that comes from Hara.
Whenever a physical performance results from the right use of Hara that is, 'using one's middle', all the organs work as if in play, as functions of a whole, accurately and without straining. And, even in the smallest partial action, the great whole is at work. But the whole includes more than the powers comprehended and guided by the I. If the basic centre which releases the strength of the whole is missing, the limbs then have to be consciously directed by the will. The effect is unco-ordinated, without inner flow. There is fatigue and cramp soon follows. This is true of every action demanding physical strength, carrying, pushing, pulling, speaking, singing, writing, typing, dancing, climbing, cycling, etc. It is also true of every sport and every kind of work in house, field or workshop. Wherever work is done from Hara, that is, with a tranquil I and with the strength rising from the vital centre, the effort is reduced to a minimum because the movement occurs organically and is not executed by the I.
Hara also enables one to bear pain to an unusual degree. Indeed to the extent that a man has learned to drop his anxious safety-seeking I and to collect himself in his basic physical centre, he does not feel pain. It is as if the part that suffers physical pain were not present.
The I-imprisoned man diminishes the basic strength originally given to him by nature. There are many accounts of people in great danger who, by eliminating their I and meeting all resistance with Hara, passed through barriers which would have defeated them had they relied on themselves alone. It is as if there grew out of Hara a sphere of strength from which danger rebounds, before which obstacles yield and in which attacks find no lodgement. He who has no I-position to defend offers no target to the attacker and the enemy strikes thin air. Anyone resting securely in Hara is also immune against contagious diseases.
The man who has Hara can wait. He is patient in all situations and always has time. He can also look on calmly, feels no urge to interfere constantly. The more practised he is in Hara, and the more he has come to know this power which gives him tranquillity and patience, the more quickly he recognizes, in every stirring of impatience, that he has deviated from his own true centre and has fallen under the sway of his I.
The man who has Hara is composed. Thus Hara is salutary for every form of nervousness. Unnecessary movements cease and all restless jerking and twitching of the limbs. It is as if peace had entered the body, an inner calm which is not lifelessness but the expression of a tranquil, self-collected harmony.
People without Hara easily lose 'form'. They are quickly roused, irritable and lose face in untoward situations. Irritations either fail to touch people with Hara or they know how to deal with them.
Health and recovery from illness are also connected with a person's being in form. Just as cramp and tension obstruct recovery, so also does the lack of inner form. Even a merely ethical intention to maintain a right inner attitude towards illness is helpful, but control by will-power alone prevents the development of the inner form which corresponds to the deeper nature. When man has Hara he releases in every situation -- including convalescence from illness -- he unconscious creative forces of nature.
The bodily movements of the person with Hara are free and unforced; he sits, stands and moves with natural command. With his weight rightly placed. In the basic centre he is firm and stable, his limbs free from all rigidity and inhibition and so his own personal form emerges more clearly. From the right centre grows the right form both in repose and in movement; and that form is right which 'gives' naturally, which is instantly ready to change and adapt and yet always preserves its organic flow from within outwards.
Hara re-establishes man's unity with, himself. In regard to his body this means that he is not in constant opposition to his elementary impulses which require freedom and action, nor is he obliged to be constantly deciding whether to affirm or to deny them. It is as if Hara opened within us a completely new region where our tangled energies can swing easily without necessarily discharging themselves in action. Many life-impulses which for one reason or another have to be suppressed, can, with Hara, be dismissed into a secret inner region whence they return as increased over-all strength. When this is understood Hara gives man a legitimate power over his sexuality. When the I with its imagination takes possession of a man and demands particular forms of fulfilment his sexuality creates an unbearable tension which has to be either repressed or lived out -- alternatives often equally damaging. With Hara an inner door seems to open. Going through this door he lets fall his ego-based imagination-ridden idea of fulfilment destructive tensions are resolved and the dammed-up forces acquire positive creative significance. To summarize: anchorage in the vital centre which is Hara guarantees man enjoyment of a power which enables him to master life in a new and different way. It is a mysteriously sustaining, ever renewing, ordering and forming power, as well as a liberating and integrating one.
As a spiritual being man seeks something beyond and above secure existence. He seeks completeness within himself and in the world. He is in search of an accomplished form which will perfectly actualize the inner meaning residing in it. Both in recognition and in action he is serving the objective, the idea latent in a thing, a work accomplished. He feels himself obligated by inherent laws and in addition he seeks his fellow man for what he is. He perceives him in his unique being.
Significant and effective accomplishment of any given objective is hindered by the pre-existence of firmly fixed ideas and concepts, and fixation within the ego results in an ineradicable entanglement within the sphere of the personal -- all-too-personal.
Effective recognition, action and creation pre-supposes a detachment which, will enable a man to perceive the other in the other s own nature and at his own value. Only real detachment from an ego clinging to its position, and freedom from fixed pre-judgments makes possible an elasticity of functioning which is indispensable for the accomplishment of any objective undertaking.
All ability is blocked when a person is bound within his little I, when .he faces his tasks with and from the wrong centre of gravity. For then he is either fixed or trapped. If he is able to free himself from the yoke of the ego and to place himself in the right centre he soon gains not only a correct perspective but he can also make the best use of his knowledge. Thus precision of functioning presupposes that flexibility-in-depth which is tantamount to the ego's ability to release its grip on the steering wheel to which it clings so tenaciously.
The highest kind of skill is shown in the long run by a 'letting-it-happen', which implies abandoning the already achieved, but it is blocked when each repetition calls for a conscious act of will. Such abandoning is synonymous with the letting go of the 'doing' I. When it no longer interferes, when ambition and self-seeking are absent and the necessary effort is unforced, skill and ability come into full play. For then a man allows his ability, freed of all personal factors, of all fixations, to be used as an instrument in the service of the deeper power which will do the work for him. For this power to take effect there must be an anchorage in Hara, where there is no ego.
Any clinging to the ego position is also a cause of intellectual poverty. It actually blinds a man to the new perspectives which open out at every step of advancing perception or understanding. It impedes the creative powers of the mind. But the man whose ego is continually held in check is constantly discovering new possibilities.
Hara liberates the creative imagination. One who is freed from the ego becomes aware of new images arising from deeper levels. This is proved by the inexhaustible wealth of imagery arising in dreams. The tissue of established concepts and images hampering the imagination becomes penetrable, whether in sleeping or in waking, only in the degree to which the ego withdraws and to which the individual in his waking state finds his centre of gravity elsewhere.
Thus in the mental realm, achieving Hara means the release of powers latent in the depths which endow man in all his activities with creative energy and a sense of actuality. Freed from the bondage of established patterns from the past, he is creatively united with the task in hand.