8. Calm Waters
We are granted freedom of movement — Important visits in Lhasa — Tsarong's generous hospitality — Tibet is in no hurry — Once more threatened with expulsion — The New Year's festivities.
Ten days after our arrival we received word from the Foreign Ministry that we could move about freely. At the same time we were supplied with the splendid full-length cloaks of lambskin for which we had lately been measured. For each of these, sixty skins were used. On the same day we went for a walk in the town and in our Tibetan cloaks attracted no attention. We wanted to see everything. The inner town is composed of nothing but stores. Shops extend in unbroken lines and the dealers overflow into the street. There are no shop-windows in our sense of the word. One finds numbers of general stores containing a large range of goods from needles to rubber boots; near them smart shops selling draperies and silks. Provision stores contain, as well as local produce, American corned beef, Australian butter and Scotch whisky. There is nothing one cannot buy, or at least order. One even finds the Elizabeth Arden specialities, and there is a keen demand for them. American overshoes, dating from the last war, are displayed between joints of yak's meat and chunks of butter. You can order, too, sewing-machines, radio sets and gramophones and hunt up Bing Crosby's latest records for your next party.
The gaily dressed crowds of shoppers laugh and haggle and shout. They find a special pleasure in bargaining, which to be enjoyed must be long drawn out. Here you can see a nomad exchanging yak-hair for snuff, and nearby a society lady with a swarm of servants wallowing for hours in a mountain of silks and brocades. The nomad women are no less particular in selecting Indian cotton lengths for their prayer-flags.
The common people generally wear nambu, a cloth made of pure home-woven wool, which is practically untearable. This cloth is made in strips of about eight inches in breadth. Bales of material used for these Nambus are displayed in the stores. The wool is either pure white or dyed mauve with a blend of indigo and rhubarb.
The white Nambu is hardly worn except by donkey-drivers, as absence of colours is reckoned a sign of poverty.
Since tape-measures are not used here, they measure cloth by the length of one's arm. Thanks to my long limbs I have always profited by this custom.
Then we found an enormous store full of European felt-hats which are the dernier cri in Lhasa. A smart felt-hat over Tibetan dress certainly looks odd, but
Tibetans value broad-brimmed European hats as a protection against the sun. Sunburnt faces are not an attraction here.
Native Tibetan hats go much better with Tibetan dress and look more attractive in the street; and, in fact,
the Government were trying at that time to stem the influx of European fashions, not with any idea of interfering with individual liberty, but in order to preserve the beautiful native style of dress.
The Tibetans are also addicted to umbrellas and sunshades which you can find in all sizes, qualities and colours. The monks are the best customers for these articles since, except at solemn festivals, they go bareheaded.
When we got home we found the Secretary of the British Legation waiting for us. He was a personal friend of Thangme and his call was by no means an official visit. He said that he had heard much of us and was greatly interested in our journey and our experiences. He had himself been British trade representative in Gartok
and knew something of the country through which we had travelled. We found him an opportune visitor as we very much wanted to send news to our families at home, who must long have given us up for lost. Only the British Representative had direct communication with the outside world, as Tibet does not belong to the World Postal Union and its postal arrangements are somewhat complicated.
Our visitor encouraged us to apply personally for assistance in this matter and so
next day we set out for the Legation, which we had already noticed on our way into the town. Servants in red livery showed us first into the garden, where we found Reginald Fox, the wireless operator, taking his morning stroll. Fox had lived for many years in Lhasa and was married to a Tibetan girl. They had four enchanting children with fair hair and large, black almond eyes. The two eldest were at a boarding-school in India.

Fox was the only man in Lhasa who possessed a reliable motor and in addition to his duties at the Legation he was regularly occupied in charging all the radio batteries in the town. He could communicate by radio telephone with India and was much appreciated in Lhasa for his ability and thoroughness.
Meanwhile the servants had announced us and we were conducted to the first floor of the building.
The Chief of the British Legation, Mr. Hopkinson, greeted us cordially and invited us to a good English breakfast
which had been prepared on the veranda. How long it seemed since we had last sat on comfortable chairs and seen table decorations, flowers in vases and books in a real European setting. We let our eyes wander in silence round the room. It seemed, somehow, as though we had come home. Our host understood what we were thinking. When he saw us looking at his books he kindly offered to let us use his library. Soon we began to talk freely. The question which worried us most, namely whether he still regarded us as prisoners of war, was tactfully avoided.
At last we asked him straight out whether our comrades were still behind the barbed wire. He could not say but promised to obtain information from India. He then spoke frankly of our situation and told us that he had been informed in detail of our escape and subsequent journey, and inferred that he had learned from the Tibetan Government that we would soon go back to India. This prospect, we said, did not appeal to us, so he asked us if we would be interested to find work in Sikkim. We made no secret of our wish to stay on in Tibet, but said that if that was not possible we would gladly consider his offer.
The importance of the question we were discussing did not spoil our appetites, and with encouragement from our host we did more than justice to the good food we were offered. When we had finished we thought the time had come to submit our request to be allowed to send word to our families.
Our host promised to arrange for a message to go through the Red Cross. We were later allowed to send letters now and then through the Legation, but for the most part we had to use the complicated Tibetan post, sending our letters to the frontiers in double envelopes, the outside one bearing a Tibetan stamp. At the frontier we arranged for a man to remove the outer envelope, put an Indian stamp on the inner one and post it on. With luck it only took a fortnight for a letter to get to Europe. In Tibet the post is carried by runners who work in relays of four miles each. Along all the high-roads are huts in which relays wait ready to relieve the runners as they arrive. Postal runners carry a spear with bells attached as a sign of their office.
The spear can, if necessary, be used as a weapon and the bells serve to frighten off wild animals at night. Stamps are printed in five different denominations and are on sale in the post offices.
Our visit to the British Legation had done much to relieve our minds. We had been welcomed there and had reason to hope that the English now realised we were harmless.
On our way back we were stopped by some servants who told us that their master desired us to visit him. When we asked who their master was, we learned that he was a high monastic official in the government service, one of the four Trunyi Chemo, in whose hands authority over all the monks in Tibet is concentrated.
We were taken to a large, stately mansion, scrupulously clean and well kept. One could really have eaten off the stone floors. The servants were all monks. We were greeted by a kindly, elderly gentleman and offered tea and cakes. After the usual courtesies we fell into conversation and soon became aware of the reason why our host was interested in us.
He stated frankly that Tibet was a backward country and that men like us could be made good use of. Unfortunately everyone did not hold the same opinion. However, he would see what he could do and would say a good word for us. Meanwhile he asked us what our professions had been in our own country and what subjects we had studied. He was particularly interested in the fact that Aufschnaiter was an agricultural engineer. No one in Tibet was an expert in this branch and what scope there was in this great country!
The Austrian mountain climber and competition skier joined the SS on April 1, 1938 and in the same year received instructions to climb Nanga Parbat in the Himalayas after an official meeting with Adolf Hitler. Heinrich Himmler, himself most interested in occult phenomena is said by Harrer to have offered him a Tibet expedition....

The adaptation to film of Harrer's autobiographic bestseller, Seven Years in Tibet, triggered an international protest. Since the famous traveler through Tibet had told director Jean Jacques Annaud nothing about his "brown-shirt" past, and this only became public knowledge after the film had been finished, Annaud felt pressured to introduce "corrections". A remorseful Austrian was now shown, who begins his mountain-climbing career as a supporter of a regime accused of genocide and then, under the influence of the young Kundun and Tibetan Buddhism, reforms to become a "campaigner for human rights". In the film, he says of the brutal Chinese: "Terrible — I dare not think about how I myself was once so intolerant " (Stern 41/97, p. 24).

Reinhold Messner, the famous mountain climber, found such an admission of guilt from Hollywood's dream factory difficult to understand. He spoke up, confirming that he had long known about Harrer's political opinions. This man, he said had up until the present day still not learned anything, he still believed in the national socialist alpinist ideals.

-- The Shadow of the Dalai Lama: Sexuality, Magic and Politics, by Victor and Victoria Trimondi, translated by Mark Penny
Next day we paid official visits to each of the four Cabinet Ministers. Responsible only to the Regent, these men represent the supreme authority in Tibet. Three of them are civil dignitaries and the fourth a monastic official. They all belong to the highest families and live in great style.
Surkhang Wangchen Gelek: Wangchen Gelek joined government service early. When he was only about fifteen or sixteen he started as a junior apprentice, Tsituk (rtsis phrug). Over the course of his brilliant career, he was initially the Officer in Charge of Flour, Zhibkhang Dodampa (zhib khang do dam pa). He was then appointed as Kadrung (bka' drung), the Assistant Secretary to the Kashag (bka' shag). In 1933 he was the Domey Chikyab (mdo smad spyi khyab), the Assistant to the Governor General of Eastern Tibet, and then General, Depon (mda' dpon), in charge of 1500 men in Kham. In August 1943, at the young age of thirty three, he joined the Kashag and became a cabinet minister, or Kalon (bka' blon). His appointment to the Kashag seems to have been made by Regent Taktra Dorjechang Ngawang Sungrab Tutob (stag brag rdo rje 'chang ngag dbang gsung rab mthu stobs, 1874-1952) primarily because he saw the Surkhang family as a source of support and potential ally in his consolidation of political power. The previous Regent, the Fifth Reting Tubten Jampel Yeshe Gyeltsen (rwa sgreng 05 thub bstan 'jam dpal ye shes rgyal mtshan, 1912-1947) had confiscated a Surkhang estate and was thus despised by the family. Even if Surkhang's appointment to the Kashag owed more to politics than his own merit, he would prove to be a good statesman. He was to become a key member of the Kashag in the 1940s and the tumultuous 1950s.

-- Surkhang Wangchen Gelek, b.1910 - d.1977, by Tenzin Dickyi
We wondered with whom we should begin. We ought to have started with the Minister-monk, but
we decided to bypass the protocol and call on the youngest Minister first, Surkhang by name. He was thirty-two years old and was considered more progressive than his colleagues.
We hoped for counsel and understanding from a young man.
He welcomed us with frank cordiality and we were immediately on good terms. He was astonishingly well informed about events in the outside world. He entertained us to a princely dinner
and when we took our leave we felt that we had known each other for years.
The next Minister we visited was Kabshopa [Kapshopa], a corpulent and somewhat self-important gentleman who treated us with a certain condescension. He made us sit down on two chairs in front of his comfortable throne and then overwhelmed us with a flood of eloquent phrases. He punctuated his most effective passages by clearing his throat noisily, at which a servant hurried forward and offered him a golden spittoon. Spitting is not a social solecism in Tibet and small spittoons are placed on every table; but it was new to us to see one presented to the spitter by a servant.  
At this first meeting it was hard for us to know what to make of Kabshopa. He held forth, and we passively submitted to his eloquence, at the right time replying courteously to his politenesses. We drank the ceremonial cup of tea in exemplary fashion. As he had not realised that we spoke Tibetan,
his nephew was asked to interpret
. This young man's knowledge of English had secured him a post in the Foreign Ministry and we often had dealings with him later. He was a typical example of the younger generation.
He had studied in India and was full of plans for reforming Tibet, though he had not yet ventured to stand up for his theories in presence of the conservative monks.
Once when we were alone he caused me to remark that Aufschnaiter and I should have come to Lhasa a few years later, for if he and some of the other young aristocrats had been Ministers, there would have been work for us in plenty.
The Minister-monk who lived on the Lingkhor, the five-mile-long pilgrims' road which goes round Lhasa, received us with less formality. He was no longer young and had a nice little white beard of which he was very proud, for beards in Tibet are a rarity. In a general way he seemed very detached, and in contrast with the other Ministers avoided expressing any definite opinions. His name was Rampa, and he was one of the few official monks who belonged to the aristocracy. The way in which the political situation was developing must have been causing him secret anxiety. He was much interested in our views on Russia's policy and told us that in the old scriptures it was prophesied that a great power from the north would overrun Tibet, destroy religion and make itself master of the whole world.
Phunkhang Yabshi Kung, Phunkhang Yabshi Kung's wife, and Phunkhang Yabshi Kung's son. Yabshi Phünkang Kung was known as "The Duke". This title goes to the father or brother of the reigning Dalai Lama. As the title is hereditary there are usually a number of Kungs living at the same time, theoretically one for each Dalai Lama. The Dalai Lama's family is often poor and so the title of Kung carries with it considerable estates. He was appointed a member of the council of ministers (bka' blon) in 1938 until his dismissal in 1946. He was a staunch supporter of the Reting Regent. He suffered from very bad eyesight. 1948, Hugh E. Richardson.
Finally we called on
Punkhang, the oldest of the four Ministers. He was a little man compelled by shortsightedness to wear thick-lensed spectacles. This was something quite unusual in Tibet, where spectacles are disapproved of as "un-Tibetan." No official was allowed to use them and even wearing them in the house was discouraged. Our Minister had received special permission from the Dalai Lama to wear them in the office. At important ceremonies his poor sight rendered him quite helpless. Punkhang's wife was present when he received us. He was, it is true, of higher rank than she, but it required no great penetration to see that it was madame who wore the trousers. After the first words of greeting Punkhang hardly spoke a sentence, whereas his lady drenched us with a shower of questions.
Later he showed us his domestic chapel.
He was a scion of one of the families which had produced a Dalai Lama and prided himself on it. He showed us a figure of the Holy One in his dim and dusty chapel.




In course of time I came to know Punkhang's sons. The eldest of them was Governor of Gyantse (Sey Kusho Gompo Tsering Yapshi Pheunkhang, the governor of the Tibetan city of Gyantse) and was married to a princess of Sikkim, who was, however, Tibetan by descent. She was more interesting than her husband and was, to boot, one of the most beautiful women I have ever seen.
She possessed the indescribable charm of Asian women and the stamp of age-old oriental culture. At the same time she was clever, well-educated and thoroughly modern, and had been taught in one of the best schools in India.
She was the first woman in Tibet to refuse to marry her husband's brothers because this did not conform with her principles. In conversation she was the equal of the most intelligent woman you would be likely to meet in a European salon
. She was interested in politics, culture and all that was happening in the world. She often talked about equal rights for women . . . but Tibet has a long way to go before reaching that point.
When we said goodbye to Punkhang we begged him to support our request to be allowed to reside in Tibet. He of course offered to do all in his power to help us but we had been long enough in Asia to know that nobody ever bluntly refused anything.
In order to assure our position from all sides, we tried to get on good terms with the Chinese Legation.
The charge d'affaires received us with the politeness for which his people are famous, and when we asked about the possibility of being admitted to China and finding an occupation there, he promised to submit our question to his Government.
In these ways we did what we could to get support in all quarters and to convince people of our harmlessness. It happened quite often that strangers addressed us while we were out for walks and asked us very peculiar questions. One day a Chinese took a snapshot of us. A camera in Lhasa was something very unusual, and the incident gave us food for thought. We had already heard that there were a number of people in Lhasa supplying information to foreign countries. Perhaps we, too, were believed to be agents of a foreign power. Only the English knew how innocent we were, for they knew where we had come from, and were in a position to test the truth of our statements. Other people, not so well informed about us, might think all sorts of things. In fact,
we had no political ambitions. All we asked for was shelter and work to do till the time came when we could return to Europe.
Meanwhile spring had come, bringing beautiful warm weather, though it was only early February. Lhasa lies south of Cairo, and in high altitudes the sun's rays seem perceptibly stronger.
We felt very well, but longed for regular occupation. Daily invitations and visits and banquets that lasted for hours were our lot, as we were passed from hand to hand like a couple of animal prodigies. We were soon sick of this idle life and hankered for work and sport. Beyond a small ground for basketball Lhasa made no provision for games. The young Tibetans and Chinese who played basket-ball were very glad when we offered to play with them. There were also hot shower-baths in the square, but a single shower-bath cost ten rupees — an enormous price when one thinks that a sheep costs no more.

Some years before, we heard, there had been a football ground in the town. Eleven teams were formed and cup-tie matches organised. One day during a match a hailstorm occurred and did a lot of damage, as a result of which football was forbidden. Perhaps the Regent disapproved of the sport and most likely it was thought to be a threat to the influence of the Church, for the people were enthusiastic about the game and many monks from Sera and Drebung were to be found watching the matches. Anyhow the hailstorm was interpreted as a sign that the gods disapproved of this frivolous sport, and football was abolished.
In connection with this story we asked our friends if there really were Lamas who could hold up hailstorms or call down showers of rain, for this belief is firmly held in Tibet. In all the fields there are small stone towers containing shells deposited as offerings in which incense is burnt when a storm approaches. Many villages actually have regular weather-makers. These are monks with a reputation for special skill in managing the weather. For the purposes of their magic they blow on conchs, which make a vibrating sound. In many of our mountain villages the church bells are rung when a storm is approaching, and the effect of these conchs can .be compared to the effect of the vibration of the bells. But of course Tibetans do not recognise any physical explanation — for them all is magic and spells and the sport of the gods.
We heard a nice story dating from the time of the thirteenth Dalai Lama. He, of course, had his court weather-maker, who was the most famous wizard ever known. His special job was to protect the God-King's summer garden when a storm approached, One fine day a heavy hailstorm came and beat down all the flowers and ruined the ripening fruit. The weather-maker was summoned into the presence of the Living Buddha, who sat grumbling on his throne and ordered the trembling magician at once to perform a miracle, otherwise he would be dismissed and punished. The man prostrated himself and asked for a sieve — just an ordinary sieve. He then asked the Holy One whether he would be satisfied if the water poured into the sieve did not flow through it. The Dalai Lama nodded and lo and behold! the water which was passed into the sieve remained in it. The magician's reputation was saved and he was allowed to retain his well-paid post.
All this time we were racking our brains to find some means of earning our living if we stayed on in Lhasa. For the moment we were treated most generously, receiving parcels of tsampa, meal, butter and tea. A pleasant surprise was Kabshopa's nephew handing us 500 rupees as a present from the Foreign Ministry. In our letter of thanks we said we were prepared to work for the Government if they would guarantee us food and lodging.
For the past three weeks we had been enjoying Thangme's hospitality. Now the wealthy Tsarong invited us to stay with him and we gratefully accepted. Thangme had four children and needed our room. He had taken us in as poor vagabonds off the street and had shown himself a true friend. We have never forgotten his kindness. At the New Year he was the first to receive white scarves from us, and later on when I had a house of my own he was a regular guest at my Christmas parties.
In Tsarong's house we were given a large room with European furniture, a table, easy chairs, beds and fine carpets. Next door we had a little room to wash in. We also found something which we had missed very much up to now, a closet for the relief of nature. In this respect the habits of Tibetans are casual to the last degree and any place seems to be regarded as a suitable latrine.
Tsarong could afford to have a number of cooks. His chef had been for years in the best hotel in Calcutta and understood European cooking. His roast meats were wonderful and he was in addition outstanding as a pastrycook and confectioner. Another of the cooks had been sent to China and had come back with a repertoire of Chinese dishes. Tsarong liked to astonish his guests with unknown delicacies. We were surprised to find that in the best houses women were never employed as cooks — only as kitchen-maids.
Tibetan meal-times are not quite the same as ours. In the early morning one drinks butter-tea and indeed very often throughout the day. I have heard of people drinking two hundred cups in a single day, though I daresay that is an exaggeration. There are two main meals in the day, one at 10 a.m. and the other after sunset. The first of these, consisting of a dish of tsampa and some trimmings, we took together in our own room. For the evening meal we were generally invited to join our host. The whole family sat round a large table. Many courses were served and this meal was the central point of the day, at which everyone in the house was assembled and the day's happenings discussed.
After supper we all sat in the living-room which with its numerous rugs, chests and figures seemed overcrowded. Here we smoked cigarettes and drank beer. We also had occasion to admire our host's latest acquisitions, for he was always buying something new. He had a wonderful wireless set, which gave one all the stations in the world. The reception was excellent, as on the "roof of the world" there is no atmospheric disturbance. Then there were the latest records to play, a cine-camera to be inspected, a new apparatus for enlarging photographs to be examined, and one evening he unpacked a theodolite! Tsarong was perfectly familiar with all these instruments. I suppose he had more hobbies than anyone in the town. We could not have wished for a better home than in his house. He collected stamps and kept up a correspondence with people in all parts of the world — his son who knew English helped him in this — and he possessed a well-chosen library including a fine collection of Western books, many of which were gifts, for every European who came to Lhasa stayed in his house and most of them left books as a souvenir of their visit.
Tsarong was an extraordinary man. He had constantly endeavoured to introduce reforms, and whenever the Government were busy with an important problem, he was called in to advise. He was responsible for the only iron bridge in the country. This he had had constructed and assembled in India. It was then taken to pieces and carried piece by piece into Tibet by yaks and coolies. Tsarong was a self-made man of the most modern brand and his ability would have made him an outstanding personality even in Western countries.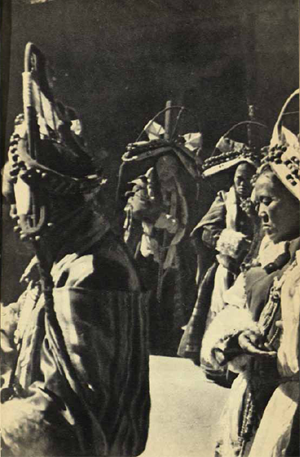 Gaily-costumed women in a traditional dance
[x]
The enormous banner hung before the Potala Palace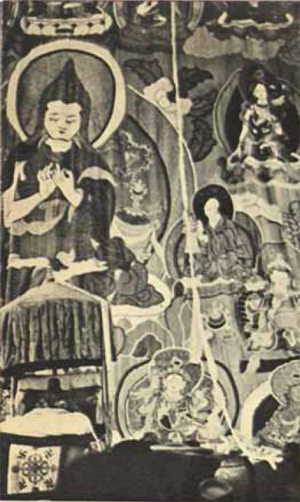 Huge banner in the Monastery of Tra-Yerpa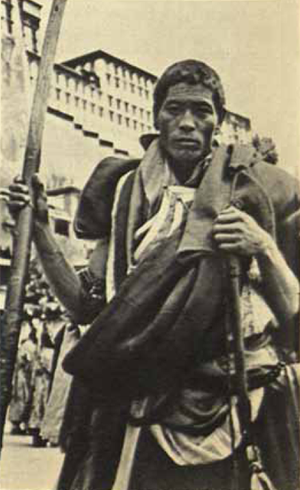 One of the monk policemen, bearing his heavy staff.
His son George — he had kept his Indian school-name — followed in his father's footsteps. At our first meeting we had been impressed by his knowledge and the variety of his interests. At this time photography was his passion and the pictures he took were worth seeing. One evening he astonished us by showing a colour film which he had made himself. It was so successful and so noiseless that at first one might have imagined oneself in a first-class cinema. However hitches occurred later on with the motor and the spool, which Aufschnaiter and I helped to put right.
Our supper with Tsarong and the books which we borrowed from him and the British Legation provided us with our only form of evening entertainment. There were no cinemas or theatres in Lhasa and no hotels or public-houses. Social life was entirely confined to private houses.
We spent our days collecting impressions as we were afraid lest we might have to leave before we had seen everything. We had no absolute grounds for misgiving, but we felt that we could not really count on our friends for support in a crisis, generous as they had been. We had several times heard a story that sounded like a warning. An English teacher had been asked by the Government to start a European type of school in Lhasa and had been offered a long contract. After six months he packed up his traps and went away. The reactionary monks had made his task impossible.
We continued to pay daily visits — so many people had called on us — and thus acquired a good knowledge of the home fife of distinguished Tibetans. There was one point in which we could compare the people of Lhasa favourably with the inhabitants of our own cities. They always had time.
Tibet has not yet been infested by the worst disease of modern life, the everlasting rush. No one overworks here. Officials have an easy life. They turn up at the office late in the morning and leave for their homes early in the afternoon. If an official has guests or any other reason for not coming, he just sends a servant to a colleague and asks him to officiate for him.
Women know nothing about equal rights and are quite happy as they are. They spend hours making up their faces, restringing their pearl necklaces, choosing new material for dresses and thinking how to take the shine out of Mrs. So-and-so at the next party. They do not have to bother about house- keeping, which is all done by the servants. But to show that she is mistress the lady of the house always carries a large bunch of keys round with her. In Lhasa every trifling object is locked up and double-locked.
Then there is mah-jong. At one time this game was a universal passion. People were simply fascinated by it and played it day and night, forgetting everything else — official duties, housekeeping, the family. The stakes were often very high and everyone played — even the servants, who sometimes contrived to lose in a few hours what they had taken years to save. Finally the Government found it too much of a good thing. They forbade the game, bought up all the mah-jong sets and condemned secret offenders to heavy fines and hard labour. And they brought it off! I would never have believed it, but though everyone moaned and hankered to play again, they respected the prohibition. After mah-jong had been stopped, it became gradually evident how everything else had been neglected during the epidemic. On Saturdays — the day of rest — people now played chess or halma, or occupied themselves harmlessly with word-games and puzzles.
On February 16th we had been just a month in Lhasa. Our fate was still undecided: we had no work and we worried about our future. On that very day Kabshopa came to us looking solemn, as befitted an envoy from the Foreign Ministry. We knew from his expression that he had bad news for us. He told us that the Government did not approve of our continued residence in Tibet and that we must proceed forthwith to India. We had always envisaged this possibility in our own minds but were disconcerted by the reality. We began to protest but Kabshopa shrugged his shoulders and said we must do that in higher quarters.
Our next reaction to this mournful news was to collect all the maps of Eastern Tibet we could find in Lhasa. In the evening we set to work to plot a route and make plans. We were determined on one thing — no more barbed wire for us! We would rather flee and try our luck in China. We had some money and were well equipped. It would not be difficult to lay in a stock of provisions. But I had to think of my sciatica which was not getting better. Aufschnaiter had already got the doctor of the British Legation to visit me. He had prescribed some powders and given me injections, but they had done no good. Was this confounded complaint going to wreck our plans? I felt like despairing.
Next day, disheartened as I was, I hobbled over to the house of the Dalai Lama's parents. We thought their intervention would help us. The Great Mother and Lobsang Samten promised to tell the whole story to the young God-King and felt sure that he would say a good word for us. This he actually did, and though the young Dalai Lama had not as yet any executive powers, his goodwill was certainly of use to us. In the meantime Aufschnaiter went from one acquaintance to another with the object of setting all the wheels in motion. And in order to omit no precaution, we composed a petition in English in which we set forth all the arguments in favour of our being allowed to remain in Tibet.
Fate seemed to be conspiring against us, for my sciatica suddenly became so bad that I could not move. I suffered great pain and had to remain in bed, while Aufschnaiter ran round the town till his feet were sore. These were anxious days.
On February 21st some soldiers appeared at our door. They called on us to pack our things as they had been ordered to escort us to India. We were to start early the next morning. That seemed to be the end of all things, but how was I to travel? I could not walk even as far as the window, as I tried to demonstrate to the lieutenant. He put on a helpless expression. Like all soldiers he had to obey orders and was not qualified to receive explanations. Pulling myself together I asked him to tell his superior that I could not leave Lhasa unless I was carried. The soldiers retired.
We at once applied to Tsarong for advice and help, but he had nothing fresh to tell us. He said that one could not resist an order from the Government. Alone in our room we cursed my sciatica. If I had been fit, nothing would have prevented us from escaping and we should have got away that very night. We preferred hardship and danger to the most comfortable quarters behind barbed wire. It would not be so easy to move me tomorrow and I bitterly decided to adopt an attitude of passive resistance.
But next morning nothing happened — no soldiers came, and there was no news. We anxiously sent for Kabshopa, who came in person and seemed embarrassed. Aufschnaiter explained how ill I was and began to discuss our problem. "Would it not be possible, " he said, with a serious expression, " to arrive at a com- promise?"
We had, meanwhile, come to suspect that perhaps the British were at the bottom of this business and had asked Tibet to hand us over.
We realised that Tibet was a small country and it was to her interest to be on good terms with her neighbours. What was the point of risking a misunderstanding with England for so small a matter as a couple of German P.O.W.s? So Aufschnaiter proposed that the English doctor, at that moment acting as charge d'affaires at the Legation, should be requested to give a certificate as to my condition. Kabshopa accepted the suggestion with such alacrity that we stole a glance at one another and felt sure that our suspicion was justified.
The doctor visited me in the course of the day and informed me that the decision about the date of our departure had been left in his hands by the Government. He gave me injections which did no good. I got more comfort from a present from Tsarong in the shape of some thermogene wool.
I now set myself to overcome my illness, which, I was determined, should no longer thwart our plans. Exerting all my strength of will, I forced myself to do exercises every day. A Lama had recommended me to roll a stick backwards and forwards with the soles of my feet. This I did for hours every day, sitting in a chair. The exercise was exceedingly painful but it gradually improved my condition and eventually I was able to go out into the garden and warm myself, like an old man, in the spring sunshine.
We were now in full spring. March had come and on the fourth of the month began the New Year Festival — the greatest of all Tibetan feasts, which lasts for three weeks. Alas! I could not take part in it. In the distance I heard drums and trombones and saw by the excitement that reigned in the house how important it all was. Tsarong and his son came every day to see me and show off their splendid new robes of silk and brocade. Aufschnaiter, of course, went everywhere, and told me all about it in the evening.
This year was the " Fire-Hound-Year." On March 4th (or a date near to this, as the Tibetan New Year is flexible — similar to our Easter) the City Magistrate hands over his authority to the monks — symbolising the restoration by the secular power of its office to religion, to whom it originally belonged. This is the beginning of a strict and formidable regime. To start with the whole place is tidied up and during this season Lhasa is renowned for its cleanliness — which is not a normal condition. At the same time a sort of civil peace is proclaimed. All quarrels cease. Public offices are closed, but the bargaining of street traders is livelier than ever, except during the festal processions. Crimes and offences, including gambling, are punished with especial severity. The monks are relentless judges and are accustomed to inflict fearful floggings which occasionally cause the death of the victim. (Although it is true that in such cases the Regent intervenes and deals with the persons responsible.)
In the midst of the celebrations we seemed to have been forgotten and we took care not to attract notice. The Government probably were satisfied with the English doctor's ruling that I was not yet fit to travel. We were gaining valuable time. The great thing was for me to get well and then perhaps we could realise our flight to China.
Day after day I used to sun myself in the garden, enjoying the increasing heat, so my astonishment was all the greater when one morning I woke up to find all the spring greenery deep in snow. It is very seldom that snow falls so late in the year at Lhasa, which lies so deep in the heart of Asia that atmospheric depressions seldom reach it. Even in winter the snow does not he for long. On this occasion it was soon melted. It had done some good, because by converting the sand and dust into mud it had mitigated the discomforts of the subsequent sandstorm.
These storms recur regularly every spring and continue for a period of about two months. They usually reach the town in the early afternoon. One sees them approaching with terrific rapidity in a huge black cloud. The Potala Palace disappears and at once everyone rushes for home. Street fife stops, the windows rattle, and the animals in the fields resignedly turn their tails to the wind and wait patiently till they can start grazing once more. The countless street dogs huddle together in corners. (They are not usually so peaceful. One day Aufschnaiter came home with a torn cloak — he had been attacked by dogs, which had killed and devoured a dying horse; the pack had tasted blood.)
The period of duststorms is the most unpleasant time of the year. Even sitting in one's room one gets sand between one's teeth as there are no double windows in Lhasa. The only positive comfort one can get out of these spring storms is in the knowledge that winter has really ended. All the gardeners know that they have no more frost to fear. At this season the meadows along the canals get their first breath of green and Buddha's hair begins to bloom. That is what they call the famous weeping willow at the gate of the cathedral. The slender, hanging branches with the fine yellow blooms give a meaning to this poetic name in the springtime.
When I was able to hobble around again I was anxious to make myself useful in some way or other. Tsarong had planted hundreds of young fruit trees in his garden. They were all grown from seed and had up to now borne no fruit. Together with George (my host's son) I now set to work to graft them systematically. That gave the household something new to laugh at. In Tibet grafting is practically unknown and there is no word for it. They called it "marrying" and found it all very amusing.
Tibetans are a happy little people full of childish humour. They are grateful for any opportunity to laugh. If anyone stumbles or slips they enjoy themselves for hours. Pleasure in the misfortunes of others is almost universal but somehow it is not ill-meant. They make a mock of everything and everybody. As they have no newspapers they indulge their criticism of untoward events or objectionable persons by means of songs and satire. Boys and girls walk through the Barkhor in the evening singing the latest verses. Even the highest personages must put up with being pulled to pieces. Sometimes the Government proscribes a particular song, but no one is ever punished for singing it. It is no longer sung in public, but is heard all the more in private.
The Barkhor is most thronged at the New Year. This street runs in a circle round the Cathedral and most of the life of the city is concentrated in it. Many of the big business houses are here, and here all religious and military processions begin and end. Towards evening, especially on public holidays, pious citizens swarm over the Barkhor mumbling their prayers, and many of the faithful cover the whole distance in successive prostrations. But not only piety is represented in the Barkhor. You find also pretty women showing off their newest frocks and flirting a little with the young bloods of the nobility. Ladies of easy virtue are also there professionally.
In a word, the Barkhor is a centre of business, sociability and frivolity.
By the 15th of the first Tibetan month I was so much better that I, too, could attend the festivities. The fifteenth is one of the great days. There is a magnificent procession in which the Dalai Lama takes part. T sarong had promised us a window in one of his houses looking on to the Barkhor. Our places were on the ground floor as no one is allowed to be at a higher elevation than the heads of the grandees, who march with measured tread along the street. No houses in Lhasa may be more than two storeys high as it is considered a form of blasphemy to compete with the Cathedral or the Potala. This rule is strictly observed and the wooden shanties — easily taken to pieces — which some of the nobles put up on the flat roofs of their houses in the warm weather disappear like magic when the Dalai Lama or the Regent takes part in a procession.
While the brightly coloured crowd flowed through the streets we sat at our window with Mrs. Tsarong. Our hostess was a friendly old lady who had always mothered us. We were very glad of her company in surroundings very strange to us, and her familiar friendly tones explained to us the novel sights that met our eyes.
We saw strange framelike objects rising from the ground sometimes to a height of thirty or more feet. She told us that these were for the butter figures. Soon after sunset these works of art, made of butter by the monks, are brought along. There are departments in the monasteries where particularly gifted monks, true artists in their own line, knead and model figures out of butter of different colours. This work, which requires inexhaustible patience, is often in the finest filigree. There is competition in the production of these masterpieces of a single night, as the Government gives a prize for the best one. For many years past the monastery of Gyu has been the winner. Soon the whole street-front of the Barkhor was hidden behind these gaily coloured butter pyramids. In front of them was an endless mass of people and we wondered if we should be able to see anything. It was beginning to grow dark when the Lhasa regiments marched up to the sound of trumpets and drums. They lined the street and pressed the spectators back against the houses, leaving the roadway free.
Night fell swiftly, but soon the scene was brightly illuminated with a swarm of lights. There were thousands of flickering butter-lamps and among them a few petroleum pressure-lamps with their fearful glaring light. The moon came up over the roofs to throw more light on the proceedings. The months are lunar in Tibet so it was full-moon on the 15th. Everything was ready: the stage was set and the great festival could now begin. The voices of the crowd were hushed in anticipation. The great moment had come.
The Cathedral doors opened and the young God-King stepped slowly out, supported to right and left by two abbots. The people bowed in awe. According to strict ceremonial they should prostrate themselves but today there was no room. As he approached they bowed, as a field of corn bends before the wind. No one dared to look up. With measured steps the Dalai Lama began his solemn circuit of the Barkhor. From time to time he stopped before the figures of butter and gazed at them. He was followed by a brilliant retinue of all the high dignitaries and nobles. After them followed the officials in order of precedence. In the procession we recognised our friend Tsarong, who followed close behind the Dalai Lama. Like all the nobles, he carried in his hand a smouldering stick of incense.
The awed crowd kept silent. Only the music of the monks could be heard — the oboes, tubas and kettledrums. It was like a vision of another world, a strangely unreal happening. In the yellow light of the flickering lamps the great figures of moulded butter seemed to come to life. We fancied we saw strange flowers tossing their heads in the breeze and heard the rustling of the robes of gods. The faces of these portentous figures were distorted in a demonic grimace. Then the God raised his hand in blessing.
Now the Living Buddha was approaching. He passed quite close to our window. The women stiffened in a deep obeisance and hardly dared to breathe. The crowd was frozen. Deeply moved we hid ourselves behind the women as if to protect ourselves from being drawn into the magic circle of this Power.
We kept saying to ourselves, "It is only a child." A child, indeed, but the heart of the concentrated faith of thousands, the essence of their prayers, longings, hopes. Whether it is Lhasa or Rome — all are united by one wish: to find God and to serve Him. I closed my eyes and hearkened to the murmured prayers and the solemn music and sweet incense rising to the evening sky.
Soon the Dalai Lama had completed his tour round the Barkhor and vanished into the Tsug Lag Khang. The soldiers marched away to the music of their bands.
As if awakened from a hypnotic sleep, the tens of thousands of spectators passed from order into chaos. The transition was overwhelmingly sudden. The crowds broke into shouts and wild gesticulation. A moment ago they were weeping and praying or sunk in ecstatic meditation, and now they are a throng of madmen. The monk-guards begin to function. They are huge fellows with padded shoulders and blackened faces to make them more terrible. They lay about them with their whips, but the crowd press frantically round the statues of butter, which are now in danger of being overturned. Even those who have been bludgeoned come back into the fray. One would think they were possessed by demons. Are they really the same people who just now were bowing humbly before a child?
Next morning the streets were empty. The butter figures had been carried away and no trace remained of the reverence or the ecstasy of the night before. Market-stalls had taken the place of the stands which had carried the statues. The brightly coloured figures of the saints had melted and would be used as fuel for lamps — or would be made up into magic medicines.