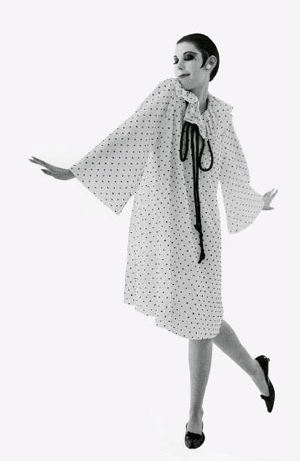 Resort 1964, there were always clowns -- here is an Art Deco one in white crinkle cotton with black fuzzy dots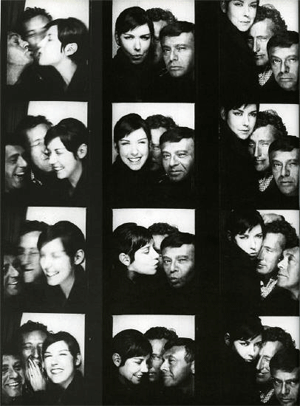 1964, fun in the Santa Monica Pier photo booth with Rudi and Bill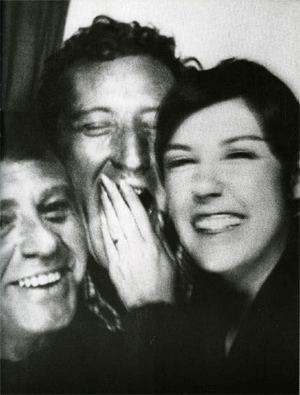 1964, fun in the Santa Monica Pier photo booth with Rudi and Bill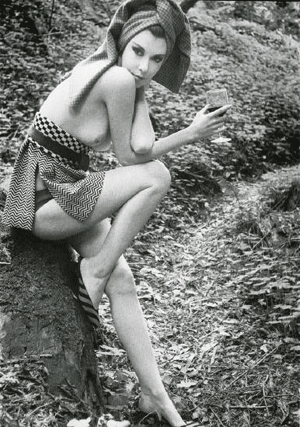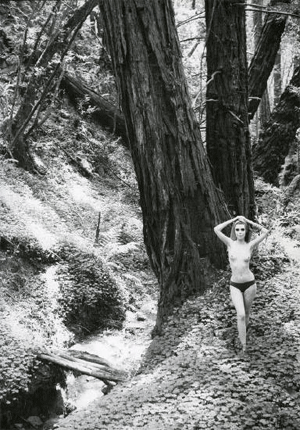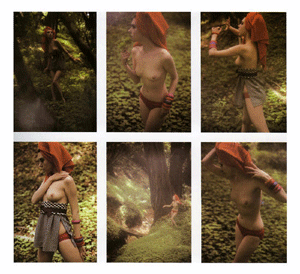 1964, the first topless swimsuit design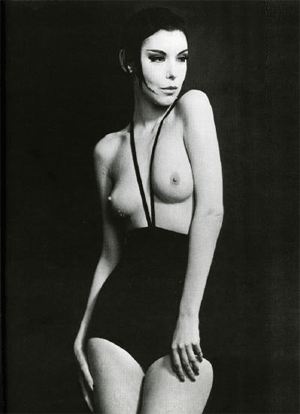 The second topless swimsuit design -- which became famous.
The Shot Seen 'Round the World
Think of something in your life that took one-sixtieth of a second to do. Now imagine having to spend the rest of your life talking about it. Here is the topless swimsuit -- probably the most famous fashion picture of all time and my bete noir. I still think it's a beautiful photograph. But, oh, am I tired of talking about it.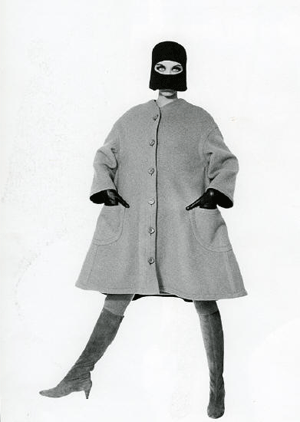 Fall 1964, camel's hair coat that reverses to black, with black felt "Yashmak" hat. All of the hats in this collection were made by Leon Bennett.
Fall 1964, I had seen the first show of Jacques Henri Lartigue's rediscovered photographs at The Museum of Modern Art and was so excited about it that I went back with Rudi. Rudi was very impressed and said, upon leaving, "I was going to do an Indian collection, but I can't now, even though I've got the fabrics ordered." The result was this collection-Rudi's favorite. The Lartigue photographs are a child's brilliant reportage of La Belle Epoque. In them one can see how Rudi took turn-of-the-century clothes and turned them into exciting modern fashions. Rudi always regretted that the hoop-Ia caused by the topless overshadowed this collection, which he fert had more innovative ideas than any other.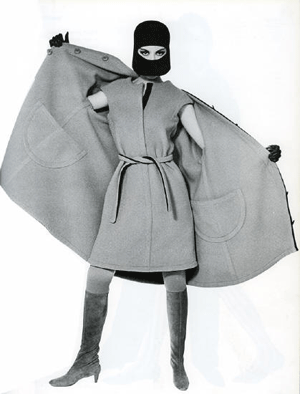 Fall 1964, the camel's hair dress worn under the coat at left, which also reverses completely to black.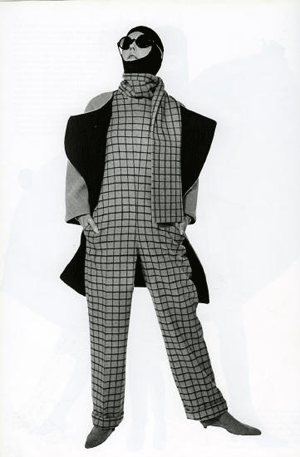 Fall 1964, camel's hair aviator jumpsuit with reversible camel's hair coat
Out of the Closet
When I first started showing Rudi's clothes in New York, Rudi and a dresser would help me change, and I always wore a bra for modesty's sake. (I never wore a bra privately when I was wearing his clothes.) After working a few seasons, I said to him, "I'm doing your clothes a disservice by wearing a bra. They look so much better without one. From now on I'll change in the closet, and you can zip me up when I come out." I then spent hours everyday going in and out of the closet and generally wearing myself out as the clothes got more and more complicated to put on. Finally! at the time when the photograph of the topless first appeared, the collection we were showing was absolutely impossible to put on quickly by oneself. Each change involved tights, leggings, zippered boots, tunics, dresses, hats that covered the face, coats that reversed... you name it. So I made a formal announcement to Rudi and the dresser that from now on I was going to change in front of them because I had to have their help and modesty be damned. All the other models who helped show on the opening day came to the fitting and, having seen the photograph of the topless, instantly stripped down to their underpants without question. There were bras all over the place. They were hanging from the chandelier. Rudi loved it. And that's how I came out of the closet.