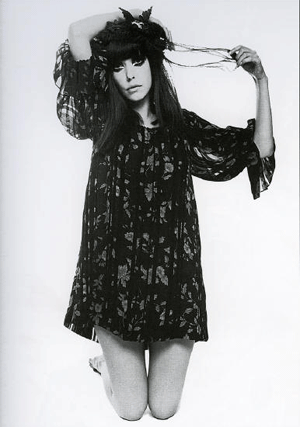 Fall 1967, green and black chiffon "Ophelia" shift.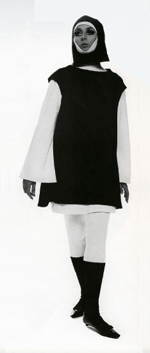 Fall 1967, Leon Bing as a "Nun" in a white wool-knit shift worn with a black wool-knit jumper.
Leon
Rudi left no taboo unturned. Here is Leon Bing as a nun. The Sister of the Immaculate Mascara (not a silent order), Leon is known for her wise-cracks and immensely enjoyed taking the cloth. The fashion, no matter how initially shocking, is really just two simple, pretty dresses worn together.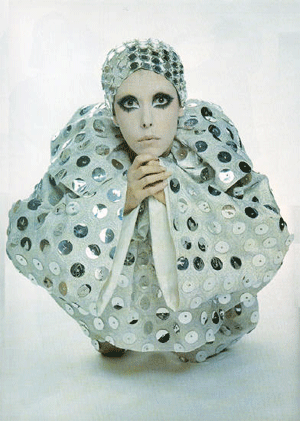 Fall 1967, heavily embroidered silver cotton "Pierrot" with Mylar paillettes. The hat is covered with mirrored pieces.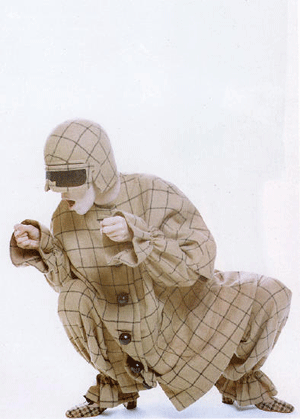 Fall 1967, black and camel window-pane plaid wool jumpsuit and jacket "motoring costume."

Fall 1967, wide-wale black corduroy tunic and skirt with white satin cuffs.
Making Up Is Hard To Do
Rudi's clothes inspired me so much that I designed my makeup to go with them. This was not always easy. The 1965 resort collection contained not only East Indianinspired clothes but also Space age bathing suits, little chiffon dresses, linen dresses, and pantsuits. I solved that problem, by using a removable caste markforthe Indian outfits.
For the 1967 Fall collection, I wanted to create a make-up based on the character "Death" in Ingmar Bergman's film "The Seventh Seal". Rudi had some pieces in his collection with rather sinister looks, and I thought that a sort of "skull" makeup would be effective. The only trouble was that the collection also featured Japanese girl and boy looks, an "Ophelia,", and dainty Chinese opera dresses. So, I bleached my eyebrows and painted enormous eyes in black (the skull), and when I had to be any of the sweet children, I combed my bangs over my eyebrows.
The most amazing example of our being on the same wavelength occurred with the 1968 resort collection. By this time I was living in New York and had no idea what Rudi's collection would look like, Just before he came to town something compelled me to design avery exotic Siamese face. When I sawthe clothes and Rudi saw the makeup, neither of us could believe it. It looked like the same person had designed both. The makeup had red lines that encircled my eyes and went over the nose like a tattoo, Only some of the clothes in the collection were Siamese, however; the rest weren't Oriental at all. This meant I had to draw red lines in the middle of the show. I went to the dime store and bought a black Halloween mask, cut it to the shape that I wanted, and used it as a stencil. That left only one problem. Rudi absolutely insisted that the last piece shown be a little black chiffon bubble-skirted dress with black feather earrings (and it wasn't Siamese). What to do? I put on the mask that I had used as a stencil, and the girl became the most glamorous cat thief in the world.
Rudi's last show in 1981 posed a more unique problem. It was to be given at a nightclub called La Cage aux Folies, and the producers of the fashion show suggested that Rudi use the female impersonators who worked there as his models. Rudi would have non of that idea and hated that his producers insisted on staging the show there. He asked me if I had any ideas. I suggested that Iwear a mustache. He loved itthe very last dress I ever modeled for Rudi was a long, sexy gown worn with a mustache. The audience went wild and the female impersonators (who were in the audience) loved it most of all. I'm glad that our last professional appearance together ended with a wink.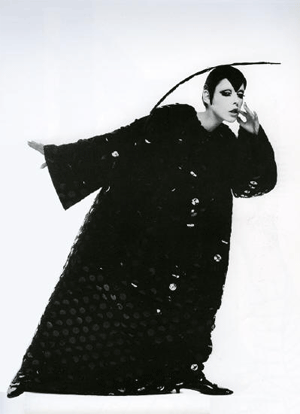 The "Sorceress" -- black embroidered cotton with black paillettes.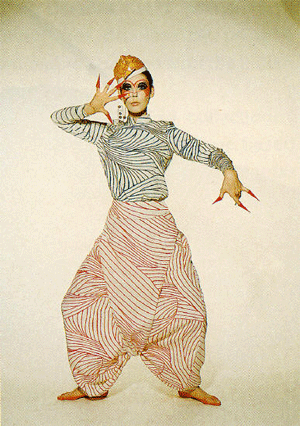 Resort 1968, long silk pants and blouse from the "Siamese" group.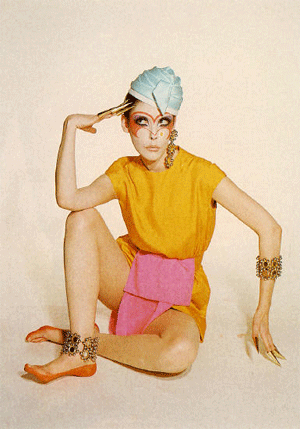 Resort 1968, the panel of this silk shantung dress, worn between the legs, snapped onto the waist in back. When it was removed, what remained was a simple dress with no Siamese look whatsoever -- Rudi was brilliant at paring a design down to its essence.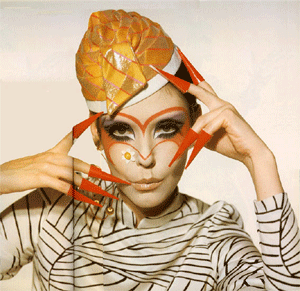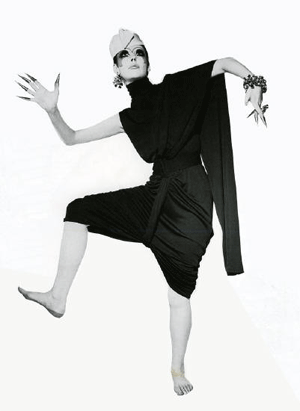 Resort 1968, long black matte jersey dress -- when the panel was pulled up and thrown over a shoulder, the dress became short pants. The hat is silk.