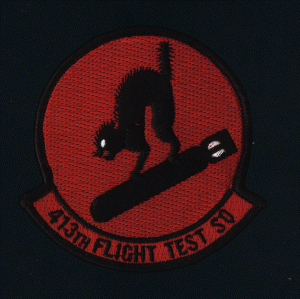 413th FLIGHT TEST SQUADRON
The 413th Test Squadron was designated and activated on October 2, 1992, when it was formed out of the disbanded 6513th Red Hats Test Squadron. The Red Hats had conducted flight testing of purloined Soviet MiGs and other aircraft at Groom Lake. In March 1994, the unit became the 413th Flight Test Squadron, nicknamed the "Bombcats."
Based at a restricted section of Edwards Air Force Base called "North Base," the mission of the 413th was to organize flight tests of Electronic Warfare systems around the world. A detachment of the 413th, called the "Nutcrackers," continued to operate out of Groom Lake and the Tonopah Test Range. Daily flights in unmarked Beech aircraft shuttled members of the 413th to the secret bases each day.
The 413th was responsible for a number of programs; code names included SUNDOWNER, ZIPPER, and IBIS DAWN. In May of 2004, the squadron was deactivated (although the unit designation was later transferred to a squadron formed from a detachment of the 46th Operations Group at Eglin Air Force Base in Florida). The remaining "Bombcats" assets became part of the Electronic Warfare Directorate, also headquartered at Edwards Air Force Base.