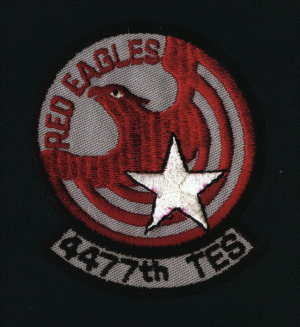 4477th TEST & EVALUATION SQUADRON —"RED EAGLES"
From its inception in 1975, the 4477th Test and Evaluation Squadron conducted tactical evaluations of a highly classified squadron of Soviet fighters in U.S. possession.
The unit was based at Groom Lake until the late 1970s and early 1980s, when the 4477th provided $24 million towards the initial construction of another classified operating location in Central Nevada: the Tonopah Test Range, also known as Area 52.
The 4477th seems to have been disbanded sometime in the early 1990s and its mission taken over by Detachment 2 of the 57th Fighter Wing. Eventually, this became Detachment 3 of the 53rd Test and Evaluation Group.