CHAPTER SEVEN: Terrorists and Patriots
The United States Central Intelligence Agency's main work, as President Truman envisioned it when he' set it up, is keeping the president accurately informed about the world forces he must deal with, Yet the CIA seems perennially distracted from this mission by its embroilment in covert operations.
This obsession with political activism tends to dam up the best channels of information, and bias the remaining ones, Worse still, operations seem to be self-perpetuating. Instead of achieving their objectives, they wind up causing so much inadvertent damage to American interests that new operations are constantly being dreamed up to try to straighten out the results of the old ones.
Of examples, 1975 offered more than its share. President Gerald Ford, with his relative lack of experience in foreign dealings, was mesmerized (as was most of the press and public) by the supposed expertise of that most unshrinking of all violets in the field of foreign intervention, Secretary of State Henry Kissinger.
Both the Director of Central Intelligence, William Colby, and the deputy director of the CIA's covert action division, Theodore G. Shackley, were men after Kissinger's own heart. Neither of these top spooks-both of whom were about to become involved in the Nugan Hand scandal-had, in his career, shown any reluctance to shed American or foreign blood in covert military operations as a means to carrying out their assignments.
The most prominent of these assignments had been gory and monumental failures. The first was to replace Fidel Castro with a friendly and popular government in Cuba. (This was Shackley's job during the 1960s, running an anti-Castro terror program called JM/ WAVE.) The second assignment was to ensure that the Communist government of North Vietnam did not spread its influence over South Vietnam and the rest of Indochina. (This was first Colby's, then Shackley's task, as CIA station. chiefs in Saigon.)
The results of Colby's and Shackley's terrorist tactics in accomplishing these missions speak for themselves. Castro and Ho Chi Minh were not thwarted. Instead, they were handed victories over a foreign invader, the United States, that solidified popular support for their otherwise vulnerable socialist governments.
Beyond creating political enemies abroad, the CIA's Cuban and Indo-chinese operations were distinguished by the seemingly endless number of thugs and dope dealers on whom they bestowed the legitimacy of U.S. Government service. The Vietnam War dope 'connection has already been discussed in these pages.
In south Florida, by the 1970s, police could scarcely arrest a dope dealer or illegal weapons trafficker without encountering the claim, often true, that the suspect had CIA connections. Perhaps the largest narcotics investigation of the decade, the World Finance Corporation case, involving scores of federal and state agents, had to be scrapped after a year because the CIA complained to the Justice Department that a dozen top criminals were "of interest" to it. [1]
All this accomplished by 1975, more work lay ahead. There are two well-known missions that the Kissinger-Colby-Shackley team undertook that year: first, making sure that friendly governments stayed in power over the long term in Iran and Afghanistan, and second, making sure that a Soviet-allied government did not come to power in Angola when Angola achieved independence from Portugal.
Obviously, the "success" of these missions fairly rivaled that of the Cuban and Vietnamese campaigns. In both the Iran and Angola disasters, Nugan Hand played a demonstrable, though relatively minor, role, according to the findings of the Commonwealth/New South Wales Joint Task Force on Drug Trafficking.
It's also been discussed that there may have been a third operation that year, and that Nugan Hand may have played a role in that, though it's never been demonstrated. This third operation would be the overthrow of the Labor government in Australia, which fell to a highly unusual legal coup in November 1975.
Speculation about U.S. and Nugan Hand roles in the Australian coup have been fueled by the known attempts of both the United States and Nugan Hand to interfere in Australian politics during the 1970s, and by the fact that Shackley, the covert operations chief and later a Nugan Hand character, struck out vigorously against the Labor government a mere three days before it fell.
***
Nugan Hand's known role in U.S. intelligence activities in 1975-76 was played out through the star-crossed marriage of a career CIA officer named Edwin Wilson and a special U.S. intelligence unit known as Naval Task Force 157.
The one best metaphor for the distance U.S. foreign policy has strayed from its constitutional purposes in the latter half of the twentieth century is that the profession founded by Nathan Hale has produced an Edwin Wilson. When a federal judge finally put Wilson away in 1983, probably his only regret was that he had but one life sentence to give for such betrayal.
Wilson joined the CIA in the 1950s, and over the years established a reputation as a tough, fearless, independent field operative. Those were qualities that earned him respect and loyalty among other operatives. No one knew him really well, but in the clandestine services that was merely one more virtue. A veteran of CIA covert activity around the world, he was certainly the kind to appeal to his superior, Ted Shackley, whose closeness and loyalty. to Wilson helped prove Shackley's undoing.
In 1971, Wilson "retired," in official parlance, from the CIA. Coincidentally, the official account goes, he went to work that same year as a civilian employee of Naval Task Force 157. Throughout his service with 157, however, he continued to converse regularly about matters of business not only with Shackley but with two active-duty CIA field officers, Patry. E. Loomis and William Weisenburger.
These CIA contacts have prompted speculation-so far, it's only that-that Wilson was planted by the CIA as a mole inside Task Force 157, a rival U.S. intelligence agency. (Such interagency spying wouldn't be unprecedented; from 1970 to 1972, navy. Yeoman Charles Radford was planted as a mole on the clerical staff of the National Security. Council, and secretly delivered more than five thousand of Henry Kissinger's staff papers on peace talks and other matters secretly to Admiral Thomas Moorer, chairman of the Joint Chiefs of Staff.) [2]
The independent existence of a unit like Naval Task Force 157 is in itself a testament to the CIA's misuse. The reason the task force was created was that the CIA's involvement with covert operations had handcuffed the agency in doing its original and necessary work -- gathering and transmitting intelligence.
Instead of fulfilling its intended and proper mission, the CIA spent its time organizing and maintaining full-scale armies fighting wars in various parts of Africa, Asia, and Latin America; promoting economic havoc here and there in all three regions; attempting to bring down foreign governments (those of Guatemala, Nicaragua, Chile, Zaire, Zambia, South and North Vietnam, Iran, Afghanistan, Albania, Cambodia, Laos, Brazil, Guyana, the Dominican Republic, Angola, Cuba, Lebanon, Indonesia, and China, to name a few publicly documented cases) and often succeeding; bringing about the death of any number of foreign heads of state (Lumumba, Diem, possibly Allende) and hundreds of thousands of other foreign political figures (the deaths in Indonesia alone might justify that number); reporting on the domestic political activities of U.S. citizens; and carrying out other assorted adventures. With all that activity, the CIA has understandably become not much more clandestine than any other branch of government, maybe less so.
In need of the kind of low-profile, workaday spies that the CIA was supposed to provide, the government was obliged to set up a supersecret task force under the Office of Naval Intelligence. Starting slowly in the mid-1960s and named after something so arbitrary as the room number of someone's office, Task Force 157 quietly gathered information about maritime affairs all over the world. It paid particular attention to the activities of the Soviet Navy and the movement of nuclear cargoes, but also kept tabs on cargo movements in general.
Partly because it was small and self-contained, the task force developed such a secure system of coded communications that Kissinger himself came to prefer it to standard embassy transmittals when he wanted to send messages to the White House while visiting foreign dignitaries. The 157 communications system was used for arranging his secret mission to China before President Nixon reopened relations with the Chinese.
To facilitate 157's work, the navy allowed the men and women who did the spying to set up business fronts on their own and to recruit foreign nationals as agents. Says one former 157 operative, [3] "My job was to find out what the Soviet Navy was doing here, here, and here [pointing to locations on a make-believe map]. I had a great deal of leeway in how to go about it. If I wanted to set up a shipping company, I became president of a shipping company." Beginning with about thirty naval officers and seventy civilian spies, its payroll grew to include more than eight hundred human sources of intelligence.
There is no record of 157's ever engaging in any covert operations to change the events it reported on. Admiral Thomas H. Moore, then chief of naval operations, says that during the Vietnam War the task force penetrated the North Vietnamese transport industry and provided precise shipping schedules that helped plan the mining of Haiphong harbor. But 157 didn't get involved in the mining; it merely produced an accurate schedule of ship traffic.
Indeed, from all one can learn about it, Naval Task Force 157 seems to have been the very model of the kind of intelligence agency the United States needs-until CIA cowboy Ed Wilson got into it.
***
Exactly what Wilson's circumstances were before he joined the task force, and exactly what job he had there afterwards, aren't clear. For obvious reasons, the officials who ran 157 have tried to minimize his role, to say he was. just one agent in the field and had no influence in central planning or operations.
That explanation is suspect, however. Unlike other 157 agents who were scattered to port towns on all the seven seas, Wilson's field office was in downtown Washington. Rather than found a little dockside expediting company in Copenhagen or someplace, as other agents did, Wilson founded a roster of shipping companies and international consulting firms.
His associates in these firms included some big names, like Robert Keith Gray, President Eisenhower's appointments secretary and now an influential Republican Party figure who served in 1981 as co-chair of the Reagan inaugural committee. [4] The clients of Wilson's front companies included such firms as Control Data Corporation.
Some say Wilson was used by 157 as a specialist in procuring fancy spy gear (unusual boats, or electronic equipment, for example) for its worldwide needs. Others say his specialty was setting up corporate covers for others to use. Witnesses say he showed up only occasionally at 157 headquarters. It is hard to believe, however, that his bosses at 157 weren't aware-as so many others in Washington were-that Wilson, who was paid less than $35,000 a year for his spy work, lived as a multimillionaire on a fabulous estate he had recently acquired in Virginia.
On this estate, valued at $4 million, he regularly entertained senators (Hubert Humphrey, Strom Thurmond, John Stennis) and numerous Congressmen, generals, admirals, political officials, and senior intelligence officers (such as Ted Shackley). It soon became public record that Wilson was selling his services for high fees to companies or foreign governments that wanted help obtaining U.S. Government contracts or weapons.
The denouement occurred in February 1976. Admiral Bobby Ray Inman, recently returned to Washington to run the Office of Naval Intelligence, recalls he was lunching with a staff member of the late Arkansas Senator John McClellan's appropriations committee. Unexpectedly, another member of Senator McClellan's staff arrived with Ed Wilson.
According to Inman, Wilson promptly announced that he could influence appropriations bills for the navy if more business went to his companies. Then, Inman says, Wilson added, "By the way, I work for you," and explained that he ran fronts for Task Force 157.
Inman says he was "absolutely astounded" when he learned that Task Force 157 operatives could run their own businesses on the side, and a week later arranged another meeting with Wilson. He says Wilson urged him to set up an independent intelligence program for Wilson to run, and then invited Admiral and Mrs. Inman to a Sunday lunch at his estate. Inman says he phoned 157 immediately and ordered that Wilson's contract not be renewed when it came up that spring.
When the task force's own budget came up for renewal in 1977, Inman simply scrapped the operation. He says the reason was that overall budget cuts forced him to use the naval officers employed by 157 in other jobs. Wilson, who was already under investigation by the Justice Department, couldn't have been, out of Inman's mind, however. [5]
Inman went on to become deputy director of the CIA. He resigned soon after President Reagan took office in 1981 (some say so he would be a better candidate for CIA director in a future Democratic administration). He took a job running a computer consortium headed by Control Data Corporation.
Three former 157 operatives, including Thomas ("Smoke") Duval, who helped organize the task force and run it, left government service to take jobs with Wilson himself.
***
Wilson kept running the maritime and consulting companies that he had created as fronts for Naval Intelligence. These companies, originally U.S. Government creations, continued to be regarded as such by outsiders even after Task Force 157 had secretly gone out of business.
Wilson continued to swap information regularly with Shackley. He hired some CIA personnel. Though most were formally retired, two CIA men-Pat Loomis and Bill Weisenburger -- moonlighted for him while still officially on active duty. Among other things, they tipped him off to the equipment needs of foreign governments, so Wilson could steer his corporate clients toward the contracts to supply the equipment.
Wilson's associates later claimed they thought he was still working for the agency. Whether this is because he had created a clever ruse, or because the associates needed an alibi for their own illegal behavior, or because he really was still working for the agency (or maybe some faction within the agency), is nothing you'd want to bet the ranch on.
But in September 1976, one former CIA analyst who had gone to work for Wilson, Kevin Mulcahy, developed serious qualms about what Wilson was doing. Mulcahy called headquarters and asked if Wilson's operation really was agency-approved. [6]
What finally drove Mulcahy to question Wilson's bona fides was seeing Wilson export high explosives and other dangerous weapons to Libya. Using a company Mulcahy was titular president of, Wilson had provided Libyan President Muammar Qaddafi with heat-seeking ground-to-air missiles of a type that could shoot an airliner out of the sky, and training programs covering "espionage, sabotage and general psychological warfare."
Mulcahy also learned that Wilson was carrying out assassinations in his spare time, mostly for Qaddafi, but also out of pique. For example, Wilson bombed a car owned by a Paris merchant who Wilson believed had gypped him on an order of wool uniforms six or seven years earlier-when Wilson would have been a full-time CIA officer. Mulcahy later said the merchant's wife had been killed in the bombing (Hersh's report says severely injured); the merchant escaped.
Having decided to check on Wilson, however, Mulcahy evidently picked the wrong CIA officer to call: Ted Shackley. Shortly after Mulcahy had gone to work for Wilson, Wilson had brought him with great show to Shackley's house. There, Mulcahy said, they discussed Wilson's forthcoming meeting with Qaddafi in Libya, and Wilson's efforts to get a U.S. Government export license for some high-grade communications gear Wilson wanted to sell abroad. Mulcahy figured that with Shackley's senior position in the agency and his obvious familiarity with Wilson, he would be the right person to go to.
Instead, Shackley's noncommittal response over the phone was so alarming to Mulcahy that he reported it to the FBI and to an old friend who still worked in the CIA. Immediately after placing these three "confidential" calls to government officers, he said, Wilson fired a message from overseas telling him to "shut up" and "knock it off." Mulcahy went into hiding under an assumed identity.
Wilson's friend Shackley hadn't even reported Mulcahy's call at the CIA. [7]
After the Justice Department finally began investigating Wilson, it gathered more material, showing that Wilson and another former CIA officer, Frank Terpil, for very large fees had also supplied Qaddafi with a laboratory that turned out sophisticated assassination gear, and bombs disguised as household trinkets using plastic explosive that could slip through airport metal detectors. Wilson and Terpil were hiring anti-Castro Cubans from Shackley's old JM/WAVE program to assassinate Qaddafi's political opponents abroad.
Then came still more material, showing that Patry Loomis and other Wilson agents were hiring U.S. Green Berets for Qaddafi. Some U.S. Army men were literally lured away from the doorway of Fort Bragg, their North Carolina training post. The GIs were given every reason to believe that the operation summoning them was being carried out with the full backing of the CIA-and they made the transition, just as Mike Hand had gone from the Green Berets to the CIA a decade earlier.
Wilson supplied planes, men, and weapons for Qaddafi's military forays against neighboring Chad and Sudan. Wilson's recruits staffed and trained Qaddafi's air force, and maintained the equipment. Wilson personally is said to have cleared at least $15 million from all this, investing heavily in real estate in the United States and England.
In 1982, Paul Cyr, a former Energy Department official, told a federal court in Washington that he attended several meetings in the late 1970s between Wilson and Shackley. These meetings, he said, left him with the same impression Mulcahy got watching Wilson and Shackley together: that even after Admiral Inman had separated Wilson from the navy, Wilson was operating with the CIA's okay. [8]
Whether or not people were correct in the implications they drew from the Wilson-Shackley connection, it is a sad commentary on what our irrational, undiscerning war against a vague "Communist" menace has done to American values. People everywhere accept it as perfectly plausible that the United States Government is routinely engaged in secret, highly illegal, absolutely stomach-turning activities, with profits to be pocketed privately along the way. Unauthorized crimes have become hard to distinguish from the authorized ones. You can no longer tell the crooks from the patriots.
For many years after Wilson's transgressions came to the government's attention, no action was taken. Whether this inaction was due to Cold War politics, ineptitude, or some other reason can only be wondered at. Meanwhile, Wilson continued to operate.
His deals proved especially ironic under the Reagan administration. It served the administration's propagandistic purpose to hold up the bloodthirsty Qaddafi as the leading example of Soviet-orchestrated world terrorism. According to Reagan White House pronouncements in 1981, Qaddafi's violence was made possible by the help of Russians, East Germans, North Koreans, and Cubans.
But all the time the administration was delivering that line, it had evidence that Qaddafi's violence-from his repeated invasions of neighboring Chad to his assassination attempts against political enemies in the United States and elsewhere-was instead made possible by the men of the United States Central Intelligence Agency.
***
It should come as no surprise that slime like Edwin Wilson and Bernie Houghton should, at some point along the line, have met and found a common bond. Though Houghton has denied it, there is evidence that the bond was made while Wilson was still officially in U.S. Government service-and that through it, Houghton helped involve Nugan Hand in U.S. covert activity in southern Africa and Iran.
Later, after Wilson was off the payroll but while he continued to deal with active CIA officers, there were undenied meetings between Wilson, some other officially retired CIA men, and Bernie Houghton, acting for Nugan Hand. The result of these meetings was some strange movements of money around Europe and the Middle East.
Michael Hand's first reported destination when he left Australia in January 1975 was South Africa. To understand what he did, it is necessary to understand, at least briefly, the situation. The bottom half of the African continent in 1975 was teeming with what the U.S. foreign policy establishment contended was the continuing worldwide war over Communism.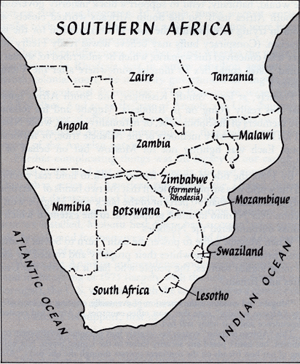 Southern Africa
Hand quickly journeyed to Rhodesia, where he helped defend the government of Ian Smith, a white man "elected" to his job by a "democracy" in which only the 250,000 whites in the country could vote. Smith's opposition came from two "terrorist" groups who didn't think much of a democracy that excluded the country's six million blacks.
To raise aid from abroad, Smith and his colleagues advertised fiction that the two "terrorist" leaders, Robert Mugabe and Joshua Nkomo, were Soviet agents-split perhaps by a few arcane ideological differences, but both Kremlin-controlled Marxist-Leninists at heart.
Like Smith, the South African Government was also vitally concerned with keeping the black majority out of power in Rhodesia -- and the rest of southern Africa. Governments produced by majority rule would, naturally, tend to support a black majority government in South Africa itself. So the South Africans worked closely with Smith in trying to substitute the issue of Communism for the Issue of racism. (Conspiracy buffs may believe it was really Henry Kissinger who conceived this scenario, which he subscribed to, so that the United States could flex its muscles somewhere after the Vietnam disaster.)
Publicly, at least, Smith, Kissinger, and South Africa ignored what was really going on in Rhodesia. Mugabe and his followers were members of the Shona tribe, or nationality group, while Nkomo and his followers were members of the Ndebele tribe, or nationality group. Each was fighting not for Moscow but on behalf of his people.
By 1980, the tide of combat forced Smith to hold real elections, and the world was surprised to learn that the two bands of "terrorists" represented more than 90 percent of the black vote. Mugabe won the election over Nkomo in direct proportion to the extent to which the Shonas outnumbered the Ndebeles.
When Mugabe came to power, he didn't turn to Soviet Communism. Instead, he left the whites their property and turned for aid to the most logical sources, the people who had it to give: the United States and Britain. [9]
Ironically, it was largely Britishers and Americans who had aided Smith, Some of the aid the Smith regime had received in its fight against Mugabe and Nkomo was given for mercenary reasons, some for ideological. Probably most of the aid, from people like Michael Hand, was motivated by a little of both. But despite the wishfulness of some in Washington, none of the aid to the Smith war machine was ever shown to have come from the U.S. Government.
In Rhodesia, the U.S. Government appeared to have followed, however minimally, the two basic rules for winning friends abroad: we had a strong economy that a foreign country would want to trade with and emulate, and we made sure that the people who came to power there had never been shot at with an American gun.
***
To the west of Rhodesia (now Zimbabwe), however, the second of these rules was forgotten. In Angola, forces were at work quite similar to those in Rhodesia. Two nationalist groups were fighting a tiny, white-minority government.
There were differences, however. First, whereas the white Smith government in Rhodesia was in outlaw rebellion against its own British colonial roots, the minority government in Angola was still that of the colonial Portuguese. The Portuguese were America's NATO allies. And so, in the case of Angola, the U.S. shunned even the polite cover of official neutrality and openly supplied weapons for the suppression of Angolan independence, thus making ourselves the enemy of the Angolan nation.
Further complicating things was the legacy of our earlier interventions in the land just north of Angola, the vast country of Zaire. Through a series of American-run coups, the United States had installed a dictatorial and hugely corrupt one-party government in Zaire, with a nationally controlled, socialist-type economy. The dictator we installed, Mobutu Sese Seko, had a cousin [10] who aspired to rule Angola, and for many years the U.S. had financed this cousin in the training of an army.
When the Angolan independence movement gained the upper hand in the spring of 1975 (largely with the help of a coup in mother Portugal), the U.S. was stuck with the cousin. It was a classic example of how old covert actions beget new ones.
To excuse its support, first of the Portuguese, then of Mobutu's cousin, the U.S. did just what Smith and the South Africans had done in Rhodesia: we created a mythology in which the two tribally based independence organizations were called Communist. On the other hand, the army supported by the socialist dictator Mobutu represented, we said, democracy and free enterprise. These were the players:
MPLA (Popular Movement for the Liberation of Angola), made up mostly of Mbundi tribe members;
UNITA (National Union for the Total Independence of Angola), made up entirely of Ovimbundu tribe members;
Holden Roberto (Mobutu's cousin).
To keep the supposedly Communist MPLA and UNITA out of power, the U.S. launched a direct, U.S.-run military operation in support of Roberto. It was intended to be covert, but by year's end it was all over the newspapers (thanks again to Seymour Hersh and the New York Times). Our intervention was described by Kissinger as a response to Soviet and Cuban intervention, but in fact it preceded (and could logically be seen as provoking) Soviet and Cuban intervention. [11]
When Roberto's army crumbled, the CIA began recruiting U.S. and European mercenaries and sending them into Angola to fight. Still, by independence day in November 1975, it was obvious that our force didn't stand a chance against the much bigger Mbundi population of Angola, the MPLA. The other main force, the Ovimbundu -- UNITA- sought to wrest power for itself, which was nothing new since the two tribes had fought for centuries over the best farmland. But the MPLA group dominated the capital city, and Mao Tse-tung, an early backer of UNITA, was fading.
Seeing its dream of ruling Angola shattering, UNITA, whose members populated the outlying southern and eastern reaches of the country, struck a desperate bargain with South Africa.
Just as in Rhodesia, the South Africans wanted to prevent a truly representative government in Angola, which might support majority rule for South Africa as well. South African whites figured they could protect themselves by putting a dependent Ovimbundu (UNITA) government in Angola.
Shortly before independence, the South African army began to drive from the south to try to take the capital of Luanda, and put a compromised Ovimbundu (UNITA) government in power. Rather than cave in before an armed invasion from South Africa, the preeminent Mbnndi (MPLA) accepted an offer of Cuban troops to offset the South African troops on the other side. This guaranteed that the Mbundi (MPLA) would accede to power-as an election probably would have established anyway.
So the Mbundi (MPLA) became the government. The Ovimbundu (UNITA) were reduced to an armed guerrilla movement in the outlying regions, lumbered with a humiliating tie to South Africa. And the United States, throwing worse policy after bad, lavished more weapons and mercenaries on the hopeless and discredited third faction in Zaire. We even covertly cooperated with the white South African Government to do so.
Despite this aid, our side was wiped out in early 1976, leaving behind only some U.S. and European mercenaries in Angolan prisons and cemeteries. South African blacks, who would one day run their country, had been given sobering evidence that the United States of America, which should have been their friend, wasn't. [12]
The Mbundi government in Angola maintained a primary alliance with the Soviet Union, as its only lifeline in a sea of American and white South African hostility. But it was practical enough to maintain commercial ties to U.S. companies, and sell the U.S. Angola's main product, oil-a blessing during the 1979 oil crisis. By the mid-1980s, the Soviets had proven themselves such ill-humored and ill-equipped friends that a U.S.-Angolan deal to the benefit of both countries was still a possibility, even under Mbundi rule.
At any rate, that was the situation into which Nugan Hand inserted itself in 1975: the United States and South Africa were allying to intervene militarily against an Angolan tribe, the Mbundi, that was destined to win control of that country. While the Mbundi represented no security problem whatsoever to the United States, they most certainly did represent a problem to continued racist minority rule in South Africa.
_______________
Notes:
1. Assertions made in this section are all documented at length in Endless Enemies. I regret any annoyance created by these references to a prior book. They are here not for self-promotion, but to assure the reader that certain strong statements made here as background to the Nugan Hand affair are not being made without proper documentation. It seems silly to repeat tangential details in this text that are available elsewhere, but the reader should be assured that they exist.
2. See Seymour M. Hersh, The Price of Power.
3. One of many the author interviewed, who agreed to the interviews on condition their names not be disclosed.
4. Gray told Inquiry magazine in November 1981 that he didn't know his name appeared on the hoard of directors of a Wilson company. But Wilson's biographer, Peter Maas (Manhunt,) established close personal and professional links between the two.
5. The shutdown of 157 provoked such bitterness among former civilian members of the task force that many sued the government claiming that their job rights had been violated. In order to preserve the secrecy of 157, the navy refused for a while to acknowledge that its civilian members had ever been employed there, causing them problems in claiming government pension and pay rights and in getting new jobs.
6. Mulcahy's story was revealed in a stunning series of articles by Seymour Hersh in the New York Times, June 14-21, 1981. Even before Hersh's stories ran, the Boston Globe team of Stephen Kurkjian and Ben Bradlee had exposed the gist of what Wilson was doing. I talked to Mulcahy many times after those articles appeared, confirming them and additional information.
7. In several places in this passage I have stuck very close to the language of Hersh's articles simply because that language apparently passed the scrutiny of all involved.
In preparing this material, and other material in this book about Shackley, I tried relentlessly to talk to him about all of it. My calls to him were returned at times by a Barbara Rosotti (spelling phonetic) and at times by a Ken Webster, each of whom insinuated without quite saying so that she or he was Shackley's lawyer. They insisted that their relationship with Shackley could be disclosed only under an agreement that it would not be reported. Each offered to supply me with the "facts" only if I would accept these "facts" completely off the record, without letting the reader know anything about the source of them. Never having taken any other information under such a stricture, I declined. But I offered literally dozens of times to discuss everything either with Shackley himself or with any authorized spokesman; I was denied access to anyone who would so identify himself.
These conversations with Rosotti and Webster were followed by a letter to me from a Washington lawyer, J. Patrick Hickey, who referred to Shackley as "our client." Hickey's letter showed a familiarity with at least parts of my conversations with Rosotti and Webster. The letter said that the "Australian-New South Wales Joint Task Force" had "informed us" that Shackley wasn't suspected by the task force of having violated any laws. The letter accused me of having "despite several requests . .. failed to provide us with the substance of other comments you may be including with regard to Mr. Shackley and have thereby deprived him of the opportunity to correct possible inaccuracies."
I immediately wrote to Mr. Hickey objecting to his mischaracterization of my conversations with Rosotti and Webster, and offering again to talk to Shackley or an identifiable, authorized spokesman. I got no reply. After that, substantial material about Shackley derived from the work of the Commonwealth/New South Wales Joint Task Force on Drug Trafficking and other material appeared under my byline in the Wall Street Journal, and to my knowledge nothing further was heard from Hickey, Shackley, or the others.
8. Cyr made these statements as he was about to be sentenced for the crime of taking between $3,000 and $6,000 in bribes from Wilson for introducing some Energy Department colleagues-procurement officers-to representatives of Wilson's client Control Data Corporation, which wanted to sell computers to the government; the company wasn't charged with any crime. Judge John H. Pratt evidently accepted Cyr's word about the Shackley connection and its implication of CIA approval for Wilson's operations, because the; judge dealt Cyr a particularly lenient probationary sentence.
Wilson met Cyr through the friendship of their children, and, Mulcahy said, "Paul [Cyr] got Ed some contracts." According to Mulcahy, Wilson not only bribed his way into the Energy Department via Cyr, but also sent a paid mole into Anny Materiel Command meetings to "find out what kind of stuff the army would be buying."
9. Mugabe did announce the intention of eventually creating the kind of one-party "African socialist" state that most other countries in Africa had created on independence and that many still had.
This "African socialist" system has severely hurt economic development on the continent, but hasn't posed any security threat to the United States. Not only do many of our best friends on the continent operate through the one-party "African socialist" system, but in Zaire and possibly elsewhere the CIA helped install the system! And Mugabe, preoccupied with achieving racial and tribal peace at home and good relations with the rich Western countries, put all plans for this system on long-term hold anyway.
10. Relationships in African extended families are hard to correlate with Western usage. "Cousin" conveys the idea.
11. Detailed documentation of these events is given in Endless Enemies.
12. Trapped by their own predictions about the dire consequences of an MPLA victory, the U.S. foreign policy-makers decided to join league with South Africa in support of the UNITA rebels. This in turn required them to write UNITA's "Communist" origins out of history and to let UNITA wear the mantle of democracy and free enterprise that Mobutu's cousin was no longer able to shoulder. All this has been accomplished under the Reagan administration with a facility Stalin would have marveled at.