House of Bush, House of Saud, by Craig Unger
Posted:
Wed Nov 27, 2013 3:55 am
House of Bush, House of Saud: The Secret Relationship Between the World's Two Most Powerful Dynasties
by Craig Unger
© 2004 by Craig Unger
NOTICE: THIS WORK MAY BE PROTECTED BY COPYRIGHT
YOU ARE REQUIRED TO READ

THE COPYRIGHT NOTICE AT THIS LINK

BEFORE YOU READ THE FOLLOWING WORK, THAT IS AVAILABLE SOLELY FOR PRIVATE STUDY, SCHOLARSHIP OR RESEARCH PURSUANT TO 17 U.S.C. SECTION 107 AND 108. IN THE EVENT THAT THE LIBRARY DETERMINES THAT UNLAWFUL COPYING OF THIS WORK HAS OCCURRED, THE LIBRARY HAS THE RIGHT TO BLOCK THE I.P. ADDRESS AT WHICH THE UNLAWFUL COPYING APPEARED TO HAVE OCCURRED. THANK YOU FOR RESPECTING THE RIGHTS OF COPYRIGHT OWNERS.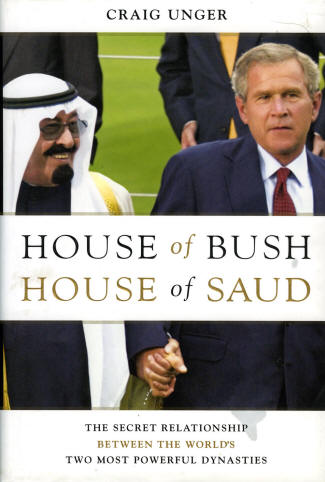 To my mother
Table of Contents
•
Chapter 1: The Great Escape
•
Chapter 2: The Houston-Jeddah Connection
•
Chapter 3: The Ascendancy of George H.W. Bush
•
Chapter 4: Three-Dimensional Chess
•
Chapter 5: The Double Marriage
•
Chapter 6: Another Frankenstein
•
Chapter 7: Friends in High Places
•
Chapter 8: War Drums
•
Chapter 9: The Breaking Point
•
Chapter 10: Masters of the Universe
•
Chapter 11: A House Divided
•
Chapter 12: The Arabian Candidate
•
Chapter 13: Lost in Transition
•
Chapter 14: 9/11
•
Chapter 15: Print the Legend
•
Appendices
•
Acknowledgments
•
Selected Bibliography
•
Index
•
PHOTOS
"There is [sic] other forms of racial profiling that goes on in America," he said. "Arab Americans are racially profiled in what's called secret evidence. People are stopped, and we got to do something about that." -- George W. Bush, Oct. 2000

***

Specifically, as vice president in the mid-eighties, Bush supported aiding the mujahideen in Afghanistan through the Maktab al-Khidamat (MAK) or Services Offices, which sent money and fighters to the Afghan resistance in Peshawar. "Bush was in charge of the covert operations that supported the MAK," says John Loftus, a Justice Department official in the eighties. "They were essentially hiring a terrorist to fight terrorism." [19]

Cofounded by Osama bin Laden and Abdullah Azzam, the MAK was the precursor to bin Laden's global terrorist network, Al Qaeda. It sent money and fighters to the Afghan resistance in Peshawar, Pakistan, and set up recruitment centers in over fifty countries including Egypt, Saudi Arabia, Pakistan, and even the United States to bring thousands of warriors to Afghanistan to fight the Soviet Union. [20]The MAK was later linked to the 1993 bombing of the World Trade Center in New York through an office in Brooklyn known as the Al-Kifah Refugee Center.

***

And so, the United States escalated. By 1987, well into the second term of the Reagan-Bush administration, the United States began to provide the rebels with nearly $700 million in military assistance a year. In addition, the CIA began supplying the mujahideen with intelligence, training, and equipment that allowed them to make scattered strikes against factories, military installations, and storage depots that were actually inside the Soviet Union. They gave the Islamic rebels satellite reconnaissance data, intercepted Soviet intelligence, and provided sniper rifles, timing devices for tons of C-4 explosives for urban sabotage, antitank missiles, and other sophisticated equipment. [32]

Most coveted of all were the Stinger missiles, portable, shoulder-fired antiaircraft guided missiles with infrared seekers for downing low-flying helicopters and planes, [33] missiles so sophisticated that, as one CIA officer put it, "a nearsighted, illiterate Afghan could bring down a few million dollars' worth of Soviet aircraft." [34] With a hit rate of 89 percent, the Stingers downed an average of one plane every day. Soon, the Afghan air force was depleted, and for the Soviets, the cost of the war soared. [35]

Meanwhile, bin Laden built a major arms storage depot, training facility, and medical center for the mujahideen at Khost in eastern Afghanistan. Peshawar became the center of a burgeoning pan Islamic movement. More than twenty-five thousand Islamic militants, from the Palestinians' Hamas, from Egypt's Al Gama'a al-Islamiya and Al Jihad, from Algeria's Islamic Salvation Front, from the Philippines' Moro Liberation Front, from countries all over the world, made the pilgrimage through Peshawar to the jihad. [36]

"You can sit at the Khyber Pass and see every color, every creed, every nationality, pass," a Western diplomat said. "These groups, in their wildest imagination, never would have met if there had been no jihad. For a Moro [iv] to get a Stinger missile! To make contacts with Islamists from North Africa! The United States created a Moscow Central in Peshawar for these groups, and the consequences for all of us are astronomical." [37]

A new network of charities grew into a formidable infrastructure to support the growing pan-Islamic movement. Money flowed into the Services Offices in Peshawar. A new leadership emerged that included Sheikh Azzam and his best friend, the rotund, blind Sheikh Omar from Egypt. CIA forces in Peshawar saw him as a valuable asset, letting pass his militant anti Western sentiments because he was such a powerful force in uniting the mujahideen. [38]

***

"The Iron Curtain still stretches from Stettin to Trieste," Bush said. "But it's a rusting curtain. Shafts of light from the Western side, from our side, the free and prosperous side, are piercing the gloom of failure and despair on the other side. "The truth is being sought as never before," he added. "And the peoples of Eastern Europe, the peoples of the Soviet Union itself, are demanding more freedom, demanding their place in the sun."

***

"We set up the very system [of Islamist terrorism] we are now trying to dismantle," says a senior investigator who participated in the Senate probe into BCCI.

***

Even a decade later one of the principal architects of the policy, Zbigniew Brzezinski, evinced few regrets. "What is most important to the history of the world?" he asked the French weekly the Nouvel Observateur. "The Taliban or the collapse of the Soviet empire? Some stirred-up Moslems or the liberation of Central Europe and the end of the Cold War?" [56]

***

Not long after he took office in 1989, President Bush was warned about exactly this possibility by someone in a position to know. Displeased that the president continued to support extremist radical Muslims, Pakistani prime minister Benazir Bhutto let him know about the dangers. Arming the mujahideen might initially have been the right thing, she told Bush. But, she explained, "The extremists so emboldened by the United States during the eighties are now exporting their terrorism to other parts of the world to the extent that they use heroin trafficking to pay for their exploits."

It had gone too far, she said. By aligning the United States with the most extremist mujahideen groups, she told him, "You are creating a veritable Frankenstein." [57]

***

At the same time that Nayirah was telling Americans about Iraqi atrocities, the Pentagon began telling Americans about the looming Iraqi military threat. By mid-September, even before Nayirah's testimony, the Bush administration claimed that 250,000 Iraqi troops were in Kuwait and the surrounding region. But there was compelling evidence that the Iraqi military threat to the Saudis had either been vastly overstated by the United States or that Iraq had withdrawn its troops. In August, a Japanese newspaper approached Peter Zimmerman, a fellow with the U.S. Arms Control and Disarmament Agency, with photos of Kuwait taken by a Soviet commercial satellite company. Zimmerman showed the photos to various other experts and "all of us agreed we couldn't see anything in the way of military activity." [50]

The media, however, was too cautious to run with a story saying that the Pentagon had exaggerated the Iraqi military threat. Nevertheless, ABC News pursued the story and bought a set of five Soviet satellite pictures of eastern Kuwait and southern Iraq, which were taken on September 13, at a time during which the United States asserted that the Iraqi military force was at full strength. [51] According to Zimmerman, the photos were "astounding in their quality." [52] But when he reviewed them with another expert, both of them were shocked not by what they saw, but by what they didn't see. "We turned to each other and we both said, 'There's nothing there,' " said Zimmerman. Nothing suggested an Iraqi military presence anywhere in Kuwait. "In fact," Newsweek reported, "all they could see, in crystal-clear detail, was the U.S. buildup in Saudi Arabia." [53] Where were the Iraqi soldiers? The evidence strongly suggested that Cheney's presentation to Prince Bandar six weeks earlier vastly overstated the Iraqi threat -- or that the Iraqis had retreated.

ABC News, however, had neglected to obtain a photo showing one thirty-kilometer strip of land in Kuwait. Perhaps all the Iraqi troops were hiding in that sector. But an enterprising reporter in Florida named Jean Heller got her newspaper, the St. Petersburg Times, to purchase the missing photo. It too showed no sign of the missing Iraqi troops. "The Pentagon kept saying the bad guys were there, but we don't see anything to indicate an Iraqi force in Kuwait of even twenty percent the size the administration claimed," Zimmerman told Heller. [54]

As the story spread, the Pentagon's PR machine shifted into damage-control mode. A spokesman said the military "sticks by its numbers," then went to work discouraging ABC, CBS, and the Chicago Tribune from pursuing the story. ABC News's Mark Brender explained that the network dropped it partly because the photos were inconclusive, but also because there was "a sense that you would be bucking the trend. ... If you're going to stick your neck out and say that the number of Iraqi forces may not be as high as the administration is saying, then you better be able to say how many there are." [55] One of the few major newspapers to suggest that Iraq never really showed up for battle en masse was Newsday, which, after the Gulf War was under way, reported that American troops had encountered a "phantom enemy." It noted that most of the huge Iraqi army, which was said to have half a million troops in Kuwait and southern Iraq, simply was nowhere to be seen. In addition, as if foreshadowing the Iraq War of 2003, Saddam Hussein's supposed chemical warfare never materialized.

One senior American commander told a Newsday reporter that the information about the Iraqi defenses put out before the war was highly exaggerated. "There was a great disinformation campaign surrounding this war," he said. [56]

***

"On Thursday, March 28, 2002, acting on electronic intercepts of telephone calls, heavily armed Pakistani commando units, accompanied by American Special Forces and FBI SWAT teams, raided a two-story house in the suburbs of Faisalabad, in western Pakistan. [55] They had received tips that one of the people in the house was Abu Zubaydah, the thirty-year-old chief of operations for Al Qaeda who had been head of field operations for the USS Cole bombing and who was a close confidant of Osama bin Laden's.

Two days later, on March 30, news of Zubaydah's capture was spreading all over the world. At first, the administration refused to corroborate the reports; then it celebrated the capture of the highest-ranking Al Qaeda operative ever to be taken into custody. "This represents a very significant blow to Al Qaeda," said White House spokesman Ari Fleischer. He called Zubaydah "a key terrorist recruiter, an operational planner and a member of Osama bin Laden's inner circle."

Donald Rumsfeld told a news conference that Zubaydah was "being given exactly the excellent medical care one would want if they wanted to make sure he was around a good long time to visit with us." [56]

The international media speculated as to what Zubaydah might know, what he might say. On Sunday, March 31, three days after the raid, the interrogation began. For the particulars of this episode there is one definitive source, Gerald Posner's Why America Slept, and according to it, the CIA used two rather unusual methods for the interrogation. [vii] First, they administered thiopental sodium, better known under its trademarked name, Sodium Pentothal, through an IV drip, to make Zubaydah more talkative. Since the prisoner had been shot three times during the capture, he was already hooked up to a drip to treat his wounds and it was possible to administer the drug without his knowledge. Second, as a variation on the good cop- bad cop routine, the CIA used two teams of debriefers. One consisted of undisguised Americans who were at least willing to treat Zubaydah's injuries while they interrogated him. The other team consisted of Arab Americans posing as Saudi security agents, who were known for their brutal interrogation techniques. The thinking was that Zubaydah would be so scared of being turned over to the Saudis, ever infamous for their public executions in Riyadh's Chop-Chop Square, that he would try to win over the American interrogators by talking to them. [57]

In fact, exactly the opposite happened. "When Zubaydah was confronted with men passing themselves off as Saudi security officers, his reaction was not fear, but instead relief," Posner writes. "The prisoner, who had been reluctant even to confirm his identity to his American captors, suddenly started talking animatedly. He was happy to see them, he said, because he feared the Americans would torture and then kill him. Zubaydah asked his interrogators to call a senior member of the ruling Saudi family. He then provided a private home number and cell phone number from memory. 'He will tell you what to do,' Zubaydah promised them." [58]

The name Zubaydah gave came as a complete surprise to the CIA. It was Prince Ahmed bin Salman bin Abdul Aziz, the owner of many legendary racehorses and one of the most westernized members of the royal family. On September 16, 2001, Prince Ahmed, of course, had boarded the flight in Lexington as part of the evacuation plan approved by the Bush White House.

Prince Ahmed was well known not just in Saudi Arabia, but also in publishing circles in London and horse-racing circles in Kentucky. He was such an unlikely name that the interrogators immediately assumed that Zubaydah was lying to buy time. According to Posner, the interrogators then kept their prisoner on a "bare minimum" of pain medication and interrupted his sleep with bright lights for hour after hour before restarting the Sodium Pentothal drip. [59]

When they returned, Zubaydah spoke to his faux Saudi interrogators as if they, not he, were the ones in trouble. He said that several years earlier the royal family had made a deal with Al Qaeda in which the House of Saud would aid the Taliban so long as Al Qaeda kept terrorism out of Saudi Arabia. Zubaydah added that as part of this arrangement, he dealt with Prince Ahmed and two other members of the House of Saud as intermediaries, Prince Sultan bin Faisal bin Turki al-Saud, a nephew of King Fahd's, and Prince Fahd bin Turki bin Saud al-Kabir, a twenty-five-year-old distant relative of the king's. Again, he furnished phone numbers from memory. [60]

According to Posner, the interrogators responded by telling Zubaydah that 9/11 had changed everything. The House of Saud certainly would not stand behind him after that. It was then that Zubaydah dropped his real bombshell. "Zubaydah said that 9/11 changed nothing because Ahmed ... knew beforehand that an attack was scheduled for American soil that day," Posner writes. "They just didn't know what it would be, nor did they want to know more than that. The information had been passed to them, said Zubaydah, because bin Laden knew they could not stop it without knowing the specifics, but later they would be hard-pressed to turn on him if he could disclose their foreknowledge." [61]

Two weeks later, Zubaydah was moved to an undisclosed location. When he figured out that the interrogators were really Americans, not Saudis, Posner writes, he tried to strangle himself, and later recanted his entire tale. [62] As this book went to press, no one had convincingly refuted Posner's account.

-- House of Bush, House of Saud, by Craig Unger