Pentagate
Coordinated by Thierry Meyssan
© 2002 by Carnot Publishing
Title page photograph by: Department of Defense (DoD), All Hands, US Navy
Other pictures: DoD, Tech. Sgt Cedric H. Rudisill; source
http://www.geoffmetcalf.com;
US Marine Corps, Cpl. Jason Ingersoll; US Army, Sgt. Carmen L. Burgess; Jim Garamone, American Forces Press Service (see Photo section).
NOTICE: THIS WORK MAY BE PROTECTED BY COPYRIGHT
YOU ARE REQUIRED TO READ

THE COPYRIGHT NOTICE AT THIS LINK

BEFORE YOU READ THE FOLLOWING WORK, THAT IS AVAILABLE SOLELY FOR PRIVATE STUDY, SCHOLARSHIP OR RESEARCH PURSUANT TO 17 U.S.C. SECTION 107 AND 108. IN THE EVENT THAT THE LIBRARY DETERMINES THAT UNLAWFUL COPYING OF THIS WORK HAS OCCURRED, THE LIBRARY HAS THE RIGHT TO BLOCK THE I.P. ADDRESS AT WHICH THE UNLAWFUL COPYING APPEARED TO HAVE OCCURRED. THANK YOU FOR RESPECTING THE RIGHTS OF COPYRIGHT OWNERS.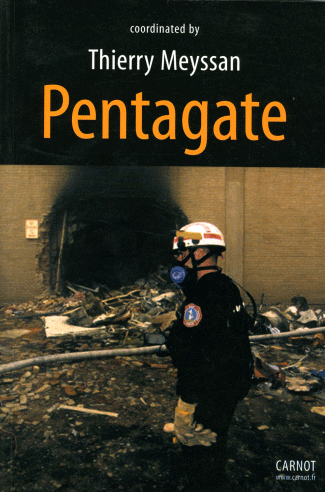 "In the councils of government, we must guard against the acquisition of unwarranted influence, whether sought or unsought, by the military-industrial complex. The potential for the disastrous rise of misplaced power exists and will persist. We must never lest the weight of this combination endanger our liberties or democratic processes. We should take nothing for granted. Only an alert and knowledgeable citizenry can compel the proper meshing of the huge industrial and military machinery of defense with our peaceful methods and goals, so that security and liberty may prosper together."

-- President Eisenhower's Farewell Address, 17 January 1961
DISCLAIMER:
This publication contains the opinions and ideas of its authors. It is intended to provide helpful and informative material on the subject matter covered. It is sold with the understanding that the author and publisher are not engaged in rendering professional services in the book. If the reader requires personal assistance or advice, a competent professional should be consulted. The author and publisher specifically disclaim any responsibility for any liability, loss, or risk, personal or otherwise, which is incurred as a consequence, directly or indirectly, of the use and application of any of the contents of this book.
Table of Contents
• Introduction
• One Piece of Debris Too Many
• Truncated Testimonies
• The Missile Hypothesis
• The Effects of a Hollow Charge
• Disappearance of an Airplane
• The Official Paradox
• Epilogue
• PHOTO SECTION
• Appendices
o Opinion Article by Cynthia McKinney: "It's important that Bush answer the questions raised by the events of September 11."
o Opinion Article by Cynthia McKinney: "I was derided by spokespersons for the military-industrial complex as a conspiracy theorist."
o Interview with Ed Royce: "We are the victims."
o Interview with Cynthia McKinney: "The conspiracy of silence."
o Interview with Carlos Jacinto: "Lots of things to clear up."
o Interview with Mike Walter: "Neither missile nor bomb, an American Airlines plane."
o Interview with Richard Benedetto: "That plane is going to crash into the Pentagon!"
o Interview with Steve Riskus: "Like in a cartoon."
o Interview with James Ryan: "It was a nightmare."
o Interview with Ed Plaugher: Memory in Reverse.
o NORAD's Response Times.
o Lecture by Thierry Meyssan, as guest speaker of the Arab League: "Who's Behind the September 11 Attacks?"
Several experts have tried to explain the official version. This version in its entirety is quite complex and deserves to be studied attentively.

-- The absence of debris from the Boeing is explained by the fact that the plane was pulverized when it crashed into this particularly resistant building. "The impact released extreme energy, causing the pulverization of the aircraft," explained an anonymous expert consulted by Le Monde. [6] "The shock was such that the plane was literally pulverized," commented yet another anonymous specialist quoted by Liberation. [7]

-- The disappearance of the parts of the plane that are particularly resistant, such as the jet engines or the brakes, is explained by the fact that the aircraft had totally melted (with the exception, however, of a beacon and the black boxes found three days later [8]). "As opposed to cars, planes are above all composed of aluminum, which starts to liquefy towards 1,050° F and the structures of the aircraft melted," analyzed Le Monde. [9] This was confirmed by Liberation: "Much of the plane's debris also melted in the intense heat." [10]

-- As for the absence of one hundred tons of melted metal, this is explained by the fact that the fire attained temperatures above 4,500° F, thus causing the evaporation of the plane's materials (but not those of the building, nor those of the beacon and the black boxes). "Depending on what caused it, the materials that feed it, its exposure to oxygen and its duration, a fire of this magnitude could release heat of between 3,000 and 4,500° F," another specialist stated. "The heat released by the fire during 24 hours thus leads us to understand that the greater part of the plane's remains were destroyed." [11]

-- The presence of the last hole with a seven foot diameter is explained by the fact that, despite all these ordeals, the nose of the plane continued its mad course through three buildings. That is the conclusion reached by the head of the Pentagon's renovation operation.

According to the official version, the damages could thus have been produced by a Boeing 757-200. For that to have occurred, the plane was capable of disintegrating when it made impact with the Pentagon's facade, of melting once it was inside the building, of evaporating at 4,500° F and nevertheless perforating two other buildings to create that hole of seven feet in diameter... [12]

***

"The speed, the maneuverability, the way that he turned, we all thought in the radar room, all of us experienced air traffic controllers, that that was a military plane." [19]

-- Pentagate, by Thierry Meyssan