Secret Service Visits "Secret History of Sin": Stamp Art Exhibit Asks, "What is Evil" While Feds Ask For Info
by Jamie Murnane & K. Anderson
April 13, 2005
NOTICE: THIS WORK MAY BE PROTECTED BY COPYRIGHT
YOU ARE REQUIRED TO READ

THE COPYRIGHT NOTICE AT THIS LINK

BEFORE YOU READ THE FOLLOWING WORK, THAT IS AVAILABLE SOLELY FOR PRIVATE STUDY, SCHOLARSHIP OR RESEARCH PURSUANT TO 17 U.S.C. SECTION 107 AND 108. IN THE EVENT THAT THE LIBRARY DETERMINES THAT UNLAWFUL COPYING OF THIS WORK HAS OCCURRED, THE LIBRARY HAS THE RIGHT TO BLOCK THE I.P. ADDRESS AT WHICH THE UNLAWFUL COPYING APPEARED TO HAVE OCCURRED. THANK YOU FOR RESPECTING THE RIGHTS OF COPYRIGHT OWNERS.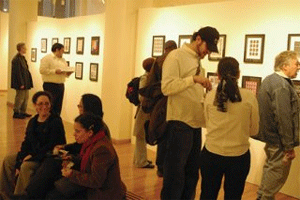 Gallery viewers at the opening shortly after Secret Service agents left.
For the first time in Columbia's history, a campus gallery exhibit has incited a Secret Service investigation.
Columbia officials were stunned when two Secret Service agents showed up for the opening of the new Glass Curtain Gallery exhibit "Axis of Evil: The Secret History of Sin."
According to Columbia's media relations director, Micki Leventhal, the agents arrived before the opening, demanding to speak with Michael Hernandez de Luna, the exhibit curator who was not yet present. Hernandez de Luna is no stranger to controversy as he is the stamp artist who was single-handedly responsible for shutting down Chicago's Loop post office for several hours in October 2001 when he sent a skull and crossbones stamp through the mail with the word "anthrax" written on it.
Though the stamp was found to be harmless, Hernandez de Luna has been under a federal investigation for the incident. And while there is politically controversial art in "Axis of Evil," Leventhal said, "We do not know, officially, the nature of their inquiries."
It was made clear, however, that the inquiries had "nothing to do with Columbia," Leventhal said, and the only request that was made was for Hernandez de Luna to contact them within 24 hours.
It is unclear whether Hernandez de Luna has contacted the agents, as he said he is not allowed to talk about the incident. He did say that he was "not too surprised by the turnout of the Secret Service," as all his exhibits are documented by postal authorities.
He was surprised, however, that agents decided to turn up for "Axis of Evil," having said, "This is one of my safest shows ever."
Leventhal said the gallery will be unaffected.
"We are an art school," Leventhal said. "We're a communication school and we stand firmly for freedom of artistic expression and academic freedom."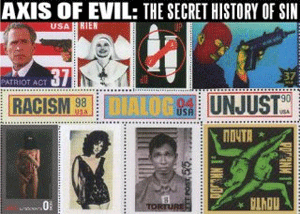 The Postcard for the exhibit previews some of the "graphically political" work (according to a viewer discretion notice on the door of the gallery) that's on display.
"Axis of Evil: The Secret History of Sin" is a collection of stamp art featuring 47 artists from 11 different countries that opened at the gallery on April 6.
"He coined the term 'Axis of Evil' like the Nazis hijacked the swastika," said Hernandez de Luna, referring to President George W. Bush's statement claiming that certain countries are responsible for evil.
Out of this explosive statement has come an effort that ruminates on the reality of evil as we know it.
Hernandez de Luna, former Columbia student who has several of his own pieces in the show, credits the college for opening doors to such a controversial exhibit.
"There's many institutions that will not take on shows with such a raw cacophonic edge," he said.
Greg Weiss, gallery coordinator of the Glass Curtain space, said he does not remember any other time that an exhibit has generated so much interest before it even opened. Weiss said they chose the exhibit because they thought it would resonate with the students and the public.
"It's very timely in the sense of our political and social climate," Weiss said.
Robert Billings, a Los Angeles-based political artist, is an eager participant in the show. Billings said he likes controversial art because it opens up a dialogue.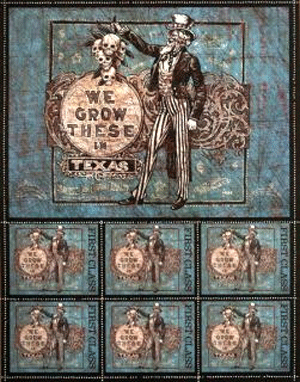 "It's not necessarily condemning evil, but asking 'What is evil?'" Billings said of the exhibit.
New York-based artist Gerard Barbot is also participating in the show. Asked what people should take away from the show, Barbot was quick to comment.
"I would wish that people would be more aware of what's going on in the world as well as what's going on in their own selves," Barbot said, adding that stamp art is functional.
"It's meant to be licked and stuck on an envelope," he said. "I've used mine already."
And Hernandez de Luna doesn't consider his work complete unless it's actually been sent through the mail (either successfully or with a cancellation stamped on it).
The idea for the show originally came from the mind of Jim Swanson, owner and operator of Qualiatica Gallery and Press. Swanson first created a hardcover catalogue of the art and a companion DVD, which included essays and discussions by artists and other interested parties. Both were titled, "Axis of Evil, Perforated Praeter Naturam." Swanson explained that "perforated praeter naturam" means to punch holes in the supernatural, and that's just what he wanted to do.
"We've created a metaphor that puts fear into people and that has to be addressed," Swanson said.
A friend of Swanson's suggested stamp art as the medium, and Swanson hired Hernandez de Luna to curate and navigate the art.
According to both Swanson and Hernandez de Luna, 99.9 percent of the art was solicited.
"It was a global call. I said, 'Show me what you guys think of evil, and don't send me none of that pansy-ass stuff neither,'" Hernandez de Luna said.
Hernandez de Luna is known for controversy and justifies it by saying it is exactly what being a successful artist is all about.
"Any publicity makes his art more valuable," said Swanson of Hernandez de Luna's attitude toward trouble.
Trouble ended up being just another part of the birth of this already controversial exhibit and collection. Swanson and Hernandez de Luna embroiled themselves in a legal battle over the collection and Hernandez de Luna's payment for his work on the project. The creators of this thought-provoking, artistic endeavor are not on speaking terms.
The exhibit, which was supposed to go hand in hand with Swanson's catalog and be shown at Qualiatica, Swanson's gallery, is now an independent project of Hernandez de Luna's.
Swanson has retained rights to the catalog book, the DVD, and the title, "Axis of Evil: Perforated Praeter Naturam." Hernandez de Luna has the rights to the collection and to exhibit the show to the public.
"Axis of Evil: The Secret History of Sin," which will be on display at the Glass Curtain Gallery, 1104 S. Wabash Ave., through May 11.