BIZARRO LAND
While so much of the trial and especially its immediate aftermath is both crystal clear and spotty -- a little like those zoom-in, zoom-out shots in the movies -- one of the most prized memories that will stay with me for the rest of my life is how the jury came together as one and asked Judge Luzzo for permission to speak with me in the hallway after the trial.
These six people who I had never met until their selection the day before were so kind and yet so forceful in what they had to say to me that it brings tears to my eyes even now. A couple of the jurors told me that they had privately prayed about their own decision -- a decision that their fellow jurors came to as well. Two other jurors told me how moved they had been by my story and encouraged me to continue my work with the families of troubled teens. Collectively they told me they had taken their duties very seriously and wanted to send a very loud message that ruining lives with online attacks was wrong and would not be tolerated.
And then, they all said they couldn't wait to get home and do a Google search on me since during the trial Judge Luzzo had instructed them that they were not allowed to look me or this case up on the Internet.
Do you have any idea, any idea, what this meant to me after so many years of being terrified that someone I just met would look me up and view me as a monster because they were not privy to the real facts? If these six people had done a search on me a few short days before, they would have been perfectly entitled to draw the obvious conclusions about my bad-news character. But now, these same six people could do the same search and know that almost all of what they were reading was either an outright lie or a twisted half-truth, which would now elicit anger or disgust toward my accusers, instead of that anger and disgust being directed at me, the accused.
For the first time in a very long time, I didn't feel the impulse to cringe, to run and hide, or protect myself with a knee-jerk reaction to keep the people surrounding me at arm's length. In that amazing moment I was graced. I was able to hold my head high and look each of these six people straight in their eyes without fear of condemnation.
Each juror took their turn to hug me good-bye. Each one shook David's hand. I think he was a little in awe. He said he'd never seen a trial end with such a reaction from a jury before. And, of course, once we walked out of the Broward County Courthouse and into that sweet Florida afternoon breeze, he couldn't resist a victory fist-pump into the air and an incredulous, "You just won over ten million dollars! Can you believe this?!"
Once alone in my car I had to take some time to compose myself. But then I had some incredible news that I was bursting to share with ... someone. I didn't have a husband or a significant other to call. My parents and my siblings didn't even know about the case. And, I'd kept this whole ordeal as far away from my children as possible. So, who you gonna call?
"Are you sitting down?" I asked the closest friend who had stood beside me throughout it all, and then I told her the news. At first she didn't believe me -- after all, just yesterday we had seriously discussed what kind of judgment I might get, if any, and decided it could be from $10,000 to $100,000 if I was really, really lucky. Even at the upper end, it wouldn't cover my legal fees, but this had been about justice and vindication, a need so imperative that I had mortgaged my home for a chance to clear my name and restore my reputation.
Once I read the verdict to her, several times, to convince her as much as I was still trying to convince myself, she screamed. Screamed at the top of her lungs while my own were burning to do the same. Being in the courthouse parking lot, however, and not wanting someone to call 911, I reveled in those shouts of joy from a friend.
From there I went home in a euphoric daze, and just like that, the trial was over and done. Or so I thought.
Little did I realize the circus was coming to town, and it arrived with the aplomb of a two-ton elephant in a pink tutu doing pirouettes in my living room. Without warning, our quiet little landmark case hit the news and the outcome spread with viral speed.
I'm not completely sure who was the first to break the story, but before I knew it my name and the jury verdict were plastered in newspapers and magazines, on the Internet and beyond. Not just nationally but internationally. Virtually overnight I went from being a reclusive self-employed service provider getting trashed by the mobosphere to some kind of media darling/poster child for a cause celebre that was suddenly a hot topic.
David's law office was deluged with phone calls. The phone at PURE that had stopped ringing was, in a finger snap, ringing off the hook. As for my unlisted home number, and the cell number I was stingy in giving out, well ...
Let's just say that my father was not entirely pleased to have learned about my not-so-latest via a major spread in USA Today. How could I not have told him about this? How could I have kept this all to myself when he should have been there For me?
Boy, did I get an earful. And yet, how could I begin to explain to my father, who didn't even have an e-mail account, how treacherous and shaming an Internet attack could be? For someone who grew up in a generation when print publishers were held accountable, when the "F" word was reserved for your army buddies, and when personal matters that were meant to stay private went no further than your immediate friends and family .... No matter how I tried to explain this grotesque phenomenon of the Internet age, how could he possibly understand?
I had no ready answers for my father then. I still don't.
The first two months after the trial flew by faster than Dorothy could click her ruby slippers, and with my reputation restored on the public stage, the spotlight that came with it forced me out of hiding. I dealt with it the best that I could. I actually dealt with it better than I ever would have thought possible prior to the jury verdict. Although this was unfamiliar ground for me, although I was nervous and often unsure of myself, I found a sort of inner healing with each interview by an objective journalist in search of the truth. I also found solace and encouragement from the countless e-mails that said I had brought some much needed hope to those whose own stories of Internet abuse too closely mirrored my own.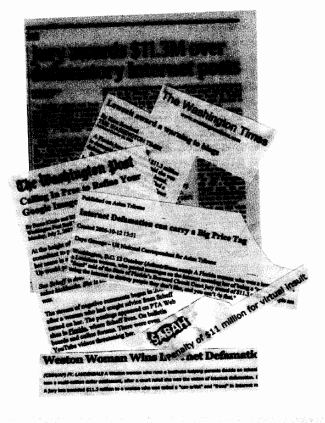 Life had gone from really bad to better than good so quickly that I was caught off guard when the spotlight I saw as vindication swerved around a blind corner and took me to a place that I can only describe as Dante's Inferno on LSD.
Shortly after the judgment, Clark recruited yet another ally. A former teen program attendee, this angry young person joined forces with Clark to launch an attack that would make the one I had spent years battling look like a Romper Room joke on Captain Kangaroo.
Let's call him/her ... Alex. "Alex" is no doubt reading this book and is very disappointed that I have not granted him/her a center stage to gloat upon with an actual name and gender specification. You see, if I did, the natural inclination would be to look this person up online and, out of curiosity, explore Alex's dedicated website to me, plus the multiple links that will get you there without realizing that's where you're going. The website appears innocent enough on a search engine but once you're in, Alex's mission in life is made crystal clear: to destroy me. And, of course, each hit, unintended or not, feeds Google's hungries like the Cookie Monster getting a dump truck of Keebler goodies straight down the hatch. This delights Alex to no end.
I've never met Alex personally. All I know is that this is a very computer- savvy, sad, and sadistic young adult who apparently had something go terribly wrong in the tender years. This no doubt made Alex easy pickings for Clark to recruit to get the ultimate revenge on me for taking her to court and winning the trial she was too "traumatized" to attend once her freebie lawyers took a hike.
You know, as I'm reading that last sentence it sounds a little mean to me. To be fair, Clark surely perceives things much differently than I do, and she surely has friends and family members who would staunchly stand by her excellence of character, which I haven't had the good fortune of encountering myself.
As for Alex, I continue to search for compassion in my heart toward a disturbed individual who went so far as to ... there are so many perversities I don't even know where to start, and it might actually be easier to give you an idea of what was coming down the pike my way by sharing an "inquiry" I received at PURE.
Do I know for a certainty that Alex sent me this? I do not. It could have come from one of Alex's closest cohorts who found a picture online of my daughter and me hugging, then did a House of Horrors Photoshop job that's too sick and macabre to describe in print. Just use your imagination and multiply it by ten.
Alex's friend, Bernie, found another website where s/he secured ten full pages that come complete with tabloid-like headlines, copious profanity, and an assortment of news alerts that go like this:
FACT ALERT: Sue is unable to leave her house due to anonymous death threats; send her some curtains and a dog after you read this leaked email! BTW, the email was full of lies, she was never going to appear on 20/20 ... LOL!
Actually, I did appear on 20/20, which really got the hornets' nests stirred up.
Just a few more tidbits from Bernie's little chunk of the World Wide Web:
"Sue Scheff is a Concerned Mother and so-called advocate for them and teenagers, but in reality is a greedy Jew ... She needs this money, of course, given that she has a crappy nose job (You can't fix a Jew nose) and obviously fake breasts, and still has payments left on her Mercedes-Benz and pool boy."
Actually, I was raised Catholic and drive an Infiniti. As for the fake breasts and the pool boy, well, ya gotta give Bernie credit for having some imaginative flair, especially since I don't have a pool and am too genetically predisposed to what I was born with to try outdoing Dolly Parton. Wait, it gets even better:
Drama, Red Panties, A Swinger, Cruella De Ville (sic),

A Mormon Pedophile, and Sue-Sue F*CKS Up

Sue, being a net savvy Jew, had been lurking the boards for some time, trying to find out what people really knew about her and protecting her image. Not knowing how to handle her mistakes, she did the only thing she knew how to do: Lie, blame the victims, and generally be a f*cktard.

But the drama doesn't stop there! After Googling for porn one night she used Google to look up her enemies and more hilarity ensued when she began posting anonymously on a certain website ... then another anon poster began making statements about Sue's red panties.

Montel Williams Fiasco

FACT ALERT: It takes a Nigra to get anything done these days

Montel could not be reached for comment, but was seen polishing a big shiny afro-pick and growing out a spectacular 'fro.
I was not on The Montel Williams Show but he did do a show on teen programs and their abuses, which must have qualified him to keep company with Sue-Sue.
Clark, Sue, and a Dark-Match Pollack

Having had a lot of problems with free speech, Sue needed some way to raise morale (or her sagging tits) and try to repair her image. One of her more vocal critics, M. Clark, knew full and well that Sue was full of shit, so she did the right thing and stopped the bitch in her tracks, and posted all over the f*cking internet what the bitch was up to. The image problem created by this naturally killed Sue's business. Doing the only thing she knew how to do, she hired her loser lawyer to sue M. Clark.

Being in a FEMA trailer after Katrina, Clark wasn't even able to make it to court. Being the first success Sue's lawyer ever had, he brags about it on his shitty webpage before chasing more ambulances and sucking [redacted] c*ck.
Okay. One more time: Clark sold her house three weeks before Katrina. She then moved in with the man she would eventually elope to Vegas with. While she was present for Katrina and her gentleman friend's house did suffer some damage, which caused her to temporarily move to the Houston area the next month where her parents resided, please recall that Clark independently lived in a gated community with many fine amenities. When she moved back to Louisiana to get married, she openly testified that the house she returned to -- belonging to her new husband -- had been repaired and was in good living order. All of this information came from Clark herself while under oath, and not once was a FEMA trailer mentioned. Got that, Bernie?
Bernie goes on to dedicate an entire page that posts an e-mail I had privately sent to a web host provider's abuse department (more on that later), listing the police report I filed in response to threats I had received, along with David's full name and phone number. On the following page, Bernie signs off with this:
"Not satisfied to simply send kids to be tortured for money and desperately try to fix her f*cking nose, she had to f*cking lie in the above email. Let's see if she likes what's to come? Oh and she threatened to sue me years ago, bet you wish you did now, BITCH!"
And at the bottom of the page I am quoted as saying, "Just because you don't like someone or what they do, it does not give you carte blanche to post false statements about a person on the Internet."
I did say that and stand by those words.
Speaking of words, I also received a very creepy and threatening anonymous phone call that was the same voice as the one from a YouTube video that included pretty much everything we've already covered with the added compliment of referring to me as "a piece of human excrement," and proclaiming plans to "kick Sue's ass."
How much of a role did Alex play in all this? That's hard to say, but I'd be rather surprised if Alex's contribution wasn't significant. Even if not, as unlikely as that is, there is plenty of material that Alex is happy to take sole credit for. For example, Alex had a lengthy posting on a certain website (care to guess which one?) that lists Alex as being an administrator of it (talk about rising up in the ranks!). And on this "All about Me" sort of page, there is the same picture of my daughter and me, only un doctored, thank you. Above the picture Alex says: "Go f*ck yourself, Sue ... I truly hope you die in a very painful manner. Cancer preferably."
And then there's another picture just beneath the first, with this heading: "Sue Scheff if Alex gets his/her wish." The picture is of a young girl in a hospital bed petting a puppy, all her hair gone and yet smiling despite the obvious ravages of cancer. Scrolling a bit further, the type reads:
"A rumor I heard is that Alex is on many strong psychiatric medications, still lives with his/her parents and is unemployable due to his/her psychiatric issues. How does his/her mother feel about his/her wishing death on other people?

Will this misguided psychopath Alex finally act on one of his/her many threats?"
And the grand finale appears in the form of yet another picture. A hand gripping a large knife and poised to strike, a la the famous shower scene in Alfred Hitchcock's Psycho.
There is one other item of interest that Alex mentions in this rather unusual resume on the website owned by Smith (and of which Alex is a co-administrator). Under the heading of "Experience/' Alex lists IOwnerlBlogger" and gives the name of the website that, at first glance, appears to be owned by me, but in reality takes you to Alex's site that is devoted to doing what Clark wasn't able to completely accomplish: Ruin me with the same sort of trash talk I took her to court for. Only now it appears that Alex is the one doing all the talking and trashing, which wasn't always the case. You see, when this website was first established, it was owned in both Clark's and Alex's names. It was only after David sent a letter of warning to the attorney Clark hired after the trial that her name was suddenly removed, leaving only Alex's remaining.
This did not stop Clark from branching out and establishing a brand spanking new website of her own, geared toward the same purpose. It's kind of like that Certs commercial: It's Two! Two! Two mints in One! Or maybe the old Doublemint gum jingle: Double your pleasure! Double your fun . .. !
It's interesting to me that while all this was going on, the media in the form of Fox News, 20/20, ABC News, the BBC, NPR, and many others continued to seek me out to shed light on Internet defamation and tell my story to the public at large. And the more exposure my story got, the more vicious the threats became. Also interesting is that when Clark lost her appeal to have her judgment set aside and was ordered to pay up, those attacks got, urn, doubly bad. A last little coup de grace from Smith's website:
From Anti-Sue Scheff Guest: "Sue Scheff is evil. She is a devil and YOU SUE ... YES YOU SUE SCHEFF -- will get what is coming to you little by little. YOU WILL DIE A SLOW DEATH AND BE INFLICTED WITH MANY DISEASES. You are an evil devil, Sue Scheff ....
"
Clearly this all escalated to a point that made my pretrial ordeal pale in comparison. As malicious and untrue as the early postings were to destroy my reputation, they didn't involve anyone wishing me dead in graphic detail. Nor did it involve someone having my BellSouth phone lines disconnected by pretending to be me, giving them my Social Security number to prove it, and saying "1" was moving out of state. And trust me, when you're getting threats and your phone lines are cut, that's a pretty scary place to be.
I sought David's counsel. I filed a police report. I scrambled to find what avenues of protection were available to citizens like me who were given every reason to fear for their lives.
Ultimately, I called the FBI. They got involved. However, they needed more direct threats, if you can believe that, to immediately go after these sick people in order to protect one of the taxpayers who cut their paychecks. And why? Because under the current, existing laws with the Internet, nothing entirely illegal was going on. As John has made clear from a legal perspective, our present laws are not only grossly inadequate, they are geared more toward protecting the guilty than the innocent when it comes to online stalking and abuse.
With my options running out, and my Fear Factor mounting, I went in search of help. Where? Where else:
The Internet.
Circling Sharks

Sucks Sites
Sue is feeling the brunt of an attack site aimed squarely at herself personally and her business. This is not uncommon. It's becoming a very popular pastime among the disenfranchised. Now, don't get me wrong. No one would seriously dispute the right to voice honest discontent with a company or individual. This right to free speech is planted firmly in our history and protected in the First Amendment to our Constitution. It's as American as apple pie.
But if someone decides to buy your business name with a derogatory term attached, like "sucks" or "stinks;' and offers up to the search engines a less than flattering page title, the site will likely be presented in a Google search result with the title as the headline. And when that prospective customer, employee, or vendor sees this shocking headline and clicks on the link to this web page, they'll be reading about all of your skeletons in the closet. If the content is truthful or mere opinion it is often quite legal, although I'll explain shortly how existing privacy laws may even make true statements illegal.
In the early days of the Internet, the information on these sites was most often an expression of displeasure with the business for some objectively factual reason. Or pure statements of opinion. So, if you think that our president sucks, you could say so. If you think that your local dentist sucks, you can say so. If you think your brother's employer sucks, you could say so. I don't recommend you do so for a number of reasons, both legal and practical. You could get sued by someone who is offended and misguided. Or you could be attacked by those who disagree with your view. Although your speech is likely protected free speech, always remember that the free-speech expansionists are ready to attack your speech, and your right to speak, at a moment's notice if they disagree with you. It is the irony of ironies, no doubt. But that philosophy lives a vibrant life online. I call sites used for legitimate purposes such as these "gripe sites:' They are the instruments by which we, as a free people, voice our opinions. And the courts have developed a long history of protecting these sites and their owners.
Public-interest groups have played an important role in protecting our civil rights over the years. And protecting the public's right to criticize became a main objective at the turn of this century. Preserving our free speech rights, maintaining open access to information distribution systems like the Internet, promoting government and business accountability and transparency, and preserving a healthy "marketplace of ideas" are worthy causes. These public- interest organizations served the role of legal counsel to many of the original "gripe" sites, and when invited into court by a targeted business, regularly won cases. They were seen by netizens as darlings of the Internet and protectors of the masses. These groups used the attention and publicity to raise money in order to keep fighting the good fight and turned "gripe site" protection into a cash cow. A money-making machine. Not widely known at the time was the developing practice of payoffs being made by targeted businesses to stop the negative comments. Perhaps the comments were true. Perhaps they were not. But they were hurting the business targeted.
Businesses began buying the domain name and website for a handsome sum or hiring the website owner as a consultant to get rid of the negative comments. The entire process had evolved into straight out blackmail and extortion. Legitimate complaints were morphing into half-truths and innuendo, and those eventually evolved into outright lies. And when the even more nefarious netizens from all around the world saw how profitable this attack-site business could be, they began watching very closely. The sharks of online society took notice, and they wanted in on the action. Because they saw how easy it was to buy a domain name, launch a "gripe" site, get free lawyers, and get paid off. These virtual sharks soon realized that the bigger the damage to a business or professional, the bigger the payout. So they started launching sites that were full of lies, sites that would siphon off business customers directly to a competitor, sites that were fronts for commercial websites, sites that were themselves carrying cash-generating advertisements, and sites that were so highly and expertly programmed that they would be one of the first results when someone searched Google for the target. I call these "sucks sites." And suck they do.
While they may appear to most visitors to house legitimate complaints, they are all too often money machines and cash cows. They are often driven by greed, not principle. The owners of "sucks sites" are not the least bit concerned about legitimate customer complaints or factual and fair business reviews. All they care about is our First Amendment and how it can be used to hide their illegal ways.
As these sharks circle a target, the public-interest groups hop a tourist boat and go out for the show. The first frenzied attack begins, and as the boat motors into the fray, many of these free-speech tourists sit back in their chairs, sip their drinks, soak in the rays, and watch intently as their buddies toss buckets of chum over the side. They've got to make sure there are plenty of sharks in the water. After all, there is protection in numbers. And the public-interest and free-speech and consumer-rights groups are there to offer protection as long as the contributions keep coming in. This bait is expensive stuff, you know.
Today the consumer-rights groups are extremely active in protecting all sorts of sharks, from the hammerhead to the great white, and continue to offer guidance, support, cover, and free lawyers. Having overlooked, quite by accident I'm sure, the fact that their shark clients of today are threatening the very rights to legitimate free speech that they had fought so hard to protect and preserve. It's all about greed. And it's sad.
Just as surely as the courts initially embraced the honorable intent and public benefits of the original "gripe sites;' the tables are turning. Because of these abuses, no legitimate gripe site will be afforded the benefit of the doubt. Motivations will be questioned, suspicions will run rampant, innocent explanations will be discounted, heartfelt guidance will be viewed with jaundiced eyes, and the truth will eventually out. When that happens, our right to free speech will be diminished in one sense but ultimately strengthened in another, more constructive way.
In the meantime, these sites will become increasingly dangerous attack vehicles aimed at crippling a business or ruining a reputation. For a price, the problem can often be solved. If your business is under attack, you should consider this as a possible solution. Many businesses we represent make this very difficult decision to pay the extortionist and have the matter over with. A second possible solution is to use "search engine optimization" techniques to get the site moved out of harm's way on the Google search results. A third option is "self help" ... go to the webhost, the domain registrar, Google, or the likes, and plead your case. Another option is to file a lawsuit or pursue other legal action. All of these are risky, time-consuming, or costly. Possibly all three. That's why the sharks are there. If there was an inexpensive or easy exit strategy, the sharks and their lawyers would be out phishing for something of a different sort.
Pajamas and a Toothbrush

Cyberstalking
"I'm being cyberbullied." That is what I often hear from a prospective client. I'm sure Sue was feeling that way throughout her ordeal, particularly as things escalated into death threats after the jury verdict. Technically it's a misnomer, though, since cyberbullying usually refers to bullying involving juveniles. Sue is experiencing "cyberstalking." And Sue's story has plenty of cyberstalking-type conduct to get the attention of the authorities. So why aren't some of these people being prosecuted criminally?
Let's avoid getting into some kind of a deep legal analysis of what communications are necessary to bring about stalking charges. The fact is that most states do have criminal stalking laws. Most of those laws have civil aspects to them, which means a judge can issue civil remedies like TROs (temporary restraining orders) and injunctions prohibiting the stalker from further contact. But there is no federal law with any meat on the bone. That means that it is up to the state prosecutors to chase these characters, and when the perpetrators are out of state, most prosecutors won't fool with the matter. There might be some federal laws that could be used when real threats of physical harm, coupled with an immediate ability to carry out those threats, exist. But when it comes to online cyberstalking, the FBI can't commit its resources to chasing some computer geek so far away that the chance of the stalker doing any real physical harm is very low. Local police often insist that the stalking law requires an imminent threat of physical bodily harm, but in many instances that law has changed, and I suspect the ignoring of such is sometimes used as an excuse not to get involved. Frankly, one can understand the need to prioritize if you are running a police department and chasing murderers, rapists, and robbers all night long and worrying about national security during the day. But priorities do need to change.
So what can you do? You may have an invasion of privacy claim, or you may not, given the chaotic state of those laws which I will shortly address. California, notably, not only has a criminal law, but has created a "tort of stalking:' That means a victim can sue for an injunction and compensatory and punitive damages in California. Unfortunately, the tort requires that the stalker engage in a pattern of conduct the intent of which was to harass the plaintiff, and the plaintiff must reasonably fear for her safety. Compare that to the exclusively criminal state laws that simply require a person to intentionally cause a reasonable person to be seriously alarmed, annoyed, or harassed. It looks to me like the strongest laws are criminal, and no one wants to waste the time and money to prosecute. And the civil laws that allow victims to sue on their own are few and pretty weak. That needs to change.
Congress should pass a national tort of stalking law that will allow you to file a lawsuit in federal court. States should pass laws that do not require a real and present threat to physical safety and allow civil lawsuits to be filed. The damages recoverable should be compensatory damages, punitive damages, triple damages, and attorneys fees, and simplified processes for obtaining broad injunctive relief should be established.
I've seen the stalking effect up close and personal and appreciate the irrationality involved. It is hard to understand how someone can become so obsessed and throw caution to the wind. When I first started practicing law twenty-eight years ago I represented a young man who was following his ex-girlfriend around and threatening her. The judge deferred deciding the case, continued it for six months, and ordered that he stay away from her. After the hearing I finished up my cases, returned to the office, and picked up my messages. One was from the court clerk. On his way out of the courthouse, my client decided to visit with the victim. He was in jail, the clerk advised, and the judge was pissed.
As I approached the bench the following morning, the judge did not look up from his papers, except to ask me if my client had brought his pajamas and toothbrush. "Why?" I asked. "Because he's going to jail" was the reply. And several months later, after my client served his time, I found myself before the same judge again with the same client. He followed my suggestion and brought his pajamas and toothbrush. This time as we walked up the center aisle of the courtroom the judge looked up, saw my client carrying his gear, and smiled and nodded in approval. If only it was that easy with cyberstalkers.
Do you realize there are serious state and federal civil business laws dealing with copyright, trademark, trade secrets, and business conspiracies that carry enhanced damages and simplified injunctive procedures? Yet next to nothing for stalking. These laws need to be passed. The local police department and prosecutor are not going to make stalking cases a priority for criminal prosecution. The FBI is not going to spend its time investigating a bunch of "personal problems." We need laws that make it easy to sue harassers and shut them down. And while the legislators are at it, they can make sure the new laws cover stalking-by-proxy, which is an element of a mobosphere attack and involves getting others to do the dirty work for the stalker. From the look of things, Sue is a victim of this. It's a kind of conspiracy. Having read Sue's story, you have a very good idea how this stalking conspiracy works.
Are Citizen Journalists Either?

Online Legal Advice
Sue is experiencing an attack from those who are considered "citizen journalists:' Real journalists hate them. Real citizens hate them. But they love themselves! Citizen journalism is news and commentary from the public at large. The sources include bloggers, social network participants, website owners, and everyone voicing their opinion on a topic online. Everyone's a citizen journalist. But most people online reject this concept and likely appreciate that this label is a self-anointment of prestige or importance by those who believe everyone should be equal in importance and authority. That's the democratization theme coming through again. The motive, though, is to steal from real journalists the shield laws and other legal benefits real journalists enjoy, and ride on the backs of the traditional press who have fought so hard to preserve the right to legitimate free speech. And a good number embrace the newly minted label because it's easier to convince sports teams they should get press credentials.
When will we have "citizen lawyers;'''citizen doctors;' and "citizen nuclear engineers"? It seems a natural next step. And a stark and clear way of putting in perspective the harm that can come from this theft of the hard-fought rights earned over centuries by legitimate journalists. Armed with this new persona, this new badge of honor and courage, these citizen journalists convince themselves that every word they type is protected by free speech and they have an obligation to pursue the truth in all things that catch their fancy. The fundamental problem is that they often have not the slightest concept of free speech or truth. But they do have a voice and their words are, if nothing else, getting attention. So that justifies everything a citizen journalist publishes. The more outrageous the claim, the more traffic flows to the site. That's a fact of life in the online citizen-journalist world and often is the primary motivation. Do Sue's attackers truly believe in some weird way that they are doing the public a service by warning everyone about Sue? It is likely a very common thought for those who decide the ends justify the means, but true motivation is hard to decipher in online attacks. Perhaps the end to them means total destruction of their target. These types are sometimes serial attackers and will then simply move on to another target. And some attack on many fronts at the same time.
Ronald J. Riley, the owner of the "sucks site" aimed at our law firm, has his hands in sucks sites all over the place, and once got sued for his online attack of his daughter's public school teacher and Girl Scout leader. He is the ultimate serial "citizen journalist," and, not surprisingly, has a close relationship with consumer-rights lawyers going back almost eight years. There are also a remarkably large number of these people who believe that if property is on the web, it is free for the taking. Information yearns to be free, they believe. And there is some truth to this mantra voiced all over the world. But all information is not meant to be free.
Movies, songs, poems, books, and other creative works aren't meant to be free. And for that reason, in order to promote creativity, we afford certain legal protections to the owners. The legal doctrine is copyright. Consumers can enjoy these things because our copyright infringement laws benefit creators of the works. Otherwise, few innovative and creative endeavors would be pursued.
A business name like Exxon or Coke or Microsoft isn't meant to be free for the taking either. So the legal doctrine of trademark protects not only business names, but service and product names. Otherwise, consumers would be unable to distinguish between high quality products and inferior or even dangerous alternatives.
Free speech isn't entirely free. Disclosing certain types of private information, even if already public, could be against privacy laws. And the passing of false information is addressed by our defamation laws. If consumers are misled by lies, they are precluded from making smart, informed decisions.
If you really think about it, all of these legal protections benefit the citizen consumer. Because if everyone could have free access to movies, if everyone could use any business name for a product label, and if everyone could say whatever they wanted about anyone else, our society would lose the ability to enjoy creative works and make informed decisions. We would become a cauldron of deceit; a cesspool of dishonesty. Our freedoms would ultimately be at risk.
And today in the online world it is fair to say, I think, that society's freedom is being stolen by crooks.
Part of the problem, a big part of the problem, is ignorance. The conduct of the web is governed by laws. Now, you won't find a code of ethics out there, at least not one that is taken seriously or followed. But a quick search on any legal subject will lead you to the legal guidance from "citizen journalists" whose advice is a product of no legal training and a hidden agenda. Some of the advice is comical and would be funny if not offered up on a highly popular website with many rabid followers. Here are some examples of online legal "advice":
• Just preface all of your attacks against a company or person with "In my opinion" and you can't be sued.
• If you buy your competitor's domain name and "park" it, you are legal.
• "Fair use" allows me to use someone's video or photograph or business name commercially.
These tips come from otherwise credible "citizen journalists" with not the slightest legal training. People actually believe this stuff, and then it gets repeated so often by them and others that it seems to become the law of the web among nonlawyer netizens.
Citizens of the web just don't know better because they are being taught by self-styled "citizen journalists;' many of whom are consumer-rights extremists, free-speech expansionists, and antibusiness propagandists. Here's a short piece of advice for "citizen journalists." Gain a balanced perspective on the legal code of conduct for your online activities.
The Streisand Effect and the Virtual Hydra

Conspiracy and Hacking
Sue hasn't covered all of the spin-off attacks spawned by the jury verdict. But people everywhere were getting involved. The desire to take a look is nothing new. Who among us has not slowed down to see if we can get a peek of that car accident? But the Internet supercharges things ... and, in Sue's case, these gawkers are all offering their rather graphic derogatory thoughts about the judgment and Sue.
The Streisand Effect is the process and impact of a mobosphere attack. But how does a single online post or blog lead to a seemingly coordinated, and certainly overwhelming and often devastating, assault? Through sheer momentum, in part, but more so through the common interest of online scofflaws in making sure that everyone knows who is boss when it comes to controlling the web. It's as if there is lingering in the depths of the web an online version of the Hydra of Greek mythology. Online mobs often operate as one, using various websites to discuss, plan, implement, and then brag about the use of the many weapons we have discussed. They often operate like the mythical snake with many heads, spewing deadly poisonous breath.
So while the Hydra breathes poison and attacks using its many heads, so, too, do the scofflaws populating the mobosphere. From all directions come stalkers, hackers, spammers, liars, extortionists, and copyright and trademark thieves, all offering up their own devastating poison and dropping far more than Google Bombs. Fire-breathing dragons would never have a chance against this crowd of one with many heads. And while most defamatory attacks target their victims through words only, I've gone to war with my share of Hydras. While most consider the Streisand Effect to be the process and result of a war of words and battle of intellect, the truth is that the real Streisand Effect implicates attacks against victims far beyond mere speech.
One of the most memorable Hydra attacks (for obvious reasons) was against our law firm.
It had been a long day in San Jose, California, as I returned to my hotel room. I ordered room service, went to my laptop, booted it up, signed into our remote server, and stared at e-mail after e-mail laced with profanity. As I opened the Google alerts that had been flowing in all day, I was seeing comments all over the web about our law firm's supposed claims of owning HTML -- the very computer code used to program most web pages. As I started deleting all of the anonymous e-mails, I decided to check my voicemail back at the office. It was full of messages from interesting characters demanding a return call to discuss our claim that we own the Internet. While I'd like to think that our voice has contributed to the maturation of our online society, I didn't invent the Internet. And I didn't own any rights to HTML source code. As I went to bed that night in Silicon Valley, I wondered what my office on the East Coast would be facing first thing the next morning.
I set my alarm for 4:30 AM. I was still on East Coast time, thank goodness. Our receptionist reported an onslaught of calls to other attorneys in the office from really strange people. An e-mail popped up from our webhost inquiring about the dramatic increase in traffic, and I was soon to learn about getting "slashdotted." The volume of visits to our site was growing by the thousands before our eyes as our technical people allocated more capacity. We were seeing visits from around the world. Even with the increase in the size of our connection, our website became overwhelmed.
Later, as I have mentioned previously, we would find out that hackers posted a Britney Spears video. At about the same time, a hacker posted images of child pornography in the administrative area of our website, bragging about his hack. Fortunately, none of our internal law firm systems were compromised because those are heavily protected and not connected to our public website. But what had begun as a Google Bomb, a bunch of bloggers criticizing our law firm and linking to each other's sites with our law firm name to make Google present negative results when we were searched, had evolved into a Streisand Effect-fueled visit from the Virtual Hydra.
The Google Bomb technique had worked masterfully. Now all of the criticisms were coming up on the first and second page of results when someone searched for our law firm on Google. Bloggers started keeping score, ranking the derogatory search results each week like a college football poll, relishing the devastation to our reputation and Google Bombing us over and over again.
We've discussed Google Bombs, the Streisand Effect, and the Virtual Hydra. Notice that each requires many same-minded participants. No one today seems to understand, appreciate, or acknowledge the illegal implications of these conspiracies that are often coupled with defamation, hacking, child porn, trademark infringement, copyright infringement, extortion, and RICO (Racketeer Influenced and Corrupt Organizations) violations. For those instigators, organizers, and counselors participating in the mob but so ready to claim innocent ignorance, you may get away with it. But if an attacker is found out, the consequences could very well be life-altering. Like an $11 million judgment and notoriety so widespread that the hope of gainful employment will be a pipedream if not a nightmare. One day the attackers will be cornered, left cowering and begging for forgiveness and conciliation. But the web remembers. For generations.
Nice legacy.
And that is exactly why Sue is fighting so hard against the new wave of attacks. More fronts will soon open against her. Some expected. Some totally unexpected. All very, very damaging. But the question remains: where is she to go when the only true protection comes from the Internet itself?