Friedrich Naumann
by Wikipedia
Accessed: 6/9/18
NOTICE: THIS WORK MAY BE PROTECTED BY COPYRIGHT
YOU ARE REQUIRED TO READ

THE COPYRIGHT NOTICE AT THIS LINK

BEFORE YOU READ THE FOLLOWING WORK, THAT IS AVAILABLE SOLELY FOR PRIVATE STUDY, SCHOLARSHIP OR RESEARCH PURSUANT TO 17 U.S.C. SECTION 107 AND 108. IN THE EVENT THAT THE LIBRARY DETERMINES THAT UNLAWFUL COPYING OF THIS WORK HAS OCCURRED, THE LIBRARY HAS THE RIGHT TO BLOCK THE I.P. ADDRESS AT WHICH THE UNLAWFUL COPYING APPEARED TO HAVE OCCURRED. THANK YOU FOR RESPECTING THE RIGHTS OF COPYRIGHT OWNERS.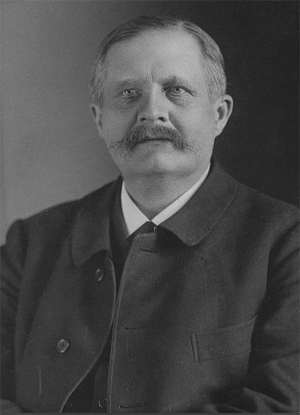 Friedrich Naumann
Reichstag
In office
1846–1918
Personal details
Born 25 March 1860
Störmthal (now part of Großpösna) near Leipzig
Died 24 August 1919 (aged 59)
Travemünde
Political party Christian Social Party
National-Social Association
Freeminded Union
Freeminded People's Party
Democratic Party
Spouse(s) Maria Magdalena Zimmermann
Occupation Theologian, Politician
Friedrich Naumann (25 March 1860 – 24 August 1919) was a German
liberal
politician and Protestant parish pastor. The Friedrich Naumann Foundation of the Free Democratic Party is named after him.
Life
Naumann was born in the vicarage of Großpösna near Leipzig in Saxony. He attended school in Leipzig and the Fürstenschule in Meissen, whereafter he studied theology at the universities of Leipzig and Erlangen. From 1883 he worked at the Rauhes Haus charity institution established by Johann Hinrich Wichern in Hamburg, before in 1886 he took over the rectorate of Lengenberg near Glauchau in Saxony. From 1890 he also served in the Inner mission in Frankfurt.
Originally a follower of the conservative-clerical and antisemitic Berlin movement led by Adolf Stoecker and his Christian Social Party
,
Naumann later became interested in the social theories advocated by his friend Max Weber, one of the most pronounced critics of Emperor Wilhelm II. His ideal was that of helping the workers, whose miserable life circumstances he had witnessed in Hamburg. His goal was to raise interest in this issue among the middle class, however, initially he was hindered by the German middle class fear of the proletariat, who were regarded as potential revolutionaries. Naumann later tried to involve Weber in politics, but this failed due to the bad health and temper of Weber.

Already from 1894 he published the weekly magazine Die Hilfe ("The Help") to address the social question from a non-marxist middle class point of view.
To this end he wrote the short book, Soziale Briefe An Reiche Leute published in Göttingen in 1895. Together with Rudolph Sohm and Caspar René Gregory,
he founded the National-Social Association in 1896; an attempt to provide a social liberal alternative to the Social Democrats
, that could address the growing social rift between rich industrialists and the poor working class.
Later in his life, Naumann worked for an approachement of German social democratic and
liberal
movements, but faced major opposition from conservatives.
Industrialists like Freiherr von Stumm called Naumann and his associates "Allies of the Socialists". Naumann wanted to preserve Christian values, which he hoped would improve the fraught relations between workers and corporate businessmen
. The National-Social Association failed in the German elections of 1898 and 1903 and was then dissolved into the Freeminded Union. Naumann became a member of the Reichstag parliament upon the 1907 federal election.
In 1907, he co-founded the Deutscher Werkbund association.
On the eve of World War I, Naumann proved to be a monarchist and adherent of the German emperor Wilhelm II. He espoused a kind of liberal imperialism, signing the 1914 Manifesto of the Ninety-Three, and still in 1918 backed the "Anti-Bolshevist League" of Eduard Stadtler.
In 1919, Friedrich Naumann was among the founders of the social liberal German Democratic Party (Deutsche Demokratische Partei, DDP) with Theodor Wolff and Hugo Preuss. As a member of the Weimar National Assembly, he became one of the "Fathers of the Constitution" of the Weimar Republic, and, shortly before his death, was elected as the first president of the Democratic Party.
Reception
Naumann is often considered an advocate of German nationalism with militarist and annexionist ideals, due to his book Mitteleuropa (1915) on the geopolitics of a Central Europe under German leadership.
[1] The work had a great public impact, though it did not affect the military strategy of World War I. Like many scholars of his time,
Naumann upheld the theories of Social Darwinism and Volksgemeinschaft
. He shared his views with the intellectual circles he frequented, including not only
Max Webe
r, but also Lujo Brentano, Hellmut von Gerlach, young Theodor Heuss, his wife Elly Heuss-Knapp, and Gustav Stresemann.
References
1. Naumann, Friedrich (1915). Mitteleuropa (in German). Berlin, Germany: Georg Reimer.
See also
• Liberalism
• Contributions to liberal theory
Further reading
• Wolfhart Pentz (2002). "The Meaning of Religion in the Politics of Friedrich Naumann". Journal for the History of Modern Theology. 9 (1): 70–97.
• Theodor Heuss (1949). Friedrich Naumann: der Mann, das Werk, die Zeit. Stuttgart & Tübingen: Wunderlich.
External links
• Works by or about Friedrich Naumann at Internet Archive
• Media related to Friedrich Naumann at Wikimedia Commons
• Friedrich Naumann; Christabel Margaret Meredith; William James Ashley (1917). Central Europe. King.