THE CRISIS OF DEMOCRACY: REPORT ON THE GOVERNABILITY OF DEMOCRACIES TO THE TRILATERAL COMMISSION
by Michel J. Crozier, Samuel P. Huntington, Joji Watanuki
© 1975 by the Trilateral Commission
NOTICE: THIS WORK MAY BE PROTECTED BY COPYRIGHT
YOU ARE REQUIRED TO READ

THE COPYRIGHT NOTICE AT THIS LINK

BEFORE YOU READ THE FOLLOWING WORK, THAT IS AVAILABLE SOLELY FOR PRIVATE STUDY, SCHOLARSHIP OR RESEARCH PURSUANT TO 17 U.S.C. SECTION 107 AND 108. IN THE EVENT THAT THE LIBRARY DETERMINES THAT UNLAWFUL COPYING OF THIS WORK HAS OCCURRED, THE LIBRARY HAS THE RIGHT TO BLOCK THE I.P. ADDRESS AT WHICH THE UNLAWFUL COPYING APPEARED TO HAVE OCCURRED. THANK YOU FOR RESPECTING THE RIGHTS OF COPYRIGHT OWNERS.
The Trilateral Commission was formed in 1973 by private citizens of Western Europe, Japan, and North America to foster closer cooperation among these three regions on common problems. It seeks to improve public understanding of such problems, to support proposals for handling them jointly, and to nurture habits and practices of working together among these regions.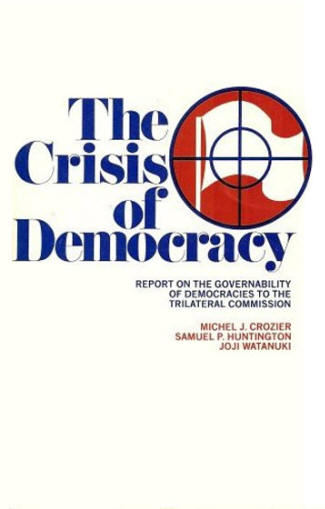 Table of Contents
• Introductory Note
• The Authors
• Chapter 1: Introduction
1. The Current Pessimism About Democracy
2. The Challenges of Confronting Democratic Government
• Chapter 2: Western Europe
1. Are European Democracies Becoming Ungovernable?
1. The Overload of the Decision-Making Systems
2. Bureaucratic Weight and Civic Irresponsibility
3. The European Dimension
2. Social, Economic and Cultural Causes
1. The Increase of Social Interaction
2. The Impact of Economic Growth
3. The Collapse of Traditional Institutions
4. The Upsetting of the Intellectual World
5. The Mass Media
6. Inflation
3. The Role and Structure of Political Values
1. The Values Structure and the Problem of Rationality
2. Core Political Beliefs
3. The Impact of Social, Economic and Cultural Changes on the Principles of Rationality and on the Core Political Beliefs
4. Traditional Factors as a Counterweight
5. The Risks of Social and Political Regression
4. Conclusions: European Vulnerability
• Chapter 3: The United States
1. The Viability and Governability of American Democracy
2. The Expansion of Governmental Activity
3. The Decline in Governmental Authority
1. The Democratic Challenge to Authority
2. Decline in Public Confidence and Trust
3. The Decay of the Party System
4. The Shifting Balance Between Government and Opposition
4. The Democratic Distemper: Consequences
5. The Democratic Distemper: Causes
6. Conclusion: Toward a Democratic Balance
• Chapter 4: Japan
1. Japanese Democracy's Governability
1. External Conditions
2. Domestic Conditions and Capabilities
2. Changing Values, New Generations and Their Impact on the Governability of Japanese Democracy
1. Political Beliefs
2. Social and Economic Values
3. Consequences for and Future Perspectives on the Governability of Japanese Democracy
1. Time Lag
2. Decline of Leadership and Delay of Decisions
3. Vagaries of Urban, Educated Nonpartisans
4. The Place of the Communists in the Multiparty System
5. What Will Happen in the 1980s?
• Chapter 5: Conclusion
1. The Changing Context of Democratic Government
2. Consensus Without Purpose: The Rise of Anomic Democracy
3. The Dysfunctions of Democracy
1. The Delegitimation of Authority
2. The Overloading of Government
3. The Disaggregation of Interests
4. Parochialism in International Affairs
4. Variations Among Regions
• Appendices
o Appendix 1: Discussion of Study during Plenary Meeting of The Trilateral Commission-Kyoto, May 31, 1975
A. Arenas for Action
B. Excerpts of Remarks by Ralf Dahrendorf
C. Discussion of the Study
o Appendix 2: Canadian Perspectives on the Governability of Democracies -- Discussion in Montreal, May 16, 1975
"Fourth, rationality was always tempered by the limits of tradition and custom, and by the fragmentation of the problems. If limits disappear, if therefore rationality wins too much, if established authority—whether religious or social -- crumbles, rationality explodes; it becomes in a certain sense irrational.

If with this brief analysis of the crisis of modern rationality as a goal-structuring scheme we revert to our problems of governability of Western democracies, we can draw a first set of conclusions. There is no wonder that the concept of rationality has been put into question. Its own success was bound to make its contradictions explode. The cultural and moral breakdown of the late sixties therefore has expressed something important for the future. Whatever its vagaries and the dangerous threats it is presenting to the democratic way of government, it has above all exposed the illusions of traditional rationality and may help us learn a new kind of reasoning where professed values will not be the only guide for moral action.

The search for a broader kind of rationality, as well as the search for new kinds of social and organizational games that can embody it, is the major problem of Western societies. New social and psychological Utopias, such as the community drive, the encounter group philosophy, and the self-government dreams are useful tools for this search as well as dangerous illusions. Conversely, political reemphasis of local and regional ties may be as much a conservative "retro" fashion as a necessary axis for the renewal of governmental processes....

The communist parties have emerged more and more as the parties of order, whose leaders are the only ones able to make people work, and there has always been a very strong tendency to develop state socialism and public bureaucracy interference as the easy solution to manage the impossible, that is, to maintain order in the face of unmanageable conflicts....

The strength of the present communist parties of Western Europe does not lie, however, either in their revolutionary appeal or in their electoral capabilities. They must have enough of them certainly. But their unique superiority is their organizational one. They are the only institutions left in Western Europe where authority is not questioned, where a primitive but very efficient chain of command can manipulate a docile workforce, where there is a capacity to take hard decisions and adjust quickly, and where goods can be delivered and delays respected.

Authority may be heavy-handed in these parties and the close atmosphere they have maintained over their people has certainly been a brake to their development. Turnover has always been considerable. But granted these costs, their machine has remained extraordinarily efficient and its superiority has tremendously increased when other major institutions have begun to disintegrate. There is now no other institution in Europe, not even the state bureaucracies, that can match the communist parties' capabilities in this domain.

True enough, as long as the problem of order does not become central, they are out of the game; but if chaos should develop for a long enough time following a greater economic depression, they can provide the last solution....

For some of the Western countries the idea of nationalization, after years of oblivion and little ideological appeal, has become an issue again. In time of political chaos and economic depression it may appear as the last recourse to save employment and to equalize sacrifices. The communist parties are certainly better trained to administer the resulting confusion and to restore order to leaderless organizations. They will win then not because of their appeal but by default because the communists are the only ones capable of filling the void.

They have already shown proof of their capabilities. For instance they have shown remarkable efficiency in administering various cities in Italy and France; they have helped to restore order in Italian, French, and even German universities; and they have shown everywhere, even in Britain, how to influence key trade unions by using minority control devices. Their potential, therefore, is much higher at that level than it is at the electoral level or at the revolutionary level. And because of this potential they can attract experts and professionals of high caliber and also increase their capabilities on the technical side.

Nevertheless, the communists do have problems. The most pressing one is the danger of being contaminated by the general trends of the societies in which they have to operate, that is, to be unable to prevent the disintegration of their model of authority. This is why they take such great care to maintain their revolutionary identity. They have been protected by their minority ghetto-like status and as long as they can maintain it, their hard core membership has so deeply internalized their so far successful practices that they can stand the pressure of the environment for quite a long time.

They have a difficult game to play, nevertheless. They must be enough in to be present when high stakes are at issue, while remaining sufficiently out to maintain their organizational capacity. Their basic weakness lies in their difficulty in respecting the freedom-from belief and their incapacity to accept dualism. Can they govern and control societies whose core political beliefs are alien to them? Wouldn't they trigger an extremely strong backlash? It is a difficult question to answer because these societies are in the midst of a deep cultural transformation which affects, with the principles of rationality, the basis of their political strategy.

Let us just suggest that if the takeover would be sudden, an anticommunist backlash would be likely; but if the breakdown would be intensive and profound but also gradual, the communists coming to power could be very difficult to question.

-- Michel Crozier, "Are European Democracies Becoming Ungovernable?

***

[T]he signs of party decomposition could be interpreted as presaging not simply a realignment of parties within an ongoing system but rather a more fundamental decay and potential dissolution of the party system. In this respect, it could be argued that the American party system emerged during the Jacksonian years of the mid-nineteenth century, that it went through realignments in the 1850s, 1890s, and 1930s, but that it reached its peak in terms of popular commitment and organizational strength in the last decades of the nineteenth century, and that since then it has been going through a slow, but now accelerating, process of disintegration. To support this proposition, it could be argued that political parties are a political form peculiarly suited to the needs of industrial society and that the movement of the United States into a post-industrial phase hence means the end of the political party system as we have known it. If this be the case, a variety of critical issues must be faced. Is democratic government possible without political parties? If political participation is not organized by means of parties, how will it be organized? If parties decline, will not popular participation also drop significantly? In less developed countries, the principal alternative to party government is military government. Do the highly developed countries have a third alternative?...

Finally, a government which lacks authority and which is committed to substantial domestic programs will have little ability, short of a cataclysmic crisis, to impose on its people the sacrifices which may be necessary to deal with foreign policy problems and defense. In the early 1970s, as we have seen, spending for all significant programs connected with the latter purposes was far more unpopular than spending for any major domestic purpose. The U.S. government has given up the authority to draft its citizens into the armed forces and is now committed to providing the monetary incentives to attract volunteers with a stationary or declining percentage of the Gross National Product. At the present time, this would appear to pose no immediate deleterious consequences for national security. The question necessarily arises, however, of whether in the future, if a new threat to security should materialize, as it inevitably will at some point, the government will possess the authority to command the resources and the sacrifices necessary to meet that threat.

The implications of these potential consequences of the democratic distemper extend far beyond the United States. For a quarter-century the United States was the hegemonic power in a system of world order. The manifestations of the democratic distemper, however, have already stimulated uncertainty among allies and could well stimulate adventurism among enemies. If American citizens don't trust their government, why should friendly foreigners? If American citizens challenge the authority of American government, why shouldn't unfriendly governments? The turning inward of American attention and the decline in the authority of American governing institutions are closely related, as both cause and effect, to the relative downturn in American power and influence in world affairs. A decline in the governability of democracy at home means a decline in the influence of democracy abroad.....

Al Smith once remarked that "the only cure for the evils of democracy is more democracy." Our analysis suggests that applying that cure at the present time could well be adding fuel to the flames. Instead, some of the problems of governance in the United States today stem from an excess of democracy—an "excess of democracy" in much the same sense in which David Donald used the term to refer to the consequences of the Jacksonian revolution which helped to precipitate the Civil War. Needed, instead, is a greater degree of moderation in democracy.

In practice, this moderation has two major areas of application. First, democracy is only one way of constituting authority, and it is not necessarily a universally applicable one. In many situations the claims of expertise, seniority, experience, and special talents may override the claims of democracy as a way of constituting authority. During the surge of the 1960s, however, the democratic principle was extended to many institutions where it can, in the long run, only frustrate the purposes of those institutions. A university where teaching appointments are subject to approval by students may be a more democratic university but it is not likely to be a better university. In similar fashion, armies in which the commands of officers have been subject to veto by the collective wisdom of their subordinates have almost invariably come to disaster on the battlefield. The arenas where democratic procedures are appropriate are, in short, limited.

Second, the effective operation of a democratic political system usually requires some measure of apathy and noninvolvement on the part of some individuals and groups. In the past, every democratic society has had a marginal population, of greater or lesser size, which has not actively participated in politics. In itself, this marginality on the part of some groups is inherently undemocratic, but it has also been one of the factors which has enabled democracy to function effectively. Marginal social groups, as in the case of the blacks, are now becoming full participants in the political system. Yet the danger of overloading the political system with demands which extend its functions and undermine its authority still remains. Less marginality on the part of some groups thus needs to be replaced by more self-restraint on the part of all groups.

The Greek philosophers argued that the best practical state would combine several different principles of government in its constitution. The Constitution of 1787 was drafted with this insight very much in mind. Over the years, however, the American political system has emerged as a distinctive case of extraordinarily democratic institutions joined to an exclusively democratic value system. Democracy is more of a threat to itself in the United States than it is in either Europe or Japan where there still exist residual inheritances of traditional and aristocratic values. The absence of such values in the United States produces a lack of balance in society which, in turn, leads to the swing back and forth between creedal passion and creedal passivity. Political authority is never strong in the United States, and it is peculiarly weak during a creedal passion period of intense commitment to democratic and egalitarian ideals. In the United States, the strength of democracy poses a problem for the governability of democracy in a way which is not the case elsewhere.

The vulnerability of democratic government in the United States thus comes not primarily from external threats, though such threats are real, nor from internal subversion from the left or the right, although both possibilities could exist, but rather from the internal dynamics of democracy itself in a highly educated, mobilized, and participant society. "Democracy never lasts long, " John Adams observed. "It soon wastes, exhausts, and murders itself. There never was a democracy yet that did not commit suicide." That suicide is more likely to be the product of overindulgence than of any other cause. A value which is normally good in itself is not necessarily optimized when it is maximized. We have come to recognize that there are potentially desirable limits to economic growth. There are also potentially desirable limits to the indefinite extension of political democracy. Democracy will have a longer life if it has a more balanced existence.

-- Samuel P. Huntington, "The United States"

***

Although it depends on the definition of governability, in any understanding of governability as a synthetic capability relating the governing and the governed, the quality of bureaucracy, as the governing framework or as an intermediary between the governing and the governed or as an autonomous third force, has special significance. In this respect, the Japanese bureaucracy seems to deserve some attention. Historically, the Japanese bureaucracy was formed after the Prussian model, legacies of which remain even today in formalistic legalism and alleged neutralism which does not, however, prevent the high bureaucrats from committing themselves to partisan stands of the governing party, as representing the interest of the state. Many high-level bureaucrats, after retirement, have joined the LDP and, after their successful election, have become key figures in the governing party. The bureaucrats on duty are, however, fairly autonomous under the control of administrative vice-ministers, and the elite bureaucratic corps has a high degree of esprit de corps, similar to the British Civil Service. During the recent period of economic growth, mainly in the Ministries of Finance and of International Trade and Industry, and in the Economic Planning Agency, technocrats, consisting primarily of economic specialists, have been gaining power, and in this predominance of technocrats, Japanese bureaucracy can be compared with the French bureaucracy.

Thus, the capability of Japanese bureaucracy can be evaluated as rather high. The members of the elite bureaucratic corps, consisting of those who passed the higher civil service examination—whose number is still limited to 400 or so annually in this age of expansion of higher education with 1.5 million university students, are really elite both in terms of their initial caliber and the opportunities for training and accumulation of administrative experience given to them during their careers. This elite bureaucratic corps of about 10,000 is still prepared today to work twenty-four hours per day and seven days a week if necessary, because of its privileged position of good care and faster promotion and the prevailing ethos of diligence and self-sacrifice in the elite.

-- Joji Watanuki, "Japan"

***

If ever there was a democratic success story, it was written by the Trilateral societies during the quarter-century following World War II. The components of that success included: generally positive and broad-gauged political leadership within individual countries and by the United States for the community of democratic nations; sustained and, for some countries, spectacular economic growth; widespread social and economic amelioration, involving a lessening of class conflict and the assimilation of substantial portions of the population to middle-class values, attitudes, and consumption patterns; and successful resistance, on a collective and individual basis, to the challenges posed externally by Soviet military might and internally by communist party strength.

During these years democratic institutions, mostly of a parliamentary nature, demonstrated their viability in all the Trilateral societies; liberal, conservative, social democratic, and Christian democratic parties competed with each other in regular elections and shared the responsibilities of government and the opportunities for opposition; individual citizens and organized groups participated more actively in the politics of their societies than they had previously; the rights of the citizen against the state became more firmly guaranteed and protected; and new institutions for international collaboration among democratic societies emerged in Europe for economic and political purposes, between North America and Europe for military purposes, and among Europe, North America, and Japan for economic purposes.

This happy congruence of circumstances for democracy has come to an end. The challenges which democratic governments now face are the products of these past successes as well as of the changes in past trends. The incorporation of substantial elements of the population into the middle classes has escalated their expectations and aspirations, thereby causing a more intense reaction if these are not met in reality. Broadened political participation has increased the demands on government. Widespread material well-being has caused a substantial portion of the population, particularly among the young and the "intellectual" professional classes, to adopt new life-styles and new social-political values. Internationally, confrontation has given way to detente, with a resultant relaxation of constraints within societies and of the impetus to collaborate among societies. There has been a substantial relative decline in American military and economic power, and a major absolute decline in American willingness to assume the burdens of leadership. And most recently, the temporary slowdown in economic growth has threatened the expectations created by previous growth, while still leaving existent the "post-bourgeois" values which it engendered among the youth and intellectuals....

Quite apart from the substantive policy issues confronting democratic government, many specific problems have arisen which seem to be an intrinsic part of the functioning of democracy itself. The successful operation of democratic government has given rise to tendencies which impede that functioning.

(1) The pursuit of the democratic virtues of equality and individualism has led to the delegitimation of authority generally and the loss of trust in leadership.

(2) The democratic expansion of political participation and involvement has created an "overload" on government and the imbalanced expansion of governmental activities, exacerbating inflationary tendencies in the economy.

(3) The political competition essential to democracy has intensified, leading to a disaggregation of interests and the decline and fragmentation of political parties.

(4) The responsiveness of democratic government to the electorate and to societal pressures encourages nationalistic parochialism in the way in which democratic societies conduct their foreign relations.....

For well over 200 years in Western societies, a struggle has been underway to defend the freedom of the press to investigate, to criticize, to report, and to publish its findings and opinions against the efforts by government officials to curb that freedom. Freedom of the press is absolutely essential to the effective working of democratic government. Like any freedom, however, it is a freedom which can be abused. Recent years have seen an immense growth in the scope and power of the media. In many countries, in addition, either as a result of editorial direction or as a result of the increasing influence of the journalists vis-a-vis owners and editors, the press has taken an increasingly critical role towards government and public officials. In some countries, traditional norms of "objectivity" and "impartiality" have been brushed aside in favor of "advocatory journalism." The responsibility of the press should now be increased to be commensurate with its power; significant measures are required to restore an appropriate balance between the press, the government, and other institutions in society.

These recent changes in the press-government relationship are perhaps most clearly marked in the United States. The increase in media power is not unlike the rise of the industrial corporations to national power at the end of the nineteenth century. Just as the corporations enveloped themselves in the constitutional protection of the due process clause, the media now defend themselves in terms of the First Amendment. [i] In both cases, there obviously are important rights to be protected, but broader interests of society and government are also at stake. In due course, beginning with the Interstate Commerce Act and the Sherman Antitrust Act, [ii] measures had to be taken to regulate the new industrial centers of power and to define their relations to the rest of society. Something comparable appears to be now needed with respect to the media. Specifically, there is a need to insure to the press its right to print what it wants without prior restraint except in most unusual circumstances. But there is also the need to assure to the government the right and the ability to withhold information at the source. In addition, there is no reason for denying to public officials equal protection of the laws against libel, and the courts should consider moving promptly to reinstate the law of libel as a necessary and appropriate check upon the abuses of power by the press. Journalists should develop their own standards of professionalism and create mechanisms, such as press councils, for enforcing those standards on themselves. The alternative could well be regulation by the government...

The 1960s saw a tremendous expansion in higher education throughout the Trilateral societies....The result of this expansion, however, can be the overproduction of people with university education in relation to the jobs available for them, the expenditure of substantial sums of scarce public monies and the imposition on the lower classes of taxes to pay for the free public education of the children of the middle and upper classes. The expansion of higher education can create frustrations and psychological hardships among university graduates who are unable to secure the types of jobs to which they believe their education entitles them, and it can also create frustrations and material hardships for nongraduates who are unable to secure jobs which were previously open to them.

In the United States, some retrenchment in higher education is already underway as a result of slower growth in enrollments and new ceilings on resources. What seems needed, however, is to relate educational planning to economic and political goals. Should a college education be provided generally because of its contribution to the overall cultural level of the populace and its possible relation to the constructive discharge of the responsibilities of citizenship? If this question is answered in the affirmative, a program is then necessary to lower the job expectations of those who receive a college education. If the question is answered in the negative, then higher educational institutions should be induced to redesign their programs so as to be geared to the patterns of economic development and future job opportunities.

-- Conclusion

-- The Crisis of Democracy: Report on the Governability of Democracies to the Trilateral Commission, by Michael J. Crozier, Samuel P. Huntington, Joji Watanuki