Part 1 of 4
Arkansas Connections
by Sam Smith
© The Progressive Review 1998
Updated January 2001 and periodically thereafter
NOTICE: THIS WORK MAY BE PROTECTED BY COPYRIGHT
YOU ARE REQUIRED TO READ

THE COPYRIGHT NOTICE AT THIS LINK

BEFORE YOU READ THE FOLLOWING WORK, THAT IS AVAILABLE SOLELY FOR PRIVATE STUDY, SCHOLARSHIP OR RESEARCH PURSUANT TO 17 U.S.C. SECTION 107 AND 108. IN THE EVENT THAT THE LIBRARY DETERMINES THAT UNLAWFUL COPYING OF THIS WORK HAS OCCURRED, THE LIBRARY HAS THE RIGHT TO BLOCK THE I.P. ADDRESS AT WHICH THE UNLAWFUL COPYING APPEARED TO HAVE OCCURRED. THANK YOU FOR RESPECTING THE RIGHTS OF COPYRIGHT OWNERS.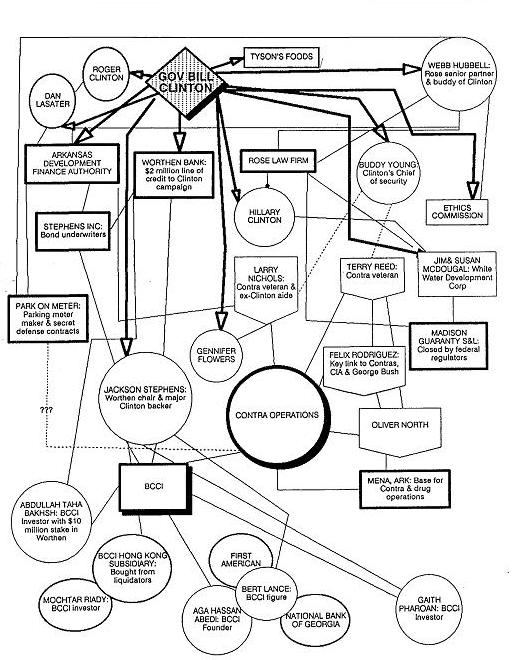 1950s
When Bill Clinton is 7, his family moves from Hope, Arkansas, to the long-time mob resort of Hot Springs, AR. Here Al Capone is said to have had permanent rights to suite 443 of the Arlington Hotel.
Clinton's stepfather is a gun-brandishing alcoholic who loses his Buick franchise through mismanagement and his own pilfering. He physically abuses his family, including the young Bill. His mother is a heavy gambler with mob ties. According to FBI and local police officials, his Uncle Raymond -- to whom young Bill turns for wisdom and support -- is a colorful car dealer, slot machine owner and gambling operator, who thrives (except when his house is firebombed) on the fault line of criminality.
Paul Bosson, Hot Springs Prosecutor -- In Hot Springs, growing up here, you were living a lie. You lived a lie because you knew that all of these activities were illegal. I mean, as soon as you got old enough to be able to read a newspaper, you knew that gambling in Arkansas was illegal, prostitution was illegal. And so you lived this lie, so you have to find some way to justify that to yourself and, you know, you justify it by saying, "Well," you know, "it's okay here."
Virginia Kelly, Clinton's mother (1923-1994) -- Hot Springs was so different. We had wide-open gambling, for one thing, and it was so wide open that it never occurred to me that it was illegal -- it really didn't -- until it came to a vote about whether we were going to legalize gambling or not. I never was so shocked.
HOT SPRINGS BEFORE THE CLINTONS

In the 1930s, Hot Springs represented the western border of organized crime in the U.S with the local syndicate headed by Owney Madden, a New York killer who had taken over the mob's resort in Arkansas. Owney Madden was an English born gang member who had been arrested more than 40 times in New York by the time he was 21. Madden got the assignment from his boss, Meyer Lansky. The plan for Arkansas was modeled on an earlier one in which Governor Huey Long opened a Swiss bank account into which the mob would put $3 to $4 million annually for the right to run casinos in the state. Lansky then moved to Hot Springs where he hired Madden, former operator of Harlem's Cotton Club. According to one account, " The Hot Springs set up was so luxurious and safe that it became known as a place for gangsters on the lam to hole up until the heat blew over."

Hot Springs was where Lucky Luciano was arrested and brought back for trial prosecuted by Thomas E. Dewey. According to one account, "Dewey proclaimed Luciano Public Enemy No. 1, and a grand jury returned a criminal indictment against him that carried a maximum penalty of 1,950 years. . . He was arrested in Hot Springs, Arkansas, and extradited back to New York. There, in the New York State Supreme Court he was tried, and on June 7, the verdict of guilty was returned. Eleven days later, he was sentenced to a total of from 30-to-50 years in state prison. It was the longest sentence ever handed out for compulsory prostitution."

THE DICE MAN --

There is evidence that many syndicate groups became involved in Hot Springs. Owney Madden was the overseer of everything and watched out for the New York mob's interests. Morris Kleinman, who was one of the founding gangsters of the Cleveland syndicate, spent much time in Hot Springs. It is rumored that the Cleveland boys had pieces of the profits from Hot Springs gambling. Johnny Roselli, an "upper level" member of the Chicago mob was a silent partner in many Hot Springs casinos in the 1940's and 1950's, as was Frank Costello. All of these groups used local operators as "fronts", a system perfected by the Cleveland syndicate in Ohio, Florida, and Kentucky. Since Hot Springs was a very popular tourist spot, the command went out from the different syndicates that there should be no murders carried out in Hot Springs. This would be the rule in Las Vegas too. If bodies littered the streets like in Chicago, it would only hurt business. Also "petty" crimes like burglary and armed robbery were not to be tolerated. If the suckers weren't comfortable, they wouldn't come to Hot Springs.

Owney Madden laid the groundwork for gangsters on the lam to hide out in Hot Springs. The city had a resort-like atmosphere and elegant nightlife, with people coming and going all the time. This was the perfect situation to "hide" mobsters who couldn't be seen in their hometowns. Al Capone would stay at the Arlington Hotel when things got too hot in Chicago.. . .
1960s
A federal investigation concludes that Hot Springs has the largest illegal gambling operations in the United States.
Clinton goes to Georgetown University where he finds a mentor in Professor Carroll Quigley.
Quigley writes: "That the two political parties should represent opposed ideals and policies. . . is a foolish idea. Instead, the two parties should be almost identical . . .The policies that are vital and necessary for America are no longer subjects of significant disagreement, but are disputable only in detail, procedure, priority, or method. "
Bill Clinton, according to several agency sources interviewed by biographer Roger Morris, works as a CIA informer while briefly and erratically a Rhodes Scholar in England. Although without visible means of support, he travels around Europe and the Soviet Union, staying at the ritziest hotel in Moscow. During this period the US government is using well educated assets such as Clinton as part of Operation Chaos, a major attempt to break student resistance to the war and the draft. According to former White House FBI agent Gary Aldrich, Clinton is told by Oxford officials that he is no longer welcome there.
Bill Clinton and his friend Jim McDougal get a job in the office of Senator J. William Fulbright. The Washington Post will later write, "McDougal was interested in making money while Clinton was obsessed with political stature."
After becoming involved in politics, Wellesley graduate Hillary Rodham will order her senior thesis sealed from public view.
1969
Bill Clinton fails to report to his duty station at the University of Arkansas ROTC. Reclassified 1-A on October 30, 1969, as enlistment with Army Reserves is revoked by Colonel E. Holmes.
1974
27-year-old Clinton, only months out of Yale Law School, is back in Arkansas eager to run for Congress. Roger Morris writes later, "A relative unknown, he faces an imposing field of rivals in the Democratic primary, and beyond, in the general election, a powerful Republican incumbent. Yet as soon as he enters the race, Mr. Clinton enjoys a decisive seven-to-one advantage in campaign funds over the nearest Democratic competitor, and will spend twice as much as his well-supported GOP opponent. It begins with a quiet meeting at his mother's house in Hot Springs. Around the kitchen table, as Virginia Clinton will describe the scene, avid young Billy meets with two of his most crucial early backers -- uncle Raymond G. Clinton, a prosperous local Buick dealer, and family friend and wealthy businessman Gabe Crawford. As they talk, Mr. Crawford offers the candidate unlimited use of his private plane, and Uncle Raymond not only provides several houses around the district to serve as campaign headquarters, but will secure a $10,000 loan to Bill from the First National Bank of Hot Springs -- an amount then equal to the yearly income of many Arkansas families. Together, the money and aircraft and other gifts, including thousands more in secret donations, will launch Mr. Clinton in the most richly financed race in the annals of Arkansas -- and ultimately onto the most richly financed political career in American history.Though he loses narrowly, his showing is so impressive, especially in his capacity to attract such money and favours, that he rises rapidly to become state attorney-general, then governor, and eventually, with much the same backing and advantage, president of the United States . . . No mere businessman with a spare plane, Gabe Crawford presided over a backroom bookie operation that was one of Hot Springs' most lucrative criminal enterprises. [And the] inimitable Uncle Raymond -- who had also played a pivotal behind-the-scenes role in keeping young Bill out of the Vietnam draft -- was far more than an auto dealer. In the nationally prominent fount of vice and corruption that was Hot Springs from the 1920s to the 1980s (its barely concealed casinos generated more income than Las Vegas well into the 1960s), the uncle's Buick agency and other businesses and real estate were widely thought to be facades for illegal gambling, drug money laundering and other ventures, in which Raymond was a partner. He was a minion of the organized crime overlord who controlled the American Middle South for decades, New Orleans boss Carlos Marcello or "Mafia Kingfish" as his biographer John Davis called him."
1976
Bill Clinton is elected attorney general of Arkansas.
Two Indonesian billionaires come to Arkansas. Mochtar Riady and Liem Sioe Liong are close to Suharto. Riady is looking for an American bank to buy. Finds Jackson Stephens with whom he forms Stephens Finance.
Stephens will broker the arrival of BCCI to this country and steer BCCI's founder, Hassan Abedi, to Bert Lance.
Riady's teen-age son is taken on as an intern by Stephens Inc. He later says he was "sponsored" by Bill Clinton.
1977
Hillary Clinton joins the Rose Law Firm.
Apparently because of pressure from Indonesia, Riady withdraws his bid to buy Lance's 30% share of the National Bank of Georgia. Instead, a BCCI front man buys the shares and Abedi moves to secretly take over Financial General -- later First American Bankshares -- later the subject of the only BCCI-connected scandal to be prosecuted in the US.
1978
Clinton is elected governor.
The Clintons and McDougals buy land in the Ozarks for $203,000 with mostly borrowed funds. The Clintons get 50% interest with no cash down. The 203 acre plot, known as Whitewater, is fifty miles from the nearest grocery store. The Washington Post will report later that some purchasers of lots, many of them retirees, "put up houses or cabins, others slept in vans or tents, hoping to be able to live off the land."
More than half of the purchasers will lose their plots thanks to the sleazy form of financing used.
Two months after commencing the Whitewater scam, Hillary Clinton invests $1,000 in cattle futures. Within a few days she has a $5,000 profit. Before bailing out she earns nearly $100,000 on her investment. Many years later, several economists will calculate that the chances of earning such returns legally were one in 250 million.
Governor Clinton appoints Jim McDougal an economic development advisor.
Bill Clinton's mother hangs out at the race track with mobsters and other local figures, including Dan Lasater who breeds race horses in Kentucky and Florida and has a box at the track next to hers. Mrs. Clinton introduces Lasater to Roger Clinton.
More than a few Little Rock insiders believe Hillary Clinton is having an affair with Vince Foster.
Roger Clinton develops a four-gram a day cocaine habit, getting his stuff from New York and Medellin suppliers, based (as one middleman will later testify) on "who his brother was." Sharlene Wilson is one of his dealers.
Dan Lasater will give Roger work and loan him $8,000 to pay off a drug debt.
Juanita Broaddrick, a volunteer in Clinton's gubernatorial campaign, will later claim she was attacked by Clinton and her lip almost bitten off.
According to Roger Morris in Partners in Power, a young woman lawyer in Little Rock will later claim that she was accosted by Clinton this year and that when she recoiled he forced himself on her, biting and bruising her. "Deeply affected by the assault, the woman decided to keep it all quiet for the sake of her own hard-won career and that of her husband. When the husband later saw Clinton at the 1980 Democratic Convention, he delivered a warning. 'If you ever approach her,' he told the governor, 'I'll kill you.' Not even seeing fit to deny the incident, Bill Clinton sheepishly apologized and duly promised never to bother her again."
1979
Sharlene Wilson
will testify in a 1990 federal drug probe that she began selling cocaine to Roger Clinton as early as this year. She will also tell reporters that she sold two grams of cocaine to Clinton's brother at the Little Rock nightclub Le Bistro, then witnessed Bill Clinton consume the drug. "I watched Bill Clinton lean up against a brick wall," Wilson reveals to the London Telegraph's Ambrose Evans-Pritchard in 1995. "He was so messed up that night, he slid down the wall into a garbage can and just sat there like a complete idiot." Wilson also describes gatherings at Little Rock's Coachman's Inn between 1979 and 1981, where she saw Clinton using cocaine "quite avidly" with friends. Drug prosecutor Jean Duffey will say that she has no doubt that Wilson was telling the truth.
The Clintons and McDougals form Whitewater Development Company.
1980s
Governor Clinton appoints Web Hubbell to head a new state ethics commission. First task: to weaken ethics legislation currently under consideration by exempting the governor from some of its most rigorous provisions.
Arkansas becomes a major center of gun-running, drugs and money laundering. The IRS warns other law enforcement agencies of the state's "enticing climate." According to Clinton biographer Roger Morris, operatives go into banks with duffel bags full of cash, which bank officers then distribute to tellers in sums under $10,000 so they don't have to report the transaction.
Sharlene Wilson
, according to investigative reporter Ambrose Evans-Pritchard, flies cocaine from to a pickup point in Texas.
Other drugs, she and others say, are stuffed into chickens for shipping around the country.
Wilson also serves as "the lady with the snow" at "toga parties" attended, she reports, by Bill Clinton.
According to Wilson,"I lived in Little Rock, Arkansas, O.K.? And I worked at a club called Le Bistro's, and I met Roger Clinton there, Governor Bill Clinton, a couple of his state troopers that went with him wherever he went. Roger Clinton had come up to me and he had asked me could I give him some coke, you know, and asked for my one-hitter, which a one-hitter is a very small silver device,O.K., that you stick up into your nose and you just squeeze it and a snort of cocaine will go up in there.And I watched Roger hand what I had given him to Governor Clinton, and he just kind of turned around and walked off."
Investor's Business Daily would later write, "Sally Perdue, a former Miss Arkansas and Little Rock talk show host who said she had an affair with then-Gov. Clinton in 1983, told the London Sunday Telegraph that he once came over to her house with a bag full of cocaine. ''He had all the equipment laid out, like a real pro.''
In the 1990s, Genifer Flowers tells Sean Hannity's WABC talk radio show: "He smoked marijuana in my presence and and offered me the opportunity to snort cocaine if I wanted to. I wasn't into that. Bill clearly let me know that he did cocaine. And I know people that knew he did cocaine. He did tell me that when he would use a substantial amount of cocaine that his head would itch so badly that he would become self conscious at parties where he was doing this. Because all he wanted to do while people were talking to him is stand around and scratch his head. ...."
Two Arkansas state troopers will swear under oath that they have seen Clinton ''under the influence'' of drugs when he was governor.
Sharlene Wilson
is a bartender who ended up serving time on drug crimes and cooperating with drug investigators. She told a federal grand jury she saw Clinton and his younger brother ''snort'' cocaine together in 1979. Jack McCoy, a Democratic state representative and Clinton supporter, told the Sunday Telegraph that he could ''remember going into the governor's conference room once and it reeked of marijuana.'' Historian Roger Morris, in his book ''Partners in Power,'' quotes several law enforcement officials who say they had seen and knew of Clinton's drug use. One-time apartment manager Jane Parks claims that in 1984 she could listen through the wall as Bill and Roger Clinton, in a room adjoining hers, discussed the quality of the drugs they were taking.
Hillary Clinton makes a $44,000 profit on a $2,000 investment in a cellular phone franchise deal that involves taking advantage of the FCC's preference for locals, minorities and women. The franchise is almost immediately flipped to the cellular giant, McCaw.
A drug pilot brings a Cessna 210 full of cocaine into eastern Arkansas where he is met by his pick-up: a state trooper in a marked police car. "Arkansas," the pilot will recall years later, "was a very good place to load and unload."
VINCE FOSTER
According to his wife, security operative Jerry Parks delivers large sums of money from Mena airport to Vince Foster at a K-Mart parking lot. Mrs. Parks discovers this when she opens her car trunk one day and finds so much cash that she has to sit on the trunk to close it again. She asks her husband whether he is dealing drugs, and he allegedly explains that Foster paid him $1,000 for each trip he took to Mena. Parks said he didn't "know what they were doing, and he didn't care to know. He told me to forget what I'd seen."
. . . .Later Evans-Pritchard will write,
"Foster was using him as a kind of operative to collect sensitive information on things and do sensitive jobs. Some of this appears to have been done on behalf of Hillary Clinton. . . Foster told him that Hillary wanted it done. Now, my understanding . . . is that she wanted to know how vulnerable he would be in a presidential race on the question of -- how shall I put it? -- his appetites."
Hillary Clinton quietly lobbies on behalf of the Contras and against groups and individuals opposing them.
Dan Lasater's parties become known around Little Rock for the availability of cocaine and women.
Judy Gibbs, a model and call girl who appeared in Penthouse magazine, runs a powerful house of prostitution in Fordyce with her sister Sharon. They also blackmail some of their more powerful clients. Both her family and one of Clinton's bodyguards will later link Judy Gibbs to the governor. She decides to cooperate with police in an investigation of Arkansas cocaine trafficking, but is burned to death inside her home from a fire of undetermined origin.
In 1999, Newsmax will report, "[Former Clinton bodyguard Barry] Spivey had become something of a mystery man, who insisted on meeting [Paula Jones investigator] Rick Lambert on a deserted road nestled deep in the Arkansas backwoods. The Jones investigator admitted he was none too comfortable with the situation.
Spivey shared a story about a conversation he had with Clinton while on a flight over southeast Arkansas. The trooper noticed a blackened patch amidst the greenery below that, surprisingly, Clinton recognized. That patch was all that was left of an estate that had burned to the ground in the mid-80s. According to the trooper, Clinton began reminiscing about rumors of his involvement with the woman of the house, a onetime "Penthouse pet." Her husband, Spivey said, was involved in a pornography ring. Clinton explained to Spivey, 'You know that mansion just burned down right on top of them.' Years later, Spivey remains struck by one thing: the eerie expression that crossed Clinton's face as he spoke those words. ...."
The sudden and/or violent deaths of persons connected in some way to the Clinton machine have been at best shoddily investigated by public officials. It is impossible in many cases to determine which are the result of foul play and which are coincidental. Barbara Wise is a case in point. This woman, whose partially nude body was found in the Commerce Department, has been described by some as being a highly disturbed person whose death may be totally unrelated to the Clinton scandals.

In cases of foul play, readers are warned not to leap to conclusions as to motivation or potential perpetrators. For example, if Vincent Foster was killed rather than committing suicide, it may not have been because of the shady dealings at the White House but because public investigations of these shady dealings threatened to expose peripheral criminality such as past money laundering, drug trafficking, or illegal intelligence activities.
1980
Bill Clinton loses re-election as governor. He will win two years later.
Larry Nichols will tell the George Putman Show in 1998 that he had met with Clinton and Jackson Stephen's brother Witt and that Witt had told Clinton that the Stephens were ready to back him for another run at the governorship but that he had to "dry out on the white stuff."

There are reports that following his loss, Clinton ended up in the hospital for a drug overdose. Journalist R. Emmett Tyrrell later asked emergency room workers at the University of Arkansas Medical Center if they could confirm the incident. He didn't get a flat ''no'' from the hospital staff. One nurse said, ''I can't talk about that.'' Another said she feared for her life if she spoke of the matter. Newsmax will report: "Dr. Sam Houston, a respected Little Rock physician and once a doctor for Hillary's cantankerous father, Hugh Rodham, says it is well known in Little Rock medical circles that Clinton was brought to a Little Rock hospital for emergency treatment for an apparent cocaine overdose. According to Houston, who told us he spoke to someone intimately familiar with the details of what happened that night, Clinton arrived at the hospital with the aid of a state trooper. Hillary Clinton had been notified by phone and had instructed the hospital staff that Clinton's personal physician would be arriving soon. When Mrs. Clinton arrived, she told both of the resident physicians on duty that night that they would never practice medicine in the United States if word leaked out about Clinton's drug problem. Reportedly, she pinned one of the doctors up against the wall, both hands pressed against his shoulders, as she gave her dire warning."

According to Jim McDougal's later account, he and Henry Hamilton, "developed a system to pass money to Clinton,'' then governor of Arkansas. "I considered it just another way of helping to take care of Bill. A contractor agreed to pad my monthly construction bill by $2,000. The contractor put the figure on his invoice as a cost for gravel or culvert work. After I paid the full amount ... the contractor reimbursed me the $2,000. I turned the money over to Henry to give to Clinton. Once, after I handed Henry his latest consignment of 20 hundred-dollar bills to relay to the governor's office, he turned the bills over and over in one hand, like a magician. Henry grinned. 'You know,' he said, 'Caesar had his Brutus, Charles the First had Cromwell. Clinton could profit from these examples if he crosses us.'"
1981
Hillary Clinton writes Jim McDougal: "If Reagonomics works at all, Whitewater could become the Western Hemisphere's Mecca."
Major drug trafficker Barry Seal, under pressure from the Louisiana cops, relocates his operations to Mena, Arkansas. Seal is importing as much as 1,000 pounds of cociane a month from Colombia according to Arkansas law enforcement officials. He will claim to have made more than $50 million out of his operations. As an informant, Seal testified that in 1980-81, before moving his operation to Arkansas, he made approximately 60 trips to Central America and brought back 18,000 kilograms. In 1996 the Progressive Review will report: "The London Telegraph has obtained some of the first depositions in ex-CIA contract flyer Terry Reed's suit against Clinton's ex-security chief -- and now a high-paid FEMA director -- Buddy Young. According to the Telegraph's Ambrose Evans-Pritchard, "Larry Patterson, an Arkansas state trooper, testified under oath that there were 'large quantities of drugs being flown into the Mena airport, large quantities of money, large quantities of guns.' The subject was discussed repeatedly in Clinton's presence by state troopers working on his security detail, he alleged. Patterson said the governor 'had very little comment to make; he was just listening to what was being said.'"

Roger Morris & Sally Denton, Penthouse Magazine -- Seal's legacy includes more than 2,000 newly discovered documents that now verify and quantify much of what previously had been only suspicion, conjecture, and legend. The documents confirm that from 1981 to his brutal death in 1986, Barry Seal carried on one of the most lucrative, extensive, and brazen operations in the history of the international drug trade, and that he did it with the evident complicity, if not collusion, of elements of the United States government, apparently with the acquiescence of Ronald Reagan's administration, impunity from any subsequent exposure by George Bush's administration, and under the usually acute political nose of then Arkansas governor Bill Clinton. . .
Mena state police investigator Russell Welch will later describe the airport, pointing to one hanger he says is owned by a man who "doesn't exist in history back past a safe house in Baltimore in 1972." Another is owned by someone who "smuggled heroin through Laos back in the seventies." Still another is "owned by a guy who just went bankrupt. So what's he do? Flies to Europe for more money." Welch points to a half dozen Fokker aircraft parked on an apron, noting that "the DEA's been tracking those planes back and forth to Columbia for a while now."
1982
A DEA report uncovered by Ambrose Evans-Pritchard will cite an informant claiming that a key Arkansas figure and backer of Clinton "smuggles cocaine from Colombia, South America, inside race horses to Hot Springs."
The London Telegraph's Ambrose Evans-Prichard writes, "Basil Abbott, a convicted drug pilot, says that he flew a Cessna 210 full of cocaine into Marianna, in eastern Arkansas, in the spring of 1982. The aircraft was welcomed by an Arkansas State Trooper in a marked police car. 'Arkansas was a very good place to load and unload' he said."
IRS agent William Duncan and an Arkansas State Police investigator take their evidence concerning drug trafficking in Mena to US Attorney Asa Hutchinson. They ask for 20 witnesses to be subpoenaed before the grand jury. Hutchinson chooses only three. According to reporter Mara Leveritt, "The three appeared before the grand jury, but afterwards, two of them also expressed surprise at how their questioning was handled. One, a secretary at Rich Mountain Aviation, had given Duncan sworn statements about money laundering at the company, transcripts of which Duncan had provided to Hutchinson. But when the woman left the jury room, she complained that Hutchinson had asked her nothing about the crime or the sworn statements she'd given to Duncan. As Duncan later testified, 'She basically said that she was allowed to give her name, address, position, and not much else.' The other angry witness was a banker who had, in Duncan's words, 'provided a significant amount of evidence relating to the money-laundering operation.' According to Duncan, he, too, emerged from the jury room complaining 'that he was not allowed to provide the evidence that he wanted to provide to the grand jury.'"
Roger Morris & Sally Denton, Penthouse Magazine
-- According to l.R.S. criminal investigator Duncan, secretaries at the Mena Airport told him that when Seal flew into Mena, "there would be stacks of cash to be taken to the bank and laundered." One secretary told him that she was ordered to obtain numerous cashier's checks, each in an amount just under $10,000, at various banks in Mena and surrounding communities, to avoid filing the federal Currency Transaction Reports required for all bank transactions that exceed that limit. Bank tellers testified before a federal grand jury that in November 1982, a Mena airport employee carried a suitcase containing more than $70,000 into a bank. "The bank officer went down the teller lines handing out the stacks of $1,000 bills and got the cashier's checks." Law-enforcement sources confirmed that hundreds of thousands of dollars were laundered from 1981 to 1983 just in a few small banks near Mena, and that millions more from Seal's operation were laundered elsewhere in Arkansas and the nation.
Bill Clinton wins back the governorship.
Financial General changes its name to First American and Clark Clifford is appointed chairman.
BCCI fronts begin acquiring controlling interest in banks and other American financial institutions
. In Arkansas, Jim McDougal purchases Madison Guaranty Savings & Loan.
1983
Mochtar Riady forms Lippo Finance & Investment in Little Rock. A non-citizen, Riady hires Carter's former SBA director, Vernon Weaver, to chair the firm. The launch is accomplished with the aid of a $2 million loan guaranteed by the SBA. Weaver uses Governor Clinton as a character reference to help get the loan guarantee.
First loan goes to Little Rock Chinese restaurant owner Charlie Trie. In 1999, reported the Washington Post, Trie, who had become a controversial fund-raiser for President Clinton, "entered into a plea agreement with the Justice Department yesterday, winning leniency in exchange for telling all in an investigation of improper campaign contributions originating in China."
State regulators warn Jim McDougal's Madison Guarantee S&L to stop making imprudent loans. Gov. Clinton is also warned of the problem but takes no action.
According to a later account in the Tampa Tribune, planes flying drugs into Mena in coolers marked "medical supplies." are met by several people close to then-Governor Bill Clinton.
Although he is under investigation for drug activities, Dan Lasater's firm is given a piece of 14 state bond issues.
Judge David Hale's Capital Management Services starts making loans to state figures. "David Hale is a former Arkansas municipal judge and former Arkansas banker. He worked with Jim McDougal on $3 million in loans from a lending company he ran. He pled guilty and went to jail for conspiring to defraud the Small Business Administration in looting the funds from a dummy business he established. As part of his guilty plea in looting money from an insurance company, he provided the allegations for the Whitewater scandal, and testimony for its investigators. ... Hale testified in U.S. District Court that Gov. Bill Clinton pressured him to make a fraudulent $300,000 loan and that he not be named in the loan." -- Wiki
1984
Clinton backers Jack Stevens and Mochtar Riady buy a banking firm and change its name to Worthern Bank with Riady's 28-year-old son James as president. Other Worthen co-owners will eventually include BCCI investor Abdullah Taha Bakhish.
The Federal Home Loan Bank Board issues a negative report on Madison Guaranty, questioning both its lending practices and its financial stability. The Arkansas Securities Department begins to take steps to close it down. "Starting in 1982 and operated by Jim McDougal-Susan McDougal, Madison Guaranty Savings and Loan failed in the late 1980s. On April 14, 1997, Jim McDougal was convicted of 18 felony counts of fraud conspiracy charges. The counts had to do with bad loans made by Madison S&L. This S&L was partnered with Whitewater Development Corporation, the subject of Whitewater probe and owned, in part, by Bill and Hillary Clinton." -- Wikipedia

Madison Guaranty and McDougal hired Rose Law Firm where the Mrs. Clinton worked as a defense attorney. Mrs. Clinton's Rose Law Firm billing records on Madison Guaranty and McDougal's Castle Grande project that Hillary called IDC -- Industrial Development Corporation. How much work she actually did on Madison and Castle Grande was the subject of the missing billing records. McDougal also held a fundraiser at Madison Guaranty that paid off Clinton's campaign debt of $50,000. Madison cashier's checks accounted for $12,000 of the funds raised.
The Washington Times will later quote an unnamed Clinton business associate who claims the governor used to "jog over to McDougal's office about once a month to pick up the [retainer] check for his wife." Jim McDougal will claim later that Clinton on one of his jogs had asked that Madison steer business to Hillary Clinton.
Foreshadowing future Wall Street interest in Clinton, Goldman Sachs, Payne Webber, Salomon Brothers and Merrill Lynch all show up as financial backers of the governor. Also on the list: future king-maker Pam Harriman. But Bill Clinton's funders include not only some of the biggest corporate names ever to show an interest in the tiny state of Arkansas but some of the most questionable.
A former US Attorney will later tell Roger Morris, "That was the election when the mob really came into Arkansas politics. . . It wasn't just Bill Clinton and it went beyond our old Dixie Mafia. . . This was eastern and west coast crime money that noticed the possibilities just like the legitimate corporations did."
Dan Lasater buys a ski resort in New Mexico for $20 million and uses Clinton's name (with permission) to promote it. Later, a US Customs investigative report will note that the resort is being used for drug operations and money laundering. Lasater also flies to Belize with his aide Patsy Thomasson to buy a 24,000 acre ranch.

Among those present at the negotiations is the US Ambassador.

The deal falls through because of the opposition of the Belize government.
A private contractor for Arkansas' prison system stops selling prisoners' blood to a Canadian broker and elsewhere overseas after admitting the blood might be contaminated with the AIDS virus or hepatitis. Sales of prisoners' blood in US are already forbidden. Contaminated blood will later become a big scandal in Canada.
Tens of thousands of dollars in mysterious checks begin moving through Whitewater's account at Madison Guaranty. Investigators will later suspect that McDougal was operating a check-kiting scheme to drain money from the S&L

Hot Springs police record Roger Clinton during a cocaine transaction. Roger says, "Got to get some for my brother. He's got a nose like a vacuum cleaner." Roger is arrested while working at menial jobs for Arkansas "bond daddy" Dan Lasater.

Barry Seal estimates that he has earned between $60 and $100 million smuggling cocaine into the US, but with the feds closing in on him, Barry Seal flies from Mena to Washington in his private Lear Jet to meet with two members of Vice President George Bush's drug task force. Following the meeting, Seal rolls over for the DEA, becoming an informant. He collects information on leaders of the Medellin cartel while still dealing in drugs himself. The deal will be kept secret from investigators working in Louisiana and Arkansas. According to reporter Mara Leveritt, "By Seal's own account, his gross income in the year and a half after he became an informant -- while he was based at Mena and while Asa Hutchinson was the federal prosecutor in Fort Smith, 82 miles away -- was three-quarters of a million dollars. Seal reported that $575,000 of that income had been derived from a single cocaine shipment, which the DEA had allowed him to keep. Pressed further, he testified that, since going to work for the DEA, he had imported 1,500 pounds of cocaine into the U.S. Supposed informant Seal will fly repeatedly to Colombia, Guatemala, and Panama, where he meets with Jorge Ochoa, Fabio Ochoa, Pablo Escobar, and Carlos Lehder -- leaders of the cartel that at the time controlled an estimated 80 percent of the cocaine entering the United States."
Ronald Reagan wants to send the National Guard to Honduras to help in the war against the Sandanistas. Massachusetts Governor Michael Dukakis goes to the Supreme Court in a futile effort to stop it but Clinton is happy to oblige, even sending his own security chief, Buddy Young, along to keep an eye on things. Winding up its tour,
the Arkansas Guard declares large quantities of its weapons "excess" and leaves them behind for the Contras.

Clinton bodyguard, state trooper LD Brown, applies for a CIA opening. Clinton gives him help on his application essay including making it more Reaganesque on the topic of the Nicaragua. According to Brown, he meets a CIA recruiter in Dallas whom he later identifies as a former member of Vice President Bush's staff. On the recruiter's instruction, he meets with notorious drug dealer Barry Seal in a Little Rock restaurant. Joins Seal in flight to Honduras with a purported shipment of M16s and a return load of duffel bags. Brown gets $2,500 in small bills for the flight. Brown, concerned about the mission, consults with Clinton who says, "Oh, you can handle it, don't sweat it." On second flight, Brown finds cocaine in a duffel bag and again he seeks Clinton's counsel. Clinton says to the conservative Brown, "Your buddy, Bush, knows about it" and, of the cocaine, "that's Lasater's deal."
Clinton wins re-election with 64% of the vote.