The Secret Life of Bill Clinton: The Unreported Stories
by Ambrose Evans-Pritchard
Copyright © 1997 by Ambrose Evans-Pritchard
NOTICE: THIS WORK MAY BE PROTECTED BY COPYRIGHT
YOU ARE REQUIRED TO READ

THE COPYRIGHT NOTICE AT THIS LINK

BEFORE YOU READ THE FOLLOWING WORK, THAT IS AVAILABLE SOLELY FOR PRIVATE STUDY, SCHOLARSHIP OR RESEARCH PURSUANT TO 17 U.S.C. SECTION 107 AND 108. IN THE EVENT THAT THE LIBRARY DETERMINES THAT UNLAWFUL COPYING OF THIS WORK HAS OCCURRED, THE LIBRARY HAS THE RIGHT TO BLOCK THE I.P. ADDRESS AT WHICH THE UNLAWFUL COPYING APPEARED TO HAVE OCCURRED. THANK YOU FOR RESPECTING THE RIGHTS OF COPYRIGHT OWNERS.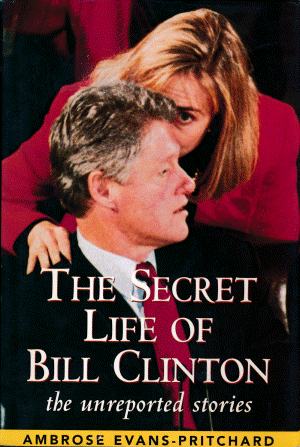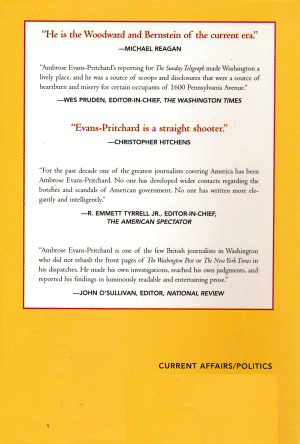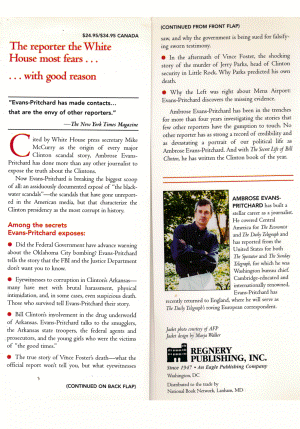 TABLE OF CONTENTS
• INSIDE & BACK COVERS
• INTRODUCTION: Blackwater
• The Oklahoma Bombing -- "Our Common Ground"
o ONE: The Resurrection of President Clinton
o TWO: Glenn and Kathy Wilburn
o THREE: John Doe Two
o FOUR: Elohim City and Dennis the Menace
o FIVE: Carol Howe
o SIX: Lt. Andreas Strassmeir PzGren (SPz)
o SEVEN: The Aryan Republican Army
• Vince Foster and "The Most Ethical Administration in the History of the Republic"
o EIGHT: The Taboo Investigation
o NINE: The Peripatetic Gun
o TEN: The Neck Wound
o ELEVEN: The Car
o TWELVE: Street Fascism
o THIRTEEN: The Tip-Off
o FOURTEEN: "Communication Stream of Conspiracy Commerce"
o FIFTEEN: The Verdict of Depression
o SIXTEEN: The Parks Murder
• "Come to Arkansas .... You Might Even Learn a Thing or Two"
o SEVENTEEN: Death Squad
o EIGHTEEN: The Dixie Mafia
o NINETEEN: The Dan Lasater Drug Trafficking Organization
o TWENTY: Barry Seal, Air Contra, and Mena Airport
o TWENTY-ONE: The Mena Twins
o TWENTY-TWO: Paula Jones: Perverse Justice
o EPILOGUE: America's Hope
• Notes
• Appendix A
• Appendix B
• Appendix C
• Index
"I'M A DEAD MAN," whispered Jerry Parks, pale with shock, as he looked up at the television screen. It was a news bulletin on the local station in Little Rock. Vincent Foster, a childhood friend of the President, had been found dead in a park outside Washington. Apparent suicide. [1]

He never explained to his son Gary what he meant by that remark, but for the next two months the beefy 6' 3" security executive was in a state of permanent fear. He would pack a pistol to fetch the mail. On the way to his offices at American Contract Services in Little Rock he would double back or take strange routes to "dry-clean" the cars that he thought were following him. At night he kept tearing anxiously at his eyebrows, and raiding the valium pills of his wife, Jane, who was battling multiple sclerosis. Once he muttered darkly that Bill Clinton's people were "cleaning house," and he was "next on the list." [2]

Two months later, in September 1993, Jerry and Jane went on a Caribbean cruise. He seemed calmer. At one of the islands he went to take care of some business at a bank. She believed it was Grand Cayman. They returned to their home in the rural suburbs of Little Rock on September 25. The next day Jane was in one of her "down" periods, so Jerry went off on his own for the regular Sunday afternoon supper at El Chico Mexican Restaurant.

On the way back, at about 6:30 PM, a white Chevrolet Caprice pulled up beside him on the Chenal Parkway. Before Parks had time to reach for his .38 caliber "detective special" that he kept tucked between the seats, an assassin let off a volley of semi-automatic fire into his hulking 320 pound frame.

Parks skidded to a halt in the intersection of Highway 10. The stocky middle-aged killer jumped out and finished him off with a 9 mm handgun -- two more shots into the chest at point blank range. Several witnesses watched with astonishment as the nonchalant gunman joined his accomplice in the waiting car and sped away. [3]

***

It was another two years before Jane Parks began to tell me the rest of the story. She had remarried and moved to Batesville, two hours' drive from Little Rock. Her new husband was an attorney named Harvey Bell, the former Arkansas Securities Commissioner. His life, too, had intersected with that of Vincent Foster. A colonel in the Arkansas National Guard, Bell told me that he had been the commander of Foster's reserve unit and had later crossed swords with him in court. "Vince liked to think of himself as a master chess player, moving all the pieces, controlling the game," he said. "He was always scheming in the shadows." [15]

Jane felt safer in Batesville. The threatening telephone calls that she had been receiving had stopped. Her illness was in remission. She had held back before, she explained, for fear of violent reprisals against her two sons and herself. But she was weary of bottling up her secrets, and she no longer felt the emotional compulsion to cover for her first husband. "I've been praying about it. I decided that if you tell the whole truth it'll set you free."

She revealed that Jerry Parks had carried out sensitive assignments for the Clinton circle for almost a decade, and the person who gave him his instructions was Vince Foster. It did not come as a total shock. I already knew that there was some kind of tie between the two men. Foster's brother-in-law, Lee Bowman, told me long ago that Vince had recommended Jerry Parks for security work in the mid-1980s. "I was struck by how insistent he was that Parks was a 'man who could be trusted,'" said Bowman, a wealthy Little Rock stockbroker. [16]

Jane thought that Jerry and Vince Foster had gotten to know each other when the Rose Law Firm represented Guardsmark in litigation. Vince had fed him little tasks during the 1980s, she believed, rewarding him along the way. In late 1989 he helped to secure Jerry a $47,959 loan from the Arkansas Teachers Retirement Fund, a huge piggy bank used by the Clinton Machine for political payoffs. As reported by James Ring Adams in The American Spectator, the loan went through the Twin City Bank of North Little Rock, a bank that had played a role in the Whitewater saga.

Jerry, in turn, "respected Vince Foster more than anybody else in the world." [17] It was a strange, clandestine relationship. Foster called the Parks home more than a hundred times, identifying himself with the code name, "The Congressman." Jane met him only once in person. It was at a "Roast and Toast" of the Governor. He walked over, graceful as always, and said: "Hello, you must be Jerry's wife. I'd heard he'd robbed the cradle."

By the late 1980s Vince trusted Parks enough to ask him to perform discreet surveillance on the Governor. "Jerry asked him why he needed this stuff on Clinton. He said he needed it for Hillary," recalled Jane. It appears that Hillary wanted to gauge exactly how vulnerable her husband would be to charges of philandering if he decided to launch a bid for the presidency.

Had he learned to be more cautious? How easily could he be caught? Was it bad enough to destroy a candidacy? These were things she needed to know before subjecting herself and her daughter to the media glare of a national campaign. This moral check-up was a very understandable precaution. [18]

Later, during the early stages of the presidential campaign, Parks made at least two trips to the town of Mena, in the Ouachita Mountains of western Arkansas. Mena had come up in conversations before. Jane told me that Parks had been a friend of

Barry Seal

, a legendary cocaine smuggler and undercover U.S. operative who had established a base of operations at Mena airport. Parks had even attended Seal's funeral in Baton Rouge after Seal was assassinated by Colombian pistoleros in February 1986.

One of the trips was in 1991, she thought, although it could have been 1992. The morning after Jerry got back from Mena she borrowed his Lincoln to go to the grocery store and discovered what must have been hundreds of thousands of dollars in the trunk. "It was all in $100 bills, wrapped in string, layer after layer. It was so full I had to sit on the trunk to get it shut again," she said.

"I took a handful of money and threw it in his lap and said, 'Are you running drugs?' Jerry said Vince had paid him $1,000 cash for each trip. He didn't know what they were doing, and he didn't want to know either, and nor should I. He told me to forget what I'd seen."

They had a bitter quarrel and barely spoke to each other for two weeks. They made up on Jerry's birthday on July 3. "The whole thing was becoming scary," she said of that time. "He was in over his head."

He told her that he would leave his Lincoln at a hangar at the Mena airport, go off for a coke, and by the time he came back they would have loaded the money into the trunk with a forklift truck. He never touched it. When he got back to Little Rock he would deliver the money to Vince Foster in the K-Mart parking lot on Rodney Parham boulevard, a little at a time. They used a routine of switching briefcases, a "flip-flop mail carrier" made of leather.

Foster and Parks had other operations running. The two of them had bugged the Clinton-Gore headquarters in Little Rock. "Vince knew that somebody was stealing money from the campaign, and he wanted to find out who was doing it," she said. If her memory is correct, it suggests that Foster was far more deeply involved in the 1992 campaign than previously thought. It raises extra questions about the bundles of cash coming through Mena. Was it campaign money? If so, how was it laundered? How could so much cash have been spread around without flagging the Federal Election Commission?

Contact with Foster was rare after he moved to the White House. But he telephoned in mid-July 1993, about a week before his death. He explained that Hillary had worked herself into a state about "the files," worried that there might be something in them that could cause real damage to Bill or herself. The conversation was brief and inconclusive. Jerry told Vince Foster that there was indeed "plenty to hurt both of them. But you can't give her those files, that was the agreement." Jerry did not seem too perturbed at the time.

A few days later Foster called again. Jane is sure that it was either Sunday, July 18, or Monday, July 19, the night before Foster's death. Jerry was in the living room with his feet up, watching the History Channel on TV. Jane was puttering in and out of the kitchen. It was around 8:30 PM, central time.

"Vince was calling from a pay phone," said Jane, who overheard one side of the conversation and then learned the rest from Jerry afterward. "He kept feeding coins into the box, and then he told Jerry to hold on. He must have been near a mini-mart or something because he said he had to get more coins. [19] Then he called a second time, and they spoke for 30 minutes or more."

This time it was a heated exchange. Vince said that he had made up his mind. He was going to hand over the files and wanted to be sure that he had the complete set.

"You're not going to use those files!" said Jerry, angrily.

Foster tried to soothe him. He said he was going to meet Hillary at "the flat" and he was going to give her the files.

"You can't do that," said Parks. "My name's all over this stuff. You can't give Hillary those files. You can't! Remember what she did, what you told me she did. She's capable of doing anything!"

"We can trust Hil. Don't worry," said Foster.

Jane does not know exactly what files Foster wanted, but assumes he meant everything that Parks had done for him over more than a decade. Nor did she know what Foster meant by "the flat."

-- The Secret Life of Bill Clinton: The Unreported Stories, by Ambrose Evans-Pritchard