Part 1 of 2
XXI. DOMESTIC AND POPULAR LAMAISM.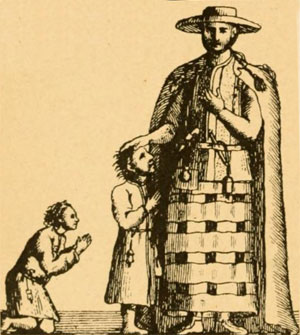 LAMA receiving homage of Children.1
LAMAISM is not merely a monastic brotherhood; it is a truly popular religion, deeply pervading and dominating the life of the people.
On it the Tibetan builds his daily fears and hopes, and it is not without some elevating influence.
The current of Buddhism which runs through its tangled paganism has brought to the Tibetan most of the little civilization which he possesses, and has raised him correspondingly in the scale of humanity, lifting him above a life of wild rapine and selfishness, by setting before him higher aims, by giving milder meanings to his mythology, by discountenancing sacrifice, and by inculcating universal charity and tenderness to all living things.
On the hill I came across many Tibetan pilgrims intent on displaying their religious zeal and piety, and their behavior more than ever convinced me that a strong fanaticism characterises the people of that land. Climbing alone was no easy task, and was one that strained even the sturdiest of legs, and yet I noticed several young pilgrims of both sexes performing the journey according to the 'one-step-one-bow' method, commonly adopted as a penance. As for me I felt greatly fatigued, though I was riding on the yak, for the atmosphere in that elevated region is very rare and was highly trying to my lungs. When I had ascended the hill for about five miles my respiration became very rapid and I was much exhausted. I therefore rested for awhile, and refreshed myself by taking some medicine. It was while I was taking rest that I noticed a burly fellow frantically confessing to and worshipping the snowy Tise.

My guide informed me that that man was a native of Kham, a place notorious as being a haunt of brigands and highwaymen. He really looked like a typical highwayman, with ferocious features and fierce eyes, and was performing his penance in a loud voice. He must have been a notorious figure even in that land of universal crime.

I was highly amused to find that

this fellow was doing penance not for his past offences alone, but also to obtain immunity for any crimes he might commit in future. His extraordinary confession was something in this way: "O Saint Kang Rinpoche! O great Shākyamuni! O all Buddhas and Bodhisattvas in the ten quarters of the world and in the time past, present and future! I have been wicked in the past. I have murdered a number of men. I have taken a great deal that did not belong to me. I have robbed husbands of their wives. I have quarrelled ever so many times, and I have also thrashed people. Of all those great sins I repent, and so I solemnly perform my penance here on this hill for them. I believe that by this act of confession and repentance, I have been absolved from those sins. I also perform here penance for my prospective sins, for I may in future repeat them, may rob people of their goods and wives, or thrash and beat them."

This fellow, I thought, was decidedly original in his conception of penance, and surpassed other sinners by performing a prospective repentance instead of, as in the ordinary method, confining himself to penitence for his past sins. Yet I was told that this convenient mode of repentance was universal in the robber district of Kham....

At last we reached the eastern part of Tise and arrived at the Zun-tul phuk, which means the cave of miracles, founded by the hermit Jetsun Milaraspa, one of the most venerated saints in the Tibetan hagiology. Various interesting traditions are told about this saint, but these I need not give here, as they are too technical. I may say, however, that Milaraspa is said to have led a highly austere life, and that he did much to diffuse the true tenets of Buddhism. He was also a great poet, the only poet who figures in the long history of Tibet. His biography therefore reads like a romance or a great epic, full of sublime conceptions. Milaraspa being such a unique personality in the history of Tibet, his name has attracted the attention of western explorers, and extracts from his poems have been translated. After returning to Darjeeling I explained his poems to a certain Russian traveller and writer, who translated them into his national tongue. He was much delighted with the information which I gave him, and told me that my translation enabled him to interpret something of the spirit of the great Tibetan epic.

We stayed one night at that temple, and on the following day proceeded along the banks of the river Ham-hung-gi-chu (shoe-dropping river) and reached a place which contained a temple called Gyang-tak-gonpa. This temple is dedicated to Dorje Karmo, the Goddess named White Vajra. The place is situated about one mile off the road and near by is a postal station named Darchen Tazam. This station contains about thirty houses built of stone, besides about a dozen tents pitched here and there. It is a business as well as a revenue centre for the whole district. I lodged at one of the houses, and here the guide took leave of me. That night I performed my usual religious meditation, and on the morning of the following day my pilgrim companions rejoined me.

The station lies on a steppe between the north-western corner of Lake Mānasarovara and the north-eastern corner of Lake Lakgal. On the following day our party left the station, and proceeded in a south-easterly direction, to the west of Mānasarovara. We advanced in the same direction the next day, till we reached the foot of a snowy peak named Bon-Ri. This is, as I have mentioned before, a place sacred to the Bon, or ancient religion of Tibet. I saw a big temple in the place, which I found to be not a temple belonging to that old religion, as I had expected, but one belonging to the New Sect. It looked a magnificent establishment as seen from a distance, but we did not go near it. This neighborhood produced various kinds of mushrooms, and some which were growing in damp places were gathered by the women of the party. They collected large quantities of the fungus, which was fried with butter and eaten with salt. I tasted it and found it delicious.

By that time we had left the limits of the sacred region, and my male companions no longer considered themselves as pilgrims, but as men who had to face the stern realities of the material world. They declared that they must resume their worldly business, and proposed to start by shooting deer. It seemed to me that their shooting not infrequently included extraordinary kinds of game, and I suspected, on good grounds, that the three brothers had now and then turned highwaymen and either robbed or murdered travellers. I therefore began to be afraid of them, and thought that I had better separate myself from them on some plausible pretext, and without awakening their suspicion.

On the following day we reached the brow of a hill, and there one of the brothers in my presence shot an animal called in Tibet changku. The shooting was done merely for pleasure and not with the object of eating its flesh or using its skin. The changku, or wolf, resembles a large species of dog with rather thin fur, which in summer turns a fine brownish color. In winter the color is said to be a whitish grey. The ears are erect and the face appears ferocious. It is said that this wild animal will attack solitary travellers and even kill them. When the brothers brought down the animal their eyes gleamed with delight, and I secretly thought that their eyes would show that same cruel gleam when they murdered a wealthy traveller.

The next day, September 14th, snow again fell, and so we had to stay in the same place. The hunting-dogs went out of their own accord on a rabbit-hunting expedition, and came back with their mouths stained with blood. They must have hunted down some rabbits and made a meal of them. The snow ceased, and we left the place on the following day.

Proceeding eastwards, we now came to a long undulating hill, and soon reached its summit. Here the head of the family said that our pilgrimage must end at this spot, and when asked why at this particular place, he pointed to Lake Mānasarovara, situated to the west, and also to the snow-capped peak of Manri that stood due south from the middle of the Lake, and told me that we should here bid farewell and express our good wishes to the sacred region, for this was the last point where we could have a full view of the Holy Place, and that we should express in our prayers an earnest desire to visit this sacred region again in the future. Saying this, he bowed down and I and all the rest followed his example.

When I thought that I (the first Japanese who had ever come to visit this district from a remote country thousands of miles away) was now about to take leave of Lake Mānasarovara after having been in its neighborhood for several days, a peculiar sensation came over me, and I stood gazing at the lake for some time.

As we were going down the hill, my host told me that as they had already departed from the Holy Place they should now earnestly engage themselves in their worldly pursuits; therefore they thought it time that I should leave them. We soon reached a little encampment of some twelve or thirteen tents, and thither I wended my way to observe the condition of the small community.

Mendicancy was well suited for satisfying my curiosity, and as a mendicant I entered the encampment.

My companions remained in the same place that day and the next, the brothers occupied in shooting.

On the latter day I was reading a Chinese Buddhist Text, and the two women were outside engaged in some earnest talk. At first I did not pay any attention to what they were saying, but when my ears caught the word 'Lama' pronounced several times my curiosity was awakened. Dawa was saying that she had heard the Lama, that is myself, say that her mother was probably dead. She wished, she continued, to ascertain this of the Lama, and so she had been pressing him for some definite information. Her aunt received this remark with a laugh. He must have seen, she said, that Dawa was in love with him, and had therefore told her this fib in joke. She must not mind what the Lama told her. However,

the aunt continued, her husband had been telling her that he must make the Lama marry Dawa, and that should he refuse, her husband would kill him. It was evident that this last portion of the conversation was intended for my ears, for the aunt spoke in a loud voice.

When I heard that intimidatory warning I at first felt alarmed, but the next moment I recovered my tranquillity. I thought that if I should suffer death for having resisted a temptation, my death would be highly approved by the holy Founder. He would be displeased if I should disobey my conscience for the mere fear of death. Internally praying for strength of mind to resist the temptation, even at the risk of my life, I resumed my reading. However nothing occurred to me that day, nor the next, when we struck our tent and proceeded for about five miles close to the brow of a hill, from which I saw at a short distance what appeared to be houses, and I was told that this was another postal station called Tokchen Tazam. Again I visited the place in the disguise of a mendicant priest. I soon returned and found Dawa alone in the tent; the rest were all gone out hunting, so she told me. I at once saw that the conspiracy was developing, and that matters were growing quite critical.

I concluded that I must do my best to dissuade the girl from pursuing the object of her misplaced affection. Some spiritual affinity must have brought me into the company of this girl, so it seemed to me that I was bound to administer an earnest expostulation, so that she might recover from her erring fancy. So thinking, I took my seat in the tent. As soon as I did so, she brought me some mushrooms she had collected for me in the morning, for she said: "You seemed to be very fond of them." I thanked her for her kindness, took all the mushrooms and a cup of baked flour, and then set myself to read my books. The girl stopped me, saying that she had something which she must tell me, for she had heard something which filled her with fear. Then she narrated what one of her uncles, that is one of my male companions, had said about his intention to force me to marry his niece. When she had concluded her story,

I told her with the greatest composure that I should be rather glad than afraid to be killed by the brothers of her father. I had finished my pilgrimage, I added; I had nothing to desire in this world, and I was not in the least afraid to die. Moreover, I continued, I would not harbor any ill-will, even if I should be killed now by her father and uncles. I should rather thank them for hastening my departure to the plane of Bodhisattvas; so I would pray for them when I was enabled to reach that Happy Abode. I would therefore ask to be killed that very evening.

The girl seemed surprised to find her revelation producing an effect quite the reverse of what she had expected. She tried to remonstrate with me on what she considered a foolish resolution, and spoke some commonplaces about death and the pleasures of life. Of course I easily refuted them, and at last she gave up the evidently useless task of persuading me.

About four o'clock that afternoon the four returned. They must have listened for some time to the conversation between Dawa and myself, for as soon as they entered the tent, the most wicked of the three brothers severely scolded Dawa for flirting with a man. Upon this, the girl's father at once took her side, and snappishly told his brother that his Dawa had a father to protect her, and therefore wanted nobody to meddle with her, much less an uncle who had never given her even so much as one bowl of flour since she was born.

The quarrel waxed hotter and fiercer, and the brothers began to abuse each other and to divulge each other's crimes. One accused the other of being a robber, and of having murdered men at such and such places, and was met with the recriminating accusation of having attempted to rob the Government and of having fled for fear of arrest. The wordy warfare at last developed into actual blows, and the brothers exchanged fisticuffs, and even began to hurl stones at each other. I thought I must interfere, and so I jumped up and attempted to hold back the youngest brother as he was about to spring at Dawa's father. The fellow struck my cheek with his bony knuckles with such force that I fell, and my whole frame shook with pain. The confusion in the tent had reached its climax, and Dawa was beginning to cry and so was also her aunt. I remained a passive spectator of the rest of this terrible scene, for I had to lie prostrate from the pain. Presently the sun set and the quarrel too spent itself and the night passed without any further outbreak.

The next morning the party broke up, for each brother wanted to go his way, the eldest with his wife, the second with his daughter, and the third alone, as was also the case with me; so we had to disperse, each for his own destination.

One thing that troubled me was the lack of sheep to carry my effects. At last I purchased two at six tanka each, and separating myself from the rest proceeded in the south-easterly direction. One of the brothers started for the north, while I could see the others were retracing the road we had come along.

I had heard before that I must push on rapidly, but I purposely took the south-easterly direction, in order to throw off the scent any of the brothers who might come after me to rob me, or even worse. And so I proceeded in this direction, and by about sunset I reached the brow of a hill, where I was obliged to bivouac in the open, and on a snow-covered plain. The change was too sudden after having lived for so long in the tent, and I could not snatch even one wink of sleep during the night. On the following day, still continuing in the same direction, I reached a small monastery of the name of Sha Chen Khangba, where I remained that day and the next. For the first time since I parted with the brothers and the troublesome women, I felt safe, for I concluded that I was no longer in danger of being pursued by one of the murderous gang.

I saw only two priests in the temple, and I spent most of my time in stitching my worn-out boots and clothes.

***

To interpret correctly the aspirations of Tibetan Lamas, their ideals, or the final goal which they strive to attain, it may safely be said that their main purpose in entering the priesthood is only to procure the largest possible amount of fortune, as well as the highest possible fame in that entirely secluded world of theirs. To seek religious truth and to practise religious austerities with a view to acquiring knowledge and character sufficient to carry out the noble work of delivering men and leading them to salvation, is not at all what they wish to do. If they study, they do so as a means of gaining reputation, of extending their influence, and mainly of accumulating wealth. They simply desire to escape from the painful struggle of life in the world of competition, and to enjoy lazy and comfortable days on earth as well as in heaven. Nine hundred and ninety-nine out of a thousand seem to have no conception of the problems of the future life, and there is nothing deep in their religious life. "It is more blessed to receive than to give" is their motto, and hence the monastic life, study and service, in its fullest sense, goes in their eyes for nothing. The reason why these priests and scholars, who ought to be the noblest and most unselfish of all men, have been brought to this state of apostasy, seems to be this.

In Tibet, the social estimation of priest and scholars is made, not according to their learning or virtue, nor yet according to the amount of good they have done for their fellow-men, but entirely according to the amount of property which they possess. Thus, a priest who owns an estate of a thousand dollars, however mean and ignorant he may be, is much more influential and far more highly esteemed in society than a learned and virtuous priest who lives on a small income. They believe in the almighty dollar, and twist S. Paul's saying: "Though I have the gift of prophecy, and understand all mysteries and all knowledge; and though I have all faith, so that I can remove mountains, and have not" money, "I am nothing." They are earnest therefore in making money, in whatever way they find profitable. Some of them, as I have said, are engaged in trade or industrial enterprises, and others in agriculture or stock-farming. Besides, it is their custom to appropriate to themselves the remuneration which they receive when they visit laymen's houses for the purpose of chanting the Sacred Text for them, in accordance with their priestly duty. It is pitiful to contemplate the condition of the students who, without scholarship or support, are preparing in the colleges for their degrees. They live hard struggling lives of study in the midst of want, and yet the only stimulus that encourages them is the expectation that they will be able to enjoy the comfortable life of high priests, when they have got through the prescribed course of study and have achieved the Doctorate. They do really suffer, but their sufferings are not, so far as I know, those of the man of self-denial who strives hard and struggles against difficulties for the noble ambition of winning souls to salvation, or for some humanitarian purpose; they are exceedingly patient in suffering, simply with the hope of reaping ease and comfort in the latter part of their lives. After a hard monastic life of some twenty years when they have completed the whole course of study, these poor students will have the honor of getting the Doctor's degree, a title implying the highest learning, but in undue proportion costly; for besides spending nearly half their lives in toils and struggles to get it, they have to give a grand feast to all their schoolmasters to celebrate their graduation. It is true, the feast consists only of meat gruel, a sort of porridge of meat mixed with rice, but the quantity given is enormous, as there are many capacious stomachs to be filled.

To give a feast of this sort requires some five hundred yen at the very least, each bowlful costing over twenty-five sen. Of course, the poverty-stricken priests cannot possibly provide the money themselves, but fortunately the diploma has its use this time; their credit has so much improved that the wealthy priests who turned up their noses at needy students are very willing now to supply them with the necessary money, simply because they have the degree and chance to pay interest. By the means of this convenient credit transaction they can procure the means of giving the necessary banquet and the wealthy priests get not only credit for their generosity, but also interest for their money. But nothing is more disappointing than the future life of those poor priests, who will probably never succeed in paying off the burden of debt, or, if exceptionally fortunate, they may succeed in doing so only after long and hard struggles.

It is a sad thing to contemplate, but such is the hard lot of most Tibetan priests.

-- Three Years in Tibet, by Shramana Ekai Kawaguchi
Unlike, however, the Buddhism of the Burmese, it is not an educational factor, for the Lamas restrict their learning to themselves, as indeed did the Brahmans, and most priestly orders of old, and they contemptuously call the laity "the dark (ignorant) people,"2 "the worldly ones,"3 or "the givers of alms."4 And certainly the last epithet is well deserved, for the Tibetans, while, perhaps, the most priest-ridden people in the world, are amongst the most pious and the most lavish in their religious gifts. The popular name for a Lama is "Father," as with Roman priests.