Part 2 of 3
The other sects accepted the situation, as they were indeed forced to do; and all now, while still retaining each its own separate hierarchical system, acknowledge the Grand Lama of Lhasa to be the head of the Lamaist church, in that he is the incarnation of the powerful Buddhist deity Avalokita. And they too adopted the attractive theory of the re-incarnate succession and divine reflexes.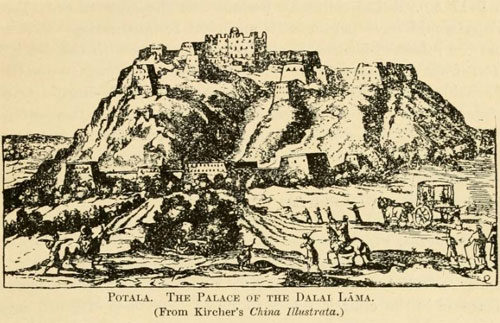 Potala. The Palace of the Dalai Lama. (From Kircher's China Illustrata.)
It is not easy to get at the real facts regarding the origin and development of the theory of re-incarnate Lamas, as the whole question has been purposely obscured, so as to give it the appearance of antiquity.

It seems to me that it arose no earlier than the fifteenth century, and that at first it was simply a scheme to secure stability for the succession to the headship of the sect against electioneering intrigues of crafty Lamas, and was, at first, a simple re-incarnation theory; which, however, must not be confused with the orthodox Buddhist theory of re-birth as a result of Karma, for the latter is never confined in one channel. On the contrary, it holds that the spirit of the deceased head Lama is always reborn in a child, who has to be found by oracular signs, and duly installed in the vacant chair; and he on his death is similarly reborn, and so on ad infinitum, thus securing, on quasi-Buddhistic principles, continuous succession by the same individual through successive re-embodiments.

The first authentic instance of re-incarnate Lamas which I can find is the first of the Grand Lamas of the Ge-lug-pa, namely, Ge-den-dub. Had this theory been invented prior to Tson K'apa's death in 1417 A.D., it is practically certain that the succession to Tson K'apa would have begun with an infant re-incarnation. But we find the infant re-incarnationship only beginning with the death of Tson K'apa's successor, namely, his nephew and pupil, Ge-den-dub aforesaid; and from this epoch the succession to the Ge-lug-pa Grand Lamaship has gone on according to this theory. As the practice worked well, it was soon adopted by the Lamas of other sects, and it has so extended that now nearly every great monastery has its own re-incarnate Lama as its chief, and some have several of these amongst their higher officials.
The more developed or expanded theory, however, of celestial Lama-reflexes, which ascribes the spirit of the original Lama to an emanation (Nirmana kaya, or, changeable body)5 from a particular celestial Buddha or divine Bodhisat, who thus becomes incarnate in the church, seems to me to have been of much later origin, and most probably the invention of the crafty Dalai Lama Nag-wan, or Gyal-wa Na-pa,6 about 150 years later. For, previous to the time when this latter Grand Lama began to consolidate his newly-acquired temporal rule over Tibet, no authentic records seem to exist of any such celestial origin of any Lamas, and the theory seems unknown to Indian Buddhism.7 And this Dalai Lama is known to have taken the greatest liberties with the traditions and legends of Tibet, twisting them to fit in with his divine pretensions, and to have shaped the Lamaist hierarchy on the lines on which it now exists.
This Dalai Lama, Gyal-wa Na-pa, is the first of these celestial incarnate Lamas which I can find. He was made, or, as I consider, made himself, to be the incarnation of the most popular Buddhist divinity possible, namely, Avalokita, and to the same rank were promoted the four Grand Lamas who preceded him, and who, together with himself, were identified with the most famous king of Tibet, to wit, Sron Tsan Gampo, thus securing the loyalty of the people to his rule, and justifying his exercise of the divine right of kings; and to ensure prophetic sanction for this scheme he wrote, or caused to be written, the mythical so-called history, Mani kah-'bum. It was then an easy task to adjust to this theory, with retrospective effect, the bygone and present saints who were now affiliated to one or other of the celestial Buddhas or Bodhisats, as best suited their position and the church. Thus, Tson K'apa, having been a contemporary of the first Grand Lama, could not be Avalokitesvara, so he was made to be an incarnation of Manjusri, or "the god of wisdom," on whom, also, Atisa was affiliated as the wisest and most learned of the Indian monks who had visited Tibet; and so also King Thi Sron Detsan, for his aid in founding the order of the Lamas.

It also seems to me that Na-pa was the author of the re-incarnate Lama theory as regards Tashi-lhunpo monastery and the so-called double-hierarchy; for an examination of the positive data on this subject shows that the first re-incarnate Lama of Tashi-lhunpo dates only from the reign of this Na-pa, and seven years after his accession to the kingship of Tibet.

Tashi-lhunpo monastery was founded in 1445 by Geden-dub, the first Grand Ge-lug-pa Lama, who seems, however, to have mostly lived and to have died at De-pung.

It will be noticed from the list of Tashi Grand Lamas8 that Geden-dub, the founder of Tashi-lhunpo, contrary to the current opinion of European writers, does not appear as a Tashi Lama at all. This official list of Tashi-lhunpo, read in the light of the biographies of these Lamas,9 clearly shows that previous to the Lama who is number two of the list, and who was born during the latter end of Dalai Lama Na-pa's reign as aforesaid, none of the Tashi-lhunpo Lamas were regarded as re-incarnations at all. The first on this list, namely, Lo-zan Ch'o-kyi Gyal-ts'an, began as a private monk, and travelled about seeking instruction in the ordinary way, and not until his thirty-first year was he promoted to the abbotship, and then only by election and on account of distinguished ability. It is also interesting to note that on the death, in 1614, of the fourth Grand Lama of the Ge-lug-pa (named Yon-tan), whom he had ordained, he was installed in the abbotship at Gah-ldan monastery, and in 1622, at the age of 53, he initiated, as fifth Grand Lama, the infant Na-pa, who was then seven years old, and who afterwards became the great Dalai Lama.

And he continued to be the spiritual father and close friend and adviser of Na-pa, and seems to have begun those political negotiations which culminated in the cession of Tibet to his protege. When he died, in 1662, his spiritual son Na-pa, who was 47 years old, and had been 22 years in the kingship, promptly re-incarnated him, and also made him out to be his own spiritual father, even as regards the divine emanation theory. Thus the new-born babe was alleged to be an incarnation of Avalokita's spiritual father, Amitabha, the Buddha of Boundless Light; and he was given a considerable share in the management of the established church. This, however, merely perpetuated the relations which had actually existed between these two Grand Lamas as father and son, and which had worked so well, and had such obvious political advantages in providing against interregnums.

In the hierarchical scheme of succession by re-incarnate Lamas, the Lhasa Grand Lama, who wields the sovereign power, thus gave himself the highest place, but allotted the Tashi-lhunpo Grand Lama a position second only to his own. Below these come the other re-incarnate Lamas, ranking according to whether they are regarded to be re-embodiments of Indian or of Tibetan saints. The former class are called "the higher incarnations" or Tul-Ku,10 and by the Mongols Khutuktu. They occupy the position of cardinals and archbishops. The lowest re-incarnate Lamas are regarded as re-embodiments of Tibetan saints, and are named ordinary Tul-ku or "Ku-s'o,"11 or by the Mongols Khublighan or Hoblighan; these mostly fill the post of abbots, and rank one degree higher than an ordinary non-re-incarnate abbot, or K'an-po, who has been selected on account of his proved abilities. Most of these so-called re-incarnate Lamas are by a polite fiction credited with knowing all the past life and deeds of individuals, not only in the present life, but also in former births.
In the unreformed sects, where the priests are not celibate, the children succeed to the headship.
The ordinary hierarchical distinctions of grades and ranks have already been noted in describing the organization of the order.
The greatest of the Lama hierarchs, after the Grand Lamas of Lhasa and Tashi-lhunpo, are the great Mongolian Lama at Urgya, the Sas-kya Lama, and the Dharma Raja of Bhotan, this last being practically independent of Lhasa, and the temporal ruler of Bhotan. Here also may be mentioned the female incarnate goddess, "The diamond sow" of Yam-dok Lake monastery.
The following list of Tibetan popes, the Grand Lamas of Lhasa, is taken from the printed list.12 The birth-dates are given upon the authority of a reliable, trustworthy Lamaist calculator.13
List of Grand (Dalai) Lamas or Popes.

No. / Name. / Birth. [A.D.] / Death. [A.D.] / Remarks.

1 / dGe-'dun grub-pa / 1391 / 1475 / --
2 / dGe-'dun rGya-mts'o / 1475 / 1543 / --
3 / bSod-nams rGya-mts'o / 1543 / 1589 / --
4 / Yon-tan rGya-mts'o / 1589[14] / 1617 / --  
5 / Nag-dban blo-bsan rGya-mts'o / 1617 / 1682 / First "Dalai."  
6 / Ts'ans-dbyans rGya-mts'o / 1683[15] / 1706 / Deposed & murdered.
7 / sKal-bzan rGya-mts'o / 1708 / 1758 / --
8 / 'Jam-dpal rGya-mts'o / 1758 / 1805[16[ / --
9 / Lun-rtogs rGya-mts'o / 1805[17] / 1816 / Seen by Manning.
10 / Ts'ul-K'rims rGya-mts'o / 1819[18] / 1837 / --
11 / mK'as-grub rGya-mts'o / 1837 / 1855 / --
12 / 'P'rin-las rGya-mts'o / 1856 / 1874 / --
13 / T'ub-bstan rGya-mts'o / 1876 / -- / Present pope.
The Dalai Lama looks very brave. His eye-brows are very high, and he is very keen-eyed. Once a Chinese phrenologist remarked that the Tibetan Pope would bring about war one day, to the great disturbance of the country, for though brave-looking, he had an unlucky face. Whether the prophesy comes true or not, he really looks the very man of whose face a phrenologist would be sure to say something. He has a very sharp and commanding voice, so that one could not but pay reverence in his presence. From my long acquaintance with the Dalai Lama, during which I heard and saw much of him and had frequent interviews with him, I judge that he is richer in thoughts political than[318] religious. He was bred in Buddhism, and in it he has great faith, and he is very anxious to clear away all corruption from the Buddhism and Buddhists in Tibet.

But political thoughts are working most busily in his mind. He seems to fear the British most, and is always thinking how to keep them from Tibet. He seems to give full scope to all designs calculated to check the encroaching force of the British. I could plainly see this while remaining near him.

Had he not been on his guard, however, which he always is, he must have been poisoned by his retainers. He has often been on the point of being poisoned, and each time his caution has detected the conspiracy and the intriguers were put to death.

None of the five Dalai Lamas from the fourth to the ninth in Tibet reached their twenty fifth year; all were poisoned when eighteen or twenty-two years old. This is almost an open secret in Tibet, and the reason is that, if a wise Dalai Lama is on the throne, his courtiers cannot gratify their selfish desires.

Some of these seem to have been wise Dalai Lamas, for they received special education until they were twenty-two or three years old. History proves that they have written books to instruct the people.

I could not help shedding tears when the ex-Papal Minister of Finance, at whose house I was staying at one time, told me about the fate of the predecessors of the present Dalai Lama. The Papal Court is a den of disloyal thieves who go by the name of courtiers, and they do all they can to neutralise the force of the few loyal courtiers, who are too weak to do anything against them. The ex-Minister for Finance was among the ill-fated party driven out of the court by these toadies, who pretended to pay great reverence to the sacred Monarch before the people, simply because they could not otherwise stay in their offices. When anything happened against their [319]interests, they conspired to communicate with one another and to accuse falsely the loyal courtiers. They would often go so far as to slander them shamelessly, and say that such and such a person had been guilty of a disrespectful act against the Dalai Lama.

In this subtle way some wicked courtiers turned honest scholars or priests out of the court, and the Dalai Lama is surrounded by these pretended loyalist devils. Hence he is so dangerously situated, that he is obliged to pay the greatest attention to what is offered him to eat, lest some poison should have been put in it. I could not but shed tears for him, when I thought that there could be no court on earth so full of wicked courtiers. But the present Dalai Lama is so prudent and particular that these evil doers can get no chance of doing anything against him. Still, he is really in great danger. He is wise for his age, for, young as he is, he seems to have great sympathy with the afflicted, and is much respected, and indeed almost worshipped, by his people, though much disliked by the evil local governors, whom he has been known to punish, to deprive of their estates, and to imprison for their evil deeds.

-- Three Years in Tibet, by Shramana Ekai Kawaguchi
The first Grand Lama, Ge-'dun-dub, was born near Sas-kya, and not far from the site whereon he afterwards founded Tashi-lhunpo. His successors, up to and inclusive of the fifth, have already been referred to in some detail.
On the deposition and death of the sixth Grand Lama for licentious living, the Tartar king, Gingkir Khan, appointed to Potala the Lama of C'ag-poh-ri, named Nagwan Yeshe Gya-mts'o, into whom the sorcerers alleged that, not the soul but the breath of the former Grand Lama had passed. It was soon announced, however, that the sixth Grand Lama was re-born in the town of Lithang as Kal-zan, the son of a quondam monk of De-pung monastery. This child was imprisoned by the Chinese emperor, who had confirmed the nominee of the Tartar king, until the war of 1720, when he invested him with spiritual rule at Lhasa; but again, in 1728, deposed him, as he was privy to the murder of the king of Tibet. So he set in his place the Lama "Kiesri" Rimpoch'e, of the Chotin monastery, four days' journey from Lhasa.19 He seems latterly to have returned to power, and during his reign in 1749, the Chinese put his temporal vice-regent to death, when the people flew to arms and massacred the Chinese.20

The ninth is the only Grand Lama of Lhasa ever seen by an Englishman. He was seen by Manning in 1811, while still a child of six years old. Manning relates that: "The Lama's beautiful and interesting face and manner engrossed almost all my attention. He was at that time about seven years old; had the simple and unaffected manners of a well-educated princely child. His face was, I thought, poetically and affectingly beautiful. He was of a gay and cheerful disposition, his beautiful mouth perpetually unbending into a graceful smile, which illuminated his whole countenance. Sometimes, particularly when he looked at me, his smile almost approached to a gentle laugh. No doubt my grim beard and spectacles somewhat excited his risibility. . . . He enquired whether I had not met with molestations and difficulties on the road," etc.21 This child died a few years afterwards, assassinated, it is believed, by the regent, named Si-Fan.

The tenth Grand Lama also dying during his minority, and suspicions being aroused of foul play on the part of the regent, the latter was deposed and banished by the Chinese in 1844, at the instance of the Grand Lama of Tashi-lhunpo, and a rising of his confederates of the Sera monastery was suppressed.22

The eleventh also died prematurely before attaining his majority, and is believed to have been poisoned by the regent, the Lama of Ten-gye-ling. A young Lama of De-pung, named Ra-deng,23 was appointed regent, and he banished his predecessor "Pe-chi," who had befriended Huc; but proving unpopular, he had eventually to retire to Pekin, where he died.24 Pe-chi died about 1869, and was succeeded by the abbot of Gah-ldan.

The twelfth Grand Lama was seen in 1866 by one of our Indian secret surveyors, who styles him a child of about thirteen, and describes him as a fair and handsome boy, who, at the reception, was seated on a throne six feet high, attended on either side by two high rank officials, each swaying over the child's head bundles of peacock feathers. The Grand Lama himself put three questions to the spy and to each of the other devotees, namely: "Is your king well?" "Does your country prosper?" "Are you yourself in good health?" He died in 1874, and his death is ascribed to poison administered by the regent, the Tengye-ling head Lama.
The thirteenth is still (1894) alive. He was seen in 1882 by Sarat Candra Das, whose account of him is given elsewhere.
The Tashi-lhunpo Grand Lamas are considered to be, if possible, holier even than those of Lhasa, as they are less contaminated with temporal government and worldly politics, and more famous for their learning, hence they are entitled "The precious great doctor, or Great gem of learning" (Pan-ch'en Rin-po-che),25 or Gyal-gon26 Rin-po-ch'e, or "The precious lordly victor." The Sa-kya Grand Lamas had been called "Pan-ch'en," or the "Great doctor" from the twelfth century, but have ceased to hold the title since the era of the Dalai Lamas, when the established church appropriated it to itself.
The following list of "Tashi" Lamas is taken from that printed at the monastery itself. 27
List of "Tashi" Grand Lamas.
No. / Name. / Birth. [A.D. / Death. [A.D.] / Remarks.

1 / bLo-bzan ch'os-kyi rgyal-mts'an / 1569 / 1662 / --
2 / bLo-bzan ye-she dpal bzan-po / 1663 / 1737 / --
3 / bLo-bzan dpal-ldan ye-s'es / 1738[28] / 1780 / Bogle's friend, installed 1743.
4 / rJe-bstan pahi nima / 1781 / 1854 / Seen by Turner.
5 / rJe-dpal-ldan ch'os-kyi grags-pa bstan-pahi dban p'yug / 1854 / 1882 / Died in August.
6 / -- / 1883 / -- / Installed last week of February, 1888.
The third Tashi Lama was the friend of
Mr. Bogle
, who seems to be the only European who had the advantage of close and friendly intercourse with one of the Grand Lamas. Mr. Bogle gives us a delightful glimpse into the amiable character of this holy man.29
"The Lama was upon his throne, formed of wood carved and gilt, with some cushions about it, upon which he sat cross-legged. He was dressed in a mitre-shaped cap of yellow broad-cloth with long bars lined with red satin; a yellow cloth jacket, without sleeves; and a satin mantle of the same colour thrown over his shoulders. On one side of him stood his physician with a bundle of perfumed sandal-wood rods burning in his hand; on the other stood his So-pon Chumbo30 or cup-bearer. I laid the governor's presents before him, delivering the letter and pearl necklace into his own hands, together with a white Pelong handkerchief on my own part, according to the custom of the country. He received me in the most engaging manner. I was seated on a high stool covered with a carpet. Plates of boiled mutton, boiled rice, dried fruits, sweet-meats, sugar, bundles of tea, sheeps' carcasses dried, etc., were set before me and my companion, Mr. Hamilton. The Lama drank two or three dishes of tea along with us, asked us once or twice to eat, and threw white Pelong handkerchiefs on our necks at retiring.
"After two or three visits, the Lama used (except on holidays) to receive me without any ceremony, his head uncovered, dressed only in the large red petticoat which is worn by all the gylongs, red Bulgar hide boots, a yellow cloth vest with his arms bare, and a piece of yellow cloth thrown around his shoulder. He sat sometimes in a chair, sometimes on a bench covered with tiger skins, and nobody but So-pon Chumbo present. Sometimes he would walk with me about the room, explain to me the pictures, make remarks on the colour of my eyes, etc. For, although venerated as God's vicegerent through all the eastern countries of Asia, endowed with a portion of omniscience, and with many other divine attributes, he throws aside in conversation all the awful part of his character, accommodates himself to the weakness of mortals, endeavours to make himself loved rather than feared, and behaves with the greatest affability to everybody, especially to strangers.
"Teshu Lama is about forty years of age, of low stature, and though not corpulent, rather inclining to be fat. His complexion is fairer than that of most of the Tibetans, and his arms are as white as those of a European; his hair, which is jet black, is cut very short; his beard and whiskers never above a month long; his eyes are small and black. The expression of his countenance is smiling and good-humoured. His father was a Tibetan, his mother a near relation of the Rajas of Ladak. From her he learned the Hindustani language, of which he has a moderate knowledge, and is fond of speaking it. His disposition is open, candid, and generous. He is extremely merry and entertaining in conversation, and tells a pleasant story with a great deal of humour and action. I endeavoured to find out in his character those defects which are inseparable from humanity, but he is so universally beloved that I had no success, and not a man could find in his heart to speak ill of him....
"Among the other good qualities which Teshu Lama possesses is that of charity, and he has plenty of opportunities of exercising it.
The country swarms with beggars
, and the Lama entertains besides a number of fakirs (religious mendicants), who resort hither from India. As he speaks their language tolerably well he every day converses with them from his windows, and picks up by this means a knowledge of the different countries and governments of Hindustan. ... He gives them a monthly allowance of tea, butter, and flour, besides money, and often bestows something considerable upon them at their departure. The Gosains who are thus supported at the Lama's expense may be in number about one hundred and fifty, besides about thirty Musulman fakirs. For although the genius of the religion of Muhamad is hostile to that of the Lama, yet he is possessed of much Christian charity, and is free from those narrow prejudices which, next to ambition and avarice, have opened the most copious source of human misery." And observing the universal esteem in which the Grand Lama is held by the monks and people, the looks of veneration mixed with joy with which he is always regarded, Mr. Bogle adds "one catches affection by sympathy, and I could not help, in some measure, feeling the same emotions with the Lama's votaries,31 and I will confess I never knew a man whose manners pleased me so much, or for whom, upon so short an acquaintance, I had half the heart's liking."32
This Grand Lama, soon after Bogle's departure, died of smallpox. He had, in response to the invitation of the Chinese emperor, set out for Pekin, attended by 1,500 troops and followers, and sumptuous provision was made for his comfort during the whole of the long journey in Chinese territory. The emperor met him at Sining, several weeks' march from Pekin, and advanced about forty paces from his throne to receive him, and seated him on the topmost cushion with himself and at his right hand. To the great grief of the empress and the Chinese the Lama was seized with small-pox, and died on November 12th, 1780. His body, placed in a golden coffin, was conveyed to the mausoleum at Tashi-lhunpo.33
His successor, while still an infant of about eighteen months, was seen by Captain Turner as the envoy of the British government This remarkable interview took place at the monastery of Terpa-ling.34 He found the princely child, then aged eighteen months, seated on a throne of silk cushions and hangings about four feet high, with his father and mother standing on the left hand. Having been informed that although unable to speak he could understand, Captain Turner said "that the governor- general on receiving the news of his decease in China was overwhelmed with grief and sorrow, and continued to lament his absence from the world until the cloud that had overcast the happiness of this nation was dispelled by his re-appearance .... The governor anxiously wished that he might long continue to illumine the world by his presence, and was hopeful that the friendship which had formerly subsisted between them would not be diminished...." The infant looked steadfastly at the British envoy, with the appearance of much attention, and nodded with repeated but slow motions of the head, as though he understood every word. He was silent and sedate, his whole attention was directed to the envoy, and he conducted himself with astonishing dignity and decorum. He was one of the handsomest children Captain Turner had ever seen, and he grew up to be an able and devout ruler, delighting the Tibetans with his presence for many years, and dying at a good old age.35 He is described by Huc36 as of fine majestic frame, and astonishing vigour for his advanced age, which was then about sixty.
The Mongolian hierarch at Urgya-Kuren, in the Khalka country, is called "His holy reverence," or Je-tsun Dam-pa"37 and is regarded as an incarnation of the celebrated historian Lama, Taranatha, who, it will be remembered, was of the Sa-kya sect, which had identified itself with Mongolian Lamaism, having introduced the religion there and given the translations of the gospels. Urgya monastery was doubtless founded by the Sa-kya-pa. However this may be, on the development of the reincarnate Lama theory, the Khalka38 Mongols fixed upon Taranatha as the source of the re-incarnations for their chief hierarch. And the Dalai Lama, Nag-pa, who had climbed into power on the shoulders of the Mongols, had to accept the high position thus accorded to Taranatha, whom he detested, but he, or one of his early successors, converted the monastery into a Ge-lug-pa institution.
The hierarch, Je-tsun Dam-pa, was the most powerful person in the whole of Mongolia39 during the reign of the emperor Kang-hi (1662-1723), and had his headquarters at Koukou-Khoton, or "Blue town," beyond the bend of the Yellow river, when the Khalkas quarrelled with the Kalmuks or Sleuths and escaped into territory under Chinese protection. The Kalmuks demanded the delivery of Je-tsun Dam-pa and his brother, the prince Tuschetu- Khan, which of course the emperor refused, and sought the mediation of the Dalai Lama. But the latter, or, rather, his regent (Tis-ri), for he had been defunct for seven years, to the emperor's surprise, advised the delivering up of these two princes, and such a decision was, perhaps, the first sign to him of the great fraud which was being enacted as Lhasa. To make matters worse, when the emperor was warring with the Kalmuks "he paid a visit to Je-tsun Dam-pa, and owing to some fancied want of respect on the part of the holy man, one of the emperor's officers drew his sword and killed him. This violence caused a tumult, and soon afterwards it was announced that Je-tsun Dam-pa had reappeared among the Khalkas, who threatened to avenge his former death. The emperor engaged the diplomatic interposition of the Dalai Lama, who succeeded in pacifying the Khalkas. But it was arranged that the future births of the Je-tsun Dam-pa should be found in Tibet, so that the Khalkas might not again have a sympathizing fellow-countryman as their high-priest."40
His "re-incarnation" is now always found in central or western Tibet. The present one is said to have been born in the bazaar (S'ol) of Lhasa city, and to be the eighth of the series. He is educated at the De-pung monastery as a Ge-lug-pa Lama; but the present one was carried off, when four or five years of age, to Urga, accompanied by a Lama of De-pung as tutor. A complete list of these hierarchs and fuller historical information in regard to them is much needed.41
The Sa-kya hierarchs, as we have seen, were once extremely powerful and almost de facto kings of Tibet. Although the Sa-kya hierarch is now eclipsed by the established church, he still retains the sympathy of the numerous adherents of the unreformed sects, and is now regarded by the Nin-ma-pa as their head and an incarnation of the Guru himself, and as such scarcely inferior to the Grand Lama of Lhasa. Sa-kya was founded, as we saw, by Kungah Nin-po, born in 1090 A.D., and became famous under Sa-kya Pandita, born 1180, and his nephew was the first of the great hierarchs.
The list of the earlier Sa-kya hierarchs, whose most prosperous era was from 1270 to 1340, is as follows42: —
List of SA-KYA HIERARCHS.

1. Sas-kya bsan-po.

2. S'an-btsun.

3. Ban-dKar-po.

4. Chyan-rin bsKyos-pa.

5. Kun-gs'an.

6. gS'an-dban.

7. Chan-rdor.

8. An-len.

9. Legs-pa-dpal.

10. Sen-ge-dpal.

11. 'Od-zer-dpal.

12. 'Od-ser-sen-ge.

13. Kun-rin.

14. Don-yod dpal.

15. Yon-btsun.

16. 'Od-ser Sen-ge II.

17. rGyal-va San-po.

18. Dban-p'yng-dpal.

19. bSod-Nam-dpal.

20. rGyab-va-Tsan-po II.

21. dBan-btsun.
Its head Lama is still called by the unreformed Lamas "Sa-kya Pan-ch'en."43 The succession is hereditary; but between father and son intervenes the brother of the reigning Lama and uncle of the successor, so as to secure an adult as holder of the headship.
The Bhotan hierarchy is still a strong one and combines the temporal rule of the country. It ousted all rival sects from the land, so that now it has its own sect, namely, the southern Duk-pa form of the Kar-gyu-pa. According to
Mr. (Sir Ashley) Eden
, the Bhotanese only overran the country about three centuries ago, displacing the then natives, who are said to have come originally from Koch Bihar. The invaders were Tibetan soldiers, over whom a Lama named "Dupgani Sheptun" acquired paramount influence as Dharma Raja. On his death the spirit of the Sheptun became incarnate in a child at Lhasa, who was conveyed to Bhotan. When this child grew up he appointed a regent for temporal concerns, called Deb Raja,44 but this latter office seems to have lapsed long ago, and the temporal power is in the hands of the lay governors (Pen-lo) of the country.
The head Lama is held to be re-incarnate, and is named Lama Rin-po-ch'e, also "The religious king" or Dharma Raja. His hat, as seen in the illustration at the head of this chapter,45 bears the badge of cross thunderbolts, and is surmounted by a spiked thunderbolt, typical not only of his mystical creed, but also of the thunder dragon (Dug), which gives its name to his sect — the Dug-pa. His title, as engraved on his seal figured by Hooker,46 describes him as "Chief of the Realm, Defender of the Faith, Equal to Sarasvati in learning, Chief of all the Buddhas, Head Expounder of the Sastras, Caster out of Devils, Most Learned in the Holy Laws, An Avatar of God, Absolver of Sins, and Head of the Best of all Religions."
List of the BHOTAN HIERARCHS.

1. Nag-dban rnam rgyal bdud 'jom-rdorje.

2. Nag-dban 'jig-med rtags-pa.

3. Nag-dban ch'os-kyi rgyal mtshan.

4. Nag-dban 'jig med dban po.

5. Nag-dban Shakya sen ge.

6. Nag-dban 'jam dbyans rgyal mts'an.

7. Nag-dban ch'os kyi dban p'ug.

8. Nag-dban 'jig-med rtags-pa (second re-incarnation).

9. Nag-dban 'jig-med rtags norbu.

10. Nag-dban 'jig-med rtags ch'os-rgyal — the present Great Bhotan Lama in 1892.
Each of these Grand Lamas has a separate biography (or nam- t'ar). The first, who was a contemporary of the Grand Lama Sonam Gya-tsho, seems to have been married; the rest are celibate. A celebrated Lama of this Dug-pa sect was named Mi-pam ch'os-Kyi gyal-po.
The Dharma Raja resides, at least in summer, at the fort of Ta-shi-ch'o. The palace is a large stone building, with the chief house seven storeys high, described and figured by Turner and others. Here live over five hundred monks.
Bogle describes the Lama of his day as "a thin, sickly-looking man of about thirty-five years of age."47
He exercises, I am informed, some jurisdiction over Lamas in Nepal, where his authority is officially recognized by the Gorkha government.
The number of the lesser spiritual chiefs held to be re-embodied Lama saints is stated48 to be one hundred and sixty, of which thirty are in Tibet (twelve being "Shaburun"), nineteen in north Mongolia, fifty-seven in south Mongolia, thirty-five in Kokonor, five in Chiamdo and the Tibetan portion of Sze-ch'wan, and fourteen at Pekin. But this much under-estimates the number in Tibet.
Amongst the re-embodied Lamas in western Tibet or Tsang are Sen-c'en-Rin-po-ch'e,49 Yanzin Lho-pa, Billun, Lo-ch'en, Kyi- zar, Tinki, De-ch'an Alig, Kanla, Kon (at Phagri). In Kham, Tu, Ch'amdo, Derge, etc.
The Lamaist metropolitan at Pekin is called by the Tibetans "lC'an-skya," and is considered an incarnation of Rol-pahi Dorje. His portrait is given in the annexed figure. He dates his spiritual descent from a dignitary who was called to Pekin during the reign of K'ang Hi, probably about 1690-1700 A.D., and entrusted with the emperor's confidence as his religious vicegerent for inner Mongolia.50 In Ladak only four monasteries have resident re-incarnate Lamas or Ku-s'o. Although they are of the red sect, these head Lamas are said to be educated at Lhasa. The present (1893) re-incarnate Lama of Spitak, the seventeenth of the series, is thus described by Captain Ramsay.51 "A youth, 26 years of age, who lately returned from Lhasa, where he had been for 14 years. He was handsomely dressed in a robe made of a particular kind of dark golden-coloured and yellow embroidered China silk, which none but great personages are allowed to wear, and he had on Chinese long boots, which he did not remove when he entered the house. His head and face were closely shaved, and one arm was bare. On entering the room he bowed, and then presented the customary 'scarf of salutation,' which I accepted. He impressed me very favourably; his manner and general appearance was superior to anything I had seen among other Lamas or people of Ladak."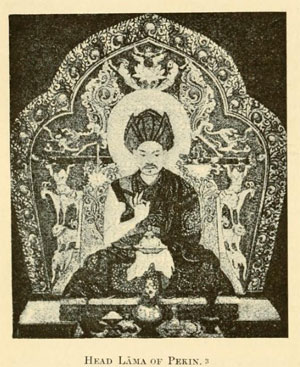 Head Lama of Pekin.52
In Sikhim, where few Lamas are celibate and where the Labrang Lama is the nominal head of the fraternity with the title of "Lord protector" (sKyab mGron), the fiction of re-incarnation was only practised in regard to the Pemiongchi and La-brang monasteries, but has ceased for several generations. In Sikhim, too, the same tendency to priest-kingship cropped out. Several of the Sikhim kings were also Lamas; and when the king was not a monk, the Lamas retained most of the temporal power in their hands; and the first king of Sikhim was nominated by the pioneer Lamas; and the ancestor of the present dynasty, a descendant of the religious king, Thi-Sron Detsan, one of the founders of Lamaism, was canonized as an incarnation of the Buddhist god, Manjusri.
The female re-incarnation, the abbess of the monastery of the Yamdok lake, who is considered an embodiment of the goddess Vajra varahi, or "The diamond sow," is thus described by Mr. Bogle53: "The mother went with me into the apartment of Durjay Paumo, who was attired in a gylong's dress, her arms bare from the shoulders, and sitting cross-legged upon a low cushion. She is also the daughter of the Lama's (Tashi) brother, but by a different wife. She is about seven and twenty, with small Chinese features, delicate, though not regular fine eyes and teeth;
her complexion fair, but wan and sickly; and an expression of languor and melancholy in her countenance, which I believe is occasioned by the joyless life that she leads.
She wears her hair, a privilege granted to no other vestal I have seen; it is combed back without any ornament, and falls in tresses upon her shoulders. Her Cha-wa (touch), like the Lamas', is supposed to convey a blessing, and I did not fail to receive it. Durjay Paumo spoke little. Dr. Hamilton, who cured her of a complaint she had long been subject to, used to be there almost every day."