Part 2 of 4
Ziegenbalg's Founts of Wisdom
Since La Croze's idea of the religion of the Indies was so much based on Ziegenbalg's published and unpublished writings and on letters written by Indians, some basic questions about them need to be posed. Who were these "numerous Indians" who in a short timespan wrote so many letters to Ziegenbalg and insisted so stridently on the monotheism of Indian religion that god-fearing Europeans including Voltaire were astonished? And who were these Gnanigol, the authors of the Indian texts whose translations so much inspired Ziegenbalg, La Croze, and their readers?
When Ziegenbalg arrived in the small Danish colony of Tranquebar on the coast south of Madras (Chennai) in 1706, he first had to learn some Portuguese; but before long he decided that only a thorough knowledge of the local Tamil language would let him communicate freely with the natives. His first teacher of Tamil did not understand Portuguese, and progress was very slow because of the lack of a dictionary and grammar. But he soon met an eminent native who seemed to be the answer to his prayers:
We got to know a Malabar who used to be the head [of the Tamil community] here [in Tranquebar] but had been evicted from the town and county [by Danish authorities] because of a certain reason. Since he spoke good Portuguese, Danish, Dutch, and German, we employed him as translator and managed to get permission for him and his family to return to town. (Letter of Sept. 22, 1707; Jeyaraj 2003:281)
It was this gifted man, Alakappan or Aleppa, who introduced Ziegenbalg to the intricacies of the Tamil language and to the vocabulary needed for his mission. Three months after his arrival Ziegenbalg wrote,
My old schoolmaster often discusses with me all day long, and this has already allowed me to become relatively familiar with their forms of religious worship [Gotterdienste]. I intend to make a Christian of him, and he has the hope to eventually turn me into a Malabar. Therefore he seeks to demonstrate everything so distinctly that I could not wish for anything better. (Lehmann 1956:40)
Daniel Jeyaraj thinks that, on the basis of the man's name, Aleppa was a Shaivite and argues that this could explain why Ziegenbalg dealt more with this branch devoted to the worship of the god Shiva than with rival forms of Hinduism (Jeyaraj 2003:282). The importance of Aleppa exceeds that of the Japanese Anjiro to Francis Xavier (who, as explained in Chapter I, caused such a fiasco in the early Japan mission). Aleppa was born around 1660 into a family (probably of higher Tamil Shudra caste) that had long worked for Europeans. Around 1700 he was "Ober-Tolk" (head translator) of the Danish trading company and the top representative of the Tamil inhabitants of the city (Grundler and Ziegenbalg 1998:18). It is not clear for what grave reasons this influential man was banished from Tranquebar; but his value to the mission is reflected both in the decision to let him return to the city and in his extraordinarily high yearly salary of 100 thalers, which surpassed even that of European employees (p. 20). After two years of work with the missionaries, Aleppa was again expelled in 1709. However, the missionaries managed to keep him on their payroll as collaborator from afar. And collaborate he did: in 1710-11 he was even imprisoned by the king of neighboring Tancavur for having "revealed all the secrets of their law and worship [Gesetzes und Gottesdienstes]" to the missionaries (p. 21).
Aleppa clearly played a central role in Ziegenbalg's introduction to me Malabar language and religion, but his influence did not end there. When Ziegenbalg and his associate Grundler needed more European support and were preparing for Ziegenbalg's journey to Germany, Denmark, and England, they paid Aleppa to write letters from exile in answer to the missionaries' questions. These answers were almost immediately translated or edited, annotated, and sent to Europe where they were published; but since Aleppa was in exile and could for various reasons not be named as a source, the missionaries decided to omit all names of correspondents. They tried to create the impression that these letters came from many different informants, and their habit of sometimes splitting a single letter into several pieces (p. 27) that supposedly came from different correspondents enhanced the readers' impression that a substantial number of Indians were involved. The first batch of fifty-five letters was printed in 1714 with a preface emphasizing that "all of these letters without exception are from heathens of the most understanding kind" who write so excellently about God that "one could hardly find better ones with the ancient Greeks and Romans, and many so-called Christians will rightly feel ashamed" (pp. 42-43). Though me Indian heathens had no way of knowing Christ "through the light of nature" and had to be saved "from their misery and blindness," the "Christian readers could not but be pleased, and the atheists ashamed, that even these heathens recognize a single supreme being and are convinced that all men can know with absolute certainty that there is a lord who created this world and everything in it" (p. 44).
Here the letter collection's preface refers to letter number 6, which is "written by someone who read and copied many books of the Christian religion in his language" (p. 115). Though unnamed, this man was, of course, Aleppa; and as in many other letters, he wonders why the missionaries, whom he had orally informed in such detail, wanted him to write about things that they already perfectly knew. The missionaries had obviously asked him to send, against payment of course, a whole series of letters with answers to their questions. The task set for this particular letter was to explain the difference between Christianity and his own religion (p. 116). Aleppa began his explanation as follows:
You know me very well and are already well aware of the limits of my knowledge and my utter incapacity of demonstrating such a difference of religion [Gesetz] -- all the more since I was about 15 years old when I entered your [colonial] services and could not yet read nor write well, not to speak of knowing something about the doctrines of our religious texts [Gesetzbucher] .... Since I know many things of your religion [Gesetz] and was educated in my best years not so much according to our but rather according to your ways, it is very difficult and even impossible for me to write about a true difference between these religions [Gesetze] based on your and our religious texts [Gesetzbucher]. But to show you my good will, I will briefly write down my opinion .... All men can know with the utmost certainty that there is a lord who created the world and everything in it. (pp. 116-17)
Time and again, Aleppa wrote to the missionaries that they already knew what they wanted him to explain, and I think that this was not just a polite formula: "You know everything much better than what I can write" (p. 49); "I also know that you already know more about our doctrines [Lehrsatze] than I can write" (p. 89); "You are those who know everything and understand what can be learned by men .... Concerning theology, wisdom, and virtue, I know nothing that you do not already know and understand; you have read and understood much more about this, and I do not presume to instruct people such as you" (p. 114).
Of course, Aleppa was well informed about the missionaries' knowledge; after all, he had been instrumental in teaching them his language and religion, and as their highest-paid, best connected, and most knowledgeable employee, he was also deeply involved in their effort to collect and study the Tamil texts listed in the Bibliotheca Malabarica of 1708. Ignorant about the planned use of his letters for raising mission funds in Europe, he could not figure out why the missionaries wanted letters about things he had so much discussed with them over the years. He expressed his puzzlement once more at the beginning of the twelfth letter:
In the year Nandanawaruschum [1712], October 15. I, N., inform the two reverends in Tranquebar that thanks to your prayers I am to date well and without the slightest ill. You desire to know something from me, namely, if we Malabars worship one God or many gods. But can it be that you are in this matter ignorant, you who have for such a long time heard all our doctrines and read in our books and have also preached against [our doctrines] to us? But since you so desire, I will write what I know about it and what everybody knows. (p. 141)
After this interesting introduction, Aleppa repeats what he apparently learned so well since his youth and discussed so many times with the missionaries:
The fact that God is a unique God [einiger Gott] is known and professed by all. ... We also say that among all [gods] there is only one who is the highest being, called at times Barabarawastu [Skt. paraparavastu, divine substance] and at times Tschiwen [Shiva], Tschatatschiwum [Skt. sadasiva, eternally graceful one], or Barabiruma [Skt. para-brahma, supreme Brahman]. This God has created all others, given each of them his duties and tasks, and ordered that they must be worshipped and prayed to. All of this is written in our law [Gesetz] and is commanded in old history books. Therefore it is among us everywhere customary to pray to the said persons. At the same time it is written in our books of law that God promised various modes of recompensation to those who worship such persons and accept them in faith and love. (p. 142)
The ordinary people of South India were thus depicted as fundamentally monotheistic, even though they had a tendency to worship the true God under different names and forms. But Aleppa also mentioned radical monotheists:
Other than that, there are also people among us who worship God the supreme being alone and always honor only this lord while they renounce everything in the world in order to keep contemplating God in their heart at all times. It is said of these [Gnanigol] that God unites with them and transforms them into himself [in sich verwandele], and also that they become invisible in the world. (p. 142)
The first fifty-five Malabar letters were published in 1714 (reprints in 1718 and 1735) and the remaining forty-four in 1717 (reprints in 1718 and 1735). A number of them soon were excerpted in English translation (Philipps 1717; Ziegenbalg and Grundler 1719), and in 1724, La Croze quoted numerous passages from Ziegenbalg's correspondence and manuscripts.6 Only in 1729, five years after the publication of La Croze's book, did readers of the Halle mission reports first learn that these letters "were mostly written by the translator of the erstwhile missionaries, Arhagappen [Aleppa], who remains a heathen, when he lived nearby and earned his living from this [letter writing] while in exile" (Grundler and Ziegenbalg 1998:17). Though some scholars still believe that many different letter authors were involved, the tone and content of the vast majority of the letters point to a single author who on occasion interviewed knowledgeable persons in his vicinity. The sequence of the first fifty-five letters supports this; the first is from October 2, 1712, and the fifty-fifth from December 10 of the same year. This comes to a bit less than one letter a day, and I may not be too wrong in hypothesizing that Aleppa was contracted to write about one letter per day. In October 1712, twenty-three letters were written, and a letter-free day is often followed by a day with two letters. Though Aleppa certainly integrated information gained from others and sometimes apologizes for drawing only on his own knowledge, these letters for the most part reflect Aleppa's views, which were, of course, developed during his long acquaintance with Europeans, his Western-style education, his years as an official interpreter, and especially his prolonged daily contact with the missionaries in his function as teacher, informant, and translator. He clearly tried to present his own religion in the best light and had adopted the Europeans' fundamental conviction that monotheism was good, while polytheism and idol-worship were evil and the devil's work. In this way European readers, including La Croze, thus read, in a manner of saying, Aleppa's correspondence course on Tamil religion that reflects his earlier lessons to the German missionaries and their discussions. The European readership learned about Indian monotheism from the very man who had introduced Ziegenbalg to Indian religions and had helped him find texts that supported this idea of Indian monotheism.
Ignorance and Wisdom
Ziegenbalg's Tamil treatises are a sort of correspondence course in the opposite direction. To explain how heathendom arose, for example, the missionary informed his Tamil readers that Ananam (Skt. ajnana, ignorance) came into this world through the cunning of Picacu (Skt. pisaca, ghost, goblin) and man's offense. Ziegenbalg pointed out that ajnana (which for him signified idolatrous heathendom) is present when, instead of the true God, only his creatures are worshipped. Only the manusa-avataram (Skt. manusavatara, human manifestation) of Christ could bring true motcam (Skt. moksa, liberation) and conclusively exterminate ajnana (Jieyaraj 2003:311-12).
Aleppa was not the only source of this kind of terminology. Though Ziegenbalg had expected to be sent to Africa and came to India quite unprepared for his task, he was a fast learner-and a lucky one to boot. During a phase of persecution in a neighboring region, a Jesuit missionary's library was stored in Tranquebar, and Ziegenbalg found himself suddenly in possession of much interesting materials that included a Tamil translation of the New Testament. This stroke of luck made him an heir to Jesuit research on terminology that had flourished since the days of Roberto de Nobili. In the Bibliotheca Malabarica of 1708, Ziegenbalg already listed sixteen Roman Catholic works and wrote that he had corrected five of them to such an extent that they could be used by his Protestant flock "without any problem" (p. 291- 92). At this early stage he thus began to employ de Nobili's loaded terminology; for example, he often used the word Caruvecuran (Skt. sarvesvara, lord of all) for God. According to Jeyaraj (2003:292), the twenty-six Tamil sermons of de Nobili contain many words picked up by Ziegenbalg -- for example, the Tamil words for God, angels, devil, world, man, soul, death, salvation, remission, and eternal life. Ziegenbalg's Tamil community was likely to learn, just like de Nobili's flock a century earlier, how important it is for manusan (Skt manusa, man) to avoid pavam (Skt. papa, evil), to embrace punniyam (Skt. punya, virtue), and to worship Caruvecuran (Skt. sarvesvara, lord of all) in the form of Barabarawastu (Skt. paraparavastu, divine substance) because there is no other path to the other shore (karai-erutal) of motcam (Skt. moksa, liberation) (p. 292).
Apart from terms for God such as Caruvecuran and Barabarawastu, the juxtaposition of jnana (knowledge, wisdom) and ajnana (ignorance) was particularly important for Ziegenbalg's view of Indian religions and his mission enterprise. The title of the first pamphlet from the brand-new Tamil mission press in Tranquebar reads: "The Veta-pramanam (Skt. vedapramana, Vedic norm) demonstrating that akkiyanam [ajnana] must be detested and how those in akkiyanam can be saved" (pp. 309-10). In the very first sentence Ziegenbalg comes straight to the point: "We have come to you in order to save you from akkiyanam" (Grafe 2004:83-84). Grafe summarizes the pamphlet's contents as follows:
(1) What is a-jnana? -- It is idol worship and moral perversion according to Rom. 1:21-32. (2) How a-jnana spread in this world. -- It did so because of the devil's deceit and men's guilt and not because of God. (3) There is much a-jnana in the whole of Tamilnadu. (4) How detestable a-jnana is. -- Because by a-jnana soul and body will be perverted and punished. (5) How God is helping those in a-jnana to be saved. -- Jesus Christ took upon himself the burden of a-jnana and delivers from ajnana saving soul and body. (6) What the things are which those who wish to be saved from a-jnana have to do .... (7) The trials and tribulations which those who give up a-jnana and enter the Church experience in the world for the sake of righteousness. (8) The benefits promised to those who give up a-jnana, accept true religion and stand in the Christian faith unshaken. (p. 84)
It is clear that Ziegenbalg used the word ajnana (ignorance) for sin, heathendom, and idolatry. On the other hand, ajnana (knowledge or wisdom) stood for monotheism and the acceptance of Jesus as savior. For Ziegenbalg, ajnana involves the veneration of false devas and the worship of vikrakams (Skt. vigraha, forms or shapes) made of earth, wood, stone, and metal. By contrast, jnana signifies the exclusive worship of Baribarawastu (Skt. paraparavastu, divine substance). The point Aleppa kept making in his apologetic letters was exactly that his native religion was fundamentally a monotheistic jnana, rather than a heathen ajnana, and it seems that he was highly motivated to help the missionaries find Tamil texts that proved exactly this point. The text that Ziegenbalg most often quotes to illustrate Indian monotheism was already used by de Nobili for the very same purpose: the Civavakkiyam, a fourteenth-century collection of poems by Civavakkiyar who belongs to the Tamil Siddha tradition.
Although the Tamil tradition speaks of eighteen Siddhas and posits a line of wandering saints and sannyasis from Tirumular (sixth century) to Tayumanavar (1706-44), most of the noted Siddhas flourished between the fourteenth and eighteenth centuries (Kailasapathy 1987:387). From the beginning, the antibrahmanical and antihierarchical tendency of Siddha writings was prominent, as in Tirumular's oft-quoted lines, "Caste is one and God is one" (p. 386). But the God referred to here is not exactly the one whom de Nobili and Ziegenbalg worshipped, and this saying does not signify "mankind is one and God is one." Rather, as Kailasapathy explains, Tirumular meant that "insofar as religious worship was concerned, all castes are equal and the only god is Shiva" (p. 386). Yet this movement fought against "the extreme antagonism between the Vedic religions (Shaivism, Vaishnavism) and the non-Vedic or heterodox religions (Buddhism, Jainism and the Ajivika faith)" and tried to overcome virulent sectarianism of various sorts. Its poetry, written in colloquial style, was attractive and quite popular. For example, verse 1533 of Tirumular reads:
Those who follow the six religions know him not
Nor is he confined to those six faiths.
Seek and having sought cogitate in your mind
And then with our doubt you will gain salvation. (p. 387)
Of the more than fifty names associated with the way of the Siddhas (Siddha marga), that of the author of the Civavakkiyam (Aphorisms on Shiva) is best known. The author of these aphorisms, Civavakkiyar or Sivavakkiyar, is "without doubt the most powerful poetic voice in the entire galaxy of the Siddhas" and is best known for his skill in criticizing and ridiculing Hindu orthodoxy (p. 387-89). Though not forming a well-defined school of thought, the Siddhas "challenged the very foundations of medieval Hinduism: the authority of the Shastras, the validity of rituals and the basis of the caste system" (p. 389). According to Zvelebil, "almost all of them manifest a protest, often in very strong terms, against the formalities of life and religion; denial of religious practices and beliefs of the ruling classes" (1973:8). Tamil Siddhas were basically "all theists and believed in a transcendental God and his grace towards man," but they were not "idol-worshippers or believers in a supreme Person"; rather, they "believed in a supreme Abstraction" that they referred to as civam (Kailasapathy 1987:393).
The recurrent use by the Siddhas of the word civam (an abstract noun meaning "goodness," "auspiciousness" and the highest state of God, in which he exists as pure intelligence) in preference to the common term civan (meaning Shiva) makes this point very clear. In other words, they believed in an abstract idea of Godhead rather than a personal God. (p. 393)
Among the three Hindu religious paths to salvation (jnana, the way of knowledge; karma, the way of work; and bhakti, the way of devotion), the Siddhas emphasized the path of knowledge (p. 393). In the light of such explanations, it is easy to see why de Nobili and Ziegenbalg felt attracted to such poetry and in particular to Civavakkiyar who dared to refute deeply entrenched dogmas such as transmigration:
Milk does not return to the udder,
Likewise butter can never become butter-milk;
The sound of the conch does not exist once it is broken;
The blown flower, the fallen fruit do not go back to the tree;
The dead are never born again, never! (p. 401)
Siddha Civavakkiyar's work promotes civam mysticism and is critical not only of the worship of images and brahmans but also of the Vedas and Vedic practices. Zvelebil translates a typical verse as follows:
In the Four Eternal Vedas,
In the study and reading of scripts,
In sacred ashes and in Holy Writs
And muttering of prayers
You will not find the Lord!
Melt with the Heart Inside
and proclaim the Truth.
Then you will join the Light --
Life without servitude. (Zvelebil 1973:83)
Such Tamil Siddhas belonged to the class of men that Ziegenbalg referred to as "Gnanigol or the Wise" (Ziegenbalg 2003:40). "Gnanigol" is Ziegenbalg's transcription of the Tamil nanikal, which is the plural of nani (Skt. jnanin, a wise or knowing one). They are saints in the fourth path (pada) of Shaivite Siddhanta agama. Ziegenbalg called these four paths "Tscharigei" (carya, proper conduct), "Kirigei" (kriya, rites), "Jogum" (yoga, discipline), and "Gnanum" (jnana, knowledge). The Gnanigol are most frequently mentioned by Ziegenbalg, and quotations from their texts make up the bulk of his evidence for Indian monotheism. In the first chapter of his Genealogy, where he discusses the pure Indian conception of monotheism, Ziegenbalg explains:
One still finds here and there a few who destroy all idolatry [Gotzen-Wesen] and venerate this sole divine Being without images. Among them are those called Gnanigol or the Wise who have written only such books that lead exclusively to a virtuous life wherein only the sole God is to be worshipped. The most excellent among such books are: I) The Tschiwawaikkium [Civa-vakkiyam], in which polytheism along with many heathen errors is totally rejected in thoughtful verses and the worship of a single God is advocated. 2) The Diruwakkuwer,7 which treats of morality. 3) Nidisharum8 which presents some rules of life in in the form of parables. 4) Gnanawenpa9 which contains wisdom teachings and testimonies of the one God. (Ziegenbalg 2003:40)
The book that leads this list, the Civavakkiyam, is also the one that Ziegenbalg most frequently adduced in his discussions of Indian monotheism. La Croze's argument for Indian monotheism, too, is almost entirely illustrated by quotations from Ziegenbalg's rendering of verses by Civavakkyar.10 But there were also many other textual sources consulted by Ziegenbalg since he had become proficient in the Tamil language. In 1708, two years after his arrival in India, he wrote in the preface to his first translation of a Tamil morality text:
As soon as I became a bit familiar with their language and could converse with these heathen [in Tamil] about various topics, I was gradually freed from this prejudice [that they are a barbaric people] and could thus think better of them. When I finally arrived at the point where I could read their own books I became aware that the same philosophical disciplines as those of the learned in Europe are quite well taught among them and that they have a proper written law from which all theological matters must be derived and demonstrated. I was very much surprised by this and developed an enormous desire to become thoroughly instructed through their own scriptures regarding their heathendom. Acquiring one book after another, I spared neither time nor money; and now I have come to the point that, through diligent reading of their books and constant disputing with their Brahmans or priests, I am able to gain certain knowledge about them and discuss it rationally. (Ziegenbalg 1930:11)
As previously mentioned, having arrived in India in 1706 with a smattering of knowledge about Indian religions gathered mainly from Baldaeus and Alexander Ross's Pansebeia (1701) -- both of which also contained information from Abraham Roger (16S1)-Ziegenbalg thus soon found himself in a position not only personally to observe rituals and customs in and around Tranquebar but also to question knowledgeable Indians and to study Tamil scriptures intensively. In this way he could form an image of South Indian religion that was better informed than that of all predecessors. He was conscious of this when he asserted in the preface of Malabar Heathendom that his work was "not a pastiche cobbled together from other authors" but rather an account based on oral and written information from reliable Tamil sources (Ziegenbalg 1926:15).As he was quite aware that "his work could not be free of mistakes," he reserved the right to correct the given information "if in the future I should observe that I have erred," adding,
These heathens are very shifting [variabel] in their discourses. One tells me one thing and another something different. This is why I do not put much trust in their tales unless I heard something unanimously from many mouths. What I have read myself in their books is most worthy of trust. Since few heathens are very familiar [versiret] with their books, one must not rashly conclude that information in books is wrong when it is unfamiliar to these heathens. As soon as one discusses these matters with persons who are well read, one will see and hear that they confirm everything that I here allege on the basis of their books. (p. 15)
This kind of attitude motivated modern scholars to call Ziegenbalg's work "close to science" (wissenschaftsnah) and to praise his portrayal of Hindu practices and forms of faith as having been produced "from the inside, and relying on oral informants as well as (partly classical but partly also quite rare) indigenous textual sources" (Dharampal-Frick 2004:131). Such praise is often tempered by the observation that the late publication of Ziegenbalg's Malabar Heathendom (1926) and his other books prevented them from having a major influence on eighteenth-century Europe's view of Indian religions. However, Ziegenbalg's views found other channels to seep into the European mindset and ended up having a major impact both in Europe and in India.
[b]Hinduism Avant la Lettre[/.b]
Today Ziegenbalg's surprisingly modern approach and his innovative portrayal of Indian religion get increasing attention from researchers studying the European reception of Indian religion and particularly the Western "discovery" or "creation" of Hinduism. But neither the word "Hinduism" nor any of its cognates ever appear in Ziegenbalg's writings. Is the semantic field of what he calls "Malabar heathendom" more or less congruent with the modern concept of Hinduism? In the preface of Malabar Heathendom, Ziegenbalg uses, possibly as the first European author (Sweetman 2003:109), the term "Welt Religionen" (sic; world religions).
All inhabitants of the whole Earth are classified in four main religions [4 haupt Religionen], which are Jews, Christians, Mahometans, and heathens. The Jews are the least numerous people and are dispersed everywhere in the world. The Christians are a bit more numerous and have not only filled the whole of Europe but are also scattered in the other three parts of the world. The Mahometans are a very large people, have subjugated almost a one-third of the world, and spread everywhere. The heathens form the largest people and reside in the majority of regions on the globe. Among all of these four great world religions, the Devil has shown himself very busy trying to confuse the souls of men and seduce them to eternal damnation. (Ziegenbalg 1926:10)
Ziegenbalg's Malabar Heathendom shows him as an heir to earlier classification schemes. His classification of the world's religions is similar in structure to that of Bernhard Varenius (1649); his view of natural religion agrees with Edward Herbert's "five common notions" (1663); his conception of the heathen's symbolic worship and critique of Brahman priestcraft also conforms with Herbert's arguments; and his view of the fundamental theism of heathendom and the positive role of its knowledge in the fight against atheism has its counterpart in Alexander Ross (1653). Furthermore, his portrayal of the devil as the prime culprit in the degeneration process from a fundamentally good and monotheistic heathendom to polytheistic cults with abhorrent practices mirrors a tract by David Nerreter in the enlarged 1701 edition of Ross. But while Ziegenbalg's classification shows little originality in its overall structure and theoretical foundation, it features a very innovative view of Indian religions whose description in Ross was woefully inadequate and included hardly any knowledge gained since the sixteenth century.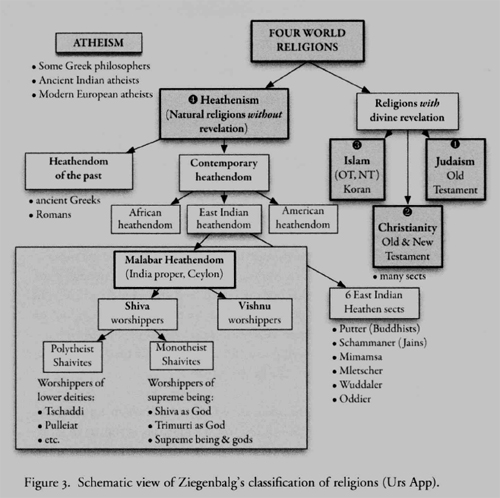 Figure 3. Schematic view of Ziegenbalg's classification of religions (Urs App).
Like Brerewood (1614) and many others, Ziegenbalg divided the world's religions in four basic categories (see Figure 3). The first three (Judaism, Christianity, and Islam) are based on divine revelation and rely on the whole or on parts of the Bible. But in spite of the dispersion of Christianity and the size of Islam, which has "subjugated almost one-third of the world," "heathendom" -- the fourth of Ziegenbalg's "great world religions" -- is by far the biggest and "occupies the largest part of the world" (Ziegenbalg 1926:9). While the devil played his part also in the Abrahamic religions by fracturing and perverting them and putting particularly the followers of Islam under his domination, the heathens were even more deceived by him (p. 10). Because they were deprived of God's revelation, it was even easier to pervert their natural monotheism and turn their sane reason toward various abominations. Ziegenbalg mentioned some major forms of heathendom (African, American, old European) but did not offer any scenarios of origin other than pointing to the devil. Instead he zoomed in on his area of expertise, the heathendom of the East Indies and the religious complex he called "Malabar heathendom."
This "Malabar heathendom" is distinguished in various ways from other religions. One way is geographical. According to Ziegenbalg, Malabar heathendom is prevalent in an area that more or less corresponds to the Indian subcontinent: "Malabar heathendom is spread far and wide in India so that many kingdoms, islands, peoples, and languages fall into its sphere. This heathendom reaches over the whole Coromandel coast far into Bengal; one reads in their books very many stories that are said to have happened there" (p. 23). But it spread beyond Bengal since "one also reads that many of their saints stayed in the large forests that are said to be beyond Bengal and underwent severe penances there" (p. 23). On the west coast of the Indian subcontinent, Malabar heathendom reigns from Ceylon all the way up north: "Thus all heathens in the Mogul empire are included in this heathendom; even though they otherwise are in many ways different and have separate sects among them, they worship the same gods" (p. 23).
In view of the obviously inconsistent usage of words such as "religion," "law" (Gesetz), and "sect," in the writings of Ziegenbalg, his associates, and Aleppa, it appears wise not to retroproject modern meanings on such terms and to dissect them. Rather, the multiple dimensions of Ziegenbalg's delimitation and characterization of Malabar heathendom deserve attention. So far we have seen that Ziegenbalg defined Malabar heathendom in terms of geography and worshipped divinities. Next he distinguishes two main traditions:
This whole widespread heathendom is divided into two important main sects. The first sect is called Tschiwasameian [Civacamayam; system of Shiva] and the second Wischtnusameiam [Visnucamayam; system of Vishnu]. All those who belong to the first sect regard Shiva or Ishvara as supreme God and pray to all gods that he befriended or stem from his lineage. In all their sacrifices, prayers, external ceremonies, fasts, and tenets [Lehrsatzen] they follow those books which are written about Shiva. All who belong to this sect smear ashes from burnt cow-dung on their forehead and on various parts of their body. (p. 23)
The second main sect of Ziegenbalg's Malabar heathendom regards Vishnu as the supreme God and follows the practices and doctrines prescribed in Vishnu-related texts. In general its adherents do not smear the ash of cow-dung on their bodies but rather draw symbols for their God on their forehead and other body pans using a particular kind of clay from the Mogul domain that is specially prepared for use as color. These colored symbols as well as signs burned into the skin characterize the outer appearance of the worshippers of Vishnu (p. 24).
Instead of pursuing Ziegenbalg's intricate descriptions of these two main traditions and their various subsects, doctrines, sanctuaries, secondary divinities, practices, and intersectarian conflicts, we now turn to some elements that link them and define them as parts of a single religious unit called "Malabar heathendom." Though Ziegenbalg wrote that the two main divisions of Malabar heathendom are "again divided into four kinds that are found both among the followers of Shiva (Tschiwapaddikaren) and those of Vishnu (Wischrnupaddikaren)" (p. 26) his explanations show that these "kinds" are nor subsects but rather "differens etats de la vie" (different stages of life), as La Croze put it (1724:450). As we have seen, these four stages on the religious path are "Tscharigei" (carya, proper conduct), "Kirigei" (kriya, rites), "Jogum" (yoga, discipline), and "Gnanum" (jnana, knowledge); and according to Ziegenbalg, these stages are identical for the followers of Shiva and Vishnu. The observances at each stage are different. The first stage is for householders who cannot strictly follow the prescribed observances; the second for those who strictly follow outer observances, for example, clergy like "the Brahmanes, Pantaren, and Antigol"; the third for those who do nor care about the many divinities and ceremonies but rather devote themselves single-mindedly to meditation, remain or become again celibate, and perform manifold austerities; and the fourth for those who have abandoned everything and reached "Gnanum or wisdom" (Ziegenbalg 1926:27). This fourth and highest stage is mar of the Gnanigol who have left behind all ignorance (ajnana) and who for Ziegenbalg represent the purest wisdom (jnana) of monotheism:
Those who have thus become Gnanigol nor only consider the ways of the world as foolish but also every other thing in which people seek bliss. They reject the many gods that others revere so much; as one of them writes in a book called Tschiwawaikkium [Civavakkyiam]: You are nothing but lies, prayer-formulas are lies, the disciplines of erudition are lies. Bruma and Wischtnum [Brahma and Vishnu] are fabricated lies, and Dewandiren [Devendra] too. Whoever abandons the lusts of the flesh that seem sweet as honey, dies to that which seems beautiful to the eyes, and hates the habits of man while worshipping only the True supreme being: to him all of these things appear as false and full of lies. (pp. 27-28)
Such saintly Gnanigol, Ziegenbalg emphasized, are found among both the worshippers of Shiva and those of Vishnu; "they lead a virtuous life after their fashion, worship only the supreme being of all beings, and lead their disciples and pupils toward a worship of God that is completely interior (p. 28). Clearly Ziegenbalg, the German Protestant and Pietist, found himself much attracted by such pure and austere piety, which stood in stark contrast to the somewhat Catholic ceremonies and the seemingly Jesuit haughtiness of the Brahmans.
Interestingly, Ziegenbalg linked these four stages of the religious path to the four Vedas, about whose content he knew practically nothing:
These heathens have among them four small books of law: 1. the Urukkuwedum [Rg veda]; 2. Iderwedum [Yajur veda]. 3. Samawedum [Sama veda]; 4. Adirwannawedum [Athatva veda]. From these four books of law originated the four kinds [Sorten] ... among the worshippers of Shiva and of Vishnu, that is, 1. Tscharigei; 2. Kirigei; 3. logum; 4. Gnanum. The first law (Veda), according to some, contains what the Tscharigeikarer or people of worldly professions ought to do in order to reach bliss through their worldly tasks. (p. 35)
The first Veda, according to Ziegenbalg's information, thus contained mainly "Mandirum [mantras] or prayer formulas" and the second Veda what was needed for those who wanted to be saved by works [Werckheilige] (p. 34). The third Veda, "according to some," has the instructions for Yogic practices, and "the fourth book of law is said to contain everything which the Gnanigol who have reached wisdom and sainthood ought to perform and do" (p. 35). Though Ziegenbalg repeatedly used formulae indicating that he had not himself seen any Veda and depended on unconfirmed information, the four Vedas were thus seen as the basic sacred scriptures for both main branches of Malabar heathendom. Together with "the six Sastirum which are called theological systems" and the "Eighteen Puranen" containing "the manifestations and miracles of their gods," they form a body of scriptures "of which they say and write that they stem from the gods inspiring their disciples who wrote them down" (p. 35). While the four Vedas and six Shastras are written in an ancient language (Sanskrit) and are "in very few people's hands" (p. 36), the eighteen Puranas are readily accessible even for the common people. Ziegenbalg writes that the Indians "regard these books as canonical," "revealed by the gods," and written down many hundreds of thousands of years ago in former world ages (p. 35). By contrast, the twenty-four Agamangol [agama] and the sixty-four Kaleikkianum or Books of Art are only read by scholars and are not regarded as revealed (pp. 35-36). Though Ziegenbalg does not use these terms and though attributions of texts vary, these two different kinds of texts are known as sruti (what is heard directly), that is, revealed scriptures, and smrti (memorized tradition), that is, texts by human authors.
In addition to the geographical definition, the fundamental faith in a supreme God, the common divinities, and the shared four stages of the religious career, Ziegenbalg's Malabar heathendom is thus also characterized by a common basis of divinely inspired sacred scriptures called Vedas that prescribe practices valid for all branches. Further characteristics of Malabar heathendom in Ziegenbalg's description are the caste system, the Brahman clergy, and the veneration of cows. Regardless of Ziegenbalg's use of terms like "religion" or "sect" -- and regardless of whether one finds the term Hinduism appropriate -- I thus conclude that the geographic as well as the semantic field of Ziegenbalg's "Malabar heathendom" matches that of "Hinduism" rather closely. But this is an appraisal that we can make only today on the basis of privileged access to Ziegenbalg's major works. Materials by Ziegenbalg that were published in the eighteenth century could not yet lead to such a conclusion. "Hinduism" was not yet born as a European category. Its creation in the European mind -- though not quite ex nihilo -- had to await an Irish gentleman by the name of Holwell (see Chapter 6).