Rolling Stone Images of Rock & Roll
Edited and Designed by Fred Woodward
Text by Anthony DeCurtis
© 1995 Rolling Stone Press
NOTICE: THIS WORK MAY BE PROTECTED BY COPYRIGHT
YOU ARE REQUIRED TO READ

THE COPYRIGHT NOTICE AT THIS LINK

BEFORE YOU READ THE FOLLOWING WORK, THAT IS AVAILABLE SOLELY FOR PRIVATE STUDY, SCHOLARSHIP OR RESEARCH PURSUANT TO 17 U.S.C. SECTION 107 AND 108. IN THE EVENT THAT THE LIBRARY DETERMINES THAT UNLAWFUL COPYING OF THIS WORK HAS OCCURRED, THE LIBRARY HAS THE RIGHT TO BLOCK THE I.P. ADDRESS AT WHICH THE UNLAWFUL COPYING APPEARED TO HAVE OCCURRED. THANK YOU FOR RESPECTING THE RIGHTS OF COPYRIGHT OWNERS.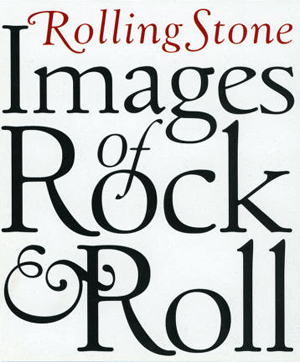 Table of Contents:
• Introduction
• The Look
• Sid Vicious's Version of Punk
• Photographers
• Clothes and Props
• Videos
• Hip Trappings of Success
• Buddy Holly
• Images
• Once an Artist ...
• In Portraits ...
• Celebrities
• Images of Rock & Roll
1. Johnny Cash (Jim Marshall, 1969)
2. Muddy Waters (Terry Cryer, 1958)
3. Marianne Faithfull (Gered Mankowitz, 1965)
4. Elvis Presley (Photographer Unknown, 1957)
5. Stu Sutcliffe and Paul McCartney (Astrid Kirchherr, 1961)
6. John Lennon (Astrid Kirchherr, 1962)
7. Yoko Ono (Annie Leibovitz, 1981)
8. Robert Plant; Jimmy Page (Herb Greene, 1969)
9. Eric Clapton; Steve Winwood (David Gahr, 1969)
10. Ike and Tina Turner (Dennis Hopper, 1966)
11. James Taylor (Norman Seeff, 1969)
12. Carly Simon (Norman Seeff, 1975)
13. Sid Vicious and Nancy Spungen (Photographer unknown, 1977)
14. Lou Reed (Andrew Kent, circa 1974)
15. Johnny Winter (Norman Seeff, 1970)
16. Janet Jackson (Yuru Elizondo, 1993)
17. Michael Jackson (Claude Gassian, 1984)
18. Elvis Presley (Bob Moreland, circa 1955)
19. K.D. Lang (Stephen Danelian, 1992)
20. Ray Charles (Jim Marshall, 1960)
21. Lightnin' Hopkins (Jean Pierre LeLoir, circa 1962)
22. Jim Morrison (Alan Ronay, 1971)
23. Snoop Doggy Dogg (Dan Winters, 1993)
24. Mississippi Fred McDowell (Baron Wolman, 1969)
25. B.B. King (The Hooks Brothers, 1949)
26. Flavor Flav (Jesse Frohman, 1992)
27. Aretha Franklin and Cholly Atkins (Photographer unknown, 1961)
28. Jackie Wilson (Photographer unknown, circa 1958)
29. Madonna (Peter Lindbergh, 1994)
30. Elvis Presley (Jean Cummings, 1956)
31. Jerry Lee Lewis (Photographer unknown, circa 1965)
32. Elton John (Barry Wentzell, 1973)
33. Paul Weller; Pete Townshend (Pennie Smith, 1978; 1982)
34. Patti Smith (Bill King, 1975)
35. Chubby Checker (Bill Ray, 1959)
36. Bill Haley and His Comets (Mickey Pallas, 1956)
37. Eddie Vedder (Chris Cuffaro, 1991)
38. Sam and Dave (Photographer unknown, circa 1967)
39. Van Morrison (Photographer unknown, circa 1967)
40. Howlin' Wolf (David Gahr, 1966)
41. Talking Heads (Godlis, 1977)
42. Stevie Wonder (Popsie Randolph, 1963)
43. Brenda Lee (Photographer unknown, 1960)
44. Iggy Pop (Claude Gassian, 1977)
45. Bobby "Blue" Bland (Photographer unknown, circa 1958)
46. Otis Redding (Photographer unknown, circa 1967)
47. Buddy Guy (Photographer unknown, early 1960s)
48. Bruce Springsteen (Chris Walter, 1981
49. The Beatles (Jim Marshall, 1966)
50. Kiss (Barry Levine, 1978)
51. Michael Stipe (Dennis Keeley, 1991)
52. Sinead O'Connor (Albert Watson, 1992)
53. Sade (Dorothy Low, 1992)
54. Perry Farrell (Kevin Westenberg, 1990)
55. Michael Hutchence (Julian Broad, 1993)
56. Robert Plant (Carl Dunn, 1970)
57. Joni Mitchell (Norman Seeff, 1976)
58. Bono (Anton Corbijn, 1993)
59. Jimi Hendrix (Gered Mankowitz, 1967)
60. Bob Marley (Dennis Morris, 1975)
61. Bryan Ferry (Albert Sanchez, 1987)
62. Pete Townshend (Baron Wolman, 1967)
63. Peter Gabriel (Raeanne Rubenstein, 1982)
64. The Supremes (Photographer unknown, circa 1963)
65. Carlos Santana (Joel Axelrad, circa 1973)
66. Deborah Harry (Roberta Bayley, 1979)
67. Chris Isaak (Lance Staedler, 1990)
68. John Lee Hooker (Mark Seliger, 1990)
69. David Bowie (Michael Putland, 1971)
70. Rod Stewart (Ian Dickson, 1974)
71. Brian Wilson (Annie Leibovitz, 1970)
72. Rickie Lee Jones (Annie Leibovitz, 1979)
73. Jeff Beck (Baron Wolman, 1968)
74. Alice Cooper (Annie Leibovitz, 1975)
75. Jimi Hendrix (Roz Kelly, 1969
76. David Bowie (Anton Corbijn, 1980)
77. Bjork (Laura Levine, 1991)
78. The Allman Brothers Band (Stephen Paley, 1969)
79. Janis Joplin (Bob Seidemann, circa 1966)
80. Red Hot Chili Peppers (Mark Seliger, 1992)
81. Axl Rose (Herb Ritts, 1991)
82. Sid Vicious (Bob Gruen, 1978)
83. Henry Rollins (Julian Broad, 1994)
84. Gene Vincent (Photographer unknown, circa 1957)
85. Cream (Art Kane, 1967)
86. Eurythmics (Claude Gassian, 1986)
87. Paul Simon (Raeanne Rubenstein, circa 1980)
88. Prince (Terry Gydesen, 1993)
89. Dr. Dre (Mark Seliger, 1993)
90. Michael Jackson (Barry Plummer, 1972)
91. Buddy Holly (Lewis Allen, circa 1958)
92. Peter Gabriel (Anton Corbijn, 1986)
93. Emmylou Harris (David Gahr, 1975)
94. Captain Beefheart (Anton Corbijn, 1980)
95. Viv Albertine (Anton Corbijn, 1980)
96. Van Morrison (Eliott Landy, 1969)
97. Robyn Hitchcock (Dan Borris, 1993)
98. Jackson Brown (Frank W. Ockenfels 3, 1993)
99. Carole King (Kurt Markus, 1992)
100. Leonard Cohen (Raeanne Rubenstein, circa 1970)
101. Sting (Kevin Westenberg, 1992)
102. Roger Daltry (Terry O'Neill, 1978)
103. The Rolling Stones (Arthur Elgort, 1981)
104. The Band (Elliott Landy, 1969
105. Bob Dylan (Elliott Landy, circa 1970)
106. Tom Waits (Frank W. Ockenfels 3, 1992)
107. Natalie Merchant (Jon Ragel, 1989)
108. Frank Zappa (David Gahr, 1967)
109. Billy Joel (Mary Ellen Mark, 1987)
110. David Bowie (Terry O'Neill, 1974)
111. Tom Petty (Mark Seliger, 1991)
112. Dwight Yoakam (Mark Seliger, 1993)
113. Village People (Bill King, 1979)
114. The Eagles (Henry Diltz, 1972)
115. Willie Dixon, Big Joe Williams, Memphis Slim (David Gahr, 1961)
116. The Beastie Boys (David LaChapelle, 1986)
117. Simon and Garfunkel (Photographer unknown, circa 1965)
118. Mick Jagger (Peter Anderson, 1981)
119. John Lydon (Anton Corbijn, 1983)
120. Janet Jackson (Yuru Elizondo, 1993)
121. Michael Hutchence (Enrique Badulescu, 1990)
122. Graham Nash (Graham Nash, 1974)
123. Frank Zappa (Norman Seeff, 1976)
124. Little Richard (Photographer unknown, 1962)
125. Fabian (Photographer unknown, 1959)
126. James Brown (Photographer unknown, 1967)
127. Mick Fleetwood and John McVie (Mark Seliger, 1992)
128. Arlo Guthrie (Mary Ellen Mark, 1969)
129. Mothers of Invention (Art Kane, circa 1968)
130. Courtney Love (Guzman, 1992)
131. Dion (Al Wertheimer, 1958)
132. Donovan (Chris Walter, circa 1965)
133. George Harrison (Jurgen Vollmer, 1961)
134. Chuck Berry (Jimmy Willis, 1957)
135. Bob Dylan (Eliott Landy, 1968)
136. Bruce Springsteen (David Michael Kennedy, 1982)
137. Neil Young (Joel Bernstein, 1971)
138. The Grateful Dead (Gene Anthony, circa 1967)
139. Johnny Cash (Photographer unknown, circa 1960)
140. Elvis Costello (Anton Corbijn, 1977)
141. Linda Ronstadt (Annie Leibovitz, 1976)
142. Bob Dylan and Joan Baez (Daniel Kramer, 1965)
143. Elvis Presley (Photographer unknown, 1957)
144. Patti Smith (Robert Mapplethorpe, 1978)
145. Mick Jagger (Terry O'Neill, 1963)
146. Snoop Doggy Dogg (Jean Baptiste Mondino, 1994)
147. Bo Diddley (Photographer unknown, circa 1958)
148. Isaac Hayes (Raeanne Rubenstein, circa 1980)
149. Kate Bush (Anton Corbijn, 1981)
150. Bonnie Raitt (Bill King, 1975)
151. David Byrne (William Coupon, 1979)
152. Iggy Pop (Robert Mapplethorpe, 1981)
153. Grace Jones (Steven Klein, 1990)
154. Lavern Baker (Photographer unknown, circa 1955)
155. Wilson Pickett (Jerry Schatzberg, 1967)
156. Grace Slick; Jerry Garcia (Herb Greene, 1966; 1967)
157. L. L. Cool J (Albert Watson, 1992)
158. Curtis Mayfield (Mark Seliger, 1993)
159. The Jefferson Airplane (Jim Marshall, 1967)
160. The Rolling Stones (Art Kane, circa 1969)
161. Marvin Gaye (Annie Leibovitz, 1972)
162. Kim Thayil; Chris Cornell (Frank W. Ockenfels 3, 1993)
163. Madonna (Peter Lindbergh, 1994)
164. Bootsy Collins (Dennis Keeley, 1988)
165. Natalie Cole (Peggy Sirota, 1993)
166. Steven Tyler (Dennis Keeley, 1989)
167. Ice-T (Mark Seliger, 1993)
168. Nirvana (Mark Seliger, 1992)