Part 1 of 3
Durga Puja
by Wikipedia
Accessed: 4/5/21
Ramakrishna ashrama's religious activities include satsang and arati. Satsang includes communal prayers, songs, rituals, discourses, reading and meditation. Arati involves the ceremonial waving of lights before the images of a deity of holy person and is performed twice in a day.

Ramakrishna ashramas observes major Hindu festivals, including Maha Shivarathri, Rama Navami, Krishna Ashtami and Durga Puja.

They also give special place to the birthdays of Ramakrishna, Sarada Devi, Swami Vivekananda and other monastic disciples of Ramakrishna.[29] 1 January is celebrated as Kalpataru Day.[30]

-- Ramakrishna Mission, by Wikipedia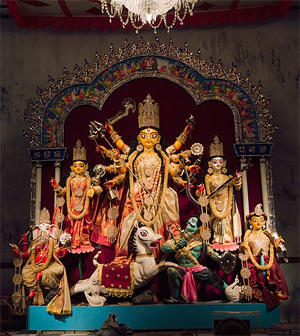 Durga Puja
Durga killing Mahishasura with her lion (replaced here with a horse). Lakshmi and Ganesha flank the left while Saraswati and Kartikeya flank the right
Observed by: Bengali, Odia, Maithils and Assamese communities as a socio-cultural and religious festival
Type: Hindu
Celebrations: Worshipping Hindu deities, family and other social gatherings, shopping and gift-giving, feasting, pandal visiting, and cultural events
Observances: Ceremonial worship of goddess Durga
Begins: On the sixth day of Ashwin shukla paksha[1]
Ends: On the tenth day of Ashwin shukla paksha[1]
2020 date: 22 October - 26 October
Frequency: Annual
Related to: Mahalaya, Navratri, Dussehra
Durga Puja (pronounced [dʊrɡa puːdʒa]), also called Durgotsava (pronounced [dʊrɡoːtsəʋə]), is an annual Hindu festival originating in the Indian subcontinent which reveres and pays homage to the Hindu goddess, Durga.[2][3]
It is particularly popular and traditionally celebrated in the Indian states of West Bengal, Assam, Odisha, Tripura and the country of Bangladesh, and the diaspora from this region, and also in Mithilanchal regions of Bihar and Nepal.
The festival is observed in the Indian calendar month of Ashwin, which corresponds to the months of September–October in the Gregorian calendar,[4][5] and is
a ten-day festival
,[6][2] of which the last five are of significance.[7][5] The puja is performed in homes and in the public, the latter featuring temporary stage and structural decorations (known as pandals). The festival is also marked by scripture recitations, performance arts, revelry, gift giving, family visits, feasting, and public processions. [2][8][9] Durga puja is an important festival in the Shaktism tradition of Hinduism.[10][11][12][/b][/size]
As per Hindu scriptures, the festival marks the victory of goddess Durga
in her battle against the shape-shifting asura, Mahishasura.[13][14][A]
Asuras (Sanskrit: असुर) are a class of beings in Indian religions. They are described as

power-seeking clans related to the more benevolent Devas (also known as Suras) in Hinduism. In its Buddhist context, the word is sometimes translated "titan, "demigod", or "antigod".

According to Hindu scriptures, the asuras battle constantly with the devas. Asuras are described in Indian texts as powerful superhuman demigods with good or bad qualities.

In early Vedic literature, the good Asuras are called Adityas and are led by Varuna, while the malevolent ones are called Danavas and are led by Vritra.[2](p 4)

In the earliest layer of Vedic texts Agni, Indra and other gods are also called Asuras, in the sense of their being "lords" of their respective domains, knowledge and abilities

. In later Vedic and post-Vedic texts, the benevolent gods are called Devas, while malevolent Asuras compete against these Devas and are considered "enemy of the gods".[2](pp 5–11, 22, 99–102)

-- Asura, by Wikipedia
"The Goddess or The queen of the warring weapons."

Lha-mo

(or pal-ldan-Lha-mo); Skt., Devi (or Sri-Devi). And also, in Tibetan, dMagzor rgyal-mo.

This great she-devil, like her prototype the goddess Durga of Brahmanism, is, perhaps, the most malignant and powerful of all the demons, and the most dreaded. She is credited with letting loose the demons of disease, and her name is scarcely ever mentioned, and only then with bated breath, and under the title of "The great queen" — Maha-rani.

She is figured, as at page 334, surrounded by flames, and riding on a white-faced mule, upon a saddle of her own son's skin flayed by herself. She is clad in human skins and is eating human brains and blood from a skull; and she wields in her right hand a trident-rod. She has several attendant "queens" riding upon different animals.

She is publicly worshipped for seven days by the Lamas of all sects, especially at the end of the twelfth month, in connection with the prevention of disease for the incoming year. And in the cake offered to her are added amongst other ingredients the fat of a black goat, blood, wine, dough and butter, and these are placed in a bowl made from a human skull.-- The Buddhism of Tibet, or Lamaism With Its Mystic Cults, Symbolism and Mythology, and in its Relation to Indian Buddhism, by Laurence Austine Waddell, M.B., F.L.S., F.R.G.S.
Thus, the festival epitomises

the victory of good over evil

[???!!!], though it is also in part a harvest festival celebrating the goddess as the motherly power behind all of life and creation.
[16][17] Durga puja coincides with Navaratri and Dussehra celebrations observed by other traditions of Hinduism,[18] in which the Ram lila dance-drama is enacted, celebrating the victory of Rama against Ravana, and effigies of Ravana are burnt.[19][20]
The primary goddess revered during Durga puja is Durga but celebrations also include other major deities of Hinduism such as Lakshmi (the goddess of wealth and prosperity), Saraswati (the goddess of knowledge and music), Ganesha (the god of good beginnings), and Kartikeya (the god of war). In Bengali and Odia traditions, these deities are considered to be Durga's children and Durga puja is believed to commemorate Durga's visit to her natal home with her beloved and nice children. The festival is preceded by Mahalaya, which is believed to mark the start of Durga's journey to her natal home. Primary celebrations begin on the sixth day (Shasthi), on which the goddess is welcomed with rituals.
The festival ends on the tenth day (Vijaya dashami), when devotees embark on a procession carrying the worshipped clay sculpture-idols to a river, or other water body, and immerse them, symbolic of her return to the divine cosmos and her marital home with Shiva in Kailash.
Regional and community variations in celebration of the festival and rituals observed exist.
Durga puja is an old tradition of Hinduism,[21] though its exact origins are unclear. Surviving manuscripts from the 14th—century provide guidelines for Durga puja, while historical records suggest that the royalty and wealthy families were sponsoring major Durga puja festivities since at least the 16th-century.[22][10] The prominence of Durga puja increased during the British Raj in the provinces of Bengal, Odisha and Assam
.[23][3] In today's time, the importance of Durga puja is as much as a social and cultural festival as a religious one, wherever it is observed.
Over the years, Durga puja has become an inseparable part of Indian culture with innumerable people celebrating this festival in their own unique way while pertaining to tradition.[3]
Names
In West Bengal, Odisha, Assam, and Tripura, Durga puja is also called Akalbodhan (literally, "untimely awakening of Durga"), Sharadiya pujo ("autumnal worship"), Sharodotsab ("festival of autumn"), Maha pujo ("grand puja"), Maayer pujo ("worship of the Mother"), Durga pujo,[24] or merely Puja or Pujo. In Bangladesh, Durga puja has historically been celebrated as Bhagabati puja.
Durga puja is also referred to by the names of related Shakta Hindu festivals such as Navaratri, celebrated on the same days elsewhere in India;[3] such as in Bihar, Jharkhand, Gujarat, Uttar Pradesh, Punjab, Kerala, and Maharashtra,[ b] Kullu dussehra, celebrated in Kullu Valley, Himachal Pradesh;[C] Mysore dussehra celebrated in Mysore, Karnataka;[D] Bommai golu, celebrated in Tamil Nadu; Bommala koluvu, celebrated in Andhra Pradesh;[E] and Bathukamma, celebrated in Telangana.
History and origins
Further information: Durga and Akaal bodhan
Durga is an ancient deity of Hinduism according to available archeological and textual evidence. However, the origins of Durga puja are unclear and undocumented. Surviving manuscripts from the 14th-century provide guidelines for Durga puja, while historical records suggest the royalty and wealthy families to be sponsoring major Durga Puja public festivities, since at least the 16th-century.[10]
The 11th or 12th-century Jain text Yasatilaka by Somadeva mentions an annual festival dedicated to a warrior goddess, celebrated by the king and his armed forces, and the description mirrors attributes of Durga puja.
[4][25]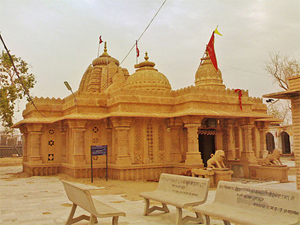 The Dadhimati Mata Temple of Rajasthan preserves a Durga-related inscription from chapter 10 of Devi Mahatmya. The temple inscription has been dated by modern methods to 608 CE.[26][27]
The name Durga, and related terms, appear in Vedic literature, such as in the Rigveda hymns 4.28, 5.34, 8.27, 8.47, 8.93 and 10.127,
Rigveda 4.28

HYMN XXVIII. Indra-Soma.

1. ALLIED with thee, in this thy friendship, Soma, Indra for man made waters flow together,

Slew Ahi, and sent forth the Seven Rivers, and opened as it were obstructed fountains.

2 Indu, with thee for his confederate, Indra swiftly with might pressed down the wheel of Sūrya.

What rolled, all life's support, on heaven's high summit was separated from the great oppressor.

3 Indra smote down, Agni consumed, O Indu, the Dasyus ere the noontide in the conflict.

Of those who gladly sought a hard-won dwelling he cast down many a thousand with his arrow.

4 Lower than all besides hast thou, O Indra, cast down the Dasyus, abject tribes of Dāsas.

Ye drave away, ye put to death the foemen, and took great vengeance with your murdering weapons.

5 So, of a truth, Indra and Soma, Heroes, ye burst the stable of the kine and horses,

The stable which the bar or stone obstructed; and piercing through set free the habitations.

Rigveda 5.34

HYMN XXXIV. Indra.

1. BOUNDLESS and wasting not, the heavenly food of Gods goes to the foeless One, doer of wondrous deeds.

Press out, make ready, offer gifts with special zeal to him whom many laud, accepter of the prayer.

2 He who filled full his belly with the Soma's juice, Maghavan, was delighted with the meath's sweet draught,

When Uśanā, that he might slay the monstrous beast, gave him the mighty weapon with a thousand points.

3 Illustrious is the man whoever presseth out Soma for him in sunshine or in cloud and rain.

The mighty Maghavan who is the sage's Friend advanceth more and more his beauteous progeny.

4 The Strong God doth not flee away from him whose sire, whose mother or whose brother he hath done to death.

He, the Avenger, seeketh this man's offered gifts: this God, the source of riches, doth not flee from sin.

5 He seeks no enterprise with five or ten to aid, nor stays with him who pours no juice though prospering well.

The Shaker conquers or slays in this way or that, and to the pious gives a stable full of kine.

6 Exceeding strong in war he stays the chariot wheel, and, hating him who pours not, prospers him who pours.

Indra the terrible, tamer of every man, as Ārya leads away the Dāsa at his will.

7 He gathers up for plunder all the niggard's gear: excellent wealth he gives to him who offers gifts.

Not even in wide stronghold may all the folk stand firm who have provoked to anger his surpassing might.

8 When Indra Maghavan hath marked two wealthy men fighting for beauteous cows with all their followers,

He who stirs all things takes one as his close ally, and, Shaker, with his Heroes, sends the kine to him.

9 Agni! I laud the liberal Agnivesi, Satri the type and standard of the pious.

May the collected waters yield him plenty, and his be powerful and bright dominion.

Rigveda 8.27

HYMN XXVII. Viśvedevas.

1. CHEIF Priest is Agni at the laud, as stones and grass at sacrifice:

With song I seek the Maruts, Brahmaṇaspati, Gods for help much to be desired.

2 I sing to cattle and to Earth, to trees, to Dawns, to Night, to plants.

O all ye Vasus, ye possessors of all wealth, be ye the furtherers of our thoughts.

3 Forth go, with Agni, to the Gods our sacrifice of ancient use,

To the Ādityas, Varuṇa whose Law stands fast, and the all-lightening Marut troop.

4 Lords of all wealth, may they be strengtheners of man, destroyers of his enemies.

Lords of all wealth, do ye, with guards which none may harm, preserve our dwelling free from foes.

5 Come to us with one mind to-day, come to us all with one accord,

Maruts with holy song, and, Goddess Aditi, Mighty One, to our house and home.

6 Send us delightful things, ye Maruts, on your steeds: come ye, O Mitra, to our gifts.

Let Indra, Varuṇa, and the Ādityas sit, swift Heroes, on our sacred grass.

7 We who have trimmed the grass for you, and set the banquet in array,

And pressed the Soma, call you, Varuina, like men, with sacrificial fires aflame.

8 O Maruts, Visinu, Aśvins, Pūṣan, haste away with minds turned hitherward to Me.

Let the Strong Indra, famed as Vṛtra's slayer, come first with the winners of the spoil.

9 Ye Guileless Gods, bestow on us a refuge strong on every side,

A sure protection, Vasus, unassailable from near at hand or from afar.

10 Kinship have I with you, and close alliance O ye Gods, destroyers of our foes.

Call us to our prosperity of former days, and soon to new klicity.

11 For now have I sent forth to you, that I may win a fair reward,

Lords of all wealth, with homage, this my song of praise. like a milch-cow that faileth not.

12 Excellent Savitar hath mounted up on high for you, ye sure and careful Guides.

Bipeds and quadrupeds, with several hopes and aims, and birds have settled to their tasks.

13 Singing their praise with God-like thought let us invoke each God for grace,

Each God to bring you help, each God to strengthen you.

14 For of one spirit are the Gods with mortal man, co-sharers all of gracious gifts.

May they increase our strength hereafter and to-day, providing case and ample room.

15 I laud you, O ye Guileless Gods, here where we meet to render praise.

None, Varuṇa and Mitra, harins the mortal, man who honours and obeys your laws.

16 He makes his house endure, he gathers plenteous food who pays obedience to your will.

Born in his sons anew he spreads as Law commands, and prospers every way unharmed.

17 E'en without war he gathers wealth, and goes hisway on pleasant paths,

Whom Mitra, Varuṇa and Aryaman protect, sharing the gift,of one accord.

18 E'en on the plain for him ye make a sloping path, an easy way where road is none:

And far away from him the ineffectual shaft must vanish, shot at him in vain.

19 If ye appoint the rite to-day, kind Rulers, when the Sun ascends,

Lords of all wealth, at sunset or at wakingtime, or be it at the noon of day,

20 Or, Asuras, when ye have sheltered the worshipper who goes to sacrifice, at eve

may we, O Vasus, ye possessors of all wealth, come then into the midst of You.

21 If ye to-day at sunrise, or at noon, or in the gloom of eve,

Lords of all riches, give fair treasure to the man, the wise man who hath sacrificed,

22 Then we, imperial Rulers, claim of you this boon, your wide protection, as a son.

May we, Ādityas, offering holy gifts, obtain that which shall bring us greater bliss.

Rigveda 8.47

HYMN XLVII. Ādityas.

1. GREAT help ye give the worshipper, Varuṇa, Mitra, Mighty Ones! No sorrow ever reaches him whom ye, Ādityas, keep from harm. Yours are incomparable aids, and good the succour they afford.

2 O Gods, Ādityas, well ye know the way to keep all woes afar.

As the birds spread their sheltering wings, spread your protection over us.

3 As the birds spread their sheltering wings let your protection cover us.

We mean all shelter and defence, ye who have all things for your own.

4 To whomsoever they, Most Wise, have given a home and means of life,

O'er the whole riches of this man they, the Ādityas, have control.

5 As drivers of the car avoid ill roads, let sorrows pass us by.

May we be under Indra's guard, in the Ādityas' favouring grace.

6 For verily men sink and faint through loss of wealth which ye have given.

Much hath he gained from you, O Gods, whom ye, Ādityas, have approached.

7 On him shall no fierce anger fall, no sore distress shall visit him,

To whom, Ādityas, ye have lent your shelter that extendeth far.

8 Resting in you, O Gods, we are like men who fight in coats of mail.

Ye guard us from each great offence, ye guard us from each lighter fault.

9 May Aditi defend us, may Aditi guard and shelter us,

Mother of wealthy Mitra and of Aryaman and Varuṇa.

10 The shelter, Gods, that is secure, auspicious, free from malady,

A sure protection, triply strong, even that do ye extend to us.

11 Look down on us, Ādityas, as a guide exploring from the bank.

Lead us to pleasant ways as men lead horses to an easy ford.

12 Ill be it for the demons' friend to find us or come near to us.

But for the milch-cow be it well, and for the man who strives for fame.

13 Each evil deed made manifest, and that which is concealed, O Gods,

The whole thereof remove from us to Trita Āptya far away.

14 Daughter of Heaven, the dream that bodes evil to us or to our kine,

Remove, O Lady of the Light, to Trita Āptya far away.

15 Even if, O Child of Heaven, it make a garland or a chain of gold,

The whole bad dream, whate'er it be, to Trita Āptya we consign.

16 To him whose food and work is this, who comes to take his share therein,

To Trita, and to Dvita, Dawn! bear thou the evil dream away.

17 As we collect the utmost debt, even the eighth and sixteenth part,

So unto Āptya we transfer together all the evil dream.

18 Now have we conquered and obtained, and from our trespasses are free.

Shine thou away the evil dream, O Dawn, whereof we are afraid. Yours are incomparable aids, and good the succour they afford.

Rigveda 8.93

Doesn't exist.

Rigveda 10.127

HYMN CXXVII. Night.

1. WITH all her eyes the Goddess Night looks forth approaching many a spot:

She hath put all her glories on.

2 Immortal. she hath filled the waste, the Goddess hath filled height and depth:

She conquers darkness with her light.

3 The Goddess as she comes hath set the Dawn her Sister in her place:

And then the darkness vanishes.

4 So favour us this night, O thou whose pathways we have visited

As birds their nest upon the tree.

5 The villagers have sought their homes, and all that walks and all that flies,

Even the falcons fain for prey.

6 Keep off the she-wolf and the wolf, O Urmya, keep the thief away;

Easy be thou for us to pass.

7 Clearly hath she come nigh to me who decks the dark with richest hues:

O Morning, cancel it like debts.

8 These have I brought to thee like kine. O Night, thou Child of Heaven, accept

This laud as for a conqueror.

-- The Rig Veda, translated by Ralph T. H. Griffith
0 references to "Durga" --

2 references to "Durgaha":

7 All beings know these deeds of thine thou tellest this unto Varuṇa, thou great Disposer!
Thou art renowned as having slain the Vṛtras. Thou madest flow the floods that were obstructed.
8 Our fathers then were these, the Seven his, what time the son of Durgaha was captive.
For her they gained by sacrifice Trasadasyu, a demi-god, like Indra, conquering foemen.

11 Beside a thousand spotted kine I have received a gift of gold,
Pure, brilliant, and exceeding great.
12 Durgaha's grandsons, giving me a thousand kine, munificent,
Have won renown among the Gods.

-- The Rig Veda, translated by Ralph T. H. Griffith
and in sections 10.1 and 12.4 of the Atharvaveda
[28][29][F]
Atharvaveda 10.1

BOOK X

HYMN I

A charm against witchcraft

1 Afar let her depart: away we drive her whom, made with hands, all-beautiful,

Skilled men prepare and fashion like a bride amid her nuptial train.

2 Complete, with head and nose and ears, all-beauteous, wrought with magic skill

Afar let her depart: away we drive her.

3 Made by a Sidra or a Prince, by priests or women let her go.

Back to her maker as her kin, like a dame banished by her lord.

4 I with this salutary herb have ruined all their magic arts,

The spell which they have cast upon thy field, thy cattle, or thy men.

All fall on him who doeth ill, on him who curseth fall the curse!

We drive her back that she may slay the man who wrought the witchery.

6 Against her comes the Angirasa, the Priest whose eye is over us.

Turn back all witcheries and slay those practisers of magic arts.

7 Whoever said to thee, Go forth against the foeman up the stream,

To him, O Krityā, go thou back. Pursue not us, the sinless ones.

8 He who composed thy limbs with thought as a deft joiner builds a car,

Go to him: thither lies thy way. This man is all unknown to thee.

9 The cunning men, the sorcerers who fashioned thee and held thee fast,--

This cures and mars their witchery, this, repellent, drives it back the way it came.

With this we make thee swim.

10 When we have found her ducked and drenched, a hapless cow whose calf hath died,

Let all my woe depart and let abundant riches come to me.

11 If, as they gave thy parents aught, they named thee, or at sacrifice,

From all their purposed evil let these healing herbs deliver thee.

12 From mention of thy name, from sin against the Fathers or the Gods,

These herbs of healing shall by prayer release thee, by power, by holy texts, the milk of Rishis.

13 As the wind stirs the dust from earth and drives the rain cloud from the sky,

So, chased and banished by the spell, all misery departs from me.

14 Go with a resonant cry, depart, like a she-ass whose cords are loosed.

Go to thy makers: hence! away! Go driven by the potent spell.

15 This, Krityā, is thy path, we say, and guide thee. We drive thee back who hast been sent against us.

Go by this pathway, breaking loose for onslaught even as a host complete with cars and horses.

16 No path leads hitherward for thee to travel. Turn thee from us: far off, thy light is yonder.

Fly hence across the ninety floods, the rivers most hard to pass. Begone, and be not wounded.

17 As wind the trees, so smite and overthrow them: leave not cow, horse, or man of them surviving

Return, O Krityā, unto those who made thee. Wake them from sleep to find that they are childless.

18 The charm or secret power which they have buried for thee in sacred grass, field, cemetery,

Or spell in household fire which men more cunning have wrought against thee innocent and simple,—

19 That tool of hatred, understood, made ready, stealthy and buried deep, have we discovered,

Let that go back to whence it came, turn thither like a horse and kill the children of the sorcerer.

20 Within our house are swords of goodly iron. Krityā, we know thy joints and all their places.

Arise this instant and begone! What, stranger! art thou seeking here?

21 O Krityā, I will cut thy throat and hew thy feet off. Run, begone!

Indra and Agni, Guardian Lords of living creatures, shield us well!

22 May Soma, gracious friend, imperial Sovran, and the world's Masters look on us with favour.

23 Bhava and Sarva cast the flash of lightning, the weapon of the Gods, against the sinner who made the evil thing, who deals in witchcraft!

24 If thou hast come two-footed or four-footed, made by the sorcerer, wrought in perfect beauty,

Become eight-footed and go hence. Speed back again, thou evil one.

25 Anointed, balmed, and well adorned, bearing all trouble with thee, go.

Even as a daughter knows her sire, so know thy marker, Krityā, thou.

26 Krityā, begone, stay not. Pursue as 'twere the wounded creature's track.

He is the chase, the hunter thou he may not slight or humble thee.

27 He waits, and aiming with his shaft smites him who first would shoot at him,

And, when the foeman deals a blow before him, following strikes him down.

28 Hearken to this my word; then go thither away whence thou hast come; to him who made thee go thou back.

29 The slaughter of an innocent, O Krityā, is an awful deed. Slay not cow, horse, or man of ours.

In whatsoever place thou art concealed we rouse thee up therefrom: become thou lighter than a leaf.

30 If ye be girt about with clouds of darkness, bound as with a net.

We rend and tear all witcheries hence and to their maker send them back.

31 The brood of wizard, sorcerer, the purposer of evil deed.

Crush thou, O Krityā spare not, kill those practisers of magic arts.

32 As Sūrya frees himself from depth of darkness, and casts away the night and rays of morning,

So I repel each baleful charm which an enchanter hath prepared;

And, as an elephant shakes off the dust, I cast the plague aside.

Atharvaveda 12.4

HYMN IV

On the duty of giving cows to Brāhmans, and the sin and danger of withholding the gift

1 Give the gift, shall be his word: and straightway they have bound the Cow

For Brāhman priests who beg the boon. That bringeth sons and progeny.

2 He trades and traffics with his sons, and in his cattle suffers loss.

Who will not give the Cow of Gods to Rishis children when they beg.

3 They perish through a hornless cow, a lame cow sinks them in a pit.

Through a maimed cow his house is burnt: a one-eyed cow destroys his wealth.

4 Fierce fever where her droppings fall attacks the master of the kine.

So have they named her Vasa, for thou art called uncontrollable.

5 The malady Viklindu springs on him from ground whereon she stands,

And suddenly, from fell disease, perish the men on whom she sniffs.

6 Whoever twitches up her ears is separated from the Gods.

He deems he makes a mark, but he diminishes his wealth thereby.

7 If to his own advantage one applies the long hair of her tail,

His colts, in consequence thereof die, and the wolf destroys his calves.

8 If, while her master owneth her, a carrion crow hath harmed her hair,

His young boys die thereof, Decline o'ertakes them after fell disease.

9 What time the Dāsi woman throws lye on the droppings of theCow,

Misshapen birth arises thence, inseparable from that sin.

10 For Gods and Brāhmans is the Cow produced when first she springs to life,

Hence to the priests must she be given: this they call guarding private wealth.

11 The God-created Cow belongs to those who come to ask for her.

They call it outrage on the priests when one retains her as his own.

12 He who withholds the Cow of Gods from Rishis' sons who ask the gift

Is made an alien to the Gods, and subject to the Brāhmans' wrath:

13 Then let him seek another Cow, whate'er his profit be in this.

The Cow, not given, harms a man when he denies her at their prayer.

14 Like a rich treasure stored away in safety is the Brāhmans' Cow.

Therefore men come to visit her, with whomsoever she is born.

15 So when the Brāhmans come unto the Cow they come unto their own.

For this is her withholding, to oppress these in another life.

16 Thus after three years may she go, speaking what is not understood.

He, Nārads! would know the Cow, then Brāhmans must be sought unto.

17 Whoso calls her a worthless Cow, the stored-up treasure of the Gods,

Bhava and Sarva, both of them, move round and shoot a shaft at him.

18 The man who hath no knowledge of her udder and the teats thereof,

She yields him milk with these, if he hath purposed to bestow the Cow.

19 If he withholds the Cow they beg, she lies rebellious in his stall.

Vain are the wishes and the hopes which he, withholding her, would gain.

20 The Deities have begged the Cow, using the Brāhman as their mouth:

The man who gives her not incurs the enmity of all the Gods.

21 Withholding her from Brāhmans, he incurs the anger of the beasts,

When mortal man appropriates the destined portion of the Gods.

22 If hundred other Brāhmans beg the Cow of him who owneth her,

The Gods have said, She, verily, belongs to him who knows the truth.

23 Whoso to others, not to him who hath this knowledge, gives the Cow,

Earth, with the Deities, is hard for him to win and rest upon.

24 The Deities begged the Cow from him with whom at first she was produced:

Her, this one, Nārada would know: with Deities he drove her forth.

25 The Cow deprives of progeny and makes him poor in cattle who

Retains in his possession her whom Brāhmans have solicited.

26 For Agni and for Soma, for Kāma, Mitra and Varuna,

For these the Brāhmans ask: from these is he who giveth not estranged.

27 Long as her owner hath not heard, himself, the verses, let her move

Among his kine: when he hath heard, let her not make her home with him;

28 He who hath heard her verses and still makes her roam among his kine.

The Gods in anger rend away his life and his prosperity

29 Roaming in many a place the Cow is the stored treasure of the Gods,

Make manifest thy shape and form when she would seek her dwelling-place.

30 Her shape and form she manifests when she would seek her dwelling-place;

Then verily the Cow attends to Brāhman priests and their request.

31 This thought he settles in his mind. This safely goeth to the Gods.

Then verily the Brāhman priests approach that they may beg the Cow

32 By Svadhā to the Fathers, by sacrifice to the Deities,

By giving them the Cow, the Prince doth not incur the mother's wrath.

33 The Prince's mother is the Cow: so was it ordered from of old.

She, when bestowed upon the priests, cannot be given back, they say.

34 As molten butter, held at length, drops down to Agni from the scoop,

So falls away from Agni he who gives no Cow to Brāhman priests.

35 Good milker, with rice-cake as calf, she in the world comes nigh to him,

To him who gave her as a gift the Cow grants every hope and wish.

36 In Yama's realm the Cow fulfils each wish for him who gave her up;

But hell, they say, is for the man who, when they beg, bestow her not.

37 Enraged against her owner roams the Cow when she hath been impregned.

He deemed me fruitless is her thought; let him be bound in, snares of Death!

38 Whoever looking on the Cow as fruitless, cooks her flesh at home,

Brihaspati compels his sons and children of his sons to beg.

39 Downward she sends a mighty heat, though amid kine a Cow she roams.

Poison she yields for him who owns and hath not given her away.

40 The animal is happy when it is bestowed upon the priests:

But happy is the Cow when she is made a sacrifice to Gods.

41 Nārada chose the terrible Vilipti out of all the cows Which the

Gods formed and framed when they had risen up from sacrifice

42 The Gods considered her in doubt whether she were a Cow or not.

Mirada spake of her and said, The veriest Cow of cows is she.

43 How many cows, O Nārada, knowest thou, born among mankind

I ask thee who dost know, of which must none who is no Brāhman eat?

44 Vilipti, cow, and she who drops no second calf, Brihaspati!

Of these none not a Brāhmana should eat if he hope for eminence.

45 Homage, O Nārada, to thee who hast quick knowledge of the cows.

Which of these is the direst, whose withholding bringeth death to man?

46 Vilipti, O Brihaspati, cow, mother of no second calf—Of these

none not a Brāhman should eat if he hope for eminence.

47 Threefold are kine, Vilipti, cow, the mother of no second calf:

These one should give to priests, and he will not offend Prajāpati.

48 This Brāhmans! is your sacrifice: thus should one think when he is asked,

What time they beg from him the Cow fearful in the withholder's house.

49 He gave her not to us, so spake the Gods, in anger, of the Cow.

With these same verses they addressed Bheda: this brought him to his death.

50 Solicited by Indra, still Bheda refused to give this Cow.

In strife for victory the Gods destroyed him for that sin of his.

51 The men of evil counsel who advise refusal of the Cow,

Miscreants, through their foolishness, are subjected to Indra's wrath.

52 They who seduce the owner of the Cow and say, Bestow her not.

Encounter through their want of sense the missile shot by Rudra's hand.

53 If in his home one cooks the Cow, sacrificed or not sacrificed.

Wronger of Gods and Brāhmans' he departs, dishonest, from the world.

-- The Hymns of the Atharvaveda, translated by Ralph T.H. Griffith (1895-6)