SHOULD WE ASK FOR THE SUFFRAGE?
by Mrs. Schuyler Van Rensselaer [Mariana Griswold Van Rensselaer]
NOTICE: THIS WORK MAY BE PROTECTED BY COPYRIGHT
YOU ARE REQUIRED TO READ

THE COPYRIGHT NOTICE AT THIS LINK

BEFORE YOU READ THE FOLLOWING WORK, THAT IS AVAILABLE SOLELY FOR PRIVATE STUDY, SCHOLARSHIP OR RESEARCH PURSUANT TO 17 U.S.C. SECTION 107 AND 108. IN THE EVENT THAT THE LIBRARY DETERMINES THAT UNLAWFUL COPYING OF THIS WORK HAS OCCURRED, THE LIBRARY HAS THE RIGHT TO BLOCK THE I.P. ADDRESS AT WHICH THE UNLAWFUL COPYING APPEARED TO HAVE OCCURRED. THANK YOU FOR RESPECTING THE RIGHTS OF COPYRIGHT OWNERS.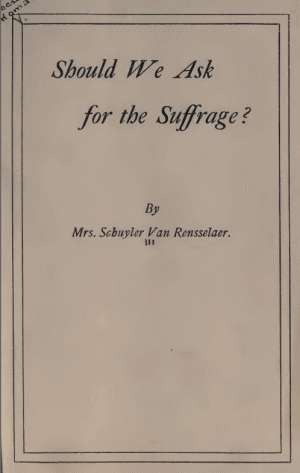 This leads up to the fact that the first war-cry of the still unborn republic, "No taxation without representation," is falsely quoted now as a war-cry for woman suffrage. There is no true connection, historical or ethical, between representation as our forefathers then meant it and universal suffrage. Their cry had no reference to individual powers or privileges. It was a collective cry from an oppressed people, practically enslaved because their interests — not themselves individually — were not represented in the British Parliament. If the interests of the women of America, collectively considered, are not represented at the polls, then they too may consider themselves oppressed and enslaved, and refuse to pay their taxes.

The true basis of the justice of taxation is not the permission to take active part in the Government. "The protection of the Government," says Judge Cooley in his "Law of Taxation," "being the consideration for which taxes are demanded, all parties who receive, or are entitled to that protection, may be called upon to render the equivalent." If our Government does not recognize the equal claims of men and women to receive its protection, or if, when it fails to give equal protection in certain respects, we can show that only woman suffrage is likely to induce it to, then, and then only, we may rightly raise the old cry, "No taxation without representation," and give it a new meaning.

This would be more generally understood if certain people had not got into the habit of calling women a separate "class" of citizens. They are not a special, distinct class of citizens, with corporate interests unembraced in the corporate interests of the community as a whole. Physiologically they differ from men, and this fact has brought about certain differences in legislative action with regard to the two sexes, notably as affects participation in the work of running our Government. But as social factors, as children of the state, they are inextricably mingled with men — as inextricably as they are in family and business life. And the great majority of legislative acts must hurt or help men and women in equal measure. When negroes are legislated for, or farmers, or bankers, or fishermen, are not the women of the class as nearly, as directly affected as the men? Women do not go to sea for codfish or whales or seals. But the wives and daughters of the men who do are as keenly interested as themselves in the laws which protect their lives and labors. And, conversely, American men are as deeply concerned as American women in legislation which affects the property rights of women, the moral safety of young girls, the welfare of the children of the poor.

Are we prepared to say that this is not so? Or do we desire to say that it ought not to be so — that women must specially care for their own interests, which implies, of course, that men may specially care for their own? Do we wish to evolve into separate "classes," saying, "The best interests of American women are not identical with those of American men"? Is this what we do in our families, in society, in the church, or in business or professional life?

To my mind nothing more dangerous could be said to American women to-day than that they need, as women, specially to care for the interests of women. These cannot be separated, except in certain minor points, from the interests of men. Our men have never desired to separate them. And the blood of the happiness of our country will be upon our own heads if we set them the example and they are tempted to follow it. The ruin of our country will lie at our doors if we do aught to cultivate this, the most horrible and pernicious kind of selfishness — antagonism between the sexes. For from the growth of woman's love and respect for man and of man's love and respect for woman, resulting in the consciousness that their best interests are indeed and in truth identical, all the progress, all the happiness of the world have grown.

I do not pretend to say in how far these feelings might be fostered or injured by the establishment of woman suffrage. But I do say that the tenor of the propaganda in favor of woman suffrage has often done much and is now doing very much to injure them, at least among our own sex. And I could say nothing more strongly accusing those responsible for this tenor of exerting an evil influence.

-- "Should We Ask for the Suffrage?", by Mrs. Schuyler Van Rensselaer
Note.
These chapters were written very hastily for publication in the New York "World," and have been as hastily revised in answer to a wish for their immediate issue in pamphlet form. They do not profess to treat the woman-suffrage question from every point of view, or fully to discuss it from any point of view. But I trust that, fragmentary as they are, they may lead some of the women of my state to consider more seriously than hitherto the right relations of men and women to the country and the government we love.
M. G. Van Rensselaer.
Should We Ask for the Suffrage?