Testimony of Rafay Siddiqui on Gender and Sexuality
Winter Soldier
by Iraq Veterans Against the War
2008
My name is Rafay Siddiqui. Well, actually before I start I want to thank Jose Vasquez, Perry O'Brien, and the whole crew for making this happen and having such a supportive environment for us to come out and tell our stories, because some of them are very sensitive like the few we've heard.
I spent four years in the Marine Corps. I had two deployments. The first one was in East Africa where we toured Djibouti, Ethiopia and Somalia. The second one was in Iraq all over the place. But when I heard about testifying, I wanted to testify not about Iraq and Afghanistan. I want to testify about other things that are happening in the world, like East Africa, and specifically Djibouti and Djibouti City from what I witnessed.
Before I get into that, I want to talk a little bit about the subculture of the Marine Corps, how when you enter into the Marine Corps, and I think this goes without saying for all the other services, that you're not a man until you've taken advantage of a woman. You're not a man until you've sexually abused to some point. And what happens is these young, impressionable kids enter into the Marine Corps, 18 and 19-year-old kids, and the only people they learn from are the people around them and their platoon sergeants, or whoever. And they see everyone doing it, and so they themselves have to do it too, because they want to fit in, they don't want to be ostracized and whatnot.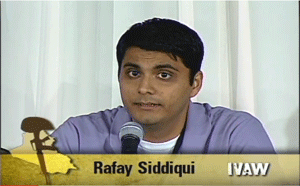 So going back to Djibouti, Africa. I was there for seven months. And what happened there is I was sickened by what I saw. Young Ethiopian girls would travel up north to Djibouti City, escaping poverty in Ethiopia. And then when they would get to Djibouti City, they would just get taken advantage of and end up working as prostitutes. And what I witnessed was Marines and French Legionnaires, because the French was there too, taking advantage of these young girls day in and day out and every night. And the story needs to get out, because people have no idea this base even exists, let alone the sexual abuse that is going on outside of the base.
The whole economy of Djibouti City is more than likely - I don't know the numbers, but -- it's probably based heavily on prostitution. From what I saw, that was the only thing, the only way people could make money, because there's nothing there. There's no reason for the U.S. to be there other than the port, which is strategically very important to the U.S. government.
And in closing, I was very impressed with everyone's stories, and they are all profound. They all deserve attention. And I'm really really happy that something like this could occur, because as a Marine getting out, you're so annoyed and irritated by these thoughts in your head about what you've seen. And this is the exact thing we need to end these occupations, not only in Iraq but in Afghanistan and all over the world. Because this war affects people in so many ways. And I just want to thank everyone for being here and giving us the support. It really helps. Thank you very much.
Winter Soldier: Iraq and Afghanistan featured testimony from U.S. veterans who served in those occupations, giving an accurate account of what is really happening day in and day out, on the ground.

This four-day event brought together veterans from across the country to testify about their experiences in Iraq and Afghanistan - and present video and photographic evidence. In addition, panels of scholars, veterans, journalists, and other specialists gave context to the testimony. These panels covered everything from the history of the GI resistance movement to the fight for veterans' health benefits and support.

-- Winter Soldier, by Iraq Veterans Against the War