Part 1 of 2
CHAPTER 7: The Case Against Prehistoric Matriarchies II: Prehistoric Art and Architecture
The promise representational art holds forth is to tell us how prehistoric peoples saw themselves and their world. Our own representational art is often said to fulfill this function, graphically displaying who we are and what we value. For example, Christian iconography is rich in symbolic portrayals of Christian theology and ethics; images in advertising are thought to speak volumes about who Americans want to be.
In theory, prehistoric art is similarly a window onto the subjective experiences of our ancestors, one not provided by the amount of strontium in their fossilized bones or the varying shapes of their flint blades.

What we lack for prehistory, however, is a trained observer, an insider who could translate prehistoric art for us. We effortlessly and accurately read most of the images we stumble across in everyday life, but we may forget how much we had to learn to attain this interpretive mastery. Years of enculturation lie behind our ability to decipher the visual images we encounter. When images are divorced from most other markers of culture (such as language and behavior), as they are for prehistoric societies, accurate interpretation becomes extremely difficult.

If we know anything about artistic conventions, it is that they are conventions, and as such they may have only an oblique link to "real life." Some things rarely experienced are frequently imaged, and vice versa. As Andre Leroi-Gourhan has noted, European heraldry is full of lions and eagles, though in the ordinary run of their lives, Europeans were vastly more likely to encounter cows and pigs; likewise, if women's magazines were my sole record of American culture, I might conclude that there were no fat people in twenty-first-century America. Cultures may neglect to represent all kinds of quotidian realities for a variety of reasons: they may consider these realities too banal to be worth portraying in art; they may wish to deny certain unpleasant realities about their lives and cultures; or they may think some matters too special or sacred to commit to a visual symbol. And even things that are routinely represented are open to misinterpretation by observers who lack the relevant knowledge to read it correctly. Carl Jung tells the story of a man who returned to India after a visit to England and told his friends that the English worshipped animals, because he had seen eagles, lions, and oxen portrayed in churches.
[1]
One of the central problems in interpreting prehistoric images is that the material itself -- pictures and statues of human beings and animals -- looks disarmingly familiar, so it often seems that inferences about the meaning of this art have more to do with an individual observer's imaginative, empathic, and intuitive abilities than with any archaeological credentials. A person who "sits in the ruins and catches the vibes," as Philip Davis disparagingly puts it, may feel herself to know as much about prehistoric peoples as those who work with spades, sieves, and brushes. No one is immune to the powerful reactions that this art can elicit, from the archaeologist who digs it up to the casual consumer of glossy reproductions of artifacts on the other side of the coffee table.
Patricia Reis, author of Through the Goddess, remembers stumbling across pictures of Paleolithic Venus figurines in an art book at a university library. As she recalls, "My body became electrified .... These objects held a haunting mystery filled with sacredness."  [2] It is hard to believe that any reaction that comes with such force and conviction could be simply mistaken, at least for the person experiencing it (strength of passion being notoriously easy to confuse with acuity of insight).
This misplaced confidence has plagued both archaeological and feminist matriarchalist interpretations of prehistoric art.
The conflicting interpretations offered for prehistoric visual images gives us sufficient reason to be suspicious of anyone's claim to have finally decoded them.
The tendency among archaeologists today is to feel that, if anything, prehistoric art is less illuminating and more open to misinterpretation than other forms of prehistoric material evidence, particularly when it comes to the sensitive issues of gender and religion
:
Feminist matriarchalists, in contrast, believe they have a method which provides consistent, reliable, and indeed rather obvious interpretations of prehistoric art. To resist these interpretations, they often suggest, requires a willful blindness
.
READING SYMBOLS
In interpreting prehistoric art,
feminist matriarchalists make liberal use of the assumption that a relatively stable set of cross-cultural meanings are attached to femaleness, and in turn to the symbols thought to represent it. This symbolic approach to prehistoric art allows feminist matriarchalists to accomplish two important tasks: first, they are able to extract broad, clear meanings from long-dead societies; and second, they have a warrant not only to construe female anthropomorphic figurines [4] -- the prime suspects for "goddesses" in prehistoric art -- but also everything from wavy lines to crosses as "a kind of universal female symbolism." [5]

This symbolic code leads feminist matriarchalists to speak as though there were no relevant differences between the essential focus of religion in Siberia in 27,000 BCE and Crete in 1500 BCE. They usually treat all of prehistoric Europe and the Near East as if it were a single cultural complex, viewing cultural variations as an epiphany of the multiplicity of the goddess rather than as evidence of distinctive religious beliefs or systems of social organization. [6] This is a very long time and a very large area for a single religion to dominate.
The repetition of a few symbols in the imagery of these different cultures cannot by itself support the notion that these cultures progressively, and in concert with one another, developed an iconography of a single deity. In fact,
the cultures from which feminist matriarchalists draw their symbolic examples of goddess religion do not overlap either chronologically or geographically.
The material evidence itself illustrates this.
There is a dramatic difference, for example, between "the figurine and clay-rich archaeological record of Neolithic Southeast Europe" and the several millennia during which the British Neolithic apparently failed to produce a single female figurine.
[7]
Feminist matriarchalists are usually forthcoming with explanations, however questionable, for why everything they list qualifies as a goddess symbol, in spite of the geographic and chronological distance that sometimes separates them.
Some symbols are chosen for their supposed analogy to portions of the female anatomy: the chalice, as a container, is said to stand for the womb; the mouth of a cave for the goddess's vagina. Others, such as lions, are determined to be goddess symbols because they are repeatedly (or sometimes only once) seen partnered with female figures in prehistoric art. [8] The list of symbols that are supposed to make us suspect "that a matristic consciousness was operative in a culture if they are found in that people's relics" [9] is alarmingly long. It includes:
bears
phalli
zigzags
lions
women
spirals
bulls
eggs
parallel lines
bison
trees
meanders
deer
lush vegetation
tri-lines
horses
pomegranates
Xs
goats
apples
Vs
pigs
the moon
hooks
dogs
the sun
crosses
hedgehogs
stones
chevrons
birds (hawks, owls)
shells
swastikas
snakes
caves
lozenges
toads
storehouses
halved lozenges
turtles
pillars
hooked lozenges
fish
labyrinths
ovals
bees
wells
triangles
butterflies
cauldrons
circles
snails
chalices
dots [10]
eyes
nets
hands
rings
This proliferation of purported goddess symbols makes it possible to find evidence of goddess worship in virtually every scrap of prehistoric art.
Even the simplest of signs can shout "goddess."
Gimbutas, for example, relishes the fact that the stamp seals of Old Europe are "almost all ... engraved with either straight lines, wavy lines or zigzags," which she interprets as a water and rain symbolism attributable to goddess religion. Reaching even farther, Rachel Pollack claims that "the oldest carefully marked object," an ox rib found in France dating to 200,000 to 300,000 BCE, about six inches long and incised with "a pair of curved parallel lines" (visible under a microscope), is "precisely that image" that appears repeatedly in "later Goddess art". [11]
But if straight lines and wavy lines are both symbols of the goddess, is it possible to draw a line another way, or to use it to mean something else?
Rachel Pollack notes that there are goddess images "that are almost universal, such as the cross or the spiral," [12] but she never points out the obvious: that these are very simple images to draw. They may mean nothing -- prehistoric doodles -- or they may mean very different things in different cultures. Even more importantly, symbols may have no analogical link at all to that which they are supposed to symbolize, just as the numeral 7 means seven, though there is nothing in the shape of the numeral itself to suggest the number seven. In some cases, we cannot even be sure what the symbols we find in prehistoric art are supposed to be (if anything), let alone what meanings they may carry.
For example, Anne Baring and Jules Cashford display a series of "Neolithic images of the moon" in their chapter on "the Neolithic Great Goddess of Sky, Earth and Waters." [13] None look like what I see up in the sky on a clear night, though several bear a powerful resemblance to snowflakes (see Fig. 7.1).
How then do feminist matriarchalists know that every animal and geometrical symbol found in prehistoric art is a representation of the goddess or one of her qualities? Only by believing, before they look, that the art is religious art, and in particular, an iconography of a prehistoric goddess. Though I will not attempt the exercise here, I feel certain that if I were looking for evidence of the prehistoric worship of "the masculine principle," I could find it as readily as feminist matriarchalists uncover goddess symbology. Perhaps I could also "discover" that the implements of war are present in cleverly disguised -- symbolized -- form. In the absence of a prehistoric Rosetta stone translating prehistoric symbols into some language we can understand today, we are of course welcome to pore over the art of prehistoric cultures looking for internal patterns, just as Gimbutas has done. We may find things of interest, but none that can stand as the conclusive interpretation of these images.
Paleolithic Cave Art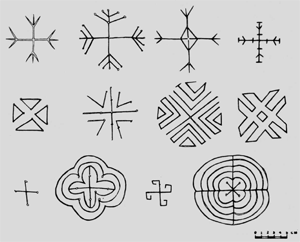 FIG. 7.1 Images incised on Neolithic pottery from sites in BohemIa, from the end of the sixth to the early fifth millennium BCE, interpreted as "Neolithic images of the moon."
Apart from Gimbutas's detailed work on symbols from the Neolithic period in Old Europe, the most elaborated argument for goddess symbology is that offered for Paleolithic cave art. Cave art is restricted to a few neighboring locations in southern France and northern Spain (though caves that are seemingly equally suitable for painting are available elsewhere on the continent) and dates from roughly 30,000 to 10,000 BCE, with the majority being produced after 20,000 BCE. [14] Archaeologists theorize that the Franco-Cantabrian caves were preferred as sites for art because they were in the most southerly region of open tundra during the last glaciation. Animals were plentiful, and as a result, so were humans: tribes may have gathered together to hunt there during seasonal migrations. The subjects of the paintings are almost exclusively animals, both species that were routinely hunted, such as reindeer and mammoth, and ones that were not, such as wolf and lion. Representations of humans are comparatively rare, though present. Men and women never appear in proximity to one another. Men are typically portrayed as simple stick figures, whether painted or engraved, while women are always engraved and rendered in significantly more detail. Men may be active or passive, while women are always inactive: men tend to be portrayed alone, while women appear most often in groups. Numerous schematic designs, including dots, circles, triangles, rectangles, and imprints of human hands, also appear. These various design motifs, as well as the animal and human representations, are frequently superimposed on one another. [15]
Feminist matriarchalists are comparatively uninterested in the animal representations in Paleolithic cave art, and even in the engraved female figures. What draws their attention instead are the schematic designs, which they interpret as "vulva symbols."
Feminist matriarchalists are not the first to advance this theory.
In 1910, the Abbe Breuil, a French priest who began interpreting Paleolithic art at the age of fourteen, was asked to comment on the meaning of some engraved marks on two limestone blocks recovered from the site of Abri Blanchard in southern France. He immediately labeled them "pudendum muliebre." Indeed, an early observer, L. Didon, describes Breuil as having "recognized vulvas without hesitation," operating "with the completely unique skill in deciphering prehistoric mysteries characteristic of him."

Most archaeologists in the twentieth century followed Breuil's lead, finding vulvas everywhere in Paleolithic art.
This vulva-finding expedition at times went to rather remarkable extremes. Not only were triangular or horseshoe-shaped designs termed vulvas; so were a myriad of other shapes, denoted by terms like
"squared vulva," "bell-shaped vulva," "broken, double vulva," and "atypical vulva." Vulvas have even been discovered in a single straight line ("an isolated vulvar cleft")
, and at least one excavator, convinced that some symbols must have been intended to be vulvas, felt free to occasionally draw in the "missing" lines. [16]
An even more ambitious reading of these "vulva" symbols has been offered by French archaeologist Andre Leroi-Gourhan, who divided up the totality of the schematic markings found in Paleolithic caves into "male" and "female" symbols, so classified because of their putative resemblance to human genitalia. The "male" symbols are straight lines, barbed lines, and rows of dots (the "narrow signs"); the "female" symbols are triangles, ovals, shields, and rectangles (the "wide signs").
While Leroi-Gourhan admits that many of these symbols are "extremely stylized," he nevertheless insists that most of the wide signs "are quite realistic depictions of the female sexual organ" (see Fig. 7.2). These wide signs turn up in some odd places -- for example, in the wounds on animals and in the guts spilling from a disemboweled bison -- but Leroi-Gourhan does not hesitate to identify them everywhere as vulvas.
[17]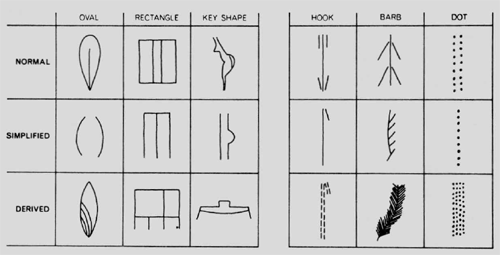 FIG. 7.2 "Wide" and "narrow" signs in Upper Paleolithic cave art, said by Leroi-Gourhan to "have evolved from earlier depictions of female and male figures or sexual organs."
Feminist matriarchalists have enthusiastically embraced the interpretive scheme that sees the walls of Paleolithic caves plastered with disembodied vulvas. For feminist matriarchalists, "the vulva is preeminently a symbol of birth, representing beginnings, fertility, the gateway to life itself," and its presence in cave art indicates that Paleolithic peoples valued birth, death, and rebirth.
[18] Yet as some observers note, there is an undoubted resemblance between the vulvas in Paleolithic cave art (that feminist matriarchalists celebrate as the sign of the goddess) and those that "would be right at home in any contemporary men's room." [19]
For feminist matriarchalist purposes, Paleolithic vulva images must not be pornographic, for then they are by definition objectifying and oppressive to women. But they must be sexual, for sex is good in matriarchalist terms
: it is part of what worship of the goddess entails, part of what separates goddess religion from its wicked stepsons (Judaism, Islam, and Christianity). [20]
The solution to this conundrum is typically to assert the sexuality of Paleolithic images, but to insist that they are completely unlike pornography. "In fact," says Riane Eisler, "the contrast between these two kinds of sexual images is so striking they almost seem to come from different planets."
Yet how different can two inverted triangles with median lines be? The only thing that could possibly distinguish them is context.
When high school boys spray paint vulvas on her front steps, novelist Barbara Kingsolver is confident that "their thoughts were oh so far from God," but when confronted with the same images from prehistoric Europe, she knows them to be an expression of "awe" for "female power."
[21]
How do we know that the caves of Paleolithic Europe were not more like Barbara Kingsolver's front steps?
If we can divine religion from relics, it seems pretty clear that up to this point human societies stood most in awe of female power: the pregnant Venus of Willendorf; the Woman with the Horn carved on a cliff in Dordogne, France; the fecund clay figurines that preclassical Mexicans buried with their dead; pregnant torsos carved from the tusks of woolly mammoths in Asia; the pale stone fertility figures strewed along the Mediterranean coast like so many dragons' teeth. The one that gets my vote for blunt reverence is a mammoth ivory disk from a gravesite in Moravia, cut with a single, unambiguous vulval slit. So many goddesses, so little time—for they fell, and fell far, from grace. It's pretty difficult now even to imagine female body parts as sacrament: when the kids spray-painted vulvas on my front steps, their thoughts were oh so far from God.

How fiercely doth the sacred turn profane. Our ancestors in the Fertile Crescent appear to have dropped Goddess Mother like a hot rock, and shifted their allegiance to God the Father, coincident with the rise of Man the Owner of the Flock.

Since then, most of us have come to see human ownership of places and things, even other living creatures, as a natural condition, right as rain. While rights and authority and questions of distribution are fiercely debated, the basic concept is rarely in doubt. I remember arguing tearfully, as a child, that a person couldn't own a tree, and still in my heart I believe that, but inevitably to come of age is to own. When we stand upon the ground, we first think to ask, Whose ground is this? And NO TRESPASSING doesn't just mean, "Don't build your house here." It means: "All you see before you, the trees, the songbirds, the poison ivy, the water beneath the ground, the air you would breathe if you passed through here, the grass you would tread upon, the very idea of existing in this place—all these are mine." Nought but a human mind could think of such a thing. And nought but a human believes it. Javelinas, and teenagers, still hark to the earth's primordial state and the music of the open range.

-- High Tide in Tucson: Essays From Now or Never, by Barbara Kingsolver
Moreover, the distinct possibility remains that these "wide signs" of Paleolithic cave art were not meant to represent vulvas at all. The symbols purported to be vulvas are extremely variable (see Fig. 7.3) --
Sarah Milledge Nelson says that many of them look more like molar teeth than anything else
-- and few are truly triangular, which is the shape that characterizes all the female genitalia found in context in Paleolithic art (that is, on full female figures). [22] However, feminist matriarchalists have something much better than engraved "vulvas" from the Paleolithic (and wavy lines from the Neolithic) upon which to stake their claim that femaleness was revered in prehistoric Europe and the Near East. For these peoples produced a huge number of anthropomorphic figurines, many of them clearly female.
DECODING ANTHROPOMORPHIC ART
Before becoming too enthusiastic about these anthropomorphic figurines,
it is important to recognize that many of the figurines that feminist matriarchalists declare to be representations of the goddess are not obviously divine, female, or, in some instances, even human.
For example,
Marija Gimbutas titles a figure from Starcevo "an early loom-weight in the form of the Goddess" (see Fig. 7-4). This object has no arms, legs, or neck, and only dashes for eyes, a hole for a mouth, and a pinched nose: its face could belong to either gender or to a wide range of nonhuman animals.
Similarly, Buffie
Johnson discusses an "amulet of the buttocks silhouette" recovered from Paleolithic Germany (see Fig. 7.5). Though this 1-3/4 inch sculpture has no head and no arms, Johnson asserts that wherever "an arc and a straight line" combine to form a "P shape," one is viewing the "exaggerated egg-shaped buttocks" of the goddess.
[23] It is easy to see a human female in these objects if one is told that that is what is there. But if these figures were captioned differently, it would be as easy to see something else. A Paleolithic engraving which Johnson describes as "a female figure with Cosmic Egg in rump" does look like a highly schematized drawing of a seated person's profile with a circle in its middle, at least when you come across it in the pages of Lady of the Beasts: Ancient Images of the Great Goddess and her Sacred Animals. But had I seen this same drawing in a book titled, say, Paleolithic Landscapes, captioned as "Vezere River showing central island and direction of current," then I would find this an equally plausible description of this engraving (see Fig. 7.6).

FIG. 7.3 Incised and carved images from Upper Paleolithic cave art, said to be "vulvae."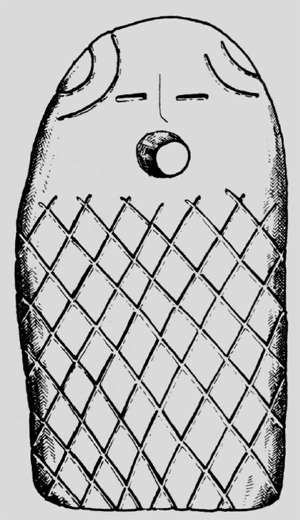 FIG. 7.4 Carved figure from Starcevo, Bulgaria, 5800-5600 BCE (height: 8.8 cm), identified by Marija Gimbutas as a "loom weight in the form of the Goddess."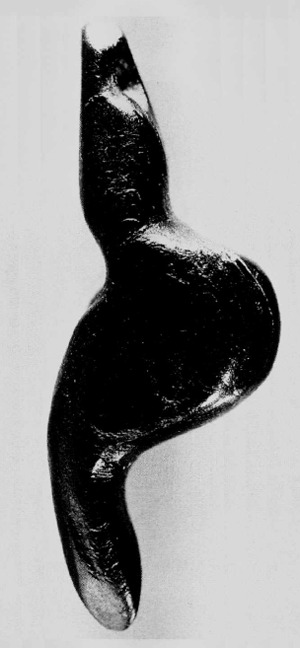 FIG. 7.5 Figure carved in polished coal from Petersfels, Germany, c. 15,000 BCE, called a "buttocks silhouette."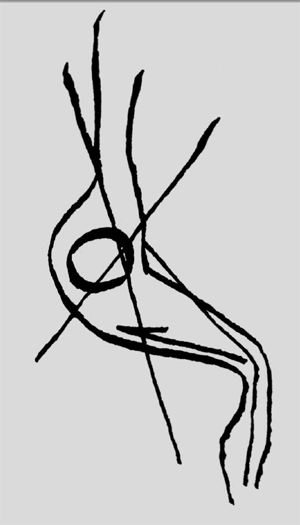 FIG. 7.6 Incised drawing from the Fontales cave in France, c. 10,000 BCE, described by Buffie Johnson as a "female figure with Cosmic Egg in rump."
Even more questionable than the assignment of humanity to abstract line drawings or sculptures is the classification of virtually all anthropomorphic images as female.
Feminist matriarchalists have been anticipated in this by archaeologists, who have also frequently been inclined to make female the default sex of ambiguous anthropomorphic images. There are comparatively few images in Paleolithic and Neolithic Europe that are definitely male (possessing a penis) and many that are definitely female (possessing either swollen breasts or a "clear female sexual triangle or vulva"). But what is generally not recognized in feminist matriarchalist studies of prehistoric art is that there is another class of images, varying in size depending on the era or site in question, which have no clear sexual characteristics. If one were to assume that these were all intended to be male, this would generally yield a distribution by sex that is roughly fifty/fifty. These "sexless" images may have been intended to represent females, as feminist matriarchalists suggest, or men, or they may have been intentionally sexless, representing children, "or some generalized idea of the human being." [24]
It is reasonable to attempt to discern stylistic conventions that indicate sex apart from obvious sexual characteristics, but it is a tricky undertaking. Such conventions may or may not exist, and where they do exist, they may be misread. In The Goddesses and Gods of Old Europe, Marija Gimbutas juxtaposes two figurines from the Neolithic site of Vinca in Yugoslavia. She describes both as images of the "Bird Goddess." The figurines are clearly of the same basic type, in spite of minor differences in shape and incised markings. One has small breasts, the other none at all (see Fig. 7.7).
Gimbutas seems to regard the presence or absence of breasts as yet another minor stylistic difference in the two figures, [25] but the presence or absence of breasts may have been the defining feature of the sex of these figurines: the one with breasts being female, and the one without being male.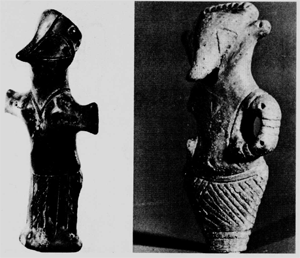 FIG. 7.7 Terracotta figurines from Vinca, Yugoslavia, c. 4800 BCE (height: 16 and 15 cm), named "Bird Goddesses" by Marija Gimbutas.
There are also prehistoric images that appear to purposefully combine male and female sexual characteristics, including Neolithic figurines said to have a "tall, phallic neck and head," which are described by feminist matriarchalists as "phallic goddesses."
Feminist matriarchalists are quite careful to state that the presence of phallic features -- or even, in some cases, a phallus itself -- does not detract from the overwhelming femaleness of prehistoric anthropomorphic images.
As Gimbutas explains, these images "do not represent a fusion of two sexes but rather an enhancement of the female with the mysterious life force inherent in the phallus." [26] Impressively then, even what one might think to be the most obvious signifier of maleness -- the penis -- is assimilated to femaleness in some feminist matriarchalists' interpretation of prehistoric anthropomorphic images.
The most dramatic example of this assimilation is the feminist matriarchalist reading of Paleolithic "batons." The most popular of these batons has an honored place in feminist matriarchalist iconography, turning up frequently in the first pages or slides devoted to Paleolithic images of the goddess.
In spite of its striking resemblance to a phallus, feminist matriarchalists label the Dolni vestonice baton an "abstract female with breasts," "shaft with breasts," or "ivory rod with breasts," and describe it as a "portable shrine," an image of "nurturance reduced to its stylized essence"
(see Fig. 7.8). But as archaeologist Timothy Taylor declares, "it seems disingenuous to avoid the most obvious and straightforward interpretation" that these are "phallic objects." [27] Indeed, some of them, at a length of six to eight inches, are hard to mistake for anything else (see Fig. 7.9).
Feminist matriarchalists also routinely take note of the existence of "breast pendants" or "breast beads" from Paleolithic Europe. Gimbutas describes these as an "abstract rendering of the female principle," composed solely of "two breasts at the base of a conical neck." This has long been the standard archaeological reading of these images, but archaeologist Alice Kehoe points out that the back of the pendant "exhibits a carefully carved projection through which is a hole," which Kehoe suspects "was designed for a suspension string." When hung on a string the "breast pendant" seems instead "to be an erect human penis and testicles"
(see Fig. 7.10). Other objects are similarly ambiguous, their interpretation largely dependent on the angle from which they are viewed. For example,
a "seated figure" from Late Neolithic Cyprus viewed from the back appears strikingly phallic. But the top view could be read as a vulva, and from the front or side, it resembles a seated figure with bent knees and tiny feet. Its sexual ambiguity could be an intentional statement of its artist, or, quite plausibly, it may be an artificial penis, equipped with a convenient handle
(see Fig. 7. 11). [28]

FIG. 7.8 Ivory carving. Dolni Vestonice, Czechoslovakia, c. 25,000 BCE, described as "abstract female with breasts."

FIG. 7.9 Paleolithic "baton," Bruniquel, France, c. 15,000 BCE.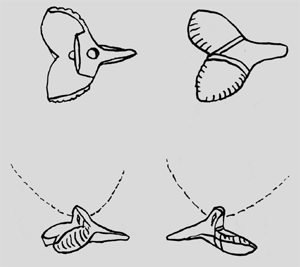 FIG. 7. 10 Ivory pendant from Dolni Vestonice, Czechoslovakia, c. 25,000 BCE. Gimbutas and other feminist matriarchalists interpret this artifact as a woman's neck and breasts; viewed at the angle pictured here, it resembles a penis and testicles.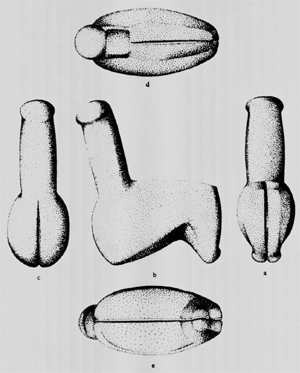 FIG. 7.11 Limestone figure from Sotira Arkolies, Cyprus, c. 2600 BCE, viewed from five different angles (height: 16 cm). View a and b (front and side views) resemble a seated figure; view c (rear view) appears phallic; views d and e (top and bottom views) resemble a vulva. Surface find.
Feminist matriarchalists would object to this interpretation not so much because they find a prehistoric image of a phallus difficult to incorporate into their picture of goddess-oriented prehistory (we have seen that this is not the case), but because a dildo is not immediately apprehended as a sacred object. And for feminist matriarchalists, everything in prehistoric art -- and indeed all of prehistoric life -- is sacred, practically by definition.
Feminist matriarchalists assert again and again that contemporary archaeologists fail to understand the meaning of prehistoric art because they cannot comprehend its religious nature. Were our ancestors so steeped in the sacred that every image they produced could not help but reveal their deepest values, the objects of their greatest reverence?
Gimbutas, who seems to view every cup as a ritual vessel for pouring libations to the goddess
, would probably say yes. [29] But there is evidence to the contrary. Contemporary groups, known to us through the work of ethnographers, create decorative art, producing images that they insist have no sacred or ritual intent. In a particularly interesting case
from the island of Madagascar, ethnographers tried for years to decipher the deep symbolic meaning of the low reliefs of geometrical patterns which the Zafimaniry people carve into the wooden shutters and posts of their homes. When asked, informants proved refractory, insisting that "they were pictures of nothing," that they were merely making "the wood beautiful."
[30] It hardly seems warranted then to name all the prehistoric images we have retrieved as remnants of a vast, multilayered religion of the goddess, or of a religion of any sort. Yet they are surely remnants of something, and particularly in the case of definite female images, it seems at least possible that they were intended to portray goddesses.